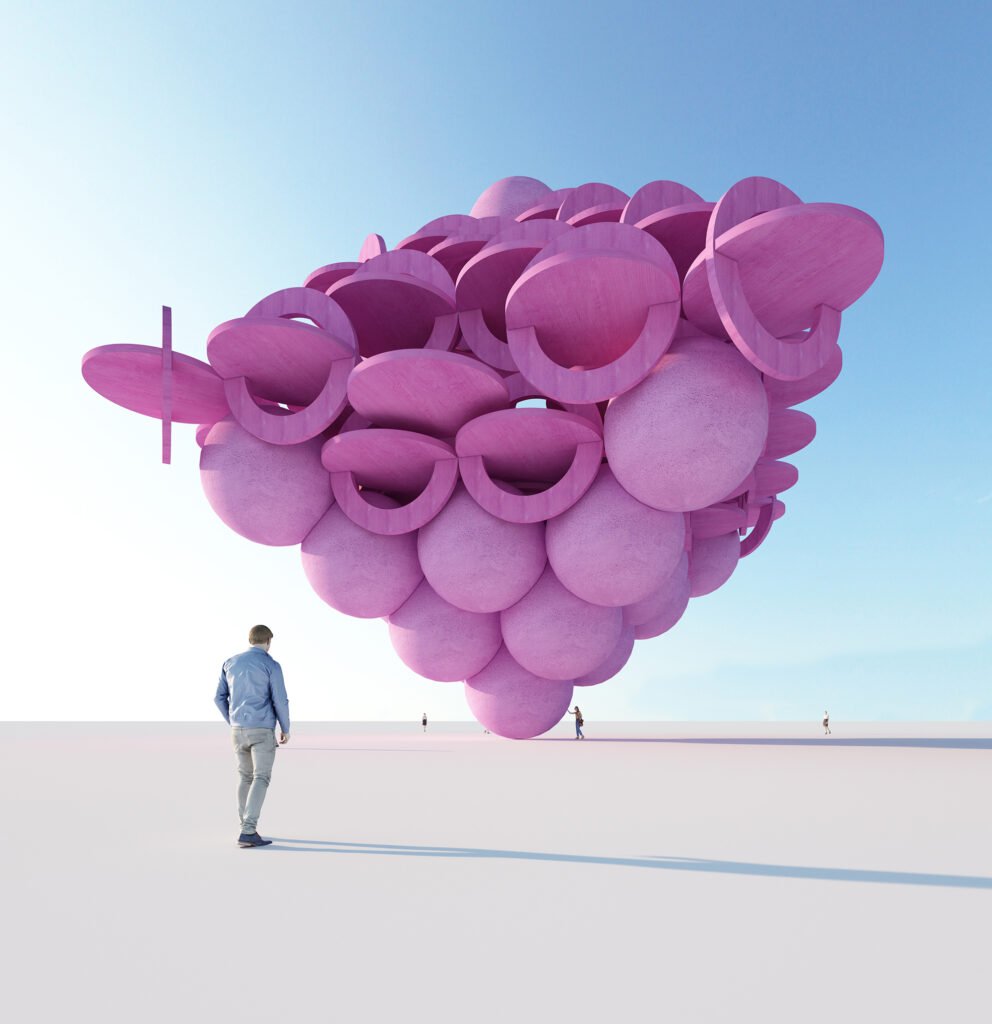 November 18, 2021
A Neon Pink Structure Rises in the Metaverse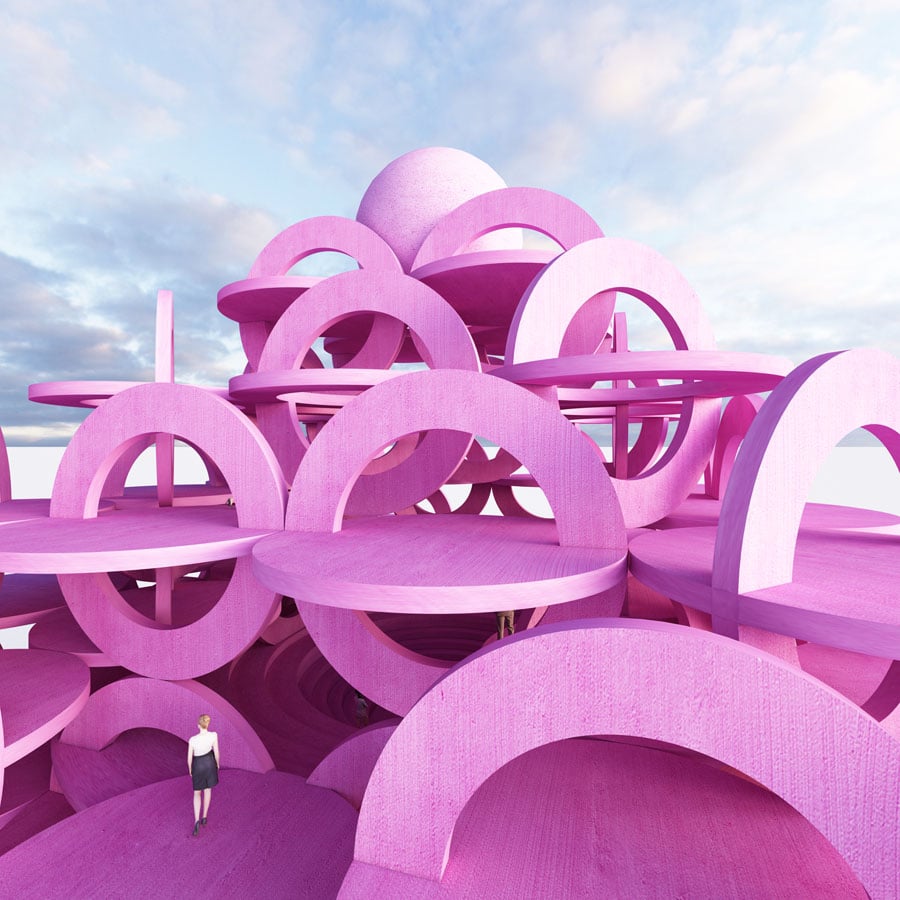 The Neo-Futurist structure is an extension of Lancelin's ongoing exploration of the real and unreal in design. After practicing architecture for fifteen years, the Lyon-based designer began creating digital experiences using cues from the primitive shapes of parametric architecture, then extending his practice to physical installations that mimic the virtual forms with inflatable polyester tubes. "The beauty here is in the fact the building almost looks like it could be physically built, but when looked up close, the parts are not fully touching—the architecture is an illusion."
When Spatial invited Or to curate an NFT art exhibition, an idea for collaboration emerged. "I realized we could switch the demands of a physical exhibition and build the virtual gallery based on the art," he says. Once he tapped Lancelin to build the gallery, the duo realized the space itself could in fact be the art. "We agreed that we could tell a story through design," Or says.
---
More from Metropolis
---
While the designers see The Meeting Place as a statement on how architects are now able to think more like artists ("There are no technical challenges like accessibility, infrastructure, or climate control," Lancelin notes), the goal is to provide a utilitarian platform for engagement. Once entered through one of its circular arches, the space recalls an opera house with a sunken theater. The open interior, which is conceptualized to reach 100 feet height, allows vistas of the upper floors where balconies face the center on one side and the infinite sky on the other. They designed the space to accommodate professional engagements of up to thirty-two people with features like 2D and 3D image uploading, screen sharing, presentation wall, and even a selfie stick. The audio sensory recognition technology allows for private conversations in the building's different corners.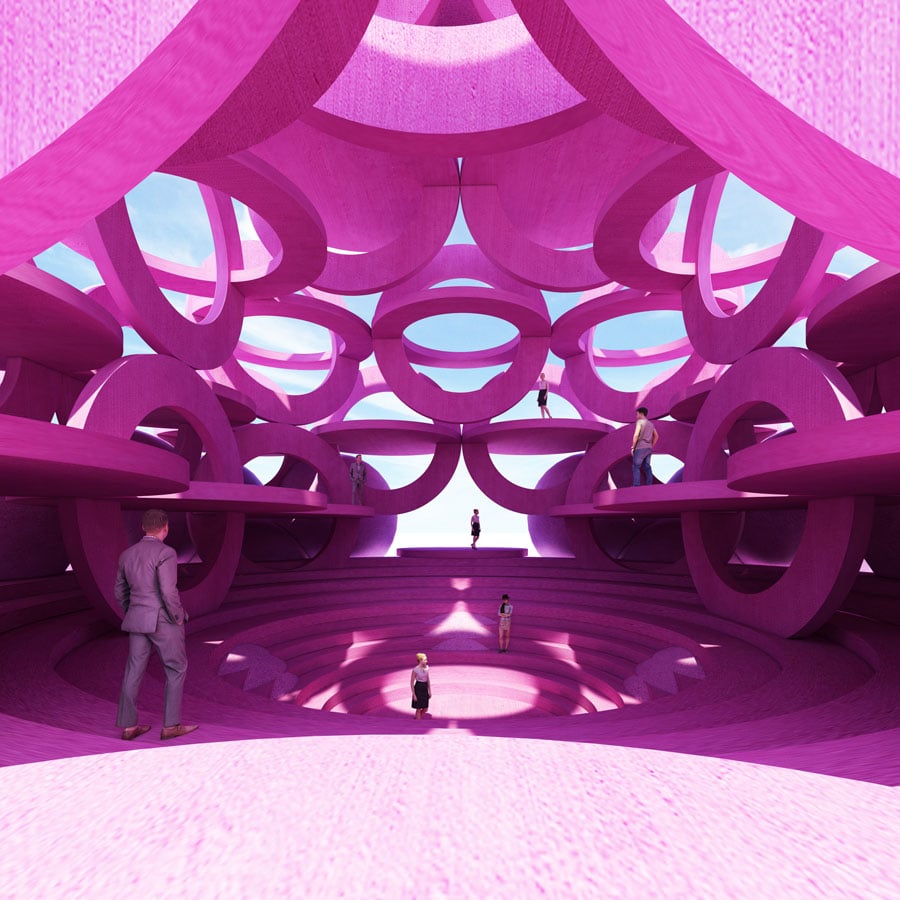 Working with a rapidly evolving technology proposed its own challenges. Early on, the existing software only allowed for single plane forms, but within a few weeks, a multi-floor structure became possible. Later came perfecting the immersive experience with light, shadow, and depth. "We learned that the intricacy of building a virtual space is much more complex than creating a file on Rhino," Or says. They put emphasis on maximizing the texture of concrete with high-resolution imagery while maintaining a feasible bandwidth. The final file is a mere 19.1MB.
The human experience of the metaverse is in rapid formation. "The designers are still trying to bridge the gap between the extreme video game aesthetic and those that copy the real life," Or says. "Our goal has been to blend familiarity with elements like a sky or texture with an innovative design that is free from limits of construction."
"This is a space that people will want to go inside," Or says. He and his partner tested the waters by sending their mothers VR sets to meet for the first time at The Meeting Place. "The pandemic made social interaction a challenge, but soon we've realized we need more than Zoom," Lancelin says. Starting today, the unique NFT will be available with a reserved 25 Ether auction price and the bidding will continue for twenty-four hours on the NFT marketplace, Superare. Or and Lancelin both have an artist edition which they plan to open to the public with an exhibition dedicated to NFT art and design in December.
Would you like to comment on this article? Send your thoughts to: [email protected]