October 1, 2019
The Philadelphia Museum of Art Reopens Public Spaces Hidden for Decades
Gehry Partners restored the entrance lobby and added a bevy of amenity areas, excavating the museum's original navigation and material richness.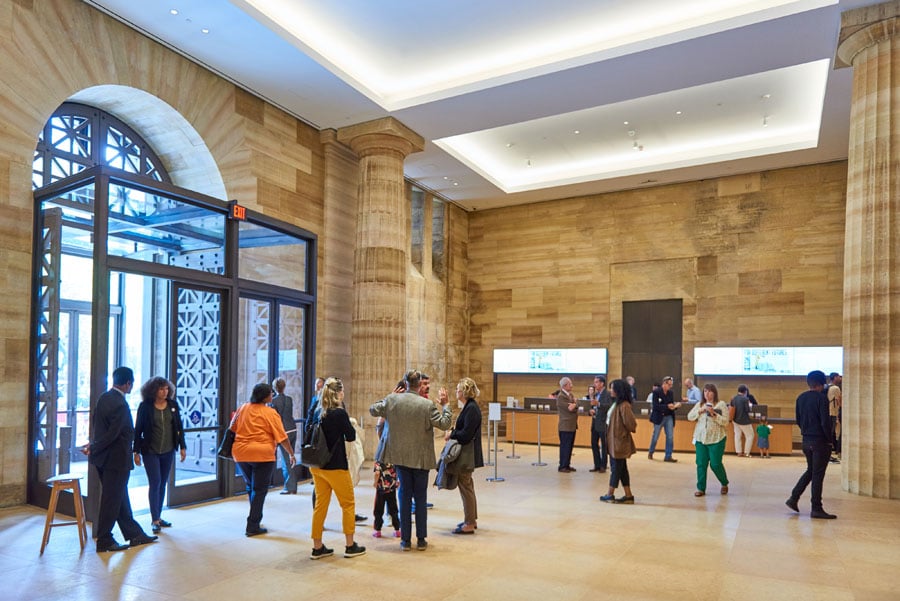 Last month, the Philadelphia Museum of Art completed the latest phase of its Frank Gehry–designed facilities master plan, including a rehabbed section of its famed Guastavino-tiled vaulted walkway and a newly restored entrance lobby.
The museum's north entrance was initially designated for public use in 1928, when the building first opened. This use gradually diminished, and the entrance was converted to a loading dock in 1975.
The entrance to the museum's new, 3,200-square foot lobby—which has ceiling heights of over 24 feet—contains two sets of bronze and glass doors, beyond which are a new admissions desk, coat check and gift shop.
---
More from Metropolis
---
Four original, wood, ornamental Tiffany doors were restored and repositioned, two at the north entrance and two at the front of the gift shop. Four existing Doric columns were cleaned and repositioned. Other elements in the lobby include three large arches in the wall that faces the new entrance. Two of these columns were in the museum's initial build; the third, built by Gehry, contains a coat check and will eventually lead to a new auditorium slated for a later phase.
Materially, the new flooring is Kasota limestone, sourced from the same Minnesota quarries whose stone was used in the museum's original construction. Douglas fir and bronze wraps the newly installed, Gehry-designed, gently curving visitor services desk. The new ceiling, meanwhile, finished in white plaster, is coffered and backlit, adding to the holistic illumination of the space at large.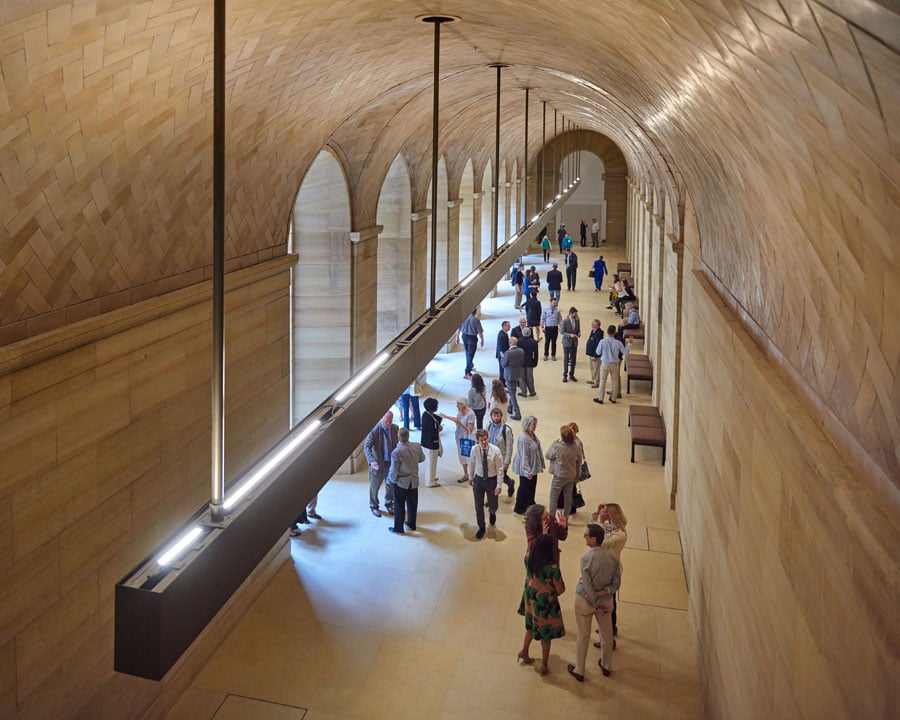 The north entrance also leads visitors to the museum's vaulted walkway, which once spanned the building's entire width and whose ceiling is covered in herringbone-patterned Guastavino tile. Nearly a third of the walkway reopened last month, taking visitors to central 1928 elevators that link with galleries above. Another new feature alongside the walkway is a skylit espresso bar, occupying a former, metal-grated lightwell.
The latest renovations recover 22,000 square feet of space for public use, including a new seminar room and education studio for children.
When the core project—the current phase of the museum's facilities master plan—is completed next fall, it will create over 90,000 square feet of renovated space, including 23,000 square feet of new gallery space.
"This part of the project reveals, perhaps more than anything else, Frank Gehry's genius as a planner," says Gail Harrity, the museum's president and chief operating officer. "Gehry Partners has gone to great lengths both to respect the architectural integrity of this landmark building and, at the same time, to adapt it to present and future needs."
In an interview at a press event last month, Gehry said that when he initially received the commission, he found "the bones were here. Anything you would do to that was self-expression that would look trivial. I never entertained that possibility once I got into it. The idea was to try and keep its integrity as to what was intended to be, and to create a way to use it in today's world. That was the game."
You may also enjoy "For a Time, Josep Lluís Sert's Brawny Buildings Defined Modern Boston."
Would you like to comment on this article? Send your thoughts to: [email protected]