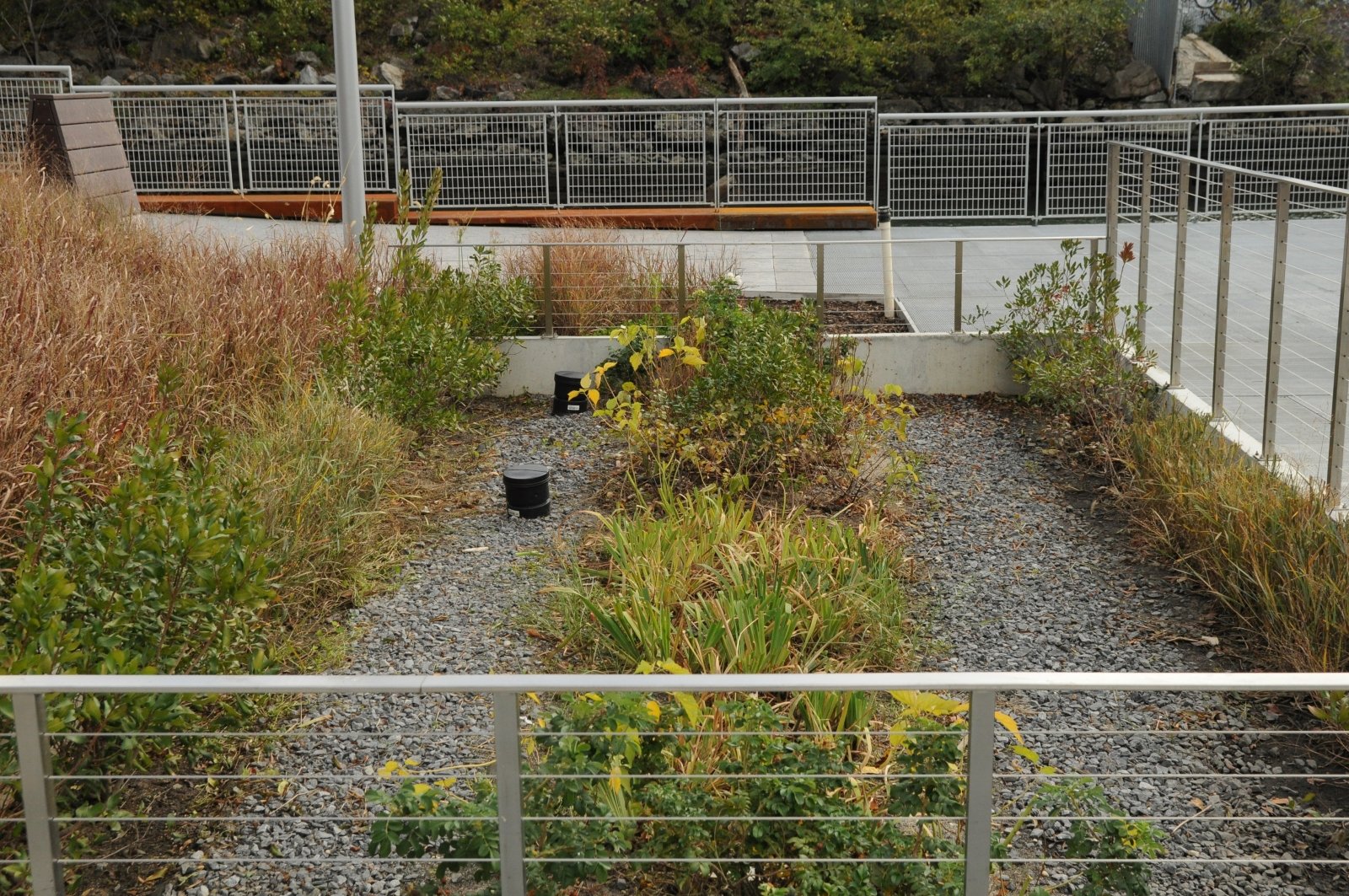 November 2, 2016
How a "Sponge Park" Will Clean up Notoriously Polluted NYC Waterway
The pilot project by dlandstudio, recently completed along the Gowanus Canal in New York City, will absorb polluted water like a sponge.
Gowanus Canal Sponge Park
Courtesy  Guglielmo Mattioli
---
There is a small new park, about 1,800 square feet along the Gowanus Canal, that will help prevent one million gallons of polluted runoff water from discharging directly into the waterway.
Designed by dlandstudio and inaugurated last week, the park is a significant piece of green infrastructure: water flows in from 2nd Street, enters the park through a set of screens and then gets absorbed by a special soil. Finally it gets released, as filtered water, into the canal.
The park is designed to help reduce pollution levels in the Gowanus, one of the most polluted bodies of water in the country, according to the Environmental Protection Agency, which declared it a Superfund site: a site so damaged it would require federal funding to be restored.
---
More from Metropolis
---
The designers also came up with and trademarked the name for this innovative green infrastructure: the simultaneously catchy and explanatory Sponge Park.
"We needed something that talked about the performance of the landscape. We trademarked the name because we thought it was so memorable and had branding potential," says Susannah Drake, principal at dlandstudio, who first envisioned the project back in 2008.
For this $1.5 million dollar infrastructure project, Drake, in collaboration with the Gowanus Canal Conservancy, had to corral numerous funders as well as deal with 14 city agencies, in particular the Department of Transportation and the Department of Environmental Protection, which is responsible for water management.
The park is also located next to a new residential development, which meant construction had to be closely coordinated. Luckily, the park took little time to build: it's made of precast concrete cells. "We always joke about the fact that it took eight years to get approved and only eight weeks to build," says Drake.
Compared to other green infrastructure interventions, like rain gardens that use mostly herbaceous plants, the Sponge Park uses mostly woody plants that absorb, filter and evapotranspirate water through their roots and leaves, as well as remove toxins from the runoff through phytoremediation. A ten-foot wide walkway, covering an overflow area, provides public access to the Canal. In the spring iris, hibiscus and other flowers will further beautify the space.
The park is a pilot project meant to be replicable around the city; dlandstudio hopes its completion will speed up the process in future. "Now that we developed the prototype it's much easier to get all the approvals," says Drake.
There are at least 200 dead-end streets along the city's waterfront with runoff issues where the park could be replicated, which both DOT and DEP are actively looking to pursue.
"We are working on two other locations along the canal" says Drake. "But we are in a preliminary stage, and I can't say more about them."
Gowanus Canal Sponge Park
Courtesy Guglielmo Mattioli
Gowanus Canal Sponge Park
Courtesy dlandstudio
Gowanus Canal Sponge Park
Courtesy Guglielmo Mattioli
Gowanus Canal Sponge Park
Courtesy Guglielmo Mattioli