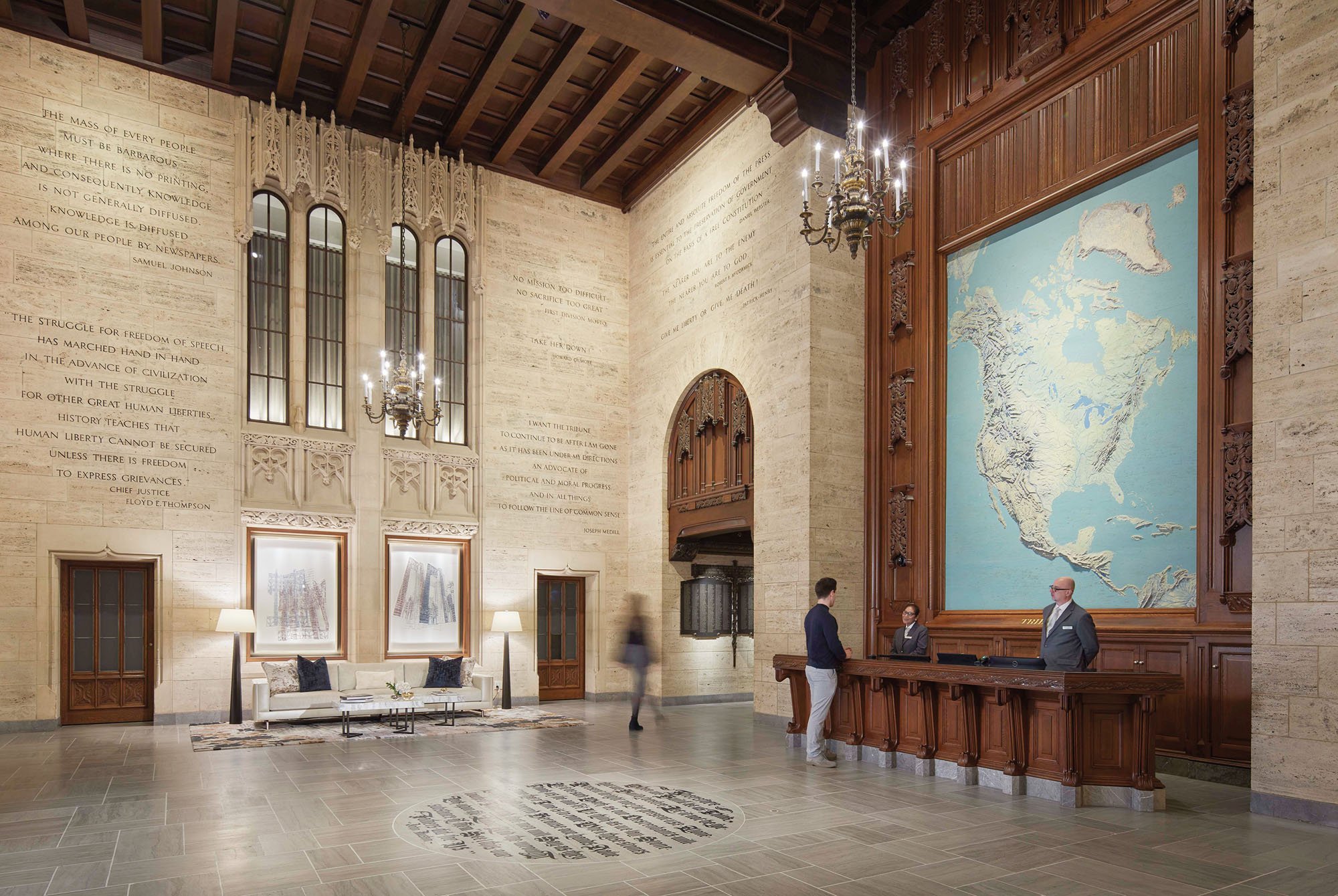 May 12, 2023
The Tribune Tower Begins Its Second Chapter as a Luxury Residence
The Chicago Tribune Tower is the fruit of an epic international architecture competition held in 1922 that attracted design luminaries such as Walter Gropius, Eliel Saarinen, and Adolf Loos. But Raymond Hood and John Mead Howells's neo-Gothic skyscraper scheme, with its iconic flying buttress crown, won the day. It was completed in 1925 and has been a proud addition to the Chicago skyline ever since.
Today the Chicago Tribune newspaper is but a ghost of its former self, relegated to nondescript space elsewhere in the Windy City. But its namesake tower is as beautiful and prominent as ever—now fully converted to 162 residences ranging in size from 1,100 to 4,400 square feet and priced from $900,000 to $7 million.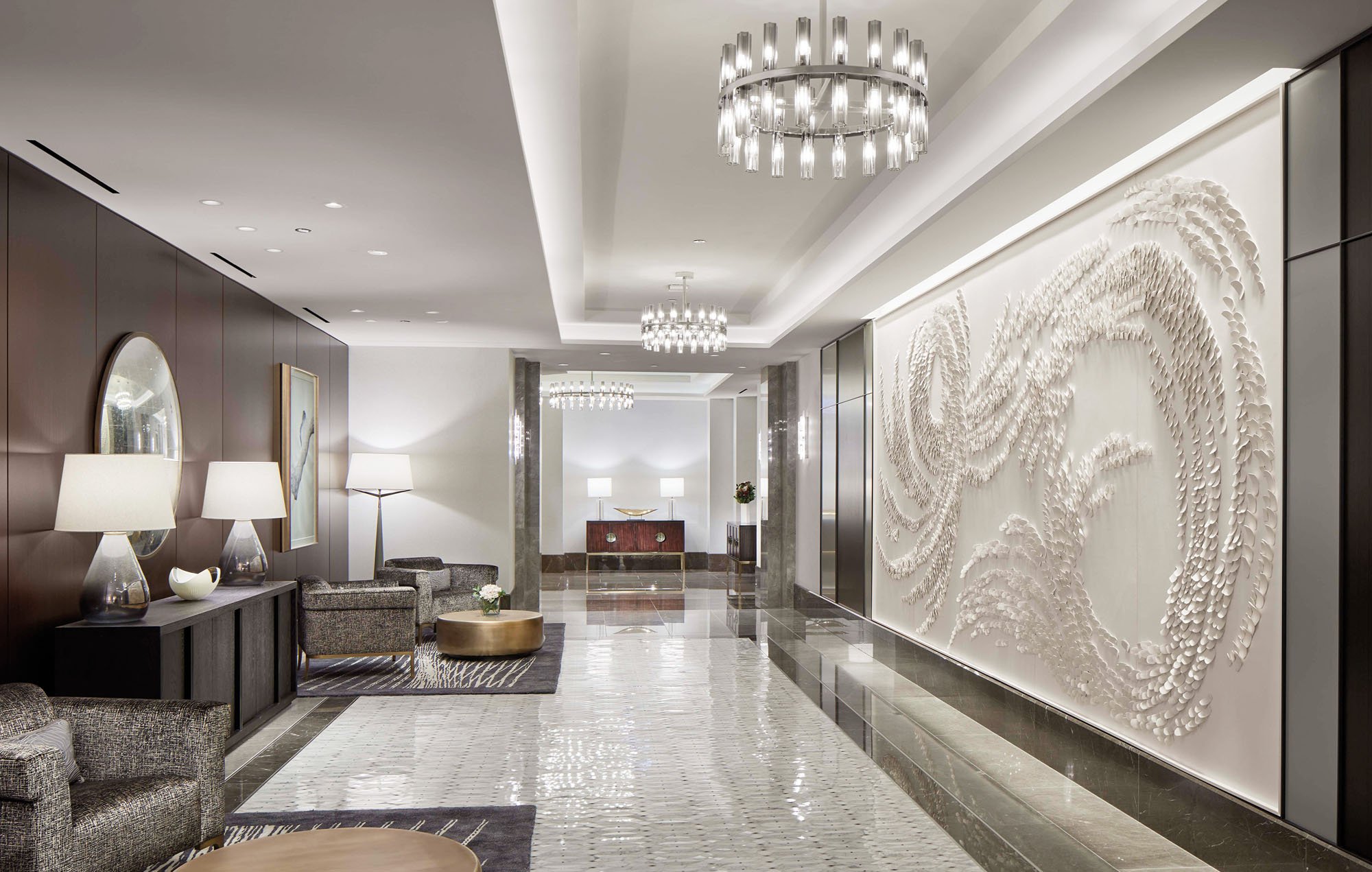 Converting a Chicago Landmark
The Tribune Tower is a designated Chicago Landmark, meaning all alterations had to be approved by the Chicago Department of Planning and Development. To attract affluent residents, developers added approximately 55,000 square feet of amenity space, according to Steve Hubbard, associate principal in the Chicago office of Solomon Cordwell Buenz (SCB), the architecture firm that handled the conversion.
"Floors 2, 3, 7, and 25 were substantially altered into a series of practical and social spaces," Hubbard says. Level 2 is a fitness center; level 3 is a series of social spaces including a bar and a link to an outdoor garden; level 7 has an indoor pool; and finally, level 25 is a spectacular "porch in the sky" on which occupants can socialize under the building's signature flying buttresses.
---
More from Metropolis
---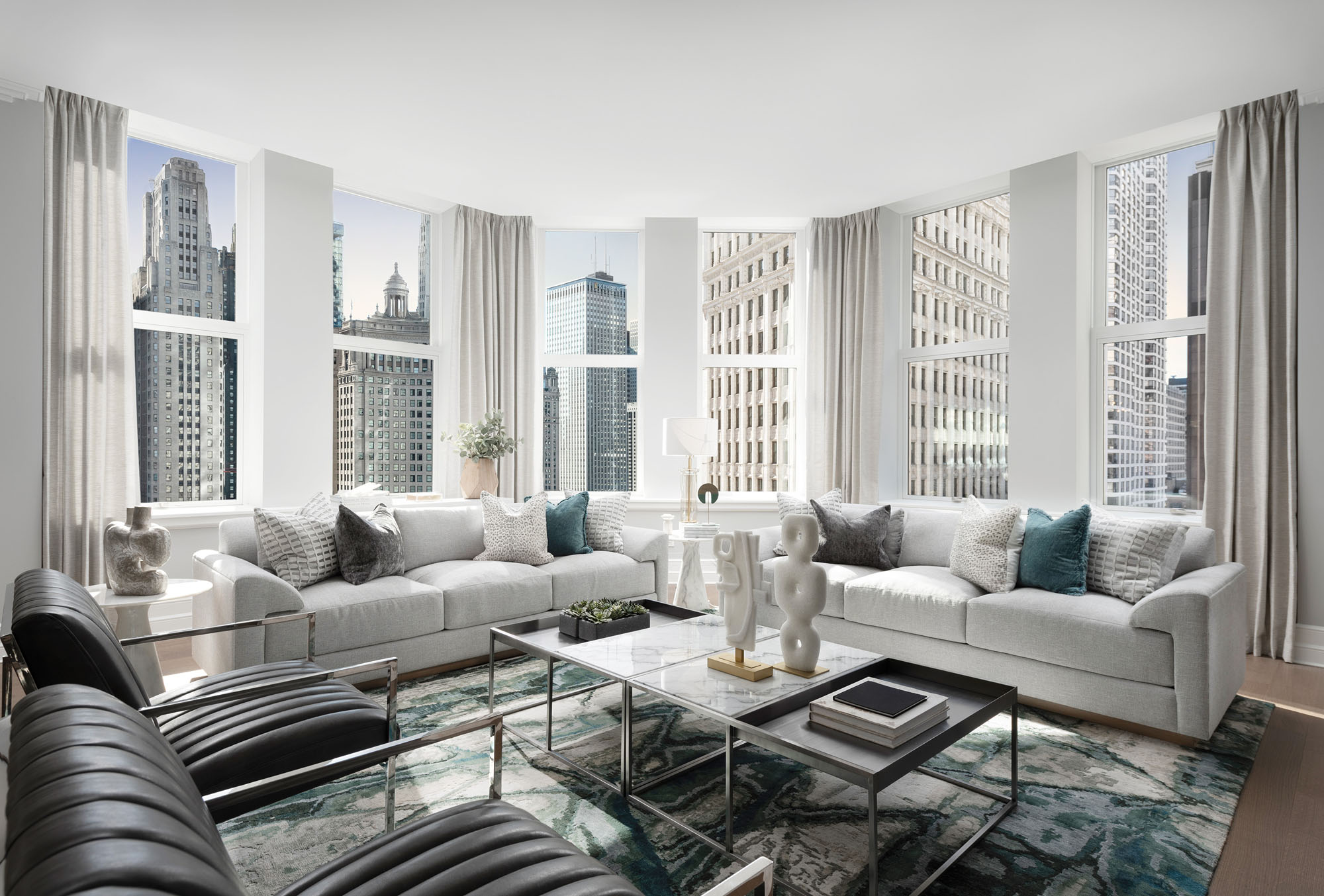 Hubbard points out that only the main tower of the Tribune complex was landmarked—in theory the 1920s printing plant, 1930s radio building, and 1950s television complex, all parts of the Tribune media empire, could have been razed. "But the decision was made to keep the entire character of the building," he says. Even the original Chicago Tribune logo has been renovated and preserved on the building's facade.
New, Hospitality-Inspired Interiors
Similar care was brought to interior spaces: "The interior design honors the history of the building," says Ryan Schommer, director of Gettys Interiors, a Chicago design firm. Nowhere is this clearer than in the two lobbies. The original off North Michigan Avenue remains largely as it was during the building's Tribune years, while another, more private entrance is located to the north along Illinois Street.
"The historic and private lobbies are connected," he explains. "Gettys Group is known for hospitality design, so we took a luxury approach akin to a great hotel." The private lobby features, for example, a Holly Hunt leather sofa and Christopher Guy chairs, alongside a working fireplace.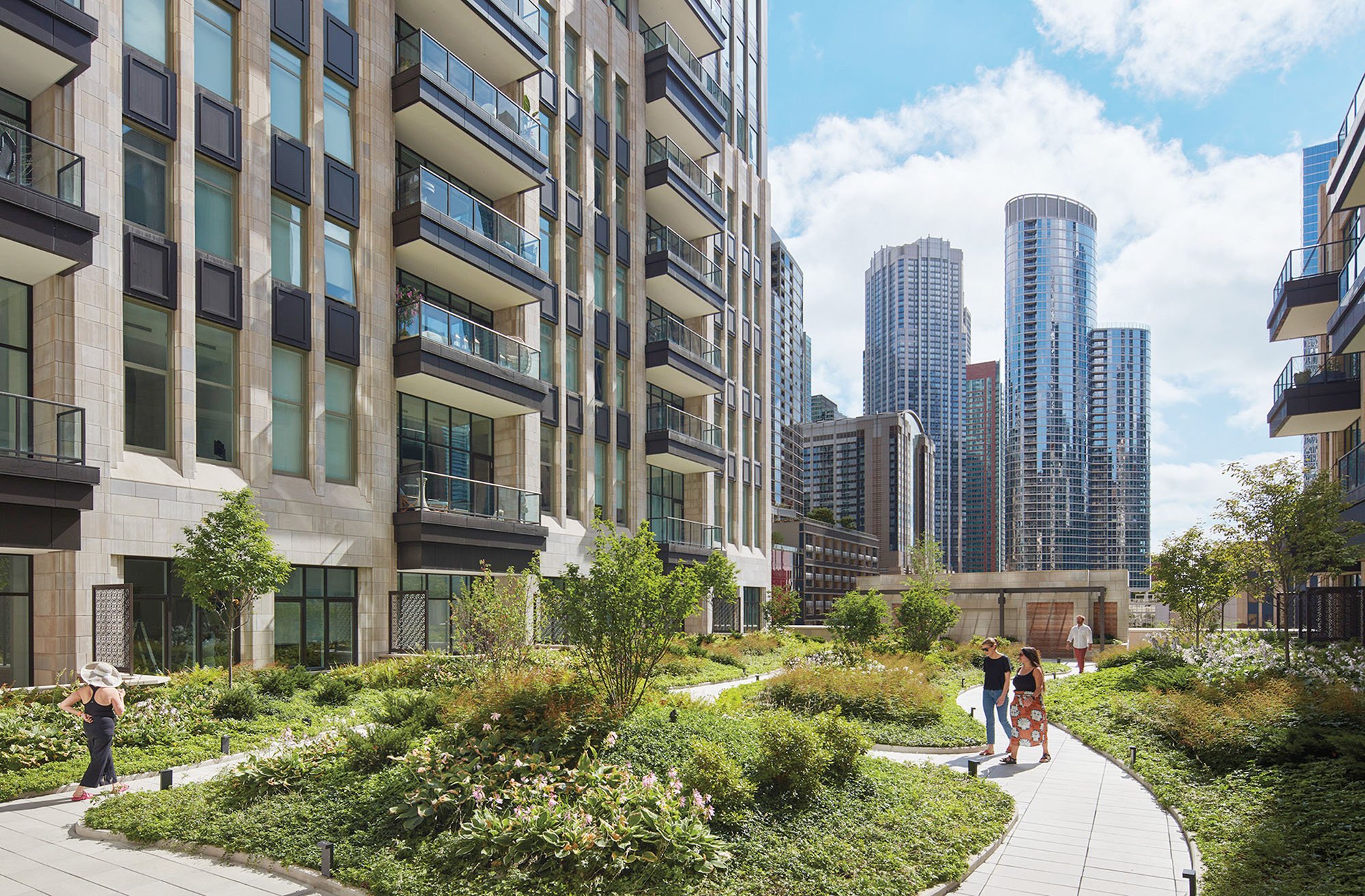 Upstairs, 55 different layouts were conceived for the tower's 162 units. Details like crown moldings and baseboards were custom designs, while bathrooms feature specially ordered fixtures from Waterworks and kitchens were designed in collaboration with The Galley. "We spent a lot of time studying neo-Gothic architecture. Everything is custom and curvilinear, right down to the ornaments on the door handles," says Schommer.
The conversion was a joint venture between two real estate development companies: CIM Group and Golub & Company. Planning started in 2016 and the conversion/renovation was completed in mid-2022. Hubbard feels fortunate to have been involved with such a historic property: "This was a once-in-a-lifetime opportunity for an architect," he says.
Selected Sources
Design Architect: Solomon Cordwell Buenz (SCB)
Interiors: The Gettys Group Companies
Developer: CIM Group/Golub & Company
Historic Preservation Consultant: VHA
General Contractor: Walsh Group
Structural Engineer: TGRWA
Additional Engineering: Klein & Hoffman, Elara, WJE
Landscaping: Site Design Group, Olin
Lighting: Schuler Shook (Exterior), KNL (Interior)
Vertical Transportation: Jenkins & Huntington Inc.
INTERIORS
Public Art Consultant: Soho Myriad
Bath Fittings: Waterworks, Kohler, Lacava
Bath Surfaces: GI Stone, International Stone
Flooring: Encore Hospitality, Jamie Stern Hospitality
Furniture: Baker, Bright Chair, HBF, HF Collection, Holly Hunt, Haworth, Usona, Corporate Concepts, Charter Furniture, CB2, Century Furniture
Kitchen Products: Wolf, Sub-Zero, Galley Workstation, Boveli Custom Cabinets
Lighting: Alger Triton, Terzani, Visual Comfort, Charles Loomis Lighting, Yellow Goat Design, Usona, Holly Hunt
Paint: Sherwin-Williams, Benjamin Moore
Textiles: Townsend Leather, Texstyle Leather, Edelman Leather LLC, Luna Textiles, Fil Doux Textiles, Garrett Leather, Larsen Fabrics, Tiger Leather, Fabricut, JF Fabrics, Optima Leather, Architex International Fabric
Wall Finishes: Phillip Jeffries, Stone Source, Daltile, Virgina Tile, Ceramic Technics, Stone Peak, Mirage, Kaleen, Spinneybeck, Garrett, Parenti
EXTERIORS
Doors: Architectural Glass Works
Glazing: Cardinal Glass Industries, Reflection Window + Wall
Windows: Graham, Jensen Windows, Reflection Window + Wall
Other: Bader Art & Metal, Nic Solutions LLC, Chicago Ornamental Iron