October 16, 2020
This Restaurant in Spain's Costa del Sol is Perfectly Charred
Designed by Astet, the interior of a Michelin-starred chef's latest venture celebrates wood, fire, and meat.
For all its glitzy, flashy reputation, the Spanish Costa del Sol pleasure ground that is Marbella does have some rare design gems wedged between palatial holiday homes and the super yachts of the 1%. One of the newest is Leña, a sophisticated steak house created by the young Barcelona design studio Astet.
Leña is the third 'culinary space' Astet has created for Dani García, a noted chef in Spain with three Michelin stars. While the others take inspiration from the country's bankable Mediterranean culture with light, natural materials and open, airy ambiances, Leña, which means 'firewood', is a dark star conceived to highlight its culinary focus—steak.
"Our starting point was primitive ways of cooking," says Ala Zreigat, originally from Jordan, who co-founded Aset along with Óscar Engroba, from Spain. "And looking at the texture of carbon, burnt wood, cinders and in particular Japanese Yakisugi  (charred wood) techniques. The object was to see how we could make these textures a backdrop and give them a very refined twist."
---
More from Metropolis
---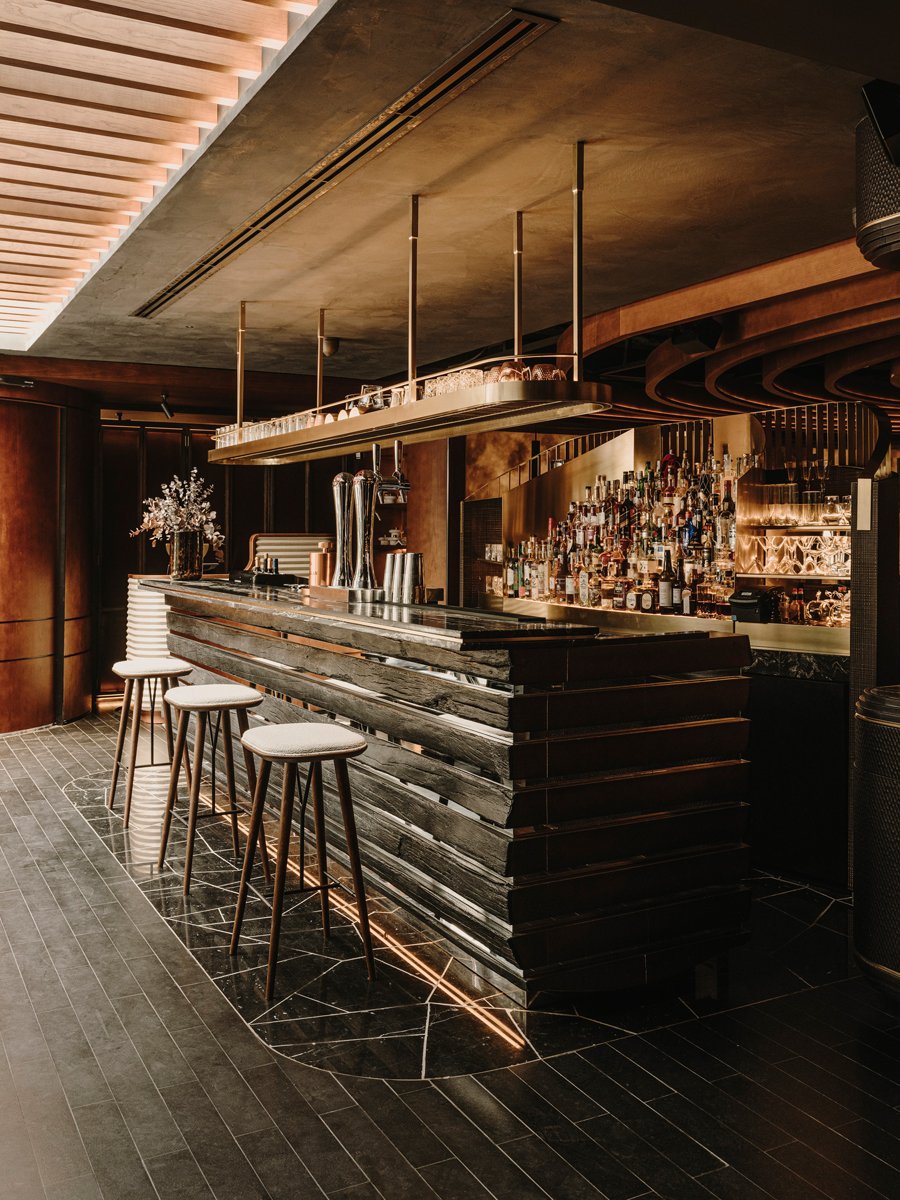 Situated in a 200-square-metre locale on the ground floor of the Puente Romano hotel, Leña unfolds with a dazzlingly high quota of materiality where every element, from chair to table, light fixture to wall treatments were specifically designed by Astet. Organic shapes and patterns, from tree rings to smoke clouds, are formed using materials from stone to fabric, alabaster, and carved wood. The black and charcoal grey palette of varying intensities is elevated with earthy, amber tones and polished metallic finishes, such as the plissé aluminium walls that lead to the bathrooms, where clients wash their hands in resin hand basins finished with a texture resembling scorched timber. "The whole effect is very theatrical," adds Zreigat, "Rocks, volcanoes, lava, and heat to create a tribute to fire."
Spatially, Leña unfolds in a series of spaces over an open-floor plan. Upon entering, guests are greeted by the whisky bar with a cascading display of vintages behind a bar crafted in burnt 'trunks' (the same resin material used for the wash basins) with a suspended brass canopy. Surrounding the bar, seating, from sinuous velvety banquettes to hand stitched leather chairs, is clustered to form dining areas where guests watch their premium steak prepared a la brasa (char-grilled) from a moodily lit open kitchen.
In one dining room, walls are covered with a feathery, smoky pattern; the result of an experiment with hand printed fabric and back lighting. In another, alabaster table lamps illuminate marbled hunks of meat that hang in a refrigerated display. The flooring too has been laid with a variety of materials, from marble to Zambian stone and terrazzo. Pulling the entire mise-en-scène together is the ceiling; a fluid, circular sculpture in ash wood protruding at different heights, designed using 3D modelling to be obvious but not over overwhelming. "We wanted it to have an irregular but dynamic feel," adds Zreigat. "Which was difficult given that the ceiling was already very low."
So, like many of the design and decorative features in Leña, the question is, was it a risk worth taking? Zreigat nods the affirmative.  "And luckily," he adds, "We had a client that was willing to pay and experiment along with us."
You may also enjoy "Sanford Biggers Uses Traditional Quilting to Issue a New Message."
Would you like to comment on this article? Send your thoughts to: [email protected]
---
Register here for Metropolis Webinars
Connect with experts and design leaders on the most important conversations of the day.