February 24, 2023
Building a New Model for the Campus Library
Shan Sutton, dean of libraries at the University of Arizona, has one of the toughest jobs in academia: convincing thousands of digital native Gen-Z students that sprawling academic libraries are still relevant to their studies and aspirations. A recent overhaul of U of A's library system and student services facilities led by The Miller Hull Partnership in association with Poster Mirto McDonald aims to help make that connection.
At U of A, the Main Library is a brutalist 1970s-era building with three wings that Sutton calls "pods." This building, along with the nearby 1970s Weaver Science-Engineering Library, have been integrated with the historic Bear Down Gymnasium and brand-new, LEED Gold–certified Barlett Academic Success Center into a new 6-acre campus quarter christened the Student Success District (SSD). Its aim is not only to make libraries more accessible and useful, but to bring all of the student service functions into a single venue aimed at supporting students toward graduation.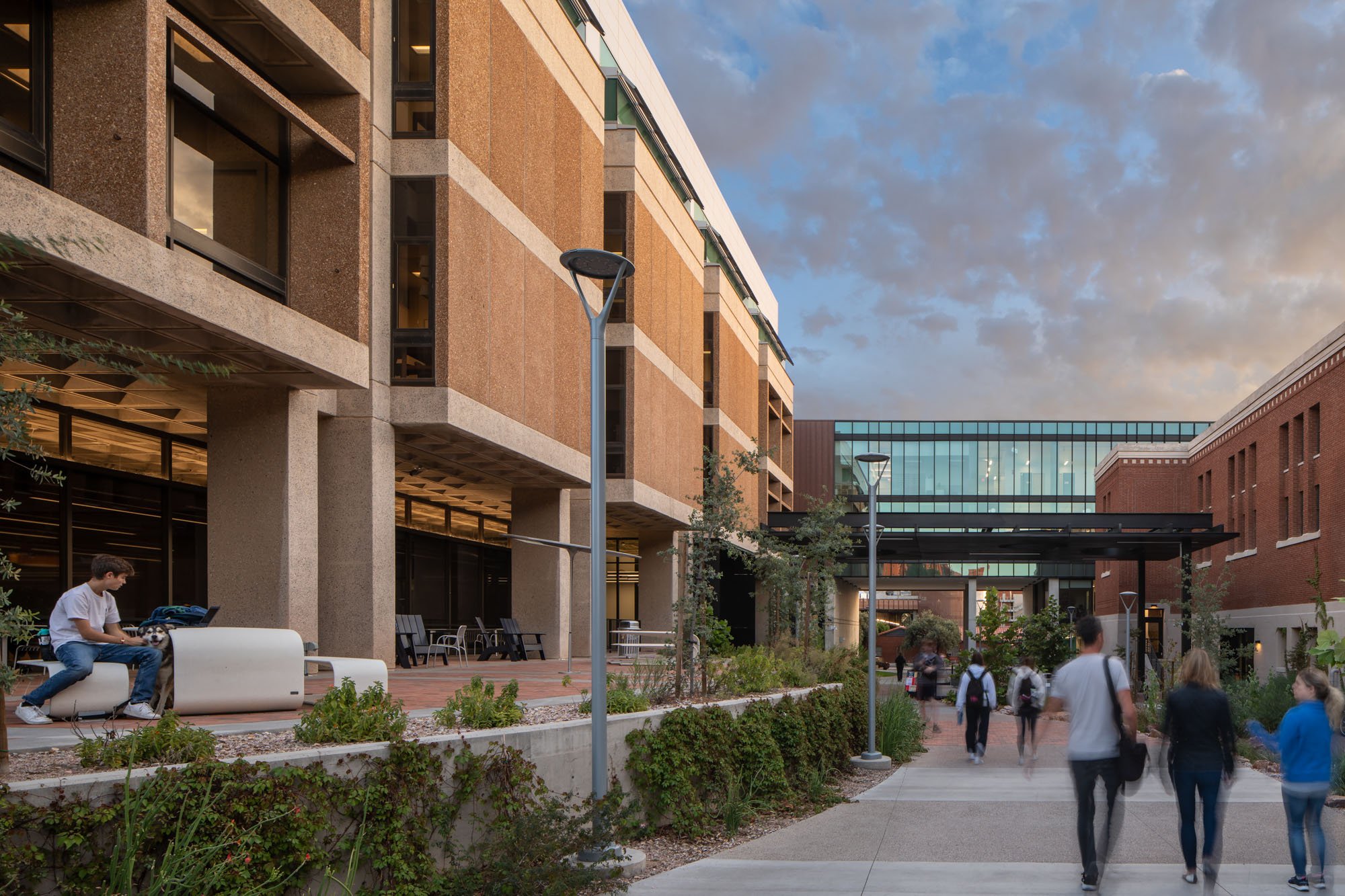 The Student Success District Links Buildings to Increase their Impact
The University of Arizona Student Success District (SSD) was completed in Spring 2022 and occupies pride of place on the university's Main Mall, a linear green space that leads to Old Main, the university's original landmark building. Architecture and interior design were by the Miller Hull Partnership in association with Poster Mirto McDonald. Ten Eyck Landscape Architects provided outdoor landscape and hardscape services and the entire endeavor was a design/build project with Sundt Construction.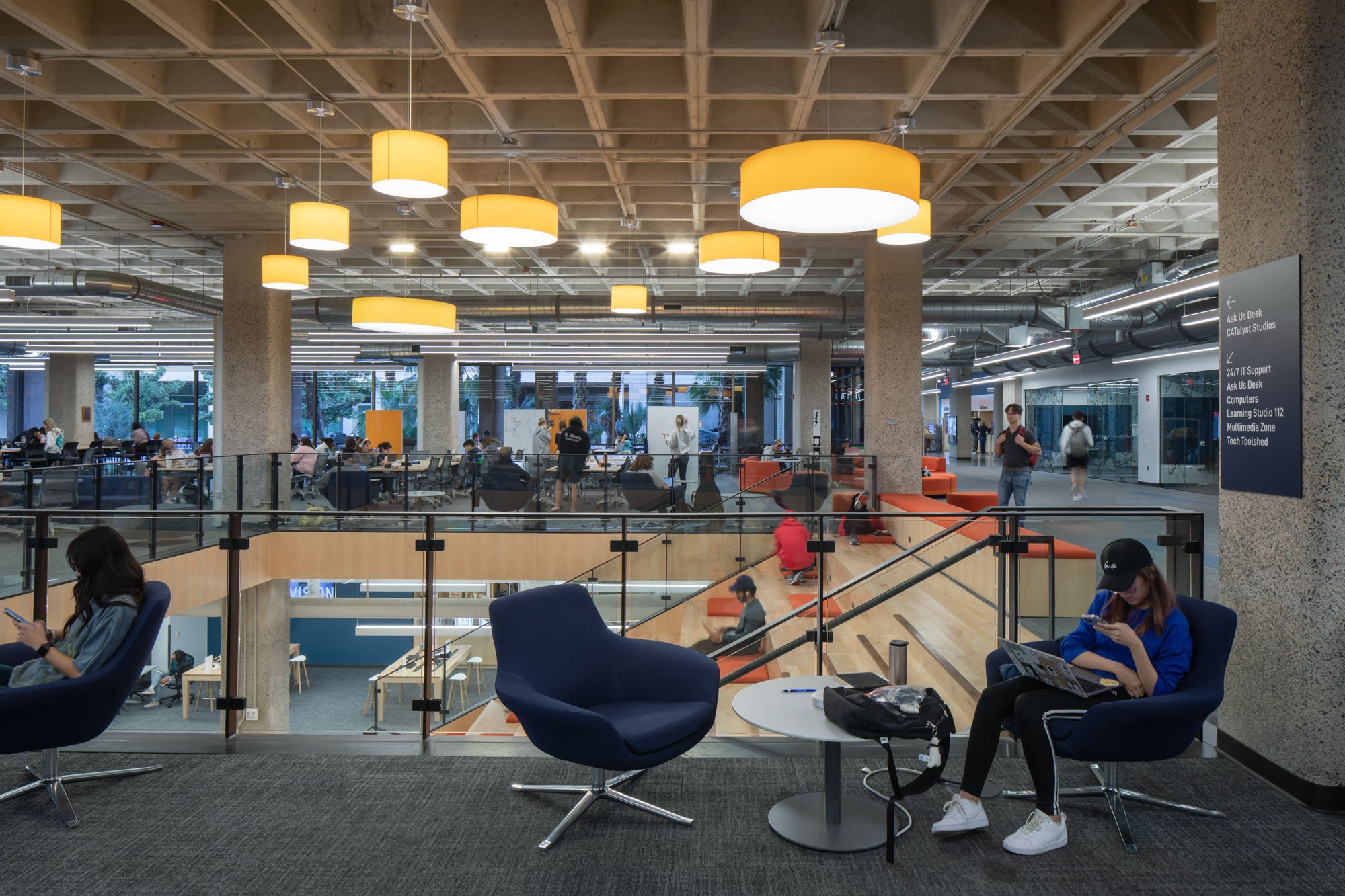 "Before the Student Success District, the individual buildings were functioning and well used, but isolated and to themselves," says Miller Hull partner Ben Dalton, head of the firm's San Diego studio. He says that tying the new and renovated buildings together with landscaping and hardscape, especially the outdoor spaces called paseos—a nod to Arizona's Spanish history—was key to the design team's strategy.
"The [University of Arizona] Student Success District pools all student services into a single place. By joining these structures, we've amplified the district's impact," Sutton agrees. They've also created a new center of student life on campus that puts an emphasis on learning, wellbeing, and indoor-outdoor connections.
---
More from Metropolis
---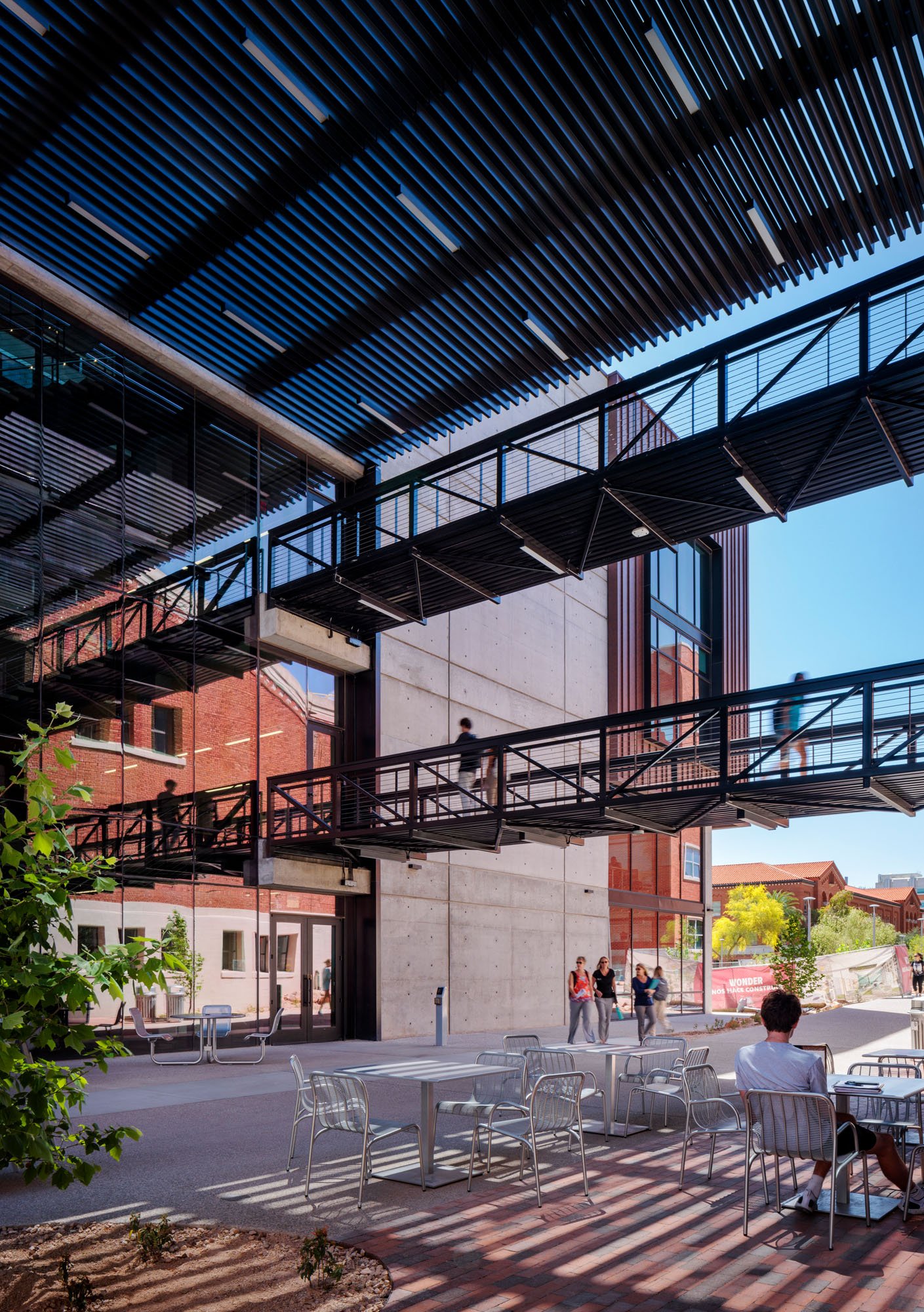 Real-world Resources for Digitally Oriented Students at the SSD
The University of Arizona Student Success District has an alphabet soup of student-centered services: STEM Academic and Research Support; SOS (A Place for Asking Any Question); SALT—Strategic Alternative Learning Techniques; and so on. One of the most innovative is called CATalyst Studio, a play on the university's mascot, the Wildcats.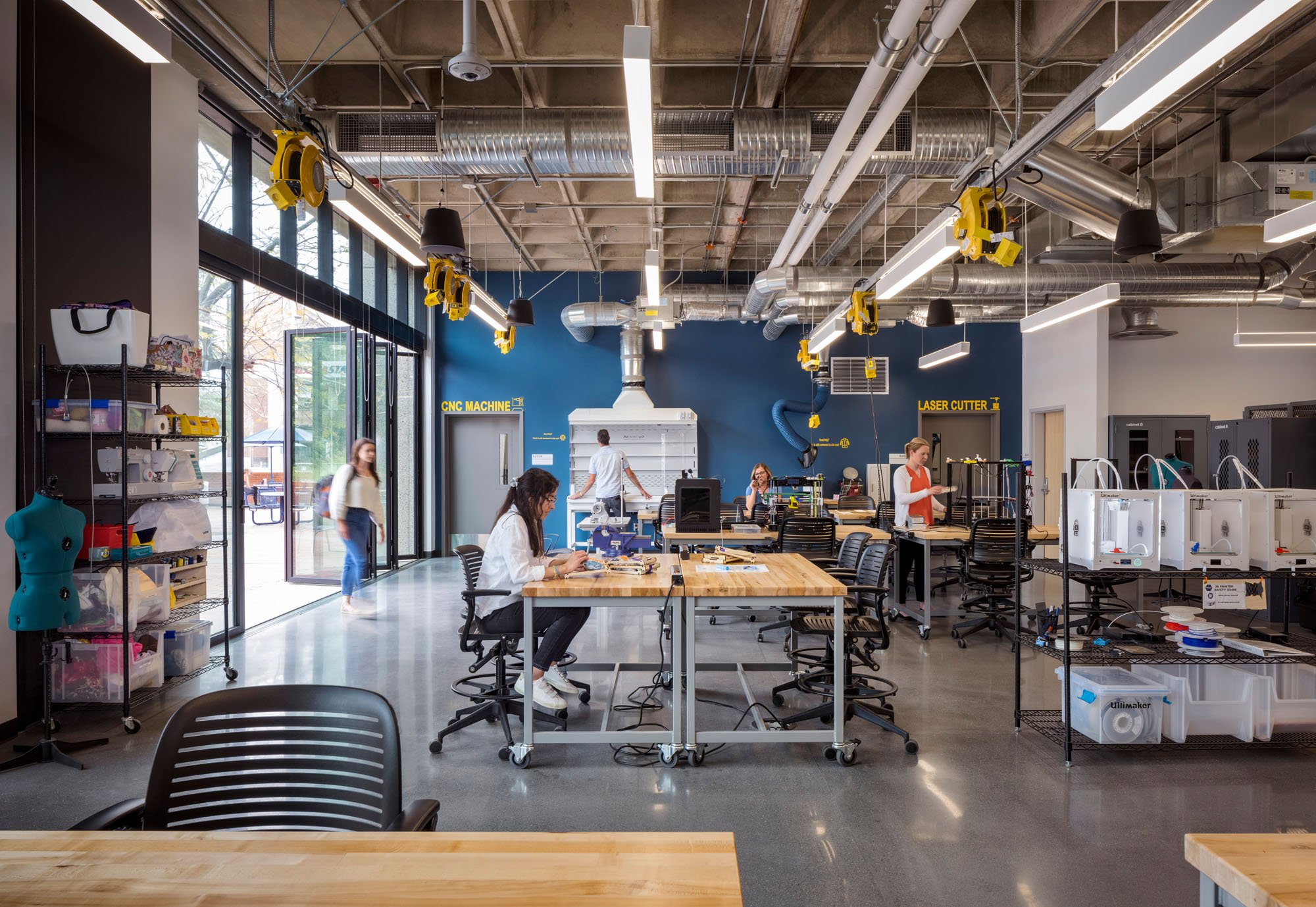 "CATalyst studio is located on the lower level of one of the Main Library's pods," Sutton explains. "It is a space for making things and features 3D printing, laser cutting, and virtual reality software. We are giving students the opportunity to learn by designing. We've had students change their majors due to their experience in CATalyst Studio." The studio is open to all regardless of their current realm of study, be it the humanities, business school, or architecture school, the latter known as CAPLA (College of Architecture, Planning, and Landscape Architecture).
Both libraries were given a makeover to create more space of engagement. Catharine Killien, an architect in Miller Hull's Seattle office, says: "An academic library today needs to have all kinds of learning landscapes, modes of study to support the different kind of work students are doing." With that in mind, lower levels of the Main Library were given over to group study and connected to outdoor settings, while upper floors offer quiet study and access U of A's 8.6 million print volumes, electronic books, and journals. The Science-Engineering Library was given a new lobby and entrance that integrates it fully into the SSD.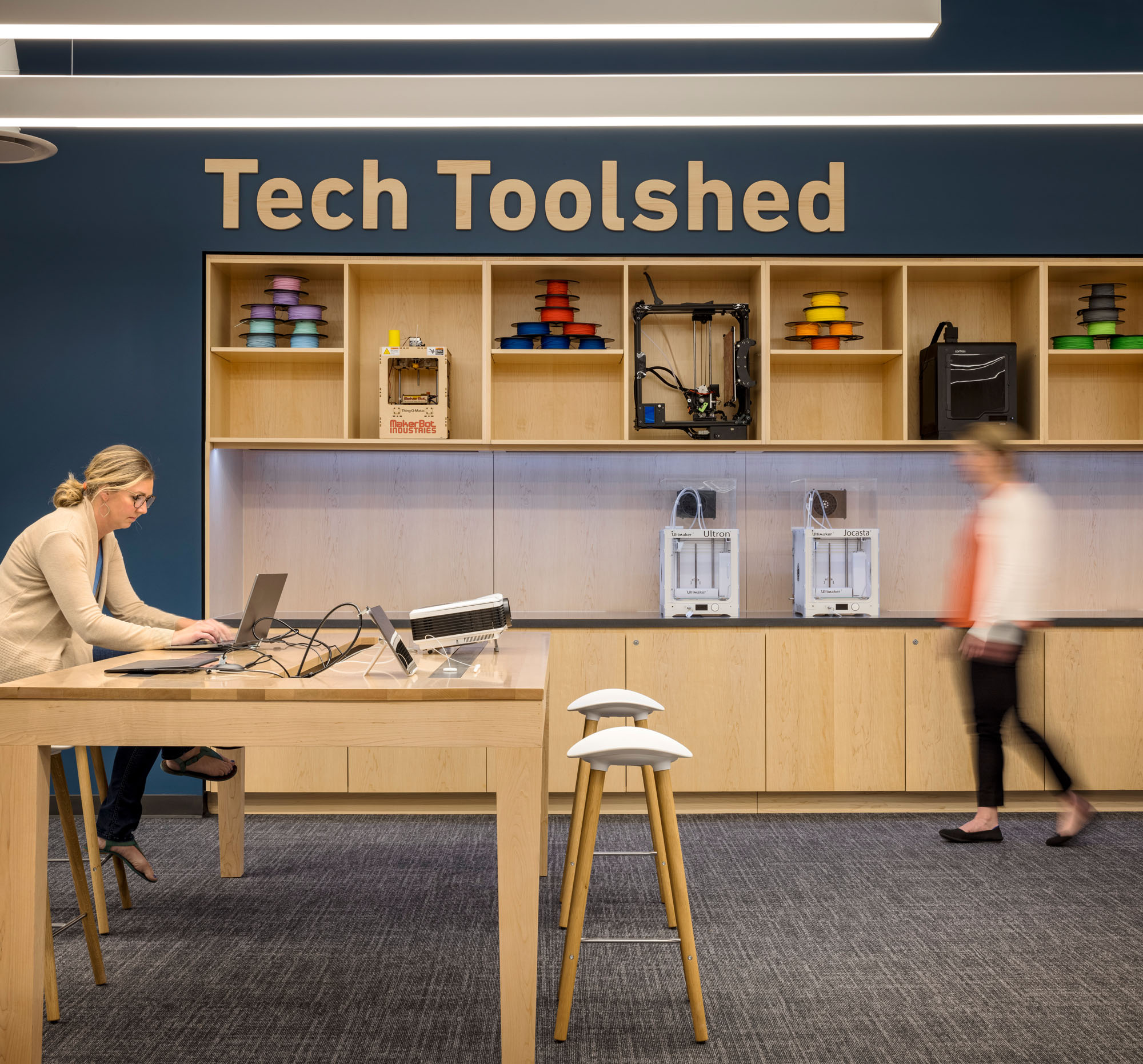 Putting University of Arizona Students at the Center
Bear Down Gymnasium, a 1926 building that's listed on the National Register of Historic Places, now offers mental health counseling, dining options, and even basketball courts. "Bear Down was a mixing pot of uses that no one took ownership of," Dalton says. Now it's a student-centric space that is conceived as an extension of the one new building in the SSD, Bartlett Academic Success Center. Bartlett, whose program is more attuned to academic success as opposed to Bear Down's personal counseling, ties the district together.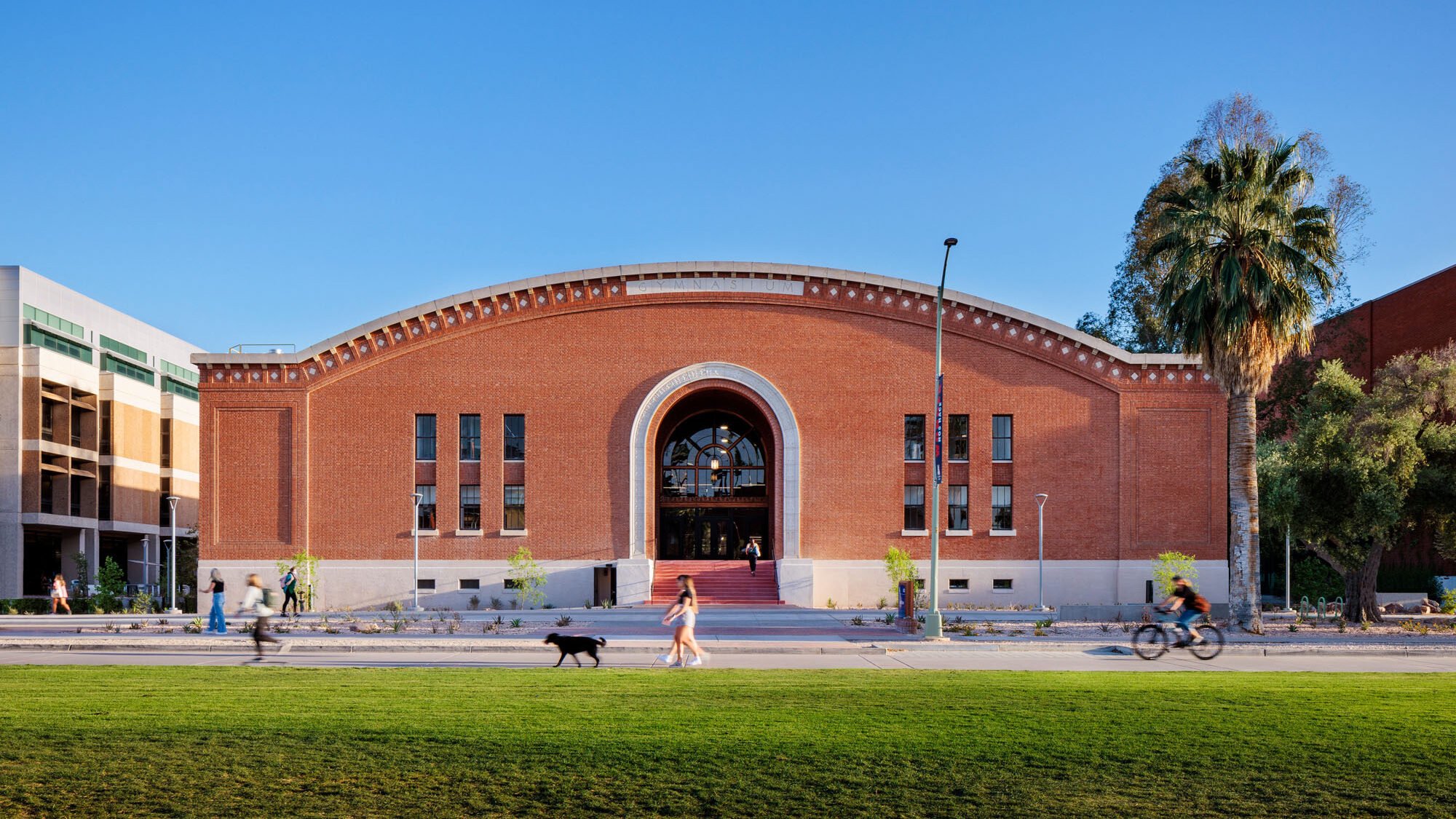 Tying services together is exactly the idea behind the entire complex, explains Dalton, who reports that "throughout the Student Success District we focused on both horizontal and vertical connection. We took buildings from different architectural eras and at different levels and made them into a cohesive district." Sutton points out what's really at stake with forging new connections on campus—academic achievement. "All of the new library spaces are designed for collaborative learning and deep digital engagement," he says.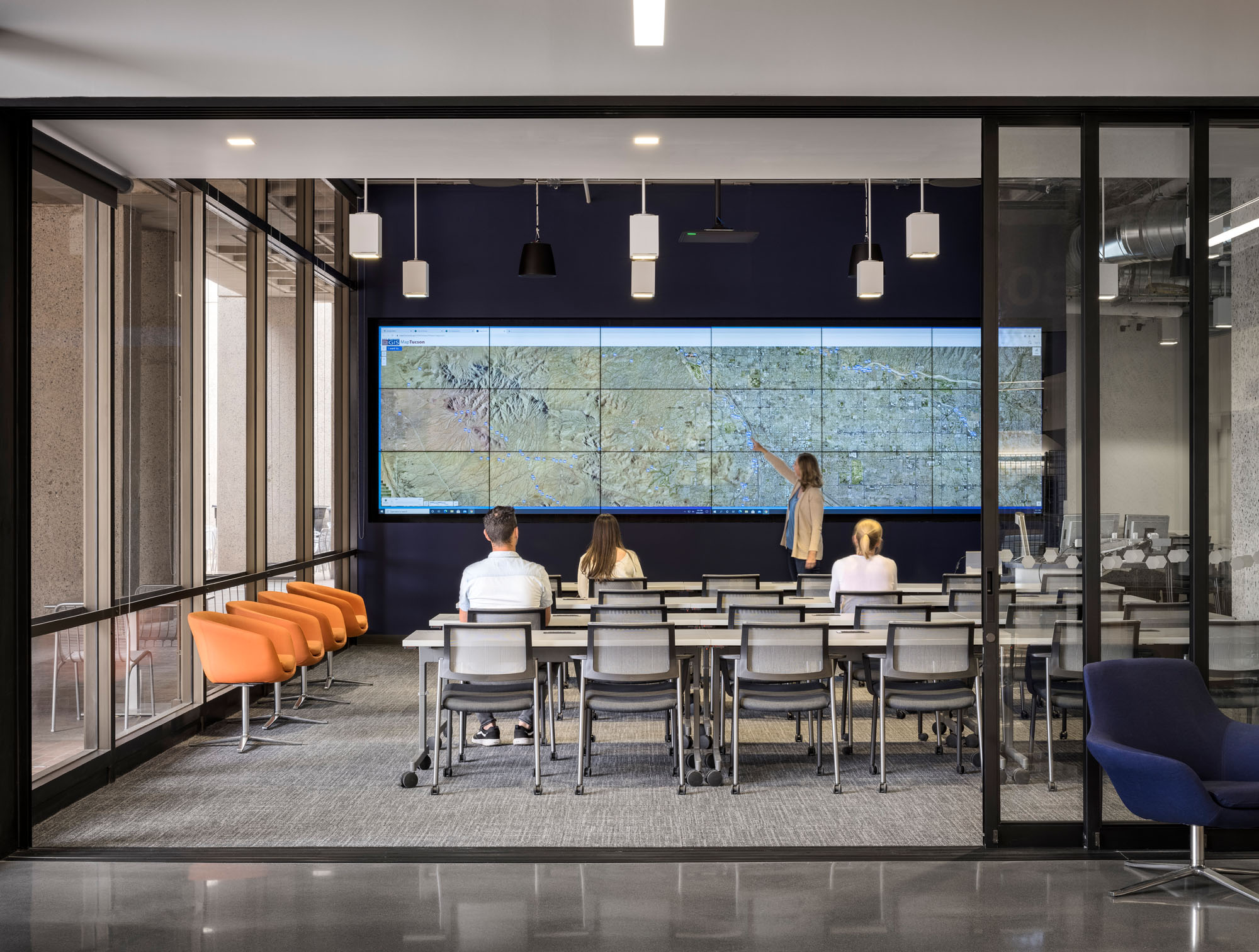 Would you like to comment on this article? Send your thoughts to: [email protected]