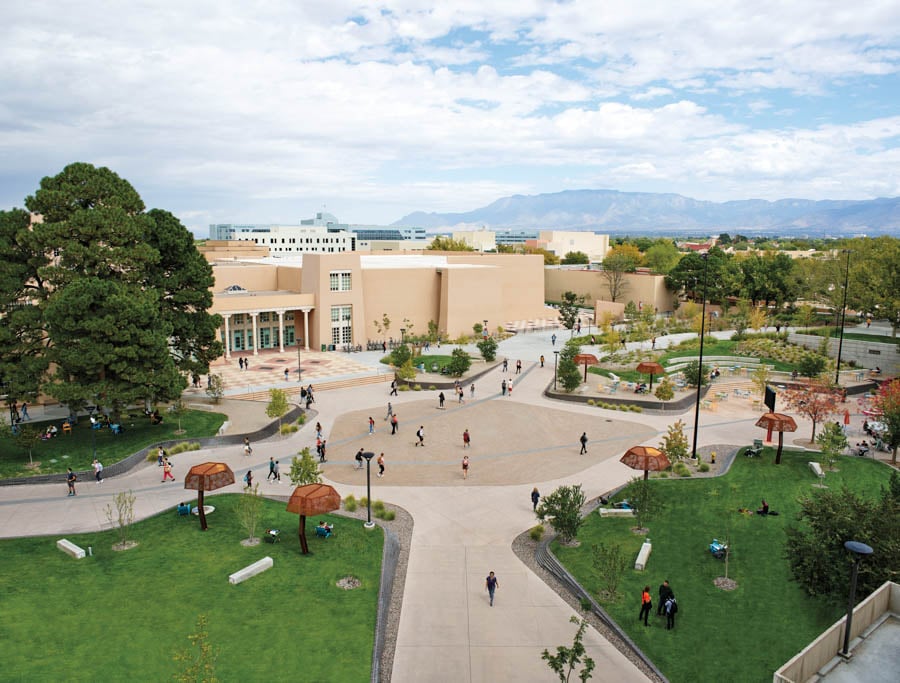 June 17, 2020
A New Landscape in Albuquerque Puts Accessibility Front and Center
The University of New Mexico's recently completed plaza—in some ways, 50 years in the making—has "shorelines," which help visually impaired people navigate the expanse.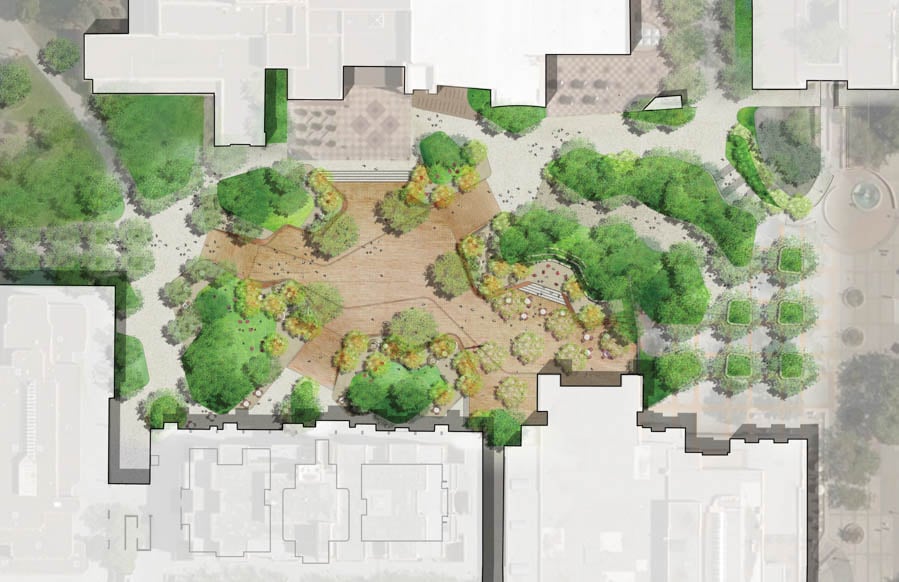 As colleges and universities face uncertainties as a result of the COVID-19 pandemic, a greater threat to the future of education—not to mention society—continues to loom. Despite a momentary pause in emissions, global climate change has not stopped; the climate curve has not been flattened. Cities across the United States are facing longer, hotter summers with more frequent and deadly heat waves. Thoughtful urban design that prioritizes shade, tree canopies, and human-scaled environments is needed now more than ever.
This is especially true in places like New Mexico, the sixth-fastest-warming state in the country. At Smith Plaza, located in the heart of the University of New Mexico campus in Albuquerque, a hot, desolate expanse of brick has been transformed into a universally accessible place to read, relax, and linger. The $3 million revitalization was led by San Francisco–based Surfacedesign in collaboration with Albuquerque's MRWM, both specialists in landscape architecture. Inspired by the state's rugged terrain, the plaza's new design employs a formal language of mesas and arroyos to break up its 3.3-acre space, while WPA-era ponderosa pines were supplemented with newly planted oak and willow trees and custom Cor-Ten steel umbrellas to provide much needed shade.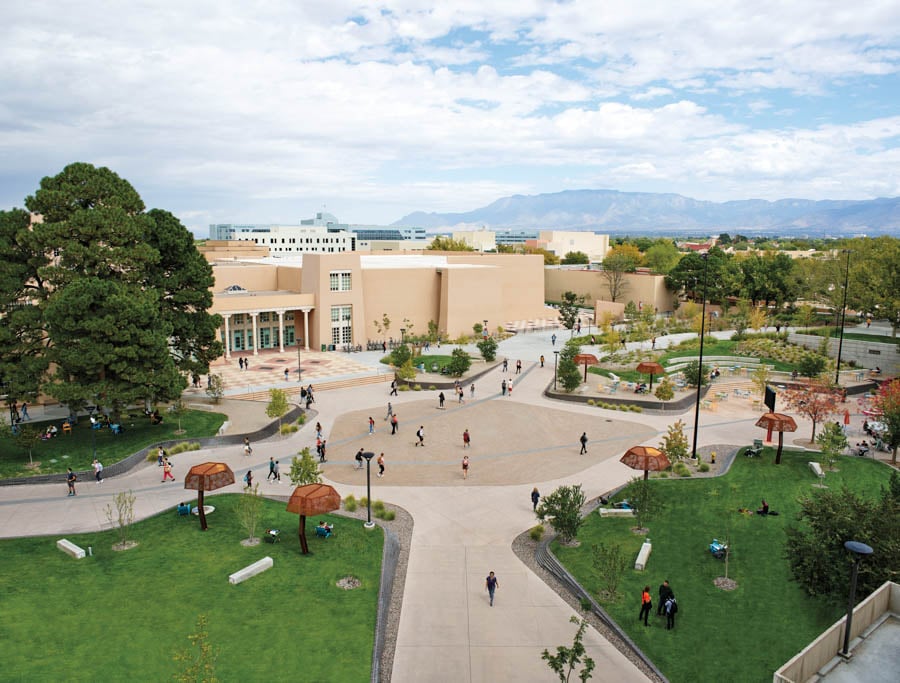 The landscape architects at Surfacedesign have long been interested in using elemental materials in unconventional ways, and they wield their characteristic alchemy here. The dark-colored brick that forms the dynamic, rocklike sides of the grass-topped mesas recalls not only the original plaza but the local history of adobe brick-making. The plaza's heavy hexagonal umbrellas, designed by McClain + Yu Architecture & Design, are a nod to Mexican punched-tin metalwork, examples of which can be found in the adjacent Zimmerman Library. Less conventional are the unadorned concrete benches placed about the site, which are made from the discarded columns of an underground cistern decommissioned late in the project. "Design doesn't stop when you're into construction," says James Lord, Surfacedesign's founding partner.
---
More from Metropolis
---
In some ways, the space has been 50 years in the making. Its original design, completed in 1971 by Garrett Eckbo (then one of the most prominent figures in American landscape architecture), called for a sunken plaza ringed almost entirely by trees. At various intervals, the trees encroached on the feature, masking its scale and leaving only a small portion unshaded. When an expansion to Zimmerman Library relocated its main entrance to the south side of the building, Eckbo's design was revised to remove a number of trees from the plan.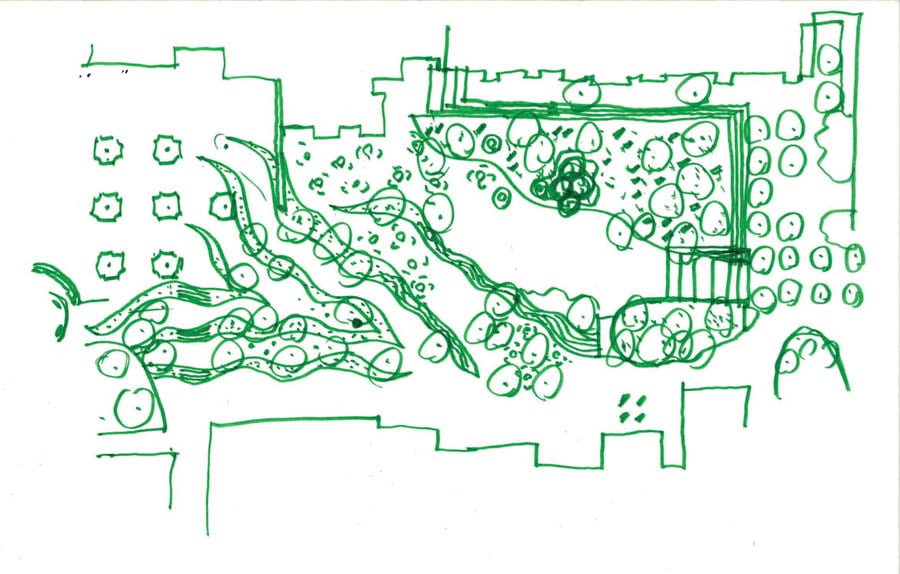 "It had big aspirations and big Modernist ideals," Lord says of Eckbo's original scheme. "But it really never saw the full light of day." Or, rather, saw far too much. Over time, many more trees died or were removed, their planters subsequently filled in with concrete.
The sunken plaza also fell short when it came to accessibility. Its numerous stairs created issues for students with limited mobility—a problem solved through extensive regrading—but the wide-open space was equally problematic for the visually impaired, so much so that during new student orientation, they were advised to avoid the area. "It was described to us as a 'black hole,'" says Aaron Zahm, a principal at MRWM. "They literally would get in the middle of the plaza and get completely lost," Lord adds.
What the designers learned is that people with vision loss "use an edge to guide across space," says Tim Kirby, a principal at Surfacedesign. This practice is known as shorelining. "When they get up to a vast space, they don't have an edge," Kirby explains. To guide visually impaired students through Smith Plaza—the center of which had to remain unobstructed because of programmatic and safety requirements—the team designed a shoreline into the hardscape: A dark line of stained concrete now traces the two main axes of the plaza. Besides being dark in color—important for those who are partially blind—the shoreline is sandblasted to differentiate its texture from that of the surrounding concrete.
For Zahm, the beauty of the redesign is that it emphasizes accessibility and makes the space more intuitive and welcoming. "In accommodating [the visually impaired], we're also accommodating everybody else," he says. This is the lesson for cities and universities: The best way to design livable, climate resilient communities is to focus on those most vulnerable—children and any residents with special needs. When an environment works for them, it works for everyone.
You may also enjoy "In Boston, a Development's Approach to a Changing Coastline Is to Embrace It."
Register here for Metropolis Webinars
Connect with experts and design leaders on the most important conversations of the day.