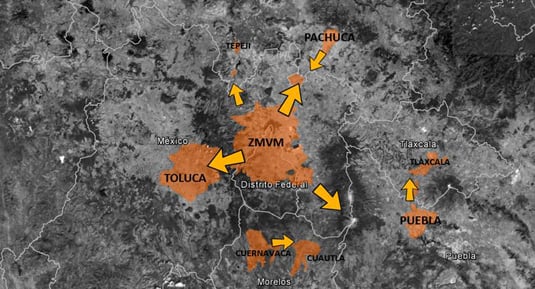 July 15, 2012
Why We Need Urban Microcenters In Our Cities
In 2010, according to the Living Planet Report, 3,500 million people lived in urban areas and estimates project a doubling of that number, to 6,300 million people by 2050.In Mexico, an alarming growth is taking place in our major cities: Guadalajara City is comingling with municipalities such as El Salto, Tlajomulco de Zuñiga, Tlaquepaque, Tonalá, and […]
In 2010, according to the Living Planet Report, 3,500 million people lived in urban areas and estimates project a doubling of that number, to 6,300 million people by 2050.
In Mexico, an alarming growth is taking place in our major cities: Guadalajara City is comingling with municipalities such as El Salto, Tlajomulco de Zuñiga, Tlaquepaque, Tonalá, and Zapopan. Monterrey City is conjoing with municipalities such as Apodaca, García, General Escobedo, Guadalupe, Juárez, Santa Catarina, San Nicolás de los Garza, and San Pedro Garza García. And Mexico City, which has a crushing total of 56 municipalities, that will  impact its Metropolitan Area: Chimalhuacán, Ecatepec de Morelos, Atizapán de Zaragoza, Tlalnepantla de Baz, Coacalco de Berriozábal, Ixtapaluca, Tultitlán, Cuautitlán Izcalli, Valle de Chalco, Naucálpan de Juárez, and Ciudad Nezahualcóyotl.
In our rush to promote horizontal growth in our cities, we have created serious environmental problems, including: consumption of large amounts of land to urbanize; loss of farming lands and natural resources like forests; enormous costs of making basic infrastructure like water, sewage, and energy available for those areas; reductions in groundwater recharge areas; increase of carbon footprint for the entire population; and increase of travel times from these new housing areas to workplaces.
---
More from Metropolis
---
These are primary concerns in Mexico City's Metropolitan Area (ZMVM, its initials in Spanish) which represents one of the three most populated areas on the planet and the urban sprawl keeps on growing every year, devouring more and more hectares of land to build new housing developments.
But along with the awareness of the environment, the development of new housing developments regarded as "sustainable" has risen in recent times. This has been accomplished by means of solar heaters, photovoltaic cells, and implementation of products with low contents of volatile organic compounds (VOC), or, through other mechanisms, such as green mortgages, and even in some cases, the use of certifications, although these developments are still located on the outskirts, distant from the working areas, which makes their apparent sustainability, questionable. The reason is that due to the centralization present on urban areas, it forces people who live on the outskirts to travel long distances to their workplaces. The average time a person travels from home to a workplace is around 4 hours, representing a loss of 20 hours every week, 80 hours per month, 960 hours yearly, which translates into a devastating total of 40 days in traffic in just one year.
This is reflected in time loss, otherwise destined for leisure, quality of life, time spent with the family, in addition to the obvious heavy traffic that floods the main roads of ZMVM, which results in enormous energy costs for moving this population. All this driving translates to huge CO2 emissions into the atmosphere.
Hence, the need to create urban microcenters that are located in central areas in the city, where the necessary infrastructure for transportation, subway systems, metro buses, distance buses, etc., as well as water supply, sewage, power stations are already present. Moreover, these microcenters integrate elements in the design of their façades and facilities that allow reductions of resources and generated waste; also, they are mostly vertical urban groups that merge different activities on one place, integrating housing, offices, commerce, hotels, fun, and mostly, public spaces in squares, gardens on the ground floor or even on higher levels. The objective is to reduce the need to travel around the city, which at the same time has a direct bearing on traffic density. This allows the quality of life of users, to improve, which makes the city more efficient.
Mexico City has excellent examples of these types of developments, as it is the case of the Recovery Plan of San Francisco atrium, by Jaime Ortiz Monasterio; Architect, Reforma 222, by Teodoro Gonzales de León; Corporativo 553 or Real Loft , both by Picciotto Architects.
The future of the city lies on the creation of these urban microcenters, because they allow the soil's recycling and enhancement, and the integration of new technologies, diversifying the real estate options, optimizing urban functionality, and allowing people to reach a higher quality of life
Francisco Vazquez Licea is an architect with an MArch earned at the Faculty of Architecture UNAM, and is part of the project team Picciotto Architects and of the faculty of the Metropolitan Center of Sustainable Architecture.