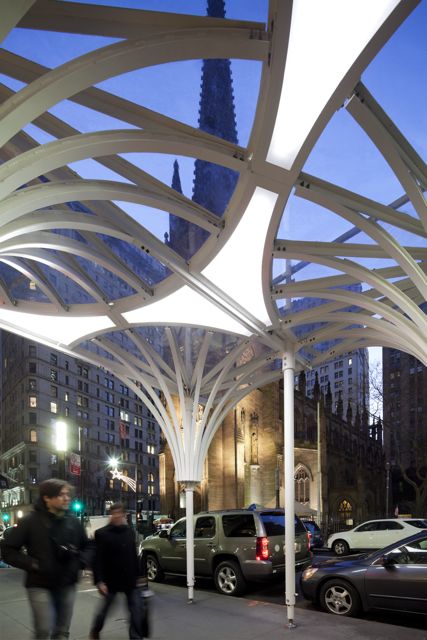 April 1, 2013
Urban Umbrella: The Aesthetic Alternative to Scaffolding
The Urban Umbrella turns scaffolding into a pleasant sight for pedestrians.
Courtesy James Ewing/Urgan Umbrella
Anyone who's walked down a city block knows that nothing destroys a neighborhood's beauty more than construction scaffolding. In 2009, New York City Mayor Michael Bloomberg launched the urbanSHED International Design Competition, challenging designers to create a sidewalk shed that's beautiful, sustainable, and economical, while meeting safety requirements.
---
More from Metropolis
---
University of Pennsylvania student Young-Hwan Choi joined forces with architect Andrés Cortés, structural engineer Sarrah Khan, and designer Scott Wagner, all from the design firm Agencie Group, to create the Urban Umbrella. "We love cities and feel people should be stimulated during their transit between places," says Cortés. "We've always found scaffolds oppressive." The designers used umbrellas—lightweight and portable—as the inspiration for an elegant, harmonious shield from debris. There were multiple design iterations, but the team never lost sight of its goal. "It comes back to respect for the pedestrian experience," says Cortés. Their focus paid off—the award-winning design debuted in New York City in December 2011; expect a new and improved version soon on a sidewalk near you. Cortés describes the scaffolding here:
Courtesy Scott Wagner
"The umbrella is made with rigid and ultra-rigid high-strength steel alloys. Most scaffolding relies primarily on steel and plywood (originally a product of World War II); it's time to bring twenty-first-century materials to the fore."
"Each structure is custom tailored to a building's width, length, sidewalk pitch, and facade projections; all cross-bracing members are seven feet aboveground."
"Made of clear polymer resin, the panels allow 90% light transmission and are designed for the most extreme environmental conditions."
"LED lights deliver brighter and more distributed illumination. With long life and low energy consumption, the lighting also addresses the dual challenges of sustainability and keeping costs down."
YOUNG-HWAN CHOI (b. 1981), now a designer at Frederic Schwartz Architects, received his master's in architecture from the University of Pennsylvania School of Design in 2011. ANDRÉS CORTÉS (b. 1974), who received a masters in architecture from Columbia University, and SARRAH KHAN (b. 1977), a graduate of Columbia University with master's degrees in both engineering and architecture, co-founded the Agencie Group in 2005. SCOTT WAGNER (b. 1986), a graduate of the University of Idaho, joined the team in 2011.