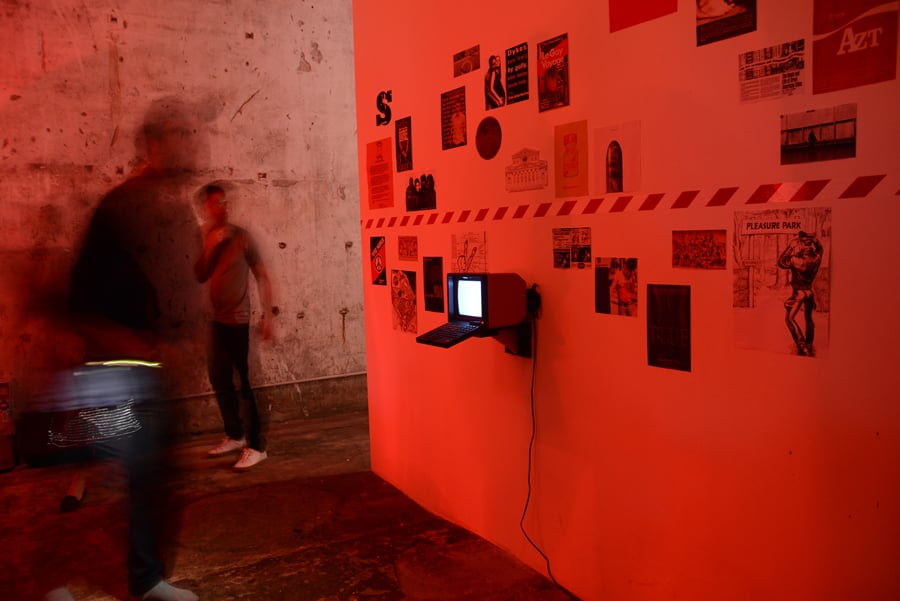 June 5, 2018
Venice's 'Cruising Pavilion' is a Gleefully Provocative Critique of the Biennale
The pavilion, part of the Venice Architecture Biennale's unofficial offerings, explores the culture—and appropriation—of illicit sexual encounters.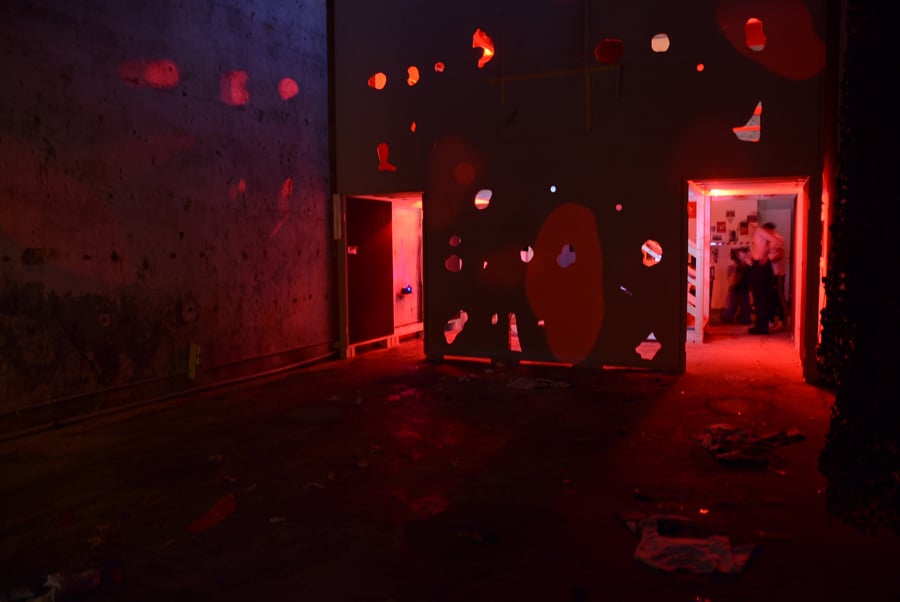 At this year's Venice Architecture Biennale, appointed curators and designers took to wrestling with the somewhat vague, but generous-sounding, theme of "freespace." The results were quite varied, but most toed a sober line, whether it was the Gold Lion–winning Swiss Pavilion, a kind of minimalist funhouse, or the Vatican Pavilion, whose suite of folly structures gave contemporary expression to ecclesiastical practice. Generally, one had to venture beyond the Arsenale and Giardini to find more experimental takes on the idea.
On the island of Giudecca, a collective of four young artists and architects—Pierre-Alexandre Mateos, Rasmus Myrup, Octave Perrault, and Charles Teyssou—are staging the unofficial Cruising Pavilion, which explores the practice of gay men looking for sexual encounters in secretive or obscured urban spaces.
Gay men, traditionally repressed and relegated to the edges of society, had to look for sexual encounters in non-conventional venues such as parking lots, parks, bathroom stalls, and dark rooms. The design of the pavilion literalizes the precedent of the "dark room"; in fact, the shed-like space of the Spazio Punch gallery was prohibitively dark, with only downcast red lights indicating displays and circulation paths. One must strain to parse the contents, which include work ranging from Diller, Scofidio + Renfro's steamy 2002 Blur pavilion and Andrés Jaque's ethnographic forays into Grindr to the duo Pol Esteve Castelló and Marc Navarro Fornó's planar studies of Barcelona cruising spots. Architectural drawings like these reveal a host of design devices that set the scene: curvy walls, a meandering circulation system, multiple alcoves, distorting mirrors that blurs one's appearance.
---
More from Metropolis
---
Movement within the space itself is purposefully counterintuitive, with visitors being forced to ascend and descend tiny wooden stairs. (The bewildering spaces of the labyrinth, the curators assert in their project brief, become "protective.") Irregular apertures in the walls formed glory holes, and condoms were scattered all over the floor.
In the eyes of the curators, cruising is not only about illicit sex but an appropriative act. "The spatial and aesthetic logic of cruising," they write, "is inseparable from the one of the proper metropolis." Jaque and his Office for Political Innovation illustrate the far end of this idea through its analysis of sex-encounter apps like Grindr, which transcend urban boundaries and exponentially increase the number of possible sexual encounters.
Yet, as gay culture has become more accepted and commodified, cruising has shed its practice of appropriation. As the pavilion shows, today, cruising has become a design category. The recent expansion plans of the Boiler, a luxe gay sauna in Berlin designed by Studio Karhard, is a case in point.
The Cruising Pavilion intends to critique the Biennale's theme of "freespace" and the main exhibition's aloofness toward the "hetero-normative production of space itself." It does so in a compelling, gleefully provocative manner.
You might also like, "'Freespace' Shows That Architects Must Retool Their Relationship to Power—and to the Biennale."