November 30, 2017
Vertical Landscapes Come to Life at Brooklyn's Home for Design
A designer's dream studio, The Workspace at A/D/O pushes one member to make work at the intersection of nature, sculpture, and critique.
Walking past the large, graffiti-on-brick-surrounded windows of A/D/O, the creative hub in the midst of post-industrial Brooklyn, the observant pedestrian might notice a curious assemblage: Lightly framed terrariums, miniaturized topographies, and modular planters, all suspended in air to form a kind of cascading ecosystem microcosm. Titled Vertical Landscapes, the installation is the work of designer Huy Bui, who is one of several current members at The Workspace at A/D/O, a co-working space for designers in Greenpoint.
The work is composed of several different module types. Plant-in TOPOs, miniature ecosystems with their own topography and plant life, are punctuated by Air Terrariums, teak boxes that loosely frame air plants. These hanging gardens are suspended above another typology, the GRID TOPO,  a regularly segmented landscape where desertic plants grow on a sandy bed. The elements are positioned in a way that promotes the flow of water from one piece down to the next, showcasing the effects of erosion across time. The result is a model of massive natural systems and geological time, scaled down to fit inside a New York City gallery or apartment.
***
---
More from Metropolis
---
With a degree in architecture and a stint in real estate banking, Bui has found a rich creative vein producing landscapes which, belying the large scale concerns of his background, are small enough to fit indoors. Besides the version suspended in the window at The Shop, the hub's retail location, replicas and prototypes of Bui's pieces are all around The Workspace. Some are bigger, smaller, or older; some are meant to be sold, while others are destined to be exhibited in gallery spaces.
The current installation is an evolution of Bui's previous project, Plant-in City, first created in 2011 as a collaboration with Carlos J. Gómez de Llarena and Jon Schramm. Conceived as a response to urbanites' lack of access to nature, Plant-in City put forward a miniature park—portable, stackable, and modular—enclosed in a teak frame.
Now, as a member of The Workspace at A/D/O, Bui further delved into exploration of the system's unit: the box that serves as the basis for Plant-in City. "I started to look at the idea of the module again, at a deeper level," he says. Taking advantage of a mix of conventional fabrication tools and digitally driven technologies like laser cutting and 3D printing—all resources available at The Workspace—Bui's topographies became more complex and organic. In new iterations, he is experimenting with materials, manufacturing pieces with wood filament and biophilic PLA, a biodegradable version of the plastic that feeds 3D printers. "A/D/O has really allowed me to go inside the cell, or the individual model, and develop a kind of DNA."
***
While the current moment of ecological crisis might seem particularly urgent, Bui's work takes its critical drive from prior architectural movements concerned with the tension between nature and city. Plant-in City, for instance, owes much to Archigram's Peter Cook and his Plug-in City concept (1964), an urban system in which modular residential units could be plugged into a main control center (with Bui seemingly offering additional modules to Cook's infrastructure). While the grid that features heavily in Bui's work is an echo of Superstudio's concept of the Supersurface (1972), a technological matrix that segments nature indiscriminately.
***
These ideas come together in installations like Vertical Landscapes, and Bui credits his capacity to expand them to the interdisciplinarity and support of A/D/O. "I see places like A/D/O as a very powerful organ in the city," he says, explaining that urban creatives need freedom to grow their practice, while staying connected to peers.  Kristin McIver, A/D/O representative,  agrees that members at The Workspace draw strength from its openness. "We choose designers that work in different disciplines, but that might have an affinity that could culminate in unexpected collaborations," she says. The value of A/D/O, explains Bui, is that there is space for discussions and the diverse practices around them to evolve, all the while feeding off of each other. "It's about creating networks in a space where design, fashion, architecture, interior, food and production, retail and commerce are all coming together," Bui says, "and it's powerful."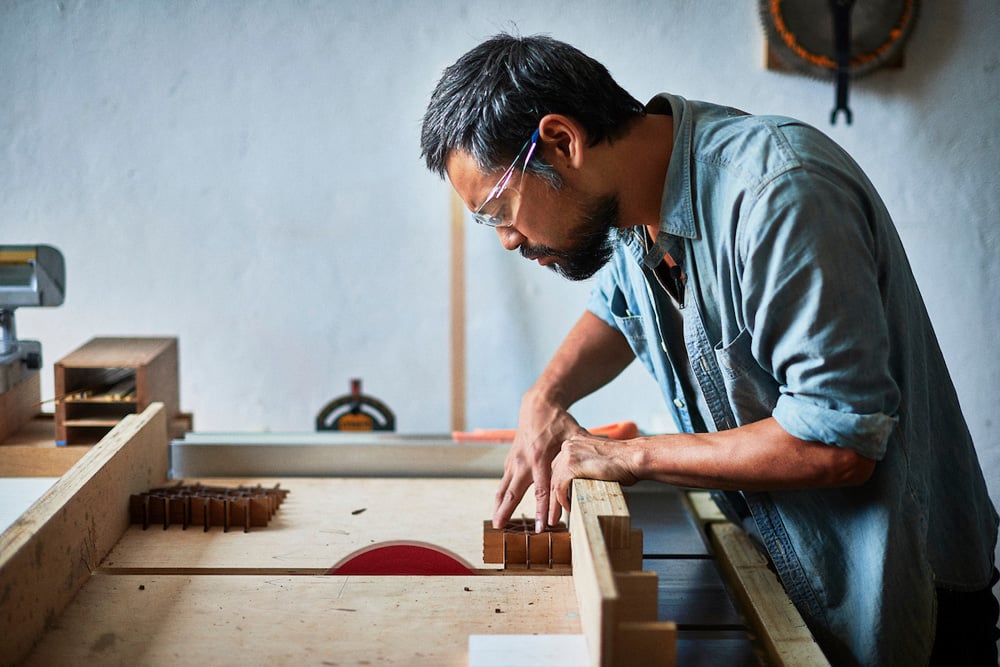 Vertical Landscapes, a film by Melting Butter and Where They Create. Courtesy of A/D/O.
---
The Workspace at A/D/O is currently accepting applications for new members and is running a special holiday promotion: those that sign up to become full or part time members before December 31 will receive the first month free. More info here.