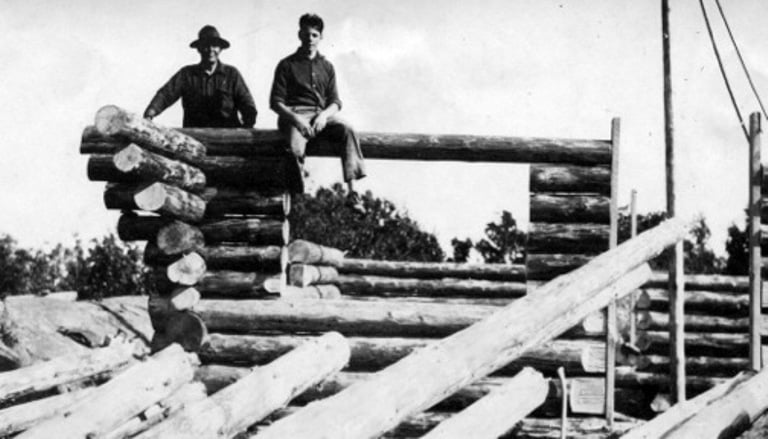 August 1, 2013
A Visit to L.A. Modernist John Lautner's Childhood Home
The log cabin near Marquette inspired the architect's California modern work
In early June I navigated an uphill climb through a landscape of huge granite boulders and tall trees under a bright blue sky, just north of Marquette, a port city in Michigan's Upper Peninsula. Destination: Midgaard, John Lautner's family's summer log home. Rustic yet civilized, Midgaard was inspired by Norwegian folk architecture and Lautner's mother, Vida, decided upon the design. Midgaard, a word found in Norse mythology, pinpoints mankind's home as a place between the land of ice and the land of fire.
Vida also selected the New Jersey architect, Joy Wheeler Dow to design the Lautner in-town home. Called Keepsake, the 1911 house is a Jacobean Colonial and still stands near the Northern Michigan University (NMU) campus, where John Lautner Sr. was a professor.
Earlier in the day I had shared food and wine with Karol Lautner Peterson, John's daughter who still lives in the Marquette area. She related stories about her father and his well-known southern California homes. Karol also mentioned how John loved Midgaard. I accepted her offer to visit on that sunny but cool afternoon. My guide was Melissa Matuscak, the director and curator of the DeVos Art Museum at NMU. In 2011, she organized the exhibition John Lautner:  A Life in Architecture to celebrate the architect's centenary.
---
More from Metropolis
---
The quarter-mile boulder-strewn walk from the vehicle, although laden with blooming spring flowers, bright green ferns and fallen trees, did not prepare me for the unfolding vista of Lake Superior from Midgaard's towering precipice known as Middle Island Point. Perched like a raptor on high, the house provides unrelenting views of Partridge Island, the Huron Mountains and, of course, of the biggest freshwater lake on earth. With Karol's permission, I returned the next day taking a friend who arrived from Ann Arbor the previous evening. On the second visit in as many days, it struck me that here, a magnificent sky, a powerful body of water, and an ancient geological landscape coalesced into an unself-conscious platform for a humble but self-possessed, even timeless, bit of architecture.
Midgaard was a labor of love. In the summer of 1924 John Lautner Sr. enlisted his family and friends to build the home entirely by hand. It was built by hand, indeed. Everyday the family made a 15-minute Lake crossing in a small boat to Middle Island Point. All logs were rafted in similar fashion. From the rocky shore, the logs were hoisted to the precipice by a handcrafted windlass, powered by John Jr. He also laid Midgaard's hardwood floors.
John Lautner St. and John Lautner Jr. building Midgaard
Courtesy Lautner Family Archive
Vida Launter on the balcony looking out over Lake Superior
Courtesy Lautner Family Archive
A family affair, Vida built the chandeliers, painted the kitchen cabinets and second floor balustrade with colorful, Norwegian inspired floral patterns. Using her hand-carved woodblocks, she hand printed curtains with folk designs. (Through September 8, the DeVos is featuring an exhibition of paintings on paper by Vida (1885-1978).
In all, Midgaard, where no machinery was used, took three years to complete. Although plumbed, the house still requires all provisions to be hauled in by foot for both short and summer-long stays.
Equally significant during the building of Midgaard was that each day, John Sr. had the family explore Lake Superior's unpredictable shores or nearby islands. He also fostered ideas of humanity and man's relationship to nature through discussions on philosophy, religion, and art. (For a complete back-story see Matuscak's 2012 article in Michigan History Magazine) John Jr.'s deep awareness of nature was undoubtedly bolstered and deepened by these discussions.
Lautner, who later would be known for his innovative southern California residences such as the 1960 Malin/"Chemosphere" home, and who never lost a battle with a challenging site, was in 1924 a mere 12 years of age. But the genesis of his future practice is wholly anchored at Midgaard, which also seems prescient of the architect's six-year apprenticeship with Frank Lloyd Wright at both Taliesin East and West. Vida encouraged him to do that too.
Lautner returned to Midgaard frequently until his death in 1994. Ostensibly there may appear to be an aesthetic disconnect between Midgaard and his acclaimed California structures, but a visitor quickly discerns what inspired Lautner – Midgaard – to integrate architecture into often seemingly impossible landscapes.
Midgaard is separate but sublimely at peace with its untamed landscape. Still owned by the family, the house needs some preservation and restoration help. The front and rear second floor balconies that ran the full width of the structure are gone.  And so is the railed rooftop widow's walk. After all, the logs are nearly 90 years old and Midgaard is used only intermittently. Hopefully there is a future for it, because visiting this near magical site and its subtle but profound Midgaard should thrill us for another century.
Mason Riddle is a writer based in Saint Paul. She covers the visual arts, architecture, and design. Her reviews and articles have been published in Architectural Record, Architecture MN, Artforum, Dwell, The Star Tribune, Public Art Review and Rain Taxi, among others.  Her article, Game Plan, explored the textile work of, Alighiero Boetti in the Italian conceptual artist's MoMA retrospective and appeared in the winter 2013 issue of Surface Design. She is former director of The Goldstein Museum of Design and MN Percent for Art in Public Places program.
Images Courtesy Lautner Family Archive and Mason Riddle
Created with flickr slideshow.