December 12, 2019
A House in Cologne Packs Living, Work, and Gallery Space Into an Ultra-Skinny Lot
Young local architect Wolfgang Zeh spent years on the house, which responds to the unique spatial advantages and constraints of the once-decrepit lot.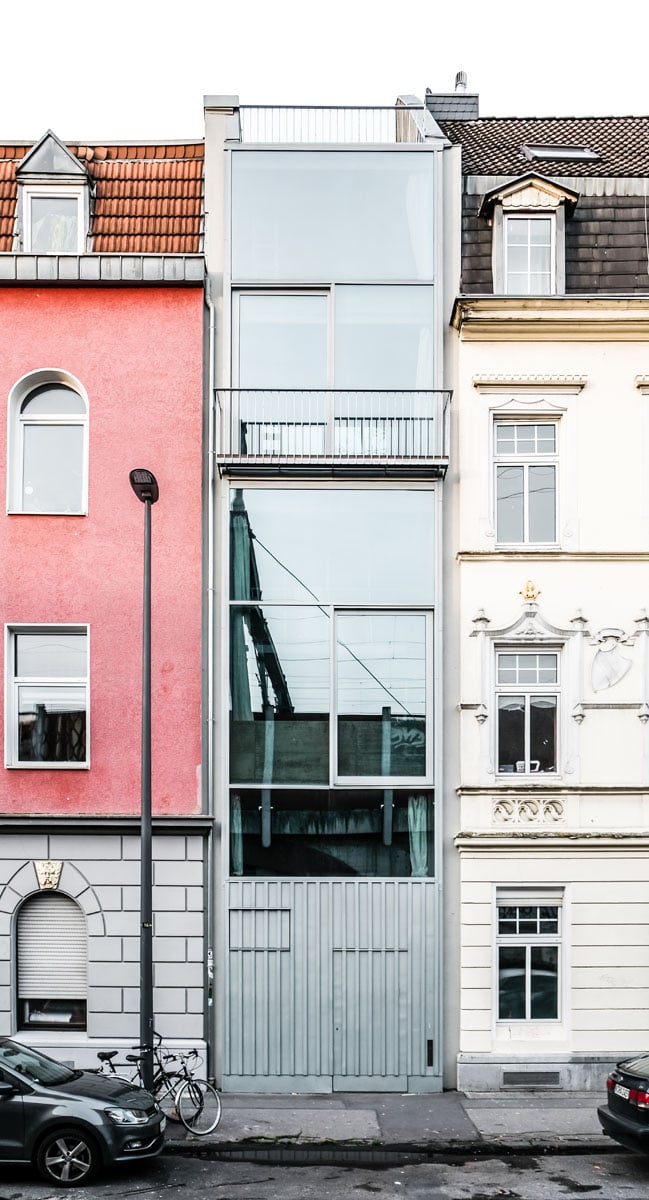 It wasn't on purpose, says architect Wolfgang Zeh, almost justifying the extremely slim house he built for himself in Cologne. It was a coincidence that he stumbled upon an advertisement for an old lot wedged between two residential buildings, measuring only 11.5 feet wide and 33 feet deep. A garage occupied the site, but he wondered if a home could be possible. The location had its advantages, nestled in the lively neighborhood of Ehrenfeld, close to the city center, and near public transport. Drawbacks included frequent noise and rattling due to the rail viaduct the lot abuts.
That was eight years ago. In early 2019, Zeh finally moved in, along with his family and young architecture office. Zeh is trained as an architect and carpenter, skills that enabled him to custom-build many of the furnishings himself. Though German building regulations slowed the construction process, so did Zeh's architectural ambitions: The narrow site posed an extreme challenge that triggered the designer's creative problem-solving. Zeh cleverly stacked three double-level rooms, connecting them with a sculptural stair whose shape changes as it climbs. (It took two years alone to bring the stairs in line with the local building code.)
The double-height ground floor acts as both a lobby and a workspace—a semi-public interface between street, the tiny courtyard, and the second-floor office. Above the office, in ascending order, are a master bedroom with a storage area, a bathroom and kid's bedroom on the third floor, and finally the kitchen-and-dining-room on the fourth. From there, the stair becomes a steep ladder leading to a fifth-floor exhibit space and, finally, onto the roof terrace. The house features everything one expects of a home—it's just all a bit smaller.
---
More from Metropolis
---
Throughout the planning phases, Zeh and his family constantly pondered, How much do we really need?, arriving at ultra-compact conclusions: "Eight square meters [86 square feet] is enough to work, ten [108 square feet] for living, and four [43 square feet] for an efficient bathroom, including a tub."
But the house doesn't feel limited, though it amounts to just 80 square meters, or 861 square feet; the spatial continuum of the stair and large windows make up for diminished space.
With the house now finished, Zeh bristles at the occasional what-if-questions: What if there's another kid, or the office grows? Well, then they'll have to find a solution for that, too. "Living in the house will be a process of continuous changes and adaptations," he muses, adding that the house is not finished, and it might never be. After all, there will always be more ideas.
"To be your own client means to understand that time is precious," he says. "But to be on site and decide with a saw in your own hand is pure liberty."
You may also enjoy "The Architect Lluís Alexandre Casanovas Blanco Knows How to Infuse Space With Narrative."
Would you like to comment on this article? Send your thoughts to: [email protected]