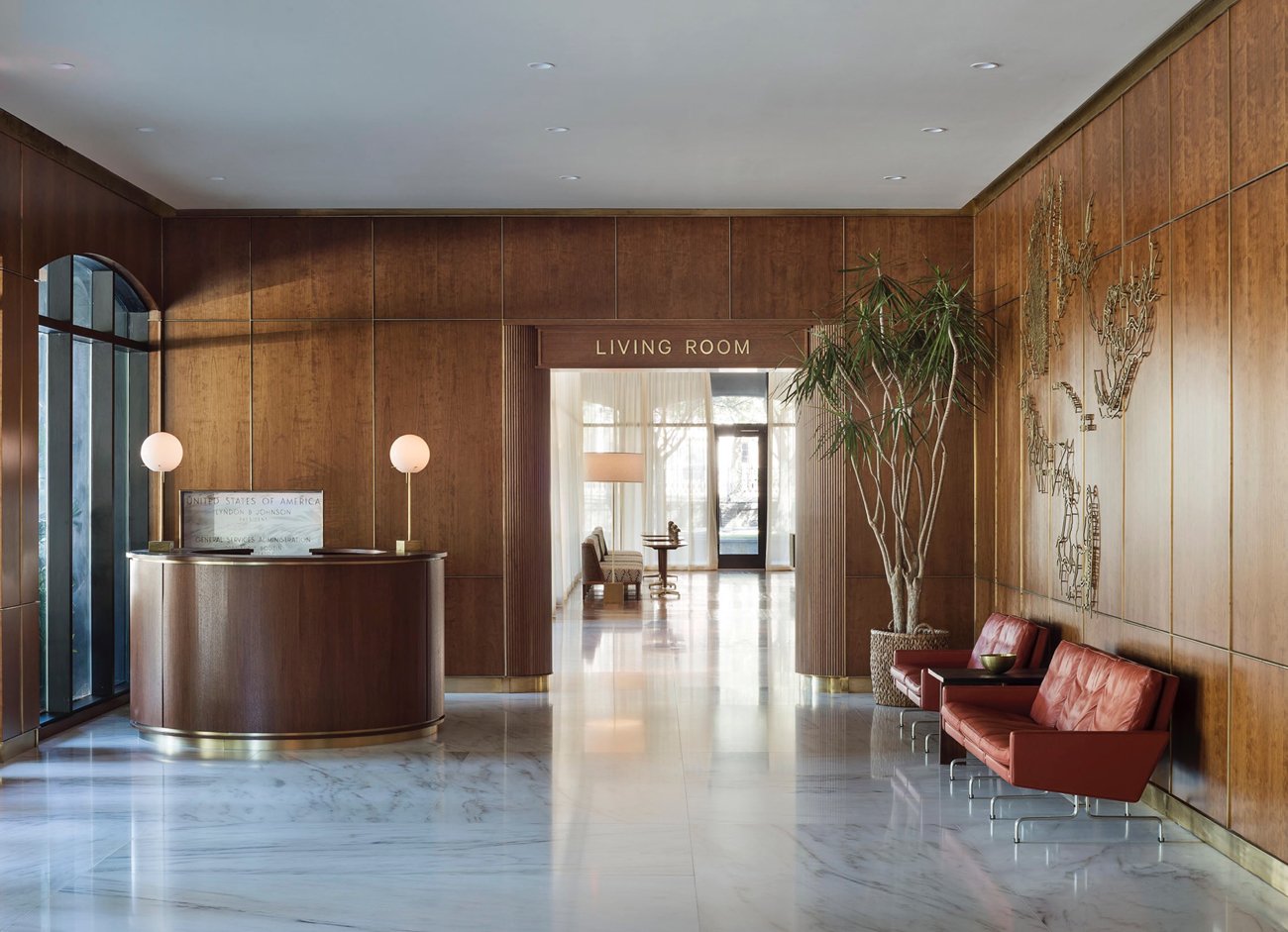 January 3, 2017
Workstead Studio Puts a Southern Twist on Modernism
With many celebrated New York projects under its belt, the lighting, furniture, and interior design studio Workstead sets its sights on the South.
The Dewberry hotel occupies the former L. Mendel Rivers Federal Building in Charleston's Upper King district. Above: The cherry panels in the lobby are inspired by those in the original building.
Courtesy Matthew Williams/Workstead
---
It was perhaps a subconscious nod to her own creative leanings, but Stefanie Brechbuehler long had the feeling that she would end up with an architect.
Born in Switzerland and raised in Venezuela and the United States, she set out on a career path in design early, completing her bachelor's in interior architecture at the School of the Art Institute of Chicago (SAIC), before heading to RISD to do her master's in architecture. It was there that she met two people in particular—one with whom she became "practically attached at the hip," as she puts it, and the other who became her husband. Together, the trio would eventually form the design studio Workstead, which has applied its refined yet expressive minimalism to some of New York's hippest hospitality and residential spaces.
---
More from Metropolis
---
Brechbuehler and Ryan Mahoney had been walking parallel paths for years— he too was born in Switzerland and studied at SAIC before going to RISD. When they met on the first day of grad school, they struck up an instant friendship. "People thought we were dating because we were always together," Brechbuehler says. In fact, they weren't. Instead it was a student from North Carolina two years behind them, whom they met right before graduation, who eventually caught Brechbuehler's eye.
Robert Highsmith had taken a more roundabout trajectory to design. Having played violin since age five, he did his best to rebel against the family tradition that had produced three generations of architects, and studied music. "I was definitely one of those kids who practiced violin every day for hours for 15 years of my life," he says. "I think it gave me some of the rigor and focus required for the work that we do now." But genetics soon proved too strong to ignore, and he began to explore drawing and other creative outlets, which eventually culminated in his applying to architecture school at RISD. That was a fortunate decision.
The Workstead trio consists of Stefanie Brechbuehler, Robert Highsmith, and Ryan Mahoney.
Following their respective graduations from RISD, Brechbuehler and Highsmith based themselves in New York City. It was there, while she was working for Gensler and he was freelancing, that they decided to strike out on their own. In spite of the inhospitable economic climate at the time, in 2009 they formed the design studio Workstead and completed their first project—a kitchen in a prewar apartment in Brooklyn Heights. Three months later, they reached out to Mahoney, who had been collaborating with Brechbuehler on a side project, to round out their trio. "It was inspiring to see my friends realize their own designs," Mahoney says. "We all share a very similar sensibility and approach—I especially loved their sensitivity to context and materials. When they asked me to join, I immediately left my job in Connecticut and moved to Brooklyn."
The Sliding Kitchen, as Workstead's first endeavor was called, quickly drew positive attention and led to other highly regarded projects throughout New York City, including the lobby at the Wythe Hotel in Williamsburg, and its rooftop bar, the Ides, as well as the Tribeca pastry bolt-hole Arcade Bakery. In late 2015, the studio designed its first complete hotel—the 27-room Rivertown Lodge in Hudson, New York, which revived a run-down 40-year-old motel. Fashioning an elevated take on the cabin vibe, Workstead collaborated with local makers and craftspeople to bring the interiors of the petite lodging to life—and also contributed its own custom-made lighting fixtures and beds.
Workstead's latest lighting collection, Signal, is the studio's first foray into using globes in its designs, inspired by the custom lighting it designed for the Dewberry hotel.
Courtesy Jeff Holt/Workstead
---
Product design has been part of the studio's repertoire from early on, in part inspired by Brechbuehler's experience working with Michael Graves. "That was a huge influence in my life," she says. "It might sound odd, because aesthetically our work is quite different from his, but he had an architectural side, an interior side, and a product side. I got to see those worlds and how they're obviously interwoven, which I found fascinating."
It helped that Highsmith already had a penchant for tinkering. "I've always collected objects and been really into antiques," he says. "I started making things for our apartment and trying to solve problems in our own house with efficient, minimal solutions." Indulging his passion for turn-of-the-century factory lighting, he began collecting and playing with vintage parts, seeking out people who had the original casts. All that dabbling eventually culminated in a series of Workstead-branded lighting and furniture.
Driven by the idea that beauty can be found in utility, Workstead's designs—while striking—are less evocative of a zeitgeist, instead offering a minimalist dialogue between old and new. Their leather-and-wood Sling chair and ottoman, for example, were inspired by the collapsible campaign furniture that British soldiers carried in the 19th century. Lighting fixtures range from the powder-coated brass and cast-iron Industrial Chandelier to the Orbit collection, which features celestial brass-disk reflectors that can be rotated to adjust the diffusion of the glow and play with the "mystery" of light.
Courtesy Matthew Williams/Workstead
The public spaces in the hotel include Henrietta's, inspired by warm-climate brasseries in places like New Orleans, and the Living Room, a lounge and bar on the first floor.
Courtesy Matthew Williams/Workstead
---
Having firmly established itself as a standout within Brooklyn's ever-growing flock of design studios, Workstead recently expanded its reach south. Brechbuehler and Highsmith—who married in summer 2011 and also have a home in the Hudson Valley—made the move to Charleston, South Carolina, inspired by a trip with Highsmith's family several years earlier. There, they opened the studio's second office last year, while Mahoney stayed behind to run things in Brooklyn.
Workstead's highest-profile work in Charleston to date—the Dewberry, a 155-room hotel in a 1960s federal building on one of the city's main thoroughfares—opened in July. The prominent building was abandoned in 1999 after Hurricane Floyd, and threatened with demolition before being purchased by hotel developer John Dewberry. In an approach that it dubs "Southern Modernism," Workstead sought to retain the clean historical style of the iconic building's interiors, but make it more livable, welcoming, and relevant to the city. Though the design evokes midcentury Modern techniques, it also brings in traditional Southern materials like caning, linen, and wallpaper. "We surprised ourselves that we were even looking at those sorts of materials," Highsmith says, alluding to Workstead's usually stripped-down aesthetic. "But it was out of a desire to push two seemingly opposing ideas together while maintaining some kind of balance."
The process of designing all of the Dewberry's lighting—made by local Charleston company the Urban Electric Co.—also led to their newest collection, Signal, which moves away from the more industrial aesthetic of previous designs. The striking difference comes from a very simple addition—a globe. Workstead's designs had almost always centered upon exposed lightbulbs, but after creating globe lighting for the Dewberry, they came to a realization: Why hadn't they used globes in their own collections?
The Helios Lamp and the Orbit Table Lamp both feature brass disks that orbit like planets around a stationary bulb.
Courtesy Jeff Holt/Workstead
---
"It's one of those iconic light fixtures that creates the most beautiful light that's so flattering and diffuse," says Brechbuehler. "We knew we needed to do our version." Comprising globes in sconce, flush-mount, and pendant styles, each with an elegant pull chain, Signal counterbalances matte acrylic shades with brass, nickel, and blackened metal.
As for new interior projects, Mahoney is currently overseeing several residential works in New York, while Brechbuehler is at the helm of the studio's first turnkey experience—the restoration of a grand row house in Charleston's historic Bee's Row. The home—whose previous owners include George A. Trenholm, thought to be the inspiration for the character of Rhett Butler in Gone with the Wind—had been ravaged by a fire, leaving an open canvas with which to work. Continuing its exploration of Southern Modernism, Workstead's restoration reinterprets the iconic aspects of a traditional Southern home, employing its signature holistic "handcrafted interiors" approach.
"We really want to create meaning through the spaces that we design, by working with rich materials and presenting them in a fresh way," Highsmith says. "We're looking at these old ideas about early American design, but we're trying to filter it through a lens with the same appreciation for those materials without trying to make something that feels like a replica—so that it really feels like it's of the moment."
The lobby bar at the Wythe Hotel in Williamsburg, Brooklyn
Courtesy Workstead
Workstead's design for the Tribeca pastry bolt-hole Arcade Bakery makes ingenious use of a confined space.
Courtesy Workstead
The cozy Rivertown Lodge on Warren Street in Hudson, New York, was Workstead's first complete hotel project.
Courtesy Workstead