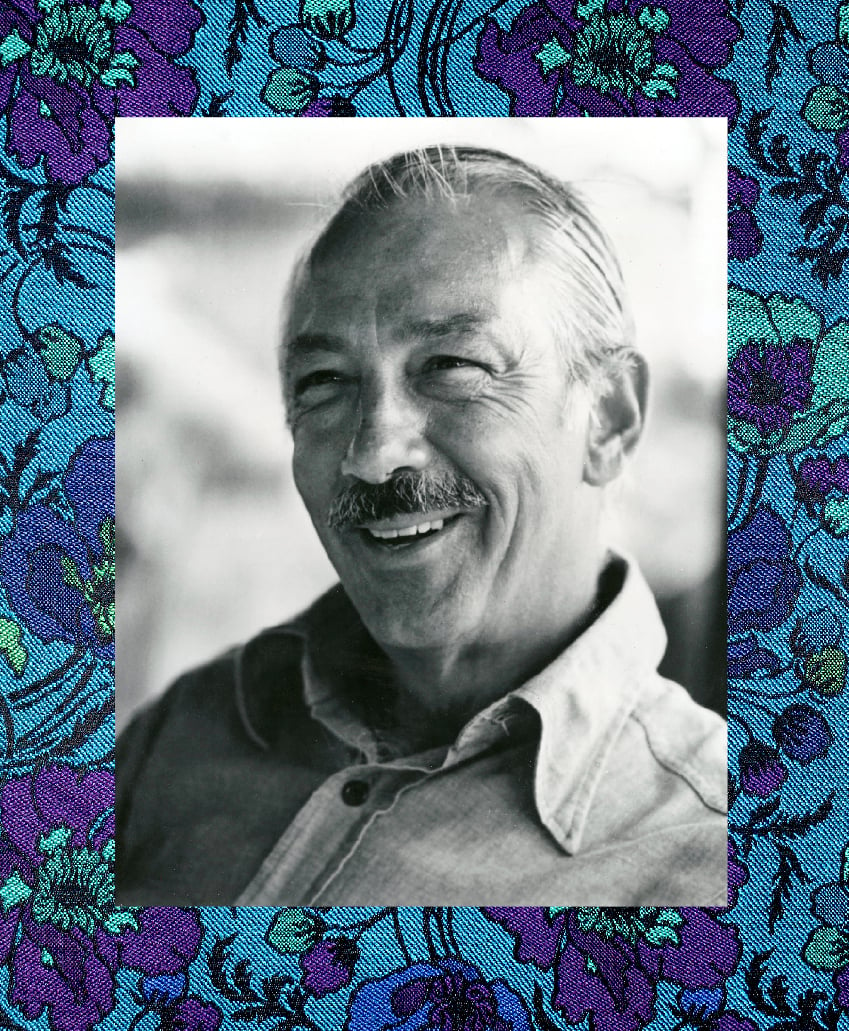 November 11, 2013
Woven Histories: Contemplating the Legacy of Boris Kroll
Five prominent textile designers reflect on their early training with the master craftsman and weaver, Boris Kroll.
The designer, master weaver, and colorist Boris Kroll is responsible for influencing an entire generation of American textile designers. Background: The Tanabata textile
Courtesy Suzanne Tick Studios and Scalamandré
During his lifetime, Boris Kroll produced millions of yards of fabric that found their way into homes, offices, cruise ships, even Air Force One. Kroll was best known for combining advanced weaving techniques with bold colors to create vivid, high-quality jacquard-woven textiles. A retrospective exhibition entitled Mid-Century Maestro: The Textiles of Boris Kroll, at the New York School of Interior Design in New York City, is currently showcasing more than 80 of these historic textiles. "Kroll was a self-taught weaver who went on to establish one of the largest textile mills in America," says Steven Stolman, president of Scalamandré, which acquired the Boris Kroll archive from the family in 1991 following his death.
---
More from Metropolis
---
This month the company is relaunching the Boris Kroll line at the BDNY show in New York. Kroll was not only an important weaver, but he also taught an entire generation of talented textile designers: Catherine Creamer, Margaret Dunford, Nancy Geisberger, Susan Lyons, Barbara Nymark, Hazel Siegel, Suzanne Tick, and Jane Wicks. All worked at Boris Kroll Fabrics and would go on to be industry leaders. To celebrate the exhibition and the release of the line, we asked five distinguished alumni to reflect on lessons learned from the master.
---
The "Krollettes"—(left to right): Suzanne Tick, Barbara Nymark, Susan Lyons, and Margaret Dunford—all worked at Boris Kroll Fabrics during the early 1980s.
Courtesy Suzanne Tick Studios
Barbara Nymark
Sales and Design Development for Bentex Mills
I worked at Boris Kroll Fabrics from 1978 to 1983 as the designer for jacquard-woven fabrics. I don't recall that any of us were given a title other than "designer."
What impressed me most about working for Mr. Kroll was his dedication to quality and aesthetics. The beauty of the fabric was not in the color and pattern alone, but in the engineering of the yarns and woven structures, which created fabrics that maintained their integrity for many years. Additionally, there was a great respect in the studio for process and organization. This influenced my personal working style and later my management style.
Salinar
Courtesy Scalamandré
Hazel Siegel
President of Atelier Hazel Siegel Ltd. and professor of textiles, Graduate Interior Design Department, Pratt Institute
I worked for Boris Kroll between 1963 and 1975, and started as a designer of woven fabrics. It was my first job out of college, so Boris took me under his wing and educated me in the art of jacquard weaving. I also did some silk-screen printed design. Mr. Kroll was a great designer as well as an educator. He sent me to the Victoria & Albert Museum for a month to document its collection. Then Boris and I went through the documents and developed several textile collections.
I also learned how to make exciting and best-selling color combinations on the fabrics. Because Boris had his own mill that I visited weekly, I learned about weave structures and color, standing at the loom and making fabric color combinations. It was an invaluable experience professionally.
An ad for the Boris Kroll Executive Collection, featuring fabrics in wool, nylon, and linen
Courtesy Scalamandré
Jane Wicks
Founder of Jane Wicks Design and textile consultant for CF Stinson and others
I worked there from 1982 to 1987 and my title was first jacquard designer, then senior designer. The experience was probably the best in the industry for a young designer (the other best would have been working for Jack Lenor Larsen). Depending on current projects, my workweek consisted of either one, two, or three days a week at the mill in Paterson, New Jersey. There was a sample-weaving department, and we would stand at the loom with the weaver, Pete Carnemolla, and weave colorations on the blanket warp. Within an inch or so, you would know if your color combination would work. You could correct and edit as the weaver wove. It was thrilling to see your pattern evolve this way. The mill was pristine; everyone there was happy and professional, and it ran with the precision of a fine Swiss watch.
The design process consisted of creating a hand-painted or hand-drawn design—color pencils were Mr. Kroll's favorite as the effect was soft and approximated the woven effect of the jacquards—and then following through on every developmental step up to launch in the market. Mr. Kroll was a perfectionist and a master craftsman. He was a gentle teacher, excellent communicator, but demanding! Sometimes we would work on one design for months, perfecting and perfecting. In those days before CAD, we might hand-draw two to three repeats to check that it would be perfect by the time it got to the loom. We were weaving with wool, silk, and cotton. Imagine weaving silk in Paterson, New Jersey in the 1980s! The people I worked with there remain some of my best friends today. It was a rare and glorious time.
A master craftsman and perfectionist, Kroll checks designer Suzanne Tick's work at the loom.
Courtesy Suzanne Tick Studios
Suzanne Tick
Creative director of Teknion Textiles and design director at Tandus Centiva
I started as a pattern designer in 1982, hand-drawing patterns on point paper. By 1984, I was made design director and stayed on until 1986. I remember I had been working on a pattern called Summer Storm and it had been pulled off my desk, and I was pissed because I'd worked on it for about six months. There was no discussion. Mr. Kroll—he'd come in every day and say, "Good morning, ladies, how's everyone?"—sensed there was something wrong, and asked me about it. I asked him, "Where did that pattern I made go?" He asked me, "What do you want to do?" I said, "I want to follow the process." Mr. Kroll then disappeared and Lisa, his daughter, asked me to go into his office. I thought I was going to get fired. He asked me if I wanted to be his weaver. Within a year I became his assistant, which meant that I got to go to mill every Tuesday with him. There I learned the whole process of constructing a textile: fiber selection, costing, yarn twisting, dyeing, warping, jacquard-design structures, dobby constructions.
Mr. Kroll—he was a very formal man, always wore a bow tie—would schedule a meeting and ask for all the coordinates on the developments of new products: what the weave structures were, exact fiber content, width, pattern, diameters, testing approval numbers. If you couldn't answer all the questions—you had to know the answer for every single solitary thing—you'd have to wait another week to get on his roster. It was amazing, but it was hard. If I hadn't worked through that kind of technical rigor I wouldn't have the business I do today. I still work the same way. I learned everything about the construction process from fiber to finish. This was his joy of living and teaching. It was a kind of textile boot camp. To create well-constructed quality products that would stand the test of time was his mantra. He would always say: "Never make a weave structure with single warp floats." There always had to be two ends over. If he found a weave with a single end over, you'd have to rework the pattern.
An ad for Boris Kroll textiles
Courtesy Scalamandré
I worked there from 1980 to 1984 as director of product development and marketing. The mill in Paterson was absolutely beautiful. Mr. Kroll had renovated it from floor to ceiling, and it was impeccable. Rumor had it that he had repainted the walls three or four times to get just the right shade of taupe. He was a stickler for detail—nothing escaped his notice. One time, he decided that he wanted to weave silk and went about meticulously researching where to find the best yarn spinner and the best skein-dyeing machines. After the first yards came off the loom, he was unhappy with the hand of the fabric, its feel, so I was dispatched to Como, Italy, to find out more about silk finishing. He was obsessed with the "scroop," the special sound that silk taffeta makes when you crush it in your hand. I spent two weeks meeting with silk weavers and dyers and learned that one of the secrets was washing the fabric in olive-oil soap. When I returned from that trip with a sample of the soap bars, Mr. Kroll immediately ordered a container full of them.
It was a real learning lab because the mill was right across the river from the design studio. You could do a design one day, and the next day be at the loom or the print table, watching it being made. Before computers, the jacquard looms were driven by point paper. An amazing weave designer named Gus Ulrich mapped the interaction of every single thread on gridded point paper. They were works of art in themselves. Quality was paramount to Mr. Kroll and I learned that you cannot cut corners. He was all about the integrity of the cloth, how it would perform, how it felt, and of course, how it looked.
Yakima
Courtesy Scalamandré