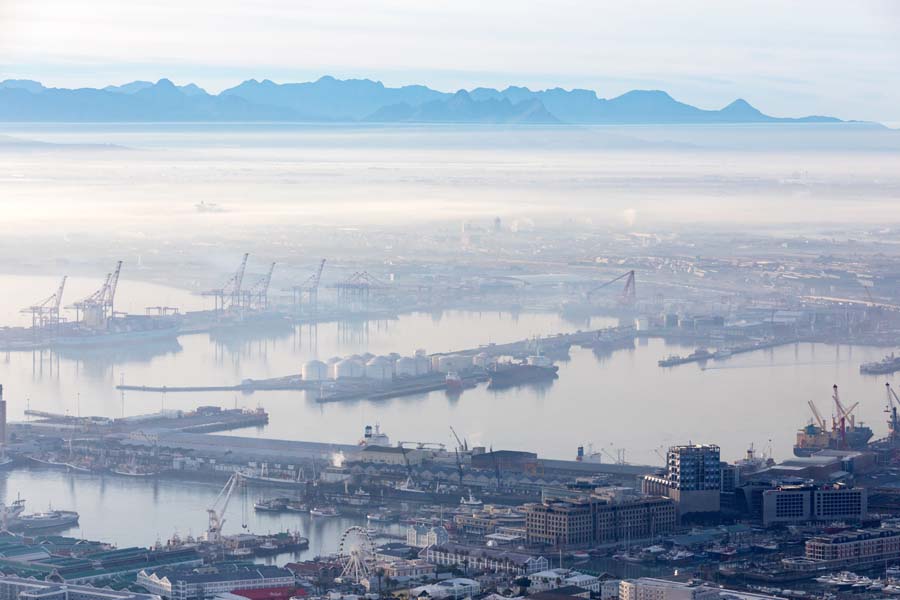 September 26, 2017
For Zeitz MOCAA, Heatherwick Studio Carved a Vast Atrium Into the Heart of a Former Grain Silo
The London firm cut through the heart of a vacant Cape Town grain silo to create Zeitz MOCAA, a dazzling new temple for contemporary African Art.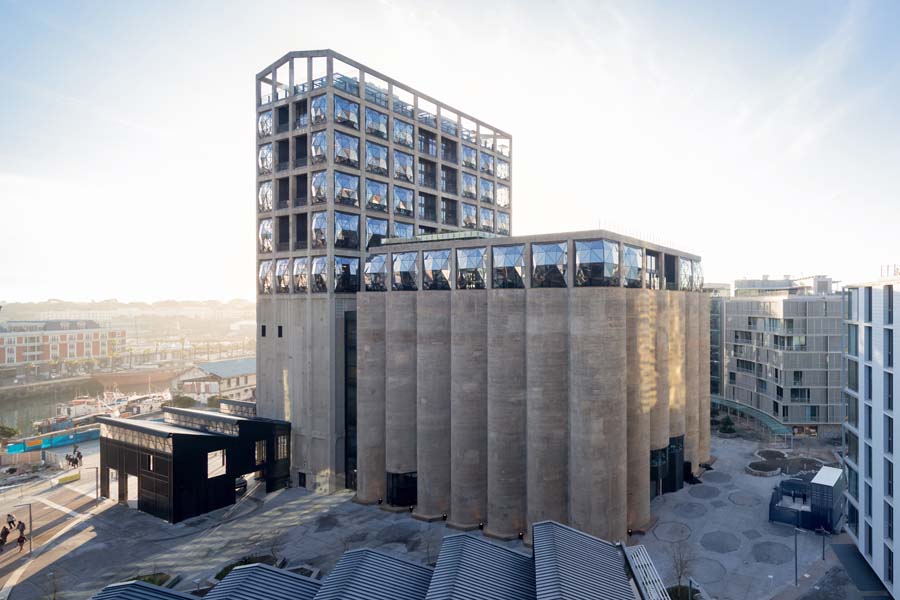 For nearly a century, a towering grain silo along Cape Town's harbor served as both a crucial linchpin of South Africa's agricultural economy, as well as a defining feature of the city's waterfront. Since receiving its first shipment of maize in 1924, the 187-foot-tall structure has borne witness to the port's—and to the city's—many and oftentimes paradoxical incarnations: from maritime hub, to the site of Apartheid-era injustices, to a bustling, high-end commercial district.  
The silo complex has recently undergone a transformation of its own. Last week, the complex re-opened as the Zeitz Museum of Contemporary Art Africa (Zeitz MOCAA), a dazzling shrine to contemporary African art, designed by the British wunderkind Thomas Heatherwick. Its interior is defined by a soaring central chamber, whose kaleidoscopic geometries were created by deftly slicing through the building's 42 interconnected silos. The overall effect is something like Gaudi's La Sagrada Familia or an outsize anatomical model of a heart.   
"Any architectural move had to play with the building in some way and expose its inherent spirit," says Mat Cash, the architect from Heatherwick Studio who saw the project through its nine-year evolution. "By actually repurposing it, we could perhaps create something stronger."
---
More from Metropolis
---
Cash and his team took an almost archaeological approach to the building's renewal—peeling back and cutting through layers of history in some places, while preserving them in others. It makes for a provocative interplay between old and new. In corners where granary employees were once segregated into "European" and "non-European" cohorts, installations by artists such as Nicholas Hlobo and Nandipha Mntambo have taken command.  
In spite of its specificity, Zeitz MOCAA began as a project without a brief, and a museum without a collection. The surrounding harbor, the Victoria and Alfred (V&A) Waterfront, had been rapidly developing since the late 1980s, but the silo sat derelict for years. In 2006, after delivering a talk at Design Indaba, Heatherwick had his first glimpse of the hulking facility. Though the concrete was spalling in places, and though pigeons had settled in along with the dust, its industrial bones and vertiginous caverns were still majestic. Nothing came of this initial visit, but five years later, V&A developers approached Heatherwick Studio to begin developing both a programmatic and architectural roadmap for the site's future.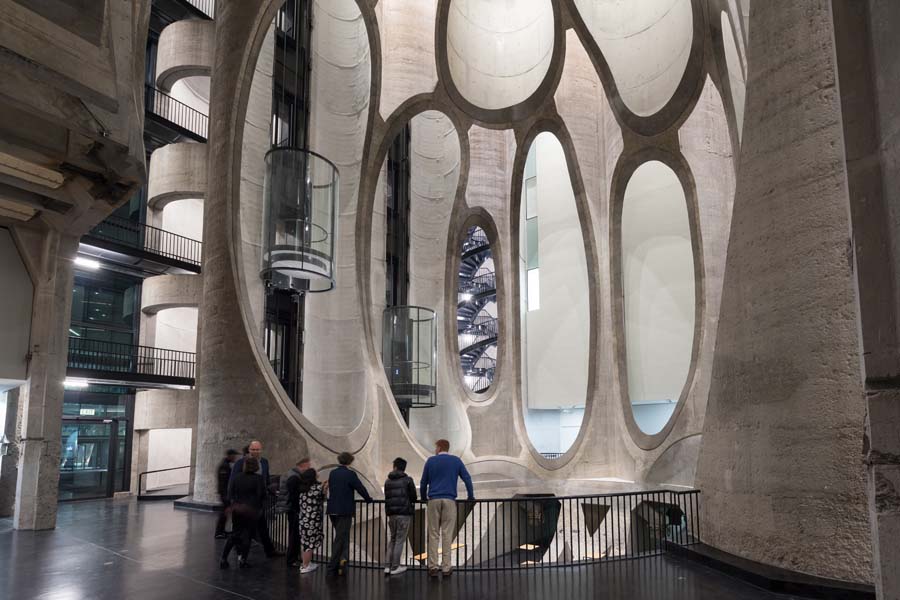 The structure, first built in 1921, is composed of two primary portions: a grading tower, and a dense network of cellular silos. The design team quickly ruled out programs that would require ample daylighting such as retail and residential adaptation and necessitate large incisions in the complex's exterior—a move the designers felt would detract from the building's industrial spirit ("It would almost become castellation, almost jokey," Cash explains). Instead, the architects turned their gaze inward, to the building's honeycomb of 18-foot-wide towers, and began experimenting with ways they might carve out exhibition spaces. The idea was, according to Cash, that the building would "be more of a deconstruction project rather than a construction project."
But what, exactly, these spaces would contain was still a mystery. Unbeknownst to the Heatherwick team, South African-born curator Mark Coetzee was traversing the globe to build a collection on behalf of German Jochen Zeitz, the then-CEO of Puma and one of the world's most prominent collectors of contemporary African art. "There were two sides working independently and we just fortuitously found each other," Coetzee says. After conversations with the V&A, in late 2013 Zeitz agreed to come on board and Zeitz MOCAA was born.
The architects continued with their "deconstruction" investigations, particularly inside, where they had developed different strategies for dealing with the central atrium. They decided to model the shape of the space off of a single grain of maize, or rather its inverse: they would scoop out a bulbous void from the mass of concrete tubes inside. Such an approach presented monumental structural challenges. For one thing, the tubes' concrete—only 6.7 inches thick—had become brittle over the decades, and its character was unpredictable. Working with engineers from Arup and Sutherland, they re-sleeved the tubes, more than doubling their thickness with additional reinforced concrete, pinned them together, and then carved away along the formwork in the shape of the kernel. But in spite of its apparent precision, Cash says the enterprise was surprisingly low-tech: "It came down to the single guy on site that might be grinding back the geometry and feeling the smoothness with his hands. It became much more a piece of craft that it was a computer-generated proposal."
The concrete edges of these cut tubes were polished to a terrazzo-like sheen, revealing blueish aggregate that originated at the foot of the city's magnificent Table Mountain. On top, the team capped them with fritted glass to allow daylight to pour into the museum's interior and provide a platform for a rooftop sculpture garden and views to the mountain beyond.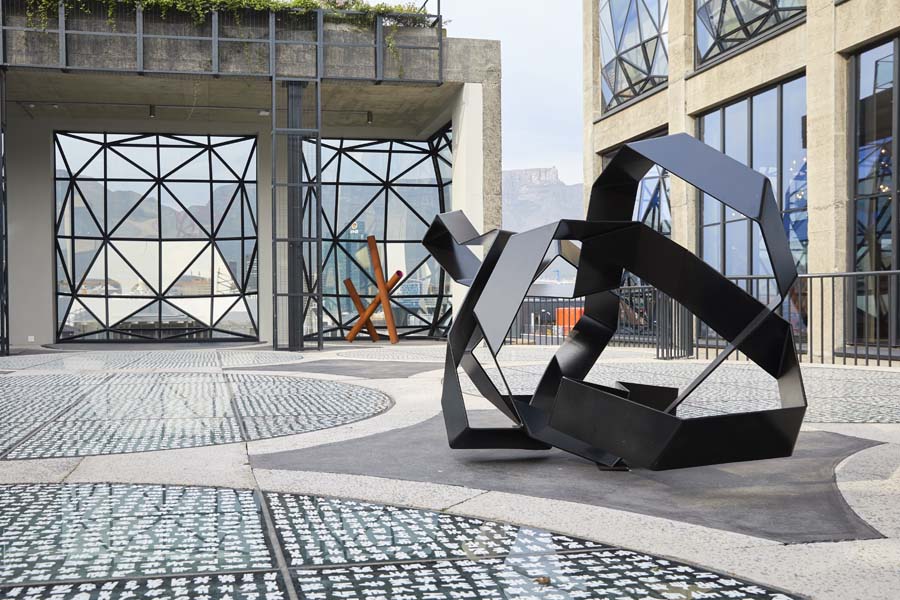 Coetzee, the curator, worked with the Heatherwick team to develop the 80 galleries around the atrium as well as in the adjoining elevator tower—a mix of white cube galleries and untouched, industrial spaces. With all of the new additions, the architects were careful to make clear where old ended and new began. "We wanted to show the new inserts, so you're very clear where the existing structure has been carved away and where the white cube box has been placed," says Cash. "There isn't any ambiguity between the relationship."
This ethos also extends to the vertical circulation routes throughout the atrium. When an active granary, workers would slide down poles, like fireman, or be lifted on leather straps to access the facility's different levels. As a nod to this history, the team incorporated cylindrical glass elevators, and a corkscrewing stair. "We felt it was important that the way in which people would move through the building should have a level of theater," says Cash.
Zeitz MOCAA's exterior was left raw, save for a series of convex, geometric window panels. During the day, their gem-like facets reflect the surrounding landscape and at night, glow like a beacon. "A lot of our designs was an inward move," Cash explains. "That was quite deliberate so people wouldn't collect a selfie outside and not explore the art. In a way, luring people to engage with the institution."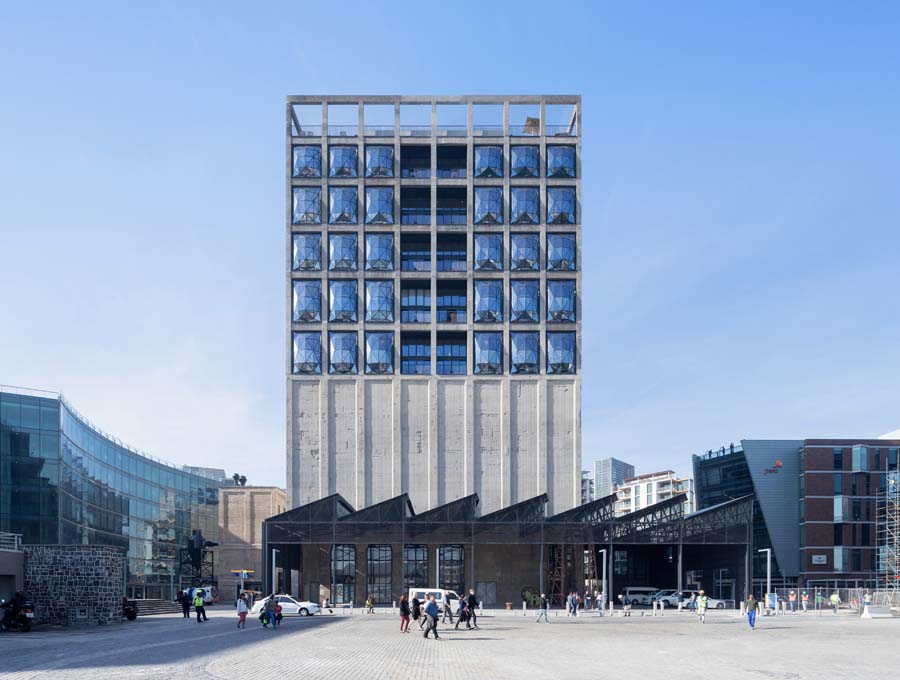 It's an approach that has certainly worked: At the museum's much-hyped opening last weekend, nearly 6,000 people a day flooded the galleries; lines to gain entry stretched around the block. At a special blessing ceremony, Nobel Peace Prize Laureate Desmond Tutu, declared, "Madiba says yes," invoking the tribal name of Nelson Mandela.
But still, Zeitz MOCAA has had its share of controversy. Since its inception, the museum—the first institution of its kind in Africa—has been a lightning rod for heated debate—chief among them, the implications of a white, German collector establishing a Western-style museum on the African continent. Coetzee—who grew up in Cape Town—says he welcomes such critiques. "A contemporary institution is about soliciting and encouraging debate. If we had an institution where everyone was bland or indifferent about it, we'd have a problem."

The curator is striving to make the building as accessible as possible with both its mix of public programming and admission (only 50 percent of visitors will pay, he says). Crucially, Coetzee wants to keep the museum and its curatorial approach fluid. "You're never quite sure what it's going to be—It's not prescriptive, it's slightly chaotic, and it's constantly in flux and moving and changing," he says "Because that's what Africa is."