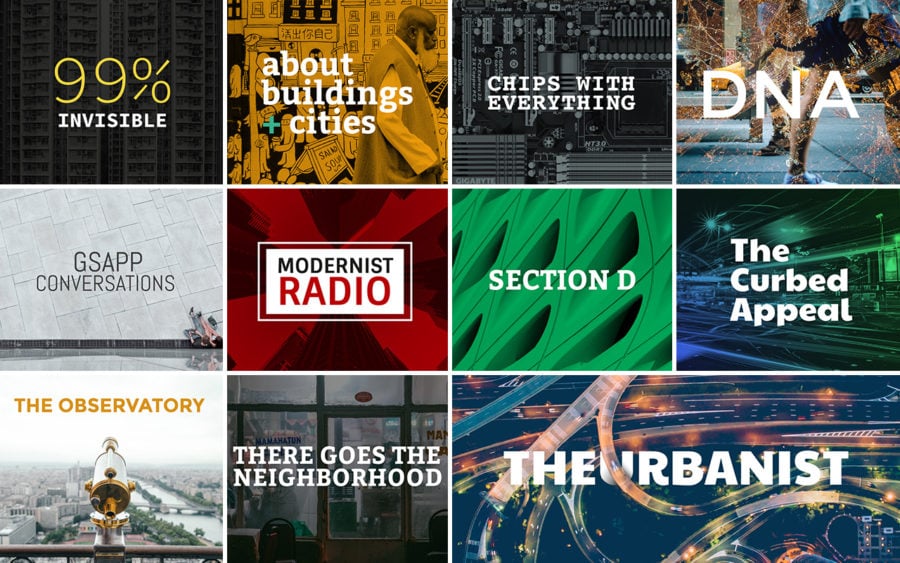 April 5, 2017
11 Architecture & Design Podcasts to Start Listening to Now
Metropolis' Vanessa Quirk and ArchDaily's James Taylor-Foster recommend eleven architecture and design podcasts you should subscribe to—today.
It sometimes feels as though the world is divided into two camps: those who do not listen to podcasts (probably because they don't know what a podcast is) and those who listen to podcasts, love podcasts, and keep badgering their friends for recommendations so they can start listening to even more.
Unlike other media, it's notoriously difficult to discover and share podcasts—even more so if you're looking for a podcast on a niche subject like architecture and design. To help you in your hour of need, Metropolis's Vanessa Quirk (author of Guide to Podcasting) and ArchDaily's James Taylor-Foster (whose silvery tones you may have heard on various architecture and design audio stories) have come together to compile this list of eleven podcasts you should subscribe to today!
Of course, this is only a preliminary list, and we're just as eager as you are to expand it. If you have a podcast that you love, but isn't listed here, please submit it via this form (also at the bottom of this article). We'll compile the results and update this article in the coming months. Happy listening!
This article has been published in partnership with ArchDaily.
In a nutshell: Roman Mars and his team travel the US (and, to a lesser extent, the world) uncovering hidden stories and elevating the apparently banal to new levels of intrigue and delight.
No one says "This is 99% Invisible – I'm Roman Mars" quite like, well, Roman Mars. His reassuring radio-age tone has come to define the genre: no discussion about architecture and design podcasting is complete without it. Since Mars "upgraded his bedroom digs to a studio behind his house and an office shared with his staff"—all in "beautiful downtown Oakland, California"—the show has leapt from strength to strength, but its core mission has remained on point. The late, great Buckminster Fuller said that "ninety-nine percent of who you are is invisible and untouchable." In that very same vein, 99% Invisible is about exploring all the thought that goes into the things we don't think about – the unnoticed examples of architecture and design that shape our world. —JTF
Keywords: buildings, cities, design, graphics, society
---

In a nutshell: Conversational in tone, this is about depth as opposed to breadth – a rare (and enjoyable) commodity in today's pod-sphere.
Lengthy, audacious, and filled with good-spirited camaraderie, About Buildings + Cities is a podcast about—put simply—buildings and cities. Its British hosts, Luke Jones and George Gingell, take the listener on ambitiously intellectual journeys through architectural history, touching from time to time on the contemporary scene. Topics include Aldo Rossi's The Architecture of the City, Ayn Rand's The Fountainhead, and Michelangelo. That's right, the whole of Michelangelo's built oeuvre. The most recent episodes have been around an hour and a half long – so be prepared to settle in for the long-ish haul! —JTF
Keywords: buildings, cities, history, theory
---
In a nutshell: Technology is all around us: even the most apparently irrelevant discussion in the tech-world can have implications for the real. Now you can get ahead of the curve – knowledge, after all, is power.
Chips with Everything (a nod to the 1962 play by Arnold Wesker) is The Guardian's flagship technology podcast. Covering issues ranging from political hacking and digital art to tech-biology and social media, the podcast—hosted by Leigh Alexander—focuses and refocuses on conversations which relate, directly or otherwise, to cities and urbanism ("How do you build a self-repairing city", for example). This podcast understands what it means to live in a digital world—something that we all, whether we want to or not, should attempt to get on board with. —JTF
Keywords: cities, technology
---
In a nutshell: Curbed editors interview guests and hold panel discussions on the more light-hearted side of design.
Zoe Rosenberg and Asad Syrkett don't just make a point of talking to guests outside the design professions (like filmmakers and podcast hosts), but also do a damn good job of pulling together a diverse range of people. Primarily interview-driven, the show occasionally meanders into the realm of a talk show—and vitally important topics, such as the art of holiday decorating or the rules of museum etiquette, are debated and discussed. —VQ
Keywords: architecture, design, urbanism, real estate, arts, culture
---
In a nutshell: Frances Anderton keeps her finger on the pulse of design, architecture, and political happenings.
Anderton, who has served as the L.A. correspondent for both Dwell and The New York Times, is a seasoned design journalist who's hosted this show for the Los Angeles station KCRW since 2002. As executive producer and host, she makes a point of interviewing the not-so-obvious guest—from one of the co-creators of the pussyhat project to the owners of a firm bidding to build Trump's wall between the U.S. and Mexico. —VQ
Keywords: design, architecture, politics
---
In a nutshell: Be privy to the current projects, research tracks, and obsessions of a diverse group of invited guests from emerging and well-established practices who pass through the venerable doors of Columbia's GSAPP.
Produced out of Columbia University's Graduate School of Architecture, Planning and Preservation, these pods "offer a window onto the expanding field of contemporary architectural practice." Most episodes are hosted by someone new, ranging from students to faculty members, who passionately interview a whole host of interesting voices: most recently the likes of Christian Kerez, Sir Peter Cook, and Mabel Wilson. With a focus on "issues of concern to the next generation" it has an ambitious mission statement and plenty of potential to live up to it. —JTF
Keywords: education, theory, history, architecture
---
In a nutshell: The American intellectuals behind Design Observer offer their takes on everything from dictator chic to Steven Sondheim.
You'd be hard-pressed to find a design podcast with more renowned (or capable) hosts. Yale professors as well as design critics and practising professionals, Michael Bierut (partner at Pentagram) and Jessica Helfand have been podcasting since 2014. The approachably intellectual pair always make sure to integrate the political happenings of the day into their design-focused conversations—they remind us that design intersects with every aspect of our culture today. —VQ
Keywords: design, arts, culture
---
In a nutshell: Fast-paced, high-quality interview-based reporting on the goings-on in the worlds of architecture, design and fashion.
As Monocle 24's weekly flagship design, architecture, fashion and craft show, Section D consistently reports from the most interesting corners of the globe. Monocle's reporters are often right there, on site, talking to the people who know best, and their studio analysis is top-notch. The podcast's coverage is equally as extensive: episodes have included one-on-ones with Santiago Calatrava, studies of Tropical Modernism and metabolic architecture, and an examination of architectural "white elephants." You can discover a whole range of Monocle 24's podcasts on ArchDaily. —JTF
Keywords: buildings, design, society, fashion
---
Tall Stories from The Urbanist
In a nutshell: Five minutes of neatly-edited narrative focusing on the cities we live in.
These little weekly nuggets of audio are part of Monocle 24's larger "guide to making better cities," The Urbanist. Every episode of Tall Stories, each no more than five minutes long, takes one place, building, bridge or park bench and expands the topic to lead the listener on a global journey – while keeping it casual. You can find more of Monocle 24's podcasts on ArchDaily. —JTF
Keywords: cities, design, travel
---
In a nutshell: A deep dive into the personal and socio-economic ramifications of gentrification, through the lens of one Brooklyn neighborhood and its residents.
Gentrification may be one of the thorniest issues for architects, architectural journalists, and, heck, regular citizens, to try and discuss. Come out swinging against it, and you're essentially saying that lower-income residents (often people of color) don't deserve the same amenities as other communities; come out for it, and you're suggesting that a neighborhood's existing residents can legitimately be sacrificed in the name of progress, and that a place's history and culture can (and should) be erased. Finding middle ground requires grappling with complexity, nuance, and real life-and-death concerns, and this is where There Goes the Neighborhood excels. By interviewing the victims and victors of gentrification in Brooklyn, this podcast may not give us any definitive answers, but it certainly is asking all the right questions. —VQ
Keywords: urbanism, cities, gentrification
---
In a nutshell: Car Talk Meets Modernism—a jovial group of middle-aged gents get into the nitty gritty of every design nerd's favorite architectural style.
Host George Smart was perhaps destined to create this podcast: this preservationist is the son of an architect and a radio personality. Along with his comedian co-host, Frank King, Smart interviews modernist historians, architecture critics, and Modernist homeowners/realtors. The topics surveyed and the guests interviewed vary pretty widely (from evil lairs to Eames; from Saarinen's daughter to a 15-year old architect), but the tone is always dependably, cheesily, joyfully irreverent. —VQ
Keywords: modernism, film, history, architecture
---
Did we miss a great one? Tell us about it below!
Disclaimer: James Taylor-Foster has previously appeared on episodes of Monocle 24's The Urbanist and Section D. He wrote and produced the first episode of GSAPP Conversations.