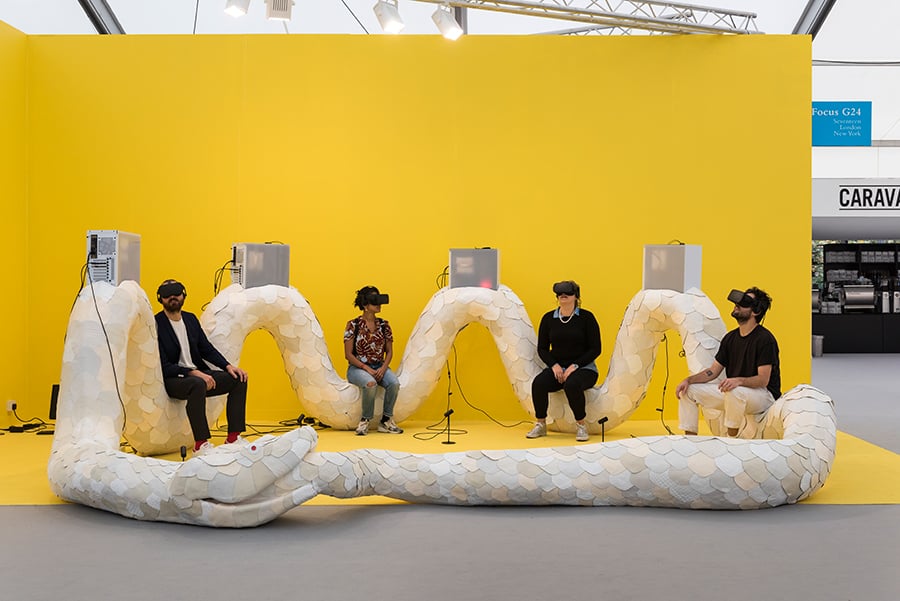 December 24, 2018
Metropolis's Best of 2018: The 6 Objects and Exhibitions That Represented This Year
From a snake-sofa that unpacks the ethical implications of virtual reality to tapestries that speak to material innovation, these items reveal latent truths about the present moment.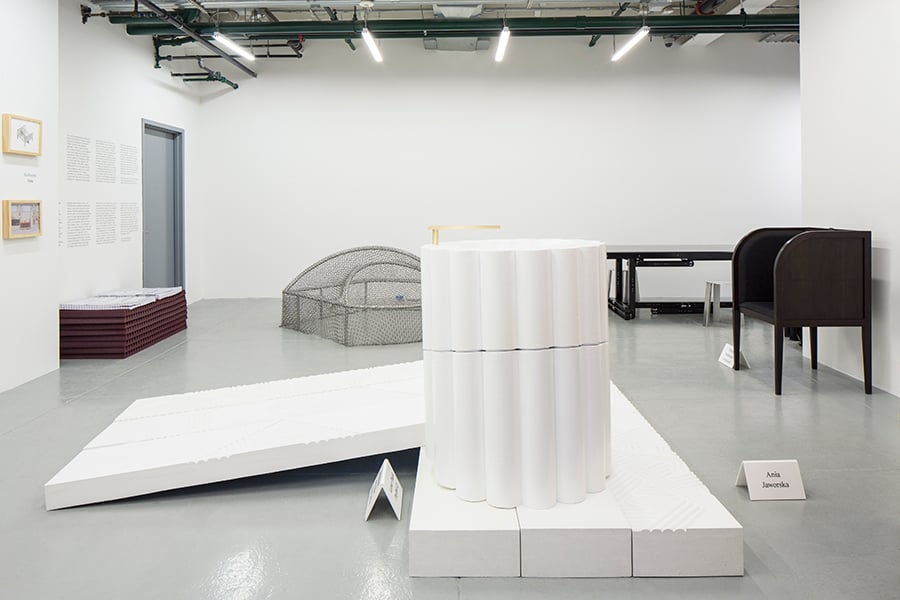 ---
As 2018 concludes, we're revisiting the year's top stories: from products to drawings, buildings, controversies, and more. In this special selection, architecture and design writer Anne Quito took a deep dive into the year's best exhibition, distilling five insightful objects. Enjoy the selection below, but be sure to find our other "Best of 2018" lists as they come online!
If 2018 were an object, what would it look like? What would it feel like? And what would it say about design culture today? Metropolis surveyed museum exhibits, gallery shows, and pop-ups to find out. From a snake-sofa that unpacks the ethical implications of virtual reality to graphic tapestries that speak to material innovation, these five objects—all displayed this year—reveal latent truths about the present moment.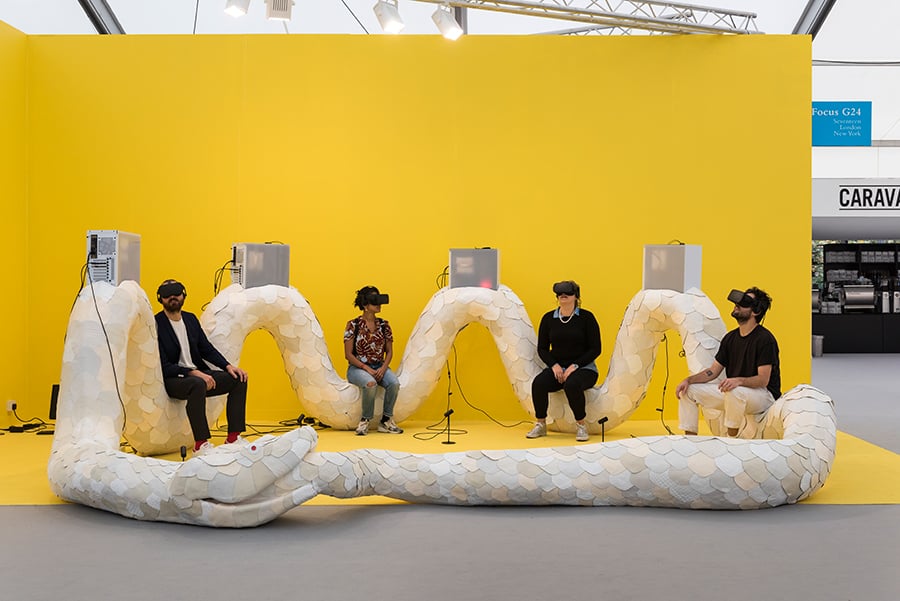 TRANSDIMENSIONAL SERPENT
DESIGNER: Jon Rafman
EXHIBITION: I Was Raised on the Internet at the Museum of Contemporary Art Chicago
CURATORS: Jared Quinton and Nina Wexelblatt
The Ouroboros—a serpent eating its own tail—is an inspired frame for Transdimensional Serpent, Jon Rafman's commentary on the all-consuming nature of technology. In the show I Was Raised on the Internet, visitors are transported into the Canadian artist's unsettling reverie via Oculus Rift VR headsets.
In his work, Rafman often ruminates on the binary nature of VR, an increasingly popular medium in recent years. Beyond the entertainment and gaming industries, VR is proving to be the preferred prototyping tool for interior designers and architects seeking to immerse clients in their unbuilt vision.
But as compelling and empathy-building as VR productions can be, they can also blur our sense of the truth, cautions Rafman. "VR suggests that reality itself has become permeated with the virtual," he wrote in Artforum. "More and more, we understand the human brain as a computer made of flesh, and our online existence is increasingly intertwined with our real selves."
CONTEMPORARY TAPESTRY: THE COLLECTION OF ALBERTO FIORENZI
DESIGNERS: Various
EXHIBITION: Alcova, a Fuorisalone event
CURATORS: Space Caviar and Studio Vedèt
During Fuorisalone, a corner of a former panettone factory in Milan became an altar to material innovation. Part of the Alcova show, nine "tapestries" showcased the properties of a breakthrough architectural material called I-MESH invented by Alberto Fiorenzi. The recyclable, sustainable fabric—up to seven times stronger than metal—shines in both industrial applications and more poetic expressions, as this exhibition proved.
The soft yet rigid net structure of I-MESH inspired Superstudio cofounder Cristiano Toraldo di Francia to re-create a shape from his firm's Histograms of Architecture 1969–71 catalog. The architect describes the work, Istogramma/Histogram, as "a tribute to the transformation of the rigid enclosure of architecture into a new digital window that connects different spaces, the past and present." The collective Salida Basica created two works using imperfect patches of I-MESH meant for disposal. Pneus/Rage, the designers say, demonstrates how to "regenerate the life of the material and create a new aesthetic."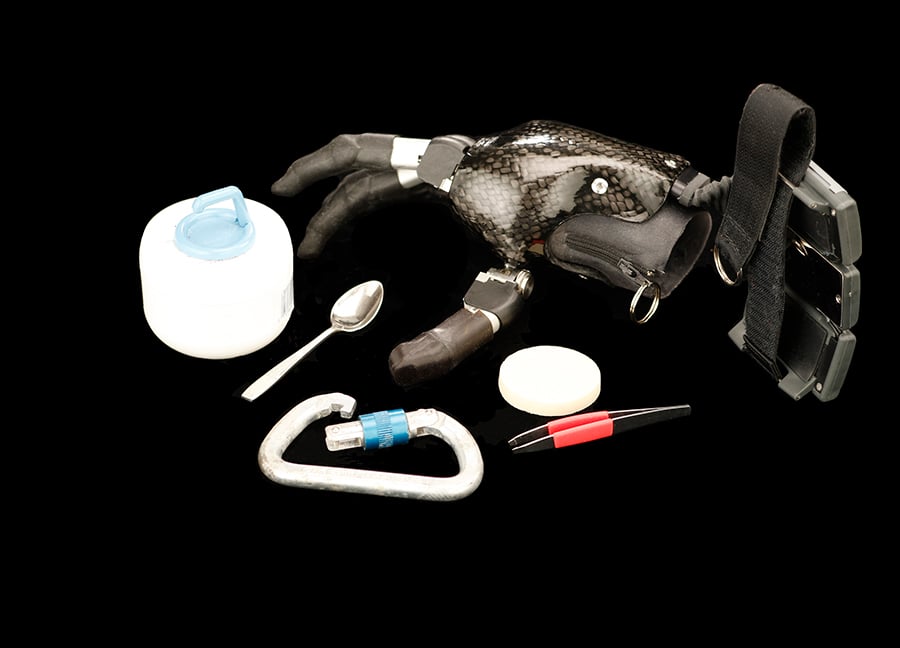 ENGINEERING AT HOME
DESIGNERS: Caitrin Lynch and Sara Hendren, with William Lu, Mary Martin, and Toni Saylor
EXHIBITION: The Future Starts Here at the Victoria & Albert Museum
CURATORS: Mariana Pestana and Rory Hyde
Engineering at Home reminds us that ingenuity is the most powerful design tool of all. Inspired by the creativity of an American quadruple amputee (referred to only as "Cindy"), designer Sara Hendren and anthropologist Caitrin Lynch spent two years gathering examples of home-engineered inventions (such as those pictured above) that explode our notions about "good" product design. Included in their collection is a hairbrush wedged in a tube for better grip, a cuff attached to a fork, and zipper pulls affixed with cable ties (see the slideshow at the bottom of the page for more).
The project marks a renewed interest in universal design, a philosophy that considers the needs of users who are older, have disabilities, or otherwise experience exclusion. It also underlines an approach that all designers can learn from. "Some of Cindy's skill lies not in creating new technologies, but in seeing things differently," explain Hendren and Lynch. This undertaking, then, aims to create a more inclusive discipline, "where engineers reopen the research paradigm to include high- and low-tech devices, experts and amateurs, labs and living rooms."
EMBROIDERED COMPUTER
ARTISTS: Ebru Kurbak and Irene Posch
EXHIBITION: Istanbul Design Biennial at Yapı Kredi Culture Center, 4
CURATORS: Jan Boelen with Nadine Botha and Vera Sacchetti
Sewn into the concept of Embroidered Computer is an argument for human intervention amid the dominance of digital technology. Currently on display at the Istanbul Design Biennial, the eight-bit computer is made from an assemblage of gold wires and magnetic beads woven in a beautiful tapestry.
The piece represents the culmination of a four-year research endeavor at the University of Applied Arts Vienna. Conceived by artists Ebru Kurbak and Irene Posch, the project employs traditional gold-thread embroidery techniques to merge two historically gendered domains: the feminine realm of handicrafts and the male-dominated tech sector.
Kurbak and Posch suggest that the seemingly separate worlds share common themes. In textile arts, patterns "are essentially equivalent to digital codes in rapid manufacturing," they write. "Since patterns can be saved, copied, and distributed, textiles can be manifested in their physical form at different times and places, over and over again."
MODEL FURNITURE
DESIGNERS: MOS Architects
EXHIBITION: No-Thing: An Exploration into Aporetic Architectural Furniture at Friedman Benda
CURATOR: Juan García Mosqueda
For a 2014 lecture at MIT, MOS Architects' Michael Meredith and Hilary Sample asked to be introduced as "misunderstood creative outcasts looking for an authentic expression in a world of hustlers and fakers." The duo revels in picking apart nested layers and facades—vital attitudes in the post-truth era. Their non-manifesto manifesto declares their intolerance for professional B.S.: "If given the choice between staring blankly into space or reading architects' office statements on their website, we choose the first."
MOS's table and stools for Juan García Mosqueda's exhibition of architect-made furniture similarly upends what one expects to see at a furniture showcase. Pieces from their series are based on the crude miniature prop furniture made for architectural models. "They're a sort of low-resolution representational default, a reduction to the bare qualities of an object," write MOS. The work "oscillates between reality, reference, and reality." Model Furniture urges viewers to probe further.
SEDUCTION
DESIGNER: Najla El Zein
EXHIBITION: Women + Design: New Works at the Dallas Museum of Art
CURATOR: Sarah Schleuning
It's fitting that Najla El Zein's Seduction sculpture debuted in 2018, a year when women's issues took center stage. Created for the Dallas Museum of Art's Women + Design: New Works exhibition (open through February 17, 2019), the reconfigurable work evokes the legs of a woman in repose—perhaps an odalisque. Depending on how the work's two pieces are placed, the crossed limbs can alternately appear inviting or aloof.
A young Beirut-based designer, El Zein is proving her mastery at infusing stark Modernism with emotion and eroticism. Seduction is the latest expression of her fascination with evocative, anthropomorphic objects: After graduating from École Camondo in Paris, El Zein gained headlines with a line of body brushes—"pleasure tools," she calls them—made of provocative materials like press-on fingernails, fake eyelashes, feathers, and hay. Last year, another project, a concrete bench titled Distortion, similarly elicited coos from critics, who were moved by its sleek and sensual curves.
You may also enjoy "Metropolis's Best Articles of 2018: The Year's 6 Biggest Design Trends."