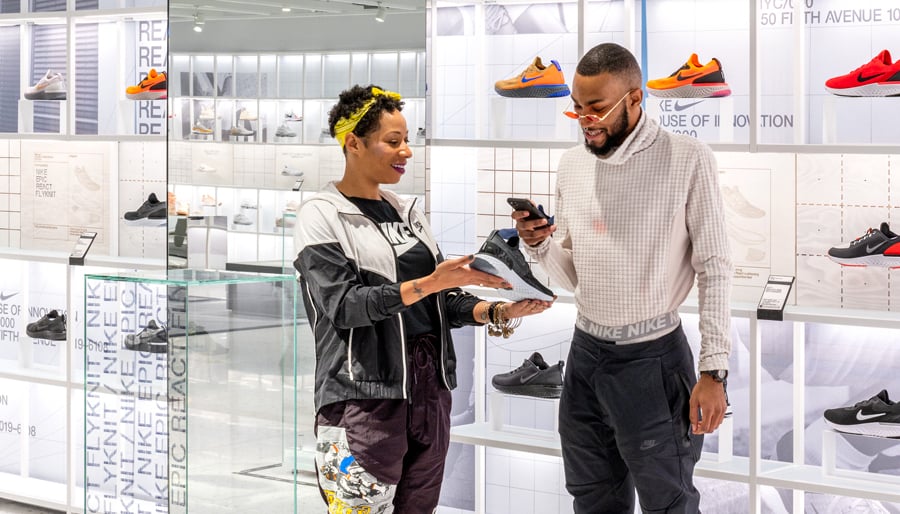 August 12, 2019
5 Trends Shaping Interior Design Right Now
From experiential retail flagships to narrative-based workplaces, these big design ideas are changing the face of commercial interiors.
---
The New Flagship
Once heralded as the death knell for brick-and-mortar stores, online shopping has proved to be anything but. Instead, retail stores, released from the analog, have returned to their 19th-century roots as spectacle. "The crowd is the veil through which the familiar city beckons to the flaneur as phantasmagoria—now a landscape, now a room," wrote Walter Benjamin in Paris: Capital of the 19th Century. "Both become elements of the department store, which makes use of flanerie itself to sell goods. The department store is the last promenade of the flaneur."
Today, that "last promenade" is a climax to an endless scroll, luring us in with its seasons of status, desire, and braggadocious modernity. This is the flagship as entertainment center—shoes as something to do and someone to be. See the Nike House of Innovation on New York's Fifth Avenue, which pairs an app with a stunning 68,000-square-foot store to create—what else?—an experience. On the eve of the 2020s, the flagship has become the expression of our collective culture, feeding our hunger for status, optimization, and diversion.
Reuse Rebooted
Reflecting on design in 2018 for Metropolis's November/December issue, critic Aaron Betsky declared reuse the "style of our time." "The importance of reuse is both pragmatic and ideological," he wrote. "We need to repurpose what we have because old buildings are better constructed, are usually located closer to infrastructure, and, well, are already there: We have more than enough of them. We need to reuse also because we can no longer afford to waste natural resources we cannot replenish."
As technological advances have made nearly any conceivable structure and decoration possible—at least in theory—reuse appeals to more than just pragmatism and ideology. Good design needs constraints. Reuse is a fruitful mode of practice, forcing designers to confront their clichés and assumptions about how programs should relate to each other and what aesthetic values of the past mean to us now—and in the future.
---
Post-Postmodern Hyperspace
Nothing can have just one use anymore, least of all a hotel, which now is often also a gallery, an office, a brewery, a lab, a store, where you can get your hair cut and take a yoga class. In uncertain job and real estate markets, this many-faced approach to hospitality makes a lot of sense.
But what does it mean for the architecture? Increasingly, it's a neo-Miesian paradigm where columns get out of the way so things can happen, even if what things those are isn't always clear.
Design like this touts "flexibility" as a kind of gospel. More often than not, its actual use boils down to nothing more mysterious or less helpful than spots for folks to grab a drink and tap on laptops. But these aren't non-spaces. a great deal of design goes into the creation of open possibility. The more successful projects can claim to support a civic realm: public or semipublic places in which to enjoy the outdoors, discover local artists, or stay for the price of a coffee.
---
Storytellers
Less separates a good hospital from a good office than one might think. Both serve a variety of in-flux user groups—full-time employees, shift workers, visitors—and types of activities. the success of both relies on information shared between teams, often hinging on circulation and a delicate balance of what's private and what's social.
In an effort to improve the "experience" of users, designers are turning to lessons from hospitality, which emphasizes moments of arrival and respite and which assumes, always, that the guest is right. In this mode of design, narrative becomes more than an internal logic for developing a project's program diagram; it manifests legibly. Designers reinforce stories with gestures both heavy-handed and subtle to shape people's experiences, tying them back to ideas about an organization's culture. We're a storytelling species: Finding narratives in our physical environments can bring clarity, comfort, social connection, and personal attention where we might otherwise feel unmoored.
---
Sustainability on Parade
Workplaces are arenas for corporate flexing. Who will seem more visionary, more progressive, more cutting-edge, more enticing to the hip and with-it?
In the more than quarter-century since the founding of the U.S. Green Building Council, environmental responsibility has become unquestionably cool. And data to support its urgency, and the technologies to help close the loop, have made sustainability a potent imperative.
For image-conscious clients, projecting such responsibility as part of corporate culture is easier and easier, as technologies such as CLT (cross-laminated timber) construction gain traction in places like the Pacific Northwest and Canada. And with a growing selection of products that bear some sustainable credentials—reducing postconsumer waste or carbon footprints—design teams have little excuse not to specify accordingly.
With all this progress, some words of caution are in order. In design, as in our own lives, sometimes it's not new things we need, but less of what we have. Sometimes the less shiny solution has the greatest impact. For designers who seek true environmentalism, it's what you do, not what you display.