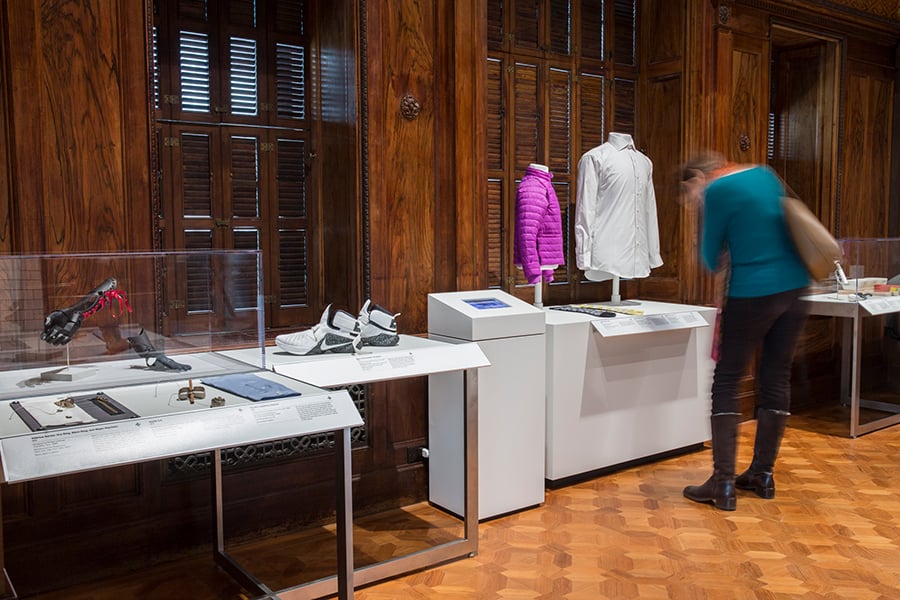 January 29, 2018
"Access + Ability" at the Cooper Hewitt Demonstrates How Design Can Create a More Inclusive Society
The exhibit, which premiered in December, explores how technology, innovation, and design can change lives.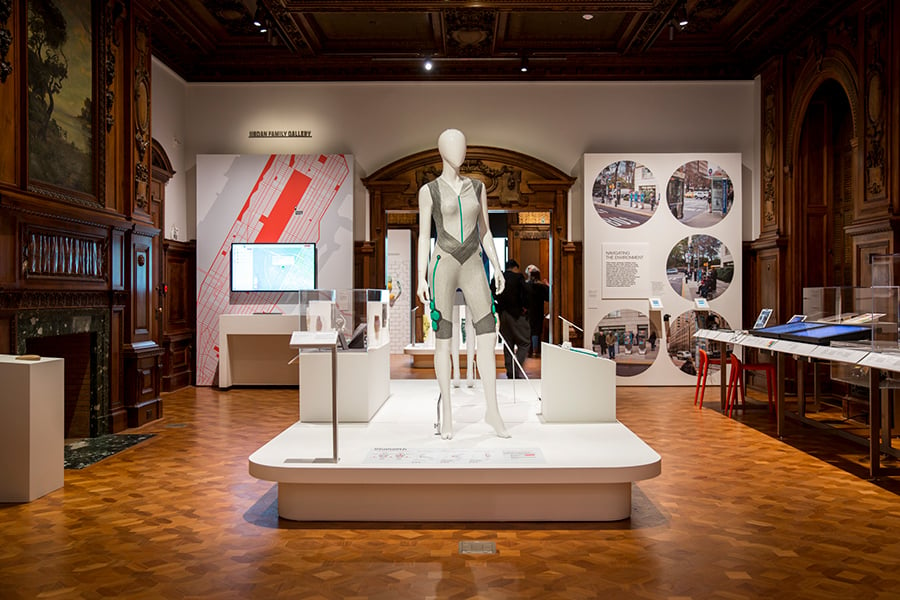 The Cooper Hewitt's Access+Ability exhibit conveys a powerful message: by catering to those with diverse mental and physical abilities, design can create a more inclusive society. Access+Ability highlights objects and wearables that empower their users, making them more self-reliant and capable. The museum itself is striving to cater to these users as well: One Saturday each month, the Cooper Hewitt opens early at 9 AM, so visitors with cognitive disabilities can enjoy the presentations at their own, relaxed leisure. "We all have more dignity when we have our independence," says Cara McCarty, curatorial director at the Cooper Hewitt and co-curator of Access+Ability.
McCarty, who is tall and slender with wavy white hair, has been with the Cooper Hewitt since 2007. She oversees the museum's collections and molds the exhibition program, but her excitement toward Access+Ability seems unparalleled to her other work. During a vacation in Scandinavia, McCarty discovered a profusion of beautifully-designed products that weren't just a "clinical…makeshift solution" for people with disabilities. Through that exposure, in 1988 she curated a similar exhibit at the Museum of Modern Art (where she was an associate curator at the time) titled Designs For Independent Living. "The premise was similar," McCarty says, "but the products were mainly for those with physical disabilities." Now, 30 years later, Access+Ability aims to set a new standard of ideas in the world of tech and design and demonstrate that the best ideas cater to everyone.
Divided into three categories—physical, cognitive, and sensory—the exhibit's 70 products appear futuristic, even though many of them are finalized prototypes on the brink of becoming a reality. For example, the SoundShirt by CuteCircuit is a fashionable button-up embedded with 16 sensors; each sensor is connected to a different section of an orchestra, creating layers of vibrating rhythm for the wearer and revolutionizing the way deaf people experience the symphony. The Emma Watch, from Microsoft, uses haptic vibrations to help those with tremors regain the use of their hand; it has a sleek look equivalent to a Fitbit. Tobii Dynavox's Eyemobile Plus Tablet is a hands-free tablet that uses eyesight as a navigation tool and helps those with muscular dystrophy navigate the web. "Access+Ability is trying to develop to people's abilities," McCarty says. "People are accessing the world, but we're also able to access thoughts that maybe they were never able to get out of their head."
A major highlight of the exhibit was the Superflex Aura Power bodysuit. "I like to think of it [as] the 21st-century girdle or a corset," McCarty says. The tight grey exoskeleton is embedded with sensors that sync with the muscular composition of its user, making it easier for the elderly to perform fluid movements. According to McCarty, Honda developed its own suit in 2009 and recently further developed it to assist people relearning how to walk.
"We're about to finish in here," McCarty says, as she beckoned me to a handful of photos in a glass display case. The photos were of two playgrounds, one in San Antonio, Texas and one in California. "If you're a parent with a disability and you take your child to the park … every activity here is accessible by someone in a wheelchair. It's really inclusive," McCarty said smiling. "Playgrounds are our first classrooms in many ways." The playgrounds were the denouement of Access+Ability and reaffirmed the museum's belief that impressive concepts are ones that bring people together. "What do I want?" McCarty said, gesturing to the exhibit surrounding her. "This is all in the spirit [of] taking a step back and considering a much larger group from the outside. People often don't see what's right under their nose, and I think that's one of the great strengths of museums, is to be able to pull under one umbrella."
Access+Ability is on view at the Cooper Hewitt, Smithsonian Design Museum through September 3, 2018.
You may also enjoy "The Top 10 Most-Anticipated Exhibitions of 2018."