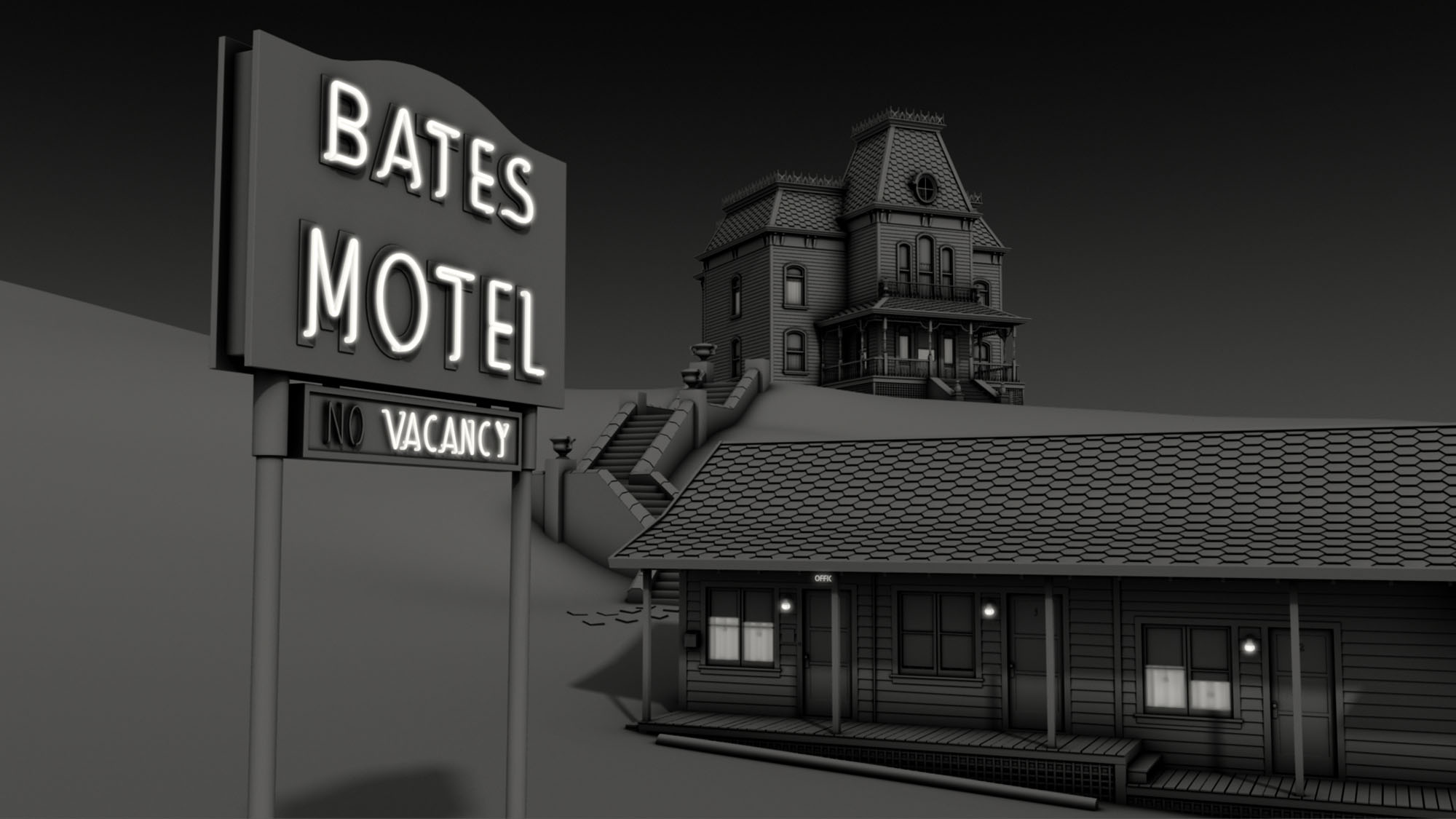 November 9, 2022
A New Book Explores the Architecture of Alfred Hitchcock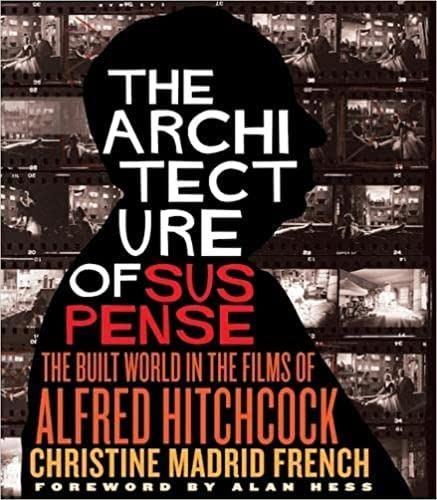 Once you go looking, Hitchcock's films are all about moving through and between buildings. Vertigo mines the fear of falling from architectural heights, not high cliffs, in its tale of romantic obsession. Rear Window and Rope restrict themselves to individual dwellings in high-density environments, ratcheting up tension. And of course after seeing Psycho, no one sees bathroom showers in quite the same way again. Hitchcock, according to architecture critic Paul Goldberger in his 2009 book Why Architecture Matters, "exploited architectural style to enhance emotional impact."
Metropolis spoke with Madrid French not just to learn more about the relationship between movies and architecture, but to reconsider how directors and architects are, for all their individual talent and heroic reputations, merely the leaders of diverse collaborative teams.
Hitchcock was part of a generation of great European movie directors, artists, architects, and musicians who emigrated to Los Angeles in the midcentury. How did they change the city and the popular culture?
What I think is important about Hitchcock is he had such fresh eyes when he came to the United States. He saw our architecture and our monuments in a completely different way. He wanted to capture that. But it's also important to remember there was a talented team behind Hitchcock. It's like in architecture: people tend to mythologize the famous architects and forget their collaborators. Hitchcock helped re-orient movies so the director, not the producer, was the creative author. But I still wanted to really know: Who was helping Hitchcock put this vision together? The period I focus on, his midcentury films in Hollywood, have a lot the same people working on them, particularly with regard to set design. I believe it's his team as much as Hitchcock that had that architectural vision.
Hitchcock's wife Alma and her collaborative role in his films are also becoming better known.
Yes, definitely. As a Latina woman studying Hitchcock, I want to help other people understand that there's plenty of room to start recognizing women and minorities and members of the LGBTQ+ community and their contributions to these movies. Hitchcock admits in his interviews that his wife was critical: that she read every script and would give editing notes. Christina Lane also wrote a book called Phantom Lady about Joan Harrison, one of Hitchcock's closest collaborators. They were so critically important.
In your book, the fictional Vandamm residence from North By Northwest begins with a look at bad guys living in modernist houses, a trope you trace to The Black Cat. Edgar Ulmer, that film's director, came from Vienna, where Modernism would have been a bold rebellion amidst those ornate buildings. But L.A. was more of a blank canvas, right?
In L.A. you had these great Modernists converging here. But here's the thing: If you look at the old pictures, Los Angeles had big Victorian mansions and a Gothic looking city hall and library, just like you'd find in other large industrial American cities. That early identity of Los Angeles was completely lost. But it inspired the Bates Mansion and Bates Motel. In the book, I wrote about that Hollywood Center Motel—a Victorian house surrounded by motel units. It was a very typical arrangement all over the country. When I drove across the United States in the 1980s, you could still see that all over the place. Now it's for the most part disappeared. The Hollywood Center Motel is across the street from Crossroads of the World, the open-air mall on Sunset Boulevard. I actually just found out a few weeks ago that Alfred Hitchcock had an office in Crossroads of the World. The template for this motel-and-mansion format was right there across from his office in the middle of Los Angeles. I'm certain that that would have had some impact. And mansions being demolished was all over the newspapers: Los Angeles was modernizing and sweeping away its past, getting rid of the old and with the new, and that was the exact kind of thing they were trying to portray to you as audience members. It's so funny: in Psycho, it's never, 'Look at this cool mansion,' right? It's always presented as very dangerous.
Your book also examines skyscrapers and high-density urban settings in Hitchcock.
If you look at like Vertigo, the whole movie is about tall structures and falling and identity. And of course Rope takes place entirely in a skyscraper penthouse. In the book, I go back to these incredible quotes from Louis Sullivan, where he says it's just about making everyone basically anonymous and stacking them up as far as you can and getting the highest productivity out of the workers in the smallest amount of space. In the fifties when these Hitchcock movies came out, people had a real underlying fear of urban life. How do you maintain your identity when you're surrounded by millions of people?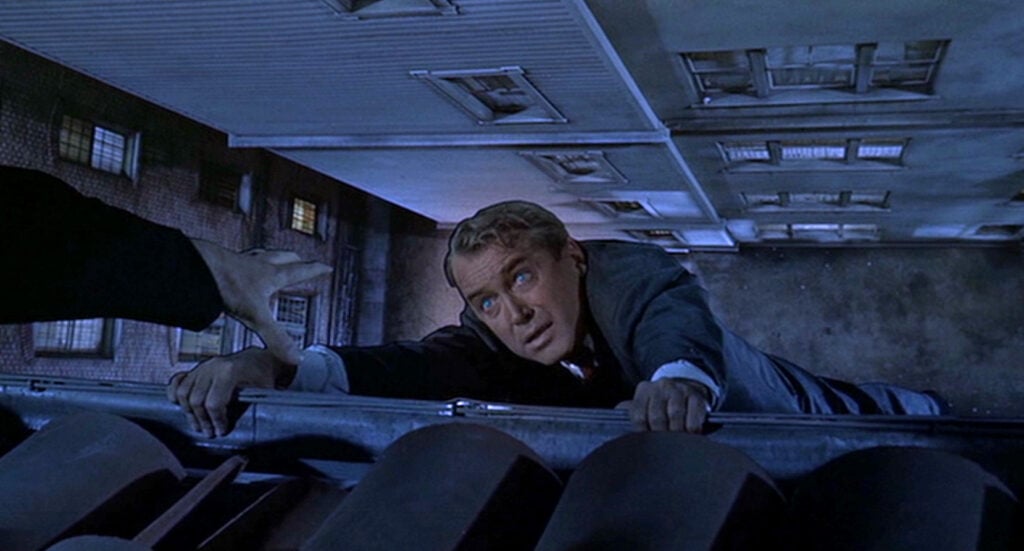 Some Hitchcock films like Rope and Rear Window are confined to individual dwellings, while other films have characters hanging from iconic monuments: Mount Rushmore in North by Northwest or the Statue of Liberty in Saboteur. How interested was Hitchcock in architecture, or was it just a means to an end—an enhanced stage?
In writings or interviews, he doesn't talk a lot about buildings. In the book Hitchcock-Truffaut, there's some reference to Psycho and the gingerbread of the Bates Mansion, but he doesn't really go into detail. His production designers have said that Hitchcock didn't give that much direction on what the building should look like. He expected them to interpret the script, and then he would approve what they did. And a lot of the production designers were architects, including the designer who created the Modernist Vandamm House for North By Northwest.
What kind of spaces might inspire Hitchcock that wouldn't have existed in his own time?
One of the things he specialized in was terrorizing you in an everyday place. I think he probably would have loved to put some kind of a suspenseful murder inside an indoor shopping mall of the 1980s. I think he would have loved using contemporary architecture like Frank Gehry's Walt Disney Concert Hall. That type of building that has so much power in the design that he could create a character from that.
Would you like to comment on this article? Send your thoughts to: [email protected]