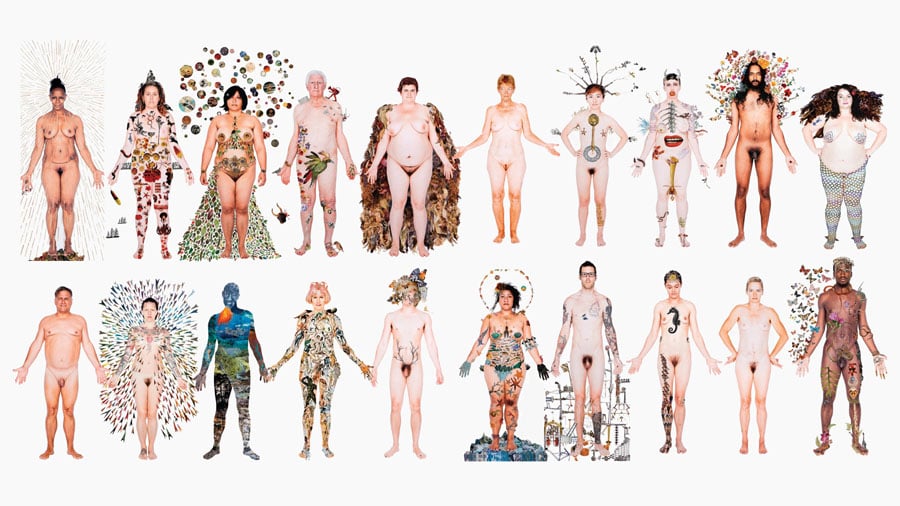 November 15, 2019
This Exhibition Aims to Capture the Diversity of Human Health
Being Human, the permanent display at London's Wellcome Collection is a meditation on humanity in the 21st century.
The Wellcome Collection in London is somewhat hard to pin down. As the cultural arm of the Wellcome Trust charity for medical research, the museum dutifully displays the creepy Edwardian treasures of its founder, the American-born, naturalized-British pharmaceutical magnate Henry Wellcome. Yet this is no mere repository of dusty test tubes, whiskey- tinted medicine bottles, or jar-preserved organs: Step past the neoclassical stone facade and into Being Human, the center's new permanent exhibition designed by the architectural collective Assemble, and you'll find striking pieces by contemporary artists having more to do with aesthetics than anesthetics.
Take Yinka Shonibare's Refugee Astronaut (2019), which depicts an enigmatic space traveler lugging a netted sack filled with personal effects, among them a teapot, a pocket watch, and a telescope. The sculpture, one in a series by the British-Nigerian artist, is an ambiguous composite of two symbols of mobility—the celebrated astronaut and the marginalized refugee—occupying opposite ends of the Western social spectrum. By contrast, Advertisement: Homage to Benglis (2011) projects defiance. The portrait, depicting the transgender artist Cassils with starkly defined scars and abs, draws viewers into a dialogue about identity. These and other gallery pieces are provocations about what it means to be human, about bodies and beings moving forward in the 21st century.
"If you're going to be exploring human diversity in all of its complexity, that does mean exploring human diversity in all of its complexity," says Clare Barlow, the curator of Being Human, of her decision to center otherwise-marginalized figures in the new permanent exhibition. "It felt to me like it would be inappropriate if we were only interested in white bodies, for example, or if we were only interested in bodies that conformed in a certain way."
Puncturing ableist narratives was part of this curatorial remit. Barlow points to Pity (2013), a performance piece by the late Katherine Araniello, for its darkly comic dissection of public perceptions of disability. Another highlight for Barlow is the Accessible Icon Project, an activist effort that proposes altering the handicap symbol with its disposition of immobility into one of active motion. (Since the project's launch in 2011, the new symbol has been adopted by entities including Twitter and New York State.)
These questions of accessibility extended into the design of the gallery space itself, led by Assemble. "Part of Being Human is [that] all voices should be heard," explains Joe Mulligan, a member of the group, "and the other part is [that] everyone should be able to access this exhibition." The 3,770-square-foot room is dotted with plinths and lit by windows facing Euston Road. The gallery's apparent simplicity belies a number of moves aimed at improving the circulation of bodies within it: The plinths have nine-inch overhangs that allow wheelchair users to get close to the displayed artifacts, while off-center seating (featuring high backs for comfort and support) prevents the literal sidelining of any visitors in front of video screens. "We met up with a group of disability activists from the University of Leicester, and that was really about making extremely clear divisions between plinths and floor," Mulligan explains.
Smart, thoughtful touches abound: The hand-charred cross-laminated timber of the plinths complements the light oak floors, while tactile elements such as larch walls (stained indigo and teal), brushed-aluminum captions, and plentiful braille signage are allowed to compete with the visual. In blending graphic legibility and rarefied grandeur, the room strikes a tone somewhere between a school gymnasium and the Victoria and Albert Museum's famed Cast Courts a few miles away.
The gallery is loosely divided into quadrants, following the exhibition's four conceptual themes: Genetics, Minds & Bodies, Infection, and Environmental Breakdown. Each grapples with thorny existential questions "that aren't going away," Barlow says. "How much do we really want to know, or share, about our genetic code? Why is it so hard for us to act on climate breakdown when its effects are already here?" These issues compound feelings of alienation, a social ill the Zimbabwe Friendship Bench project is attempting to tackle. Volunteer-run, the mental health assistance program gives people in crisis access to a counselor without having to travel to a hospital. (Counselors and patients meet on specially de- signed benches located near clinics. One such bench features in Being Human.)
"With each story I've been looking for the most appropriate way to tell them," Barlow says. "Sometimes a piece of scientific equipment is the way in; sometimes something that has come from an activist perspective is the way in." She de- scribes a work from Isaac Murdoch of the Onaman Collective, an indigenous artist group. A weather-beaten banner from the Standing Rock protests against the Dakota Access Pipeline, it reads "Water Is Life." Again and again in Being Human, an object with an apparently tangential relationship to medicine or other health disciplines emerges as a vital entry point to understanding lives and livelihoods. "If there's a central message to [the show]," Barlow suggests, "it's that we're all unique, we're all valuable, and we're all connected to each other, but also to the world around us."
You may also enjoy "This Stunning Exhibition Examines Humankind's Impact on Earth."
Would you like to comment on this article? Send your thoughts to: [email protected]