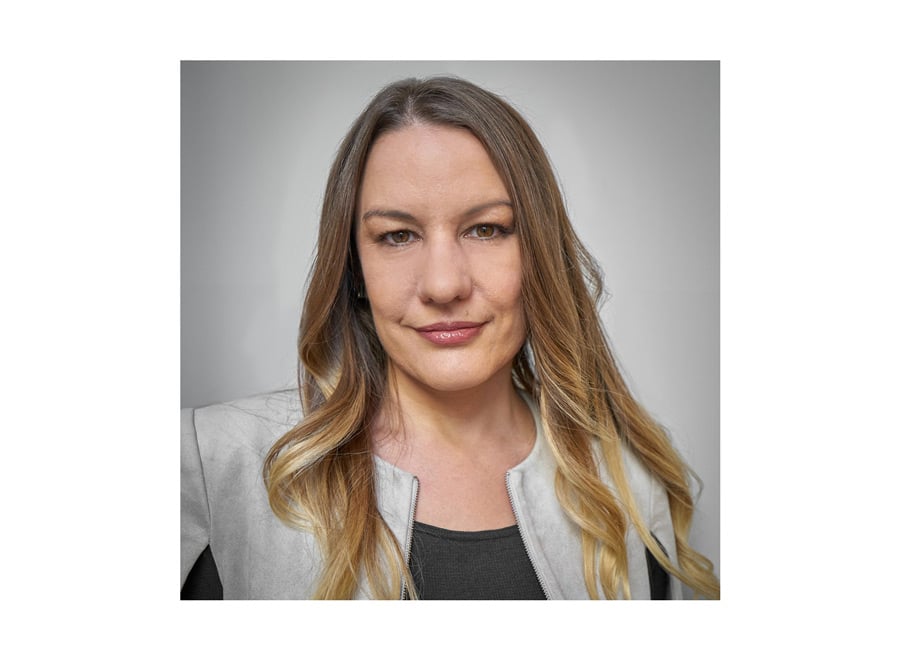 April 15, 2021
Q&A: Elissa Black, the Newly Appointed Head of NYCxDESIGN, Knows New York City Will Bounce Back
After roles at the Van Alen Institute and the Guggenheim Museum, this lawyer and advocate for design takes over NYCxDESIGN as executive director.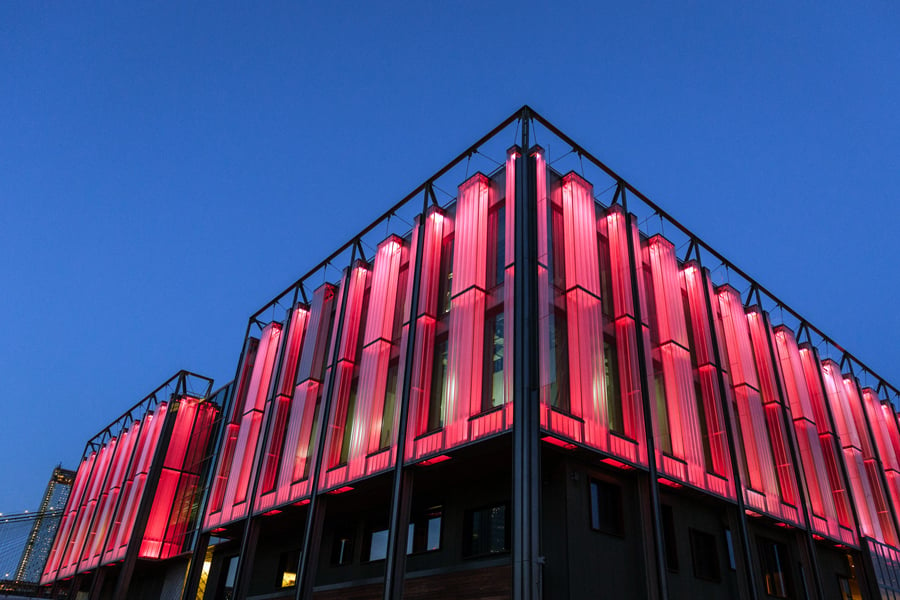 Since NYCxDESIGN reconceived of itself as an independent non-profit organization last Fall, the organization has drastically expanded its range of offerings. Now, in addition to their annual design festival ("NYCxDESIGN: The Festival"), they've launched programs including a magazine, a podcast series, design competitions, a network of designers offering pro-bono services, as well as a poster campaign that raised spirits, and money, for local causes during the darkest days of the pandemic.
Last month, NYCxDESIGN announced that it had found a new executive director to steer the organization's growing roster of events and activations. Elissa Black comes to NYCxDESIGN from a career in law by way of stints at major NYC-area cultural institutions the Van Alen Institute and the Guggenheim Museum. She spoke with Metropolis about the challenges facing the city and its design community, as well as the opportunities these challenging times present. 
Metropolis Magazine: You've held leadership roles at both the Van Alen Institute and the Guggenheim Museum, and you're no stranger to New York's design world. What do you think sets NYCxDESIGN apart from the dozens of other non-profits that are involved in the city's design ecosystem?
Elissa Black: NYCxDESIGN is all-embracing in its representation of New York City's design community. Throughout its nine-year history, NYCxDESIGN has uniquely catalyzed collaborations across the design spectrum, connecting architecture, interior, outdoor, graphic, product, industrial, digital and tech designers with the design-adjacent efforts of manufacturers, makers, suppliers, design districts and events, design schools and cultural institutions across the city.
In acting as this hub for the design community in its broadest sense, NYCxDESIGN has uniquely harnessed New York's creative capital under one umbrella. NYCxDESIGN is perfectly poised to promote and elevate the collective power of New York City's design community on a national and international stage, and bring expanded opportunities to the community and the city as a whole.
MM: You're taking the helm of the organization at a turbulent time for the city, for the design industry, and non-profit organizations in general, what do you foresee being your biggest challenges?
EB: Growing NYCxDESIGN's programming, operations, and strategic model against this backdrop might be considered challenging, but I see it more as an incredible opportunity to explore new and amplified pathways for the organization. As we start to repair, renew, and recreate our city, this is our chance to build back better and do better. NYCxDESIGN, through its creativity, our community and our purpose, will have an essential role to play in this renewal effort.
MM: What are your top goals for NYCxDESIGN in the coming year? 
EB: First – nurturing, supporting, and providing opportunities for NYC's design sector. By deepening ties between designers, makers, suppliers, design adjacent initiaves and enterprises, and providing exposure and education about design, NYCXDESIGN will be nurturing the community collectively towards well needed recovery and growth.
Second – modelling and supporting an equitable, inclusive, diverse, and vibrant design profession for New York City. We will also be working with emerging designers and the city's younger population for this purpose, seeking to inspire them about the possibilities of design, and encouraging them to envision their own futures within the design profession.
Third – seeking double or triple bottom line impact where we take the power of New York City's design community to advance us towards the social change which is so much needed in this city and country right now.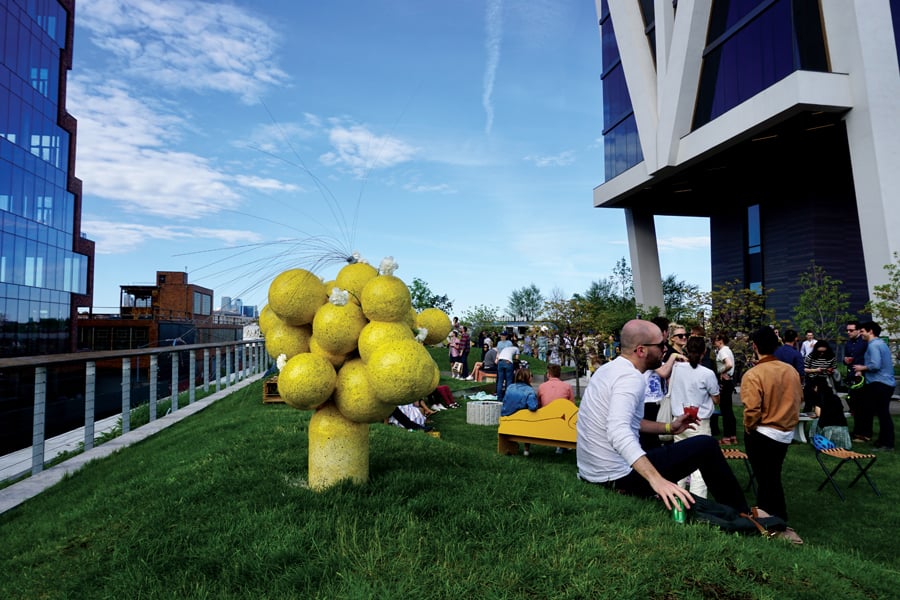 MM: Last year, NYCxDESIGN announced its new status as a not-for-profit institution, but the organization has always had close ties to the city as well as NYCEDC, how does the new status allow you to leverage those relationships to pursue NYCxDESIGN's mission?
EB: The mission-based design initiatives I have seen to be most successful are those that have had a non-profit at their center, bringing designers, City government, the city's design schools, cultural institutions, design and business districts together. These projects have created more engaging and equitable public spaces for the city, rethought the city's models of rehabilitation and justice, and redesigned essential infrastructure for improved social use and equity. NYCxDESIGN's position as a non-profit allows us to foster these close relationships and collaborations on programs that create increased and equitable access, inspire positive change, educate, and spotlight the city's immense design talent.
MM: Most people know NYCxDESIGN for "NYCxDESIGN: The Festival" but over the past year especially, the organization's portfolio has expanded to among other things, a podcast, a poster competition, a magazine, design competitions. Even once events like "The Festival" are possible again, will NYCxDESIGN continue to expand its remit?
EB: To support design in the city and our expansive design community, this year we launched The Breakout Grant, an Emerging Designer Residency and IMPACTxDESIGN which brings design installations to public spaces to renew and reactivate our places of public gathering.
We will celebrate design right across the year through Design Days running May 13-18, featuring virtual events, outdoor experiences, self-guided journeys, panels and design leader conversations, followed by our Festival in the Fall from November 11-18. Our Design Corps network and Ode to NYC poster program leverage our city's best design talent to re-energize the city's essential small business and cultural life as we recover from the effects of the pandemic. Our The Mic podcast and NYCxDESIGN: The Magazine will continue to showcase NYC designers from all backgrounds and inspire the city's creative community by sharing diverse perspectives on a variety of topics.
Collectively this expansion by NYCxDESIGN into year-round programmatic activities will further educate about design, spotlight New York design talent internationally, and create greater and equitable access to opportunity.
MM: You're coming to lead NYCxDESIGN at what feels like a time of massive change, and potentially even crisis, for the city. Even once COVID is over, it's likely that the fabric of the city will be altered permanently by among other things, the decline in office workers, the collapse of brick-and-mortar retail, and a catastrophic die-off in the hospitality industry. How do you see the city's design industry responding to these changes and anticipating changes that are yet to come?
EB: It's been moving and inspirational across the past 12-14 months, seeing the willingness and capacity of New York's design community to come together and tackle the pandemic head-on, proving design's capacity to respond to the most difficult of crises. We had our product, industrial, tech and fashion designers creating PPE, medical equipment, and public safety attire, protecting us and our essential workers, supported by our digital and tech designers creating new health service delivery modes, and apps for accessing public health information, COVID tracking and vaccine roll out. Our graphic designers dived in to join this enterprise, playing key roles in public health information campaigns, education, and the defining of safe ways to come together in our social, leisure and business spaces. Meanwhile our textile, furniture, interior designers and architects have reimagined and rapidly re-designed our social and working spaces in transformational ways, ensuring our physical safety and mental wellbeing during the heights of the pandemic, but also guiding our thoughts and approaches as we think about new and better futures and ways of working.
With this fabric of deep collaboration between the designers, makers, manufacturers and suppliers of our city, it's clear to me that our design sector has the power to develop and deliver the new design approaches we need for the safe re-opening and renewal of this city and beyond.
MM: What do you think NYCxDESIGN's role is in building the next version of New York City?
EB: Across the course of my career, I've seen the extraordinariness of design consistently reveal itself. When design steps in, and through the power of design thinking identifies and breaks down a problem, and formulates and deliver innovative solutions, often in the process, it also catalyzes positive and broader social change.  In recent design-based initiatives, I have seen collaborations across the design spectrum that have remade, reimagined and positively impacted societal issues ranging from justice, to climate, to curbing racial inequality, to the creation of equitable public space,  inclusivity and access and community resilience and recovery.
There's more work ahead for all of us to steward the city's re-emergence from COVID towards economic recovery, but there's also work to do and very necessary efforts towards social justice, antiracism, tolerance, and understanding. With NYCxDESIGN acting as a consolidator, connector and champion, our city's design community can rally together with others, and contribute much to these social change efforts to bring more equity, access, inclusion and equality to bear.
You may also enjoy "Addressing the Intersecting Challenges of Climate Change, Housing, and Social Equity"
Would you like to comment on this article? Send your thoughts to: [email protected]
---
Register here for Metropolis's Think Tank Thursdays and hear what leading firms across North America are thinking and working on today.