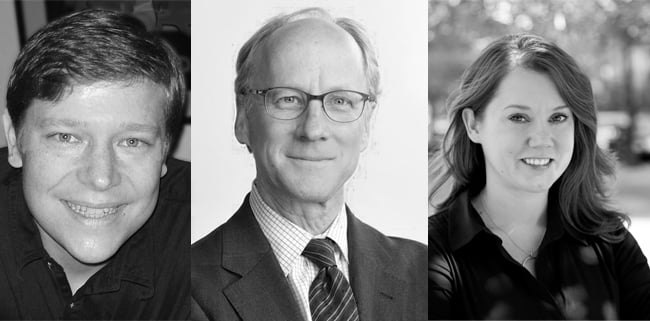 January 6, 2015
Green-Building Advocates on How to Make Our Cities More Sustainable
American design, planning, and development leaders consider the future of our cities
As the Bruner Foundation prepares for the kick-off of the selection process for the 2015 Rudy Bruner Award for Urban Excellence, we reached out to the leaders of organizations engaged in the design and development of American cities to discuss the issues facing today's urban environments. We were curious to hear their thoughts about the opportunities and challenges, how their organization is responding, and noteworthy initiatives and projects.
For  this post, the first of a two-part series, we surveyed Jason Hartke, PhD, Senior Vice President, Global Policy Development at the U.S. Green Building Council (USGBC); Patrick Phillips, Global Chief Executive Officer of the Urban Land Institute (ULI); and Trinity Simons, Director of the Mayors' Institute on City Design.
Left to Right: Jason Hartke, Patrick Phillips, Trinity Simons Photographs: US Green Building Council, Urban Land Institute, Mayors' Institute on City Design
Three common themes emerged from our queries:
The impact of changing demographics and urbanizing populations

The need to address climate change and create more sustainable and resilient communities

The critical role of new, innovative public/private partnerships to take the lead and address them
We asked.
What are the major opportunities and challenges facing American cities today, and what are the key implications for civic leaders and design, planning and development professionals?
Today's cities are juggling a lot of issues, creating demand for innovative solutions.
Phillips noted the impact of the baby boomers and millennials "who are making life choices that have big implications for cities," and findings from ULI's America in 2013 that indicate a growing preference for walkable communities.

Hartke mentioned the growing convergence of sustainability and resiliency agendas, citing the 2005 Multihazard Mitigation Council study that documented that every $1 spent on preparedness saves $4.

In an era of shrinking funding streams and deteriorating infrastructure, Simons suggested that cities need to "be creative about partnerships–including local foundations, grassroots community organizations and state and federal governments–to fund key services, initiatives, infrastructure and maintenance," and highlighted open data as "a powerful tool" for sharing information and improving services.
Mike Samuelian, vice president of design and construction for the Related Companies, leads ULI members along the High Line park during a tour of Hudson Yards in New York City.
Courtesy Urban Land Institute/Nathan Weber

How can urban design and development professionals and allied organizations respond?
Much is already underway, including the development of information and tools to help cities respond.
According to Phillips, ULI is showcasing examples of sustainable, walkable development with a series of case studies, and their Terwilliger Center for Workforce Housing has documented the basis for policies linking housing, transportation and economic development.

Hatke highlighted the USGBC's 2012 Green Building and Climate Resilience report that demonstrated the many ways "that green building strategies in LEED support a more resilient green environment," and the more recent LEED Climate Resilience Screening Tool that "allows project teams to prioritize resilience through green building strategies using the LEED system."

Simons reflected on the importance of engaging and educating mayors in their roles as "chief urban designers" via programs like MICD's sessions: "Design is more about far more than aesthetics: it's a process that allows mayors to address a whole host of urban challenges."
At each Mayors Institute on City Design session, eight mayors come together with eight leading design and development professionals to discuss the mayors' most pressing design challenges.
Courtesy Mayors' Institute on City Design
What are examples of responses that we might learn from?
Recent initiatives entailing philanthropic and civic leadership and multi-sector collaboration provide opportunities to share information and learn.
All three highlighted collective efforts such as the Rockefeller Foundation's

100 Resilient Cities Challenge (100RC) and Resilient Communities for America that offer resources and build awareness and take action.

Simons acknowledged the value of sharing information and best practices, like MICD's

Design Assistance handout that provides information on nonprofit and government programs that offer design, planning and development assistance to communities.

Hartke highlighted initiatives like New York City's development of "the most comprehensive municipal resilience plan in the nation" under Mayor Bloomberg and the

Make It Right Foundation's work in the Lower Ninth Ward of New Orleans that demonstrate what is possible and "putting resiliency in perspective."
As Phillips suggested, initiatives like these "provide cities with financial and technical assistance to become more social, economically and physically resilient" and "can spark and energize long-lasting, local action."
Sacramento Mayor Kevin Johnson, chair of the Resilient Communities for America Campaign, outlines an agenda to forge more resilient communities.
Courtesy US Green Building Council
Next month, we'll hear from the leaders of the American Institute of Architects, American Society of Landscape Architects and the American Planning Association. And in February, we'll announce the finalists for the 2015 Rudy Bruner Award.
Noteworthy News:
---
Anne-Marie Lubenau, AIA, is director of the Rudy Bruner Award for Urban Excellence (RBA) for the Bruner Foundation in Cambridge, Massachusetts. An architect and advocate for educating and engaging people in design of the built environment, she is a graduate of Carnegie Mellon University and was a 2012 Loeb Fellow at the Harvard Graduate School of Design.
This post is part of a series written and curated by RBA that focuses on advancing the conversation about placemaking in American cities. The blog offers a detailed look at the 2015 award selection process and site visits, winners' case studies, highlights from events such as the Bruner-Loeb Forum, and broader observations.