October 5, 2018
At FXCollaborative, Architects and a Manufacturer Explore How to Make Sustainable Design a Reality
The discussion, part of Metropolis's Perspective event series, delved into the challenges of deeply ingraining sustainable products and strategies.
---
Eliel Saarinen once said, "Always design a thing by considering it in its next larger context—a chair in a room, a room in a house, a house in an environment, an environment in a city plan." That balance of a project and its context is essential to understanding sustainable design, said FXCollaborative senior partner Sylvia Smith at yesterday's Metropolis Perspective event. The discussion, which unpacked a range of sustainability standards, frequently returned to this challenge facing architects: Their ability to maintain a big-picture view of sustainability while connecting it with a project's smallest and largest details. But that insight was just one of many that emerged from the discussion, which also included Robert Balder, executive director of Cornell University's AAP program, Richard Murlin, senior manager of strategic collaborations at USG (an event sponsor), and Daniel Piselli, FXCollaborative's director of sustainability.
Smith and Piselli began the panel by describing how FXCollaborative strives to develop and normalize sustainable design strategies, namely through the course of its regular practice: "We don't have a research arm, we use our projects to do explorations," said Smith. One example related to the super energy-efficient Passive House design standard: Already a proven concept abroad, FXCollaborative wanted to build a large Passive House–certified project in the U.S. When the firm couldn't find willing clients, they sought funds from New York State Energy Research and Development Authority to write a report on Passive House feasibility and easy strategies for its practical implementation. The firm is now realizing some of those strategies with its NYCHA Holmes mixed-use tower, which is aiming for Passive House certification.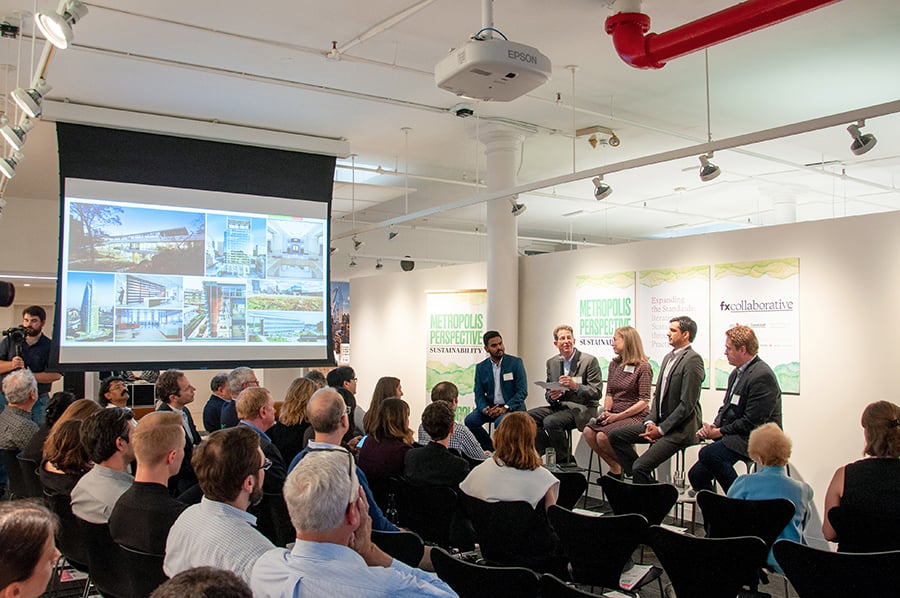 A similar example for a very particular sustainability challenge is bird safety—reducing the fatal collisions of birds with building facades, a plague that kills one billion birds each year in North America. Seeking to develop the best techniques to reduce this heavy toll, FXCollaborative installed a series of countermeasures on its Center for Global Conservation project, including shadings, overhangs, bird-visible glass (which uses UV patterns that are more visible to birds than humans). All worked except for the overhangs; working with the client, the architects later tried a new film on those overhang-shielded windows which has subsequently proven successful. This knowledge is now part of the firm's regular design toolkit.
While these two sustainability stories were ultimately successful, they do highlight some of the hurdles facing ecologically-minded architects, such as a willing client (something that was initially lacking for a large Passive House project). Another major obstacle, highlighted by Murlin, was push-back from contractors, who sometimes blanch at using more-sustainable but unfamiliar products, such as USG's Ecosmart gypsum panels. The panels, which perform the exact same as comparable gypsum products, consume 25 percent less water to manufacture and leave a 20 percent smaller carbon footprint. However, implementation has been slow in New York. "We would want to see specs developed around sustainability," said Murlin, though he emphasized that architects usually have little say over products that don't affect the project's appearance—such as panels hidden behind ceilings and walls.
The fight to permanently ensconce sustainable design, then, isn't just a question of research and proof-of-concept. It requires the architect to understand the wider eco-friendly goals while keeping an eagle eye on the smallest details. "We don't see things in an isolated way… [we're] questioning not just materials, but the previous way we designed a building," concluded Smith.
*Metropolis Perspective: 2018 Sustainability Event brought to you by our sponsors Armstrong Ceiling & Wall Solutions, Humanscale, Tarkett, USG, Construction Specialties, wakaNINE.*
You may also enjoy "Metropolis Launches Two-Day Symposium Devoted to Sustainability."