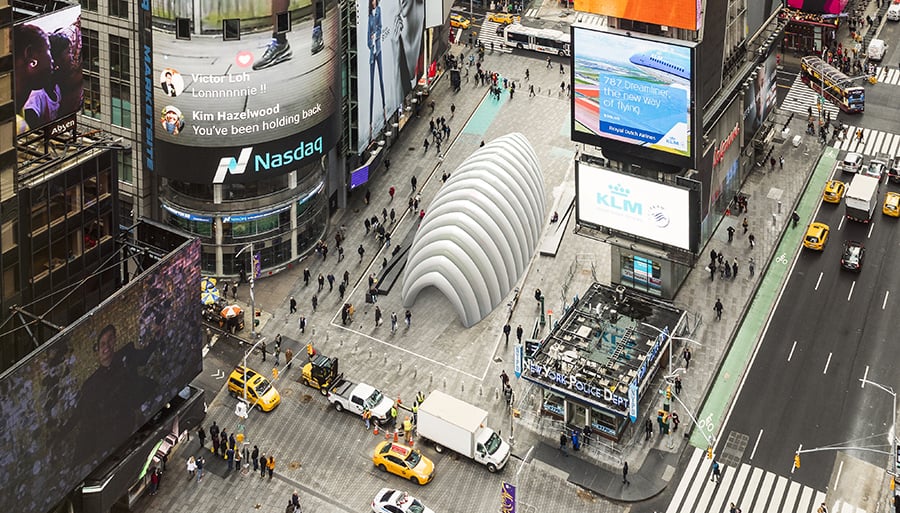 May 8, 2018
NYCxDesign 2018: What to Expect at the Times Square Design Pavilion
Now in its third year, the Design Pavilion returns to Times Square with a series of interactive temporary installations, talks, and multimedia presentations, as well as Design Market NYC.
---
May 12–20
Times Square Pedestrian Plazas
W. 42nd to W. 47th Sts. btw. Broadway & 7th Ave.
---
The Design Pavilion returns to Times Square for its third year with nine days of free programming and innovative design exhibitions. Festivities will stretch across five plazas running along Broadway between 42nd and 47th Streets. International architects, designers, and artists are expected to participate in a series of interactive temporary installations, talks, and multimedia presentations, as well as Design Market NYC, following up its successful debut in 2017.
The event has become known for its forward-thinking and inventive architectural pavilions; this year it will prominently feature a lightweight inflatable shelter by Inflate, a U.K.-based design studio helmed by creative director Nick Crosbie. Premiering in the U.S., the 25-foot-high futuristic shelter will occupy a footprint of approximately 2,000 square feet.
Also for the first time this year, the Times Square Alliance will showcase prototypes developed through the Times Square Design Lab, a program that commissions public space proposals from New York City designers. Prototypes by Brad Ascalon, Joe Doucet, Louis Lim, Doug Fanning, and Hive Public Space will serve as catalysts for conversation about the enhancement of public space through design.
Sparking discussion is a central mission: The fourth annual Design Talks NYC will kick into gear with a full program of free panel talks. Experts will examine some of design's most timely issues—including in a panel on women in the design business on May 17. The talk, presented by Pratt Institute president Frances Bronet and moderated by Susan S. Szenasy, Metropolis's director of design innovation, will include Debbie Millman, designer and host of the Design Matters podcast, and Sybil Yurman, cofounder and chief brand strategist of David Yurman. Metropolis vice president of design Paul Makovsky will also be hosting a discussion on Postmodern design at 4 Times Square on May 14.
---
To download the digital version of our official NYCxDesign guide, please enter your email below:
[gravityform id="9″ title="false" description="true"]
---
Find all of our NYCxDesign updates, previews, and more, here!