December 2, 2008
Spirit of Place
A new book captures our love affair with buildings.
I recently visited Hale County, Alabama, home to the Rural Studio. I spent a week touring architecture projects and soaking in the landscape. There's something about the deep south and the way that history haunts every corner, the way that, to quote Faulkner, "the past is never dead. It's not even past." So much southern history is alive and written into the buildings. I spent an afternoon at a private home, a grand plantation house that the current owner has lovingly restored. The house has been in his family for four generations and he knows every inch, every creaking floorboard, every hidden pathway. On my way out, he pointed to the windows in the front door. Two fissures marred the warbly leaded glass. "People often ask why I don't fix those panes," the owner said. One day, he explained, his mother saw a car coming up the long drive. It was her husband returning from World War II. She ran out to greet him, slamming the doors behind her: Two lines start at the top of each pane and crack to meet in the middle, forming a perfect V. It is a love story written in glass. That image stuck with me, and so it seemed impeccable timing to return home to Baltimore and find a copy of a new book in the mail that is all about our love affair with buildings.
Called Spirit of Place, Baltimore's Favorite Spaces, the book is a collaboration between journalist Sarah Achenbach and photographer Bill McAllen. The two teamed up in 2004 to photograph local celebrities and civic leaders with their favorite buildings for an article in Baltimore's Style magazine. It was such a success, they decided to expand it into a book. "Get someone talking about the curve of a column, the grandeur of a gilded ceiling or the quiet beauty of brick, and you'll hear stories, memories, triumphs, yearnings, sadness, and hope," Achenbach writes in the introduction. "Our relationships with buildings are fraught with emotion and can be as complex as any human relationship. We may admire architecture for its design, grace and funcion, but it's the way we interact wth a place—the way we inhabit it, and it inhabits us—that gives it soul."
Spirit of Place pairs McAllen's black and white photographs of people and architecture with first-person accounts about the meaning of the structures. The book also includes a few longer essays from writers like David Simon, creator of The Wire, and novelist Laura Lippman.
David Simon outside his favorite spot in Baltimore, a Gothic-style castle built in the 1890's and used to bottle Pabst beer in the days before Prohibition.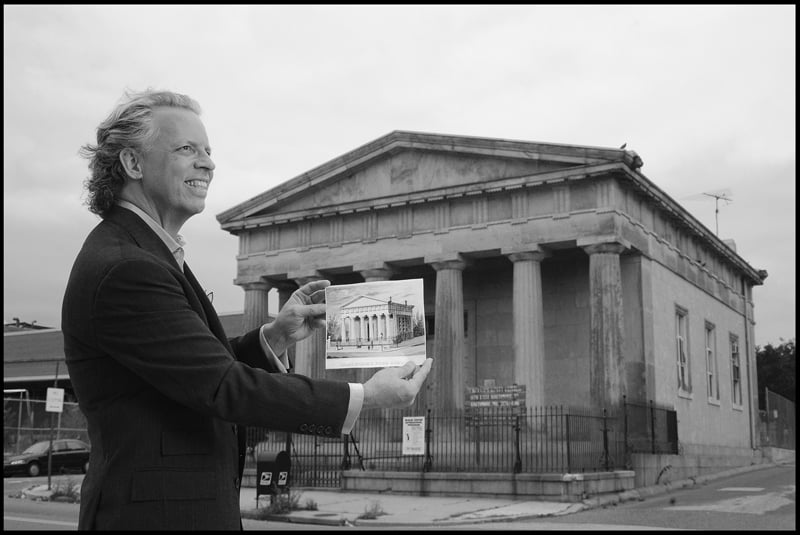 J. Michael Flanigan, an antiques expert and a regular on PBS' Antiques Road Show, outside the McKim Free School, built in 1833 to be the first free public school in the city.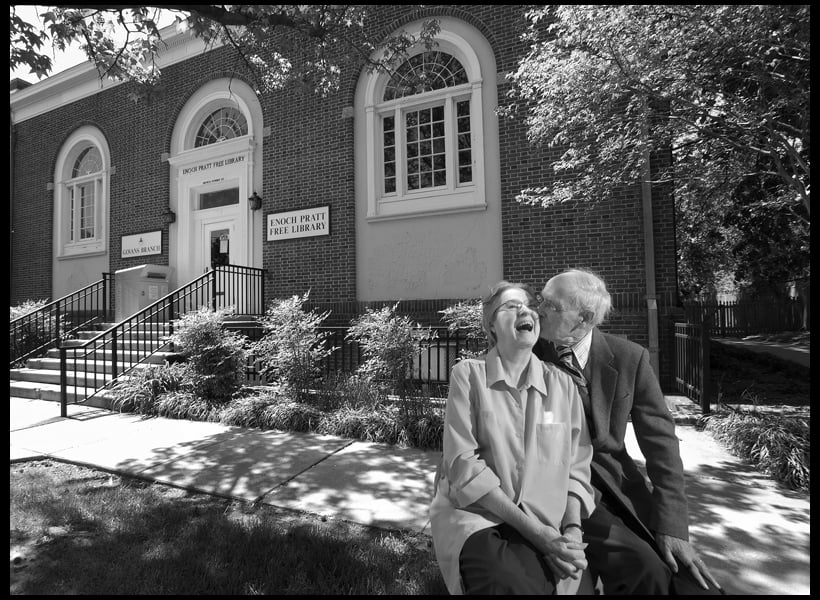 Jim and Mary Bready pictured outside Branch 22 of the Enoch Pratt Free Library.
I couldn't help but think about the cracked glass in that Southern home when I read the story of Jim and Mary Bready. "On June 21, 1941, a Saturday afternoon, I dismounted from a bicycle, climbed the steps of the library, walked in and mumbled something to the teenager who happened to be on duty at the customer desk," writes Jim Bready. He wore his army uniform and was a stranger to Baltimore. The girl behind the desk was Mary Hortrop. They have now been married for 64 years. Every June 21, the couple returns to the library to celebrate the day that they met, though, as Achenbach reports, Jim missed a few years during World War II. Spirit of Place does a wonderful job capturing these hidden, poignant moments in the life of the city. To quote another great Southtern writer, Eudora Welty: "A good snapshot stops a moment from running away."