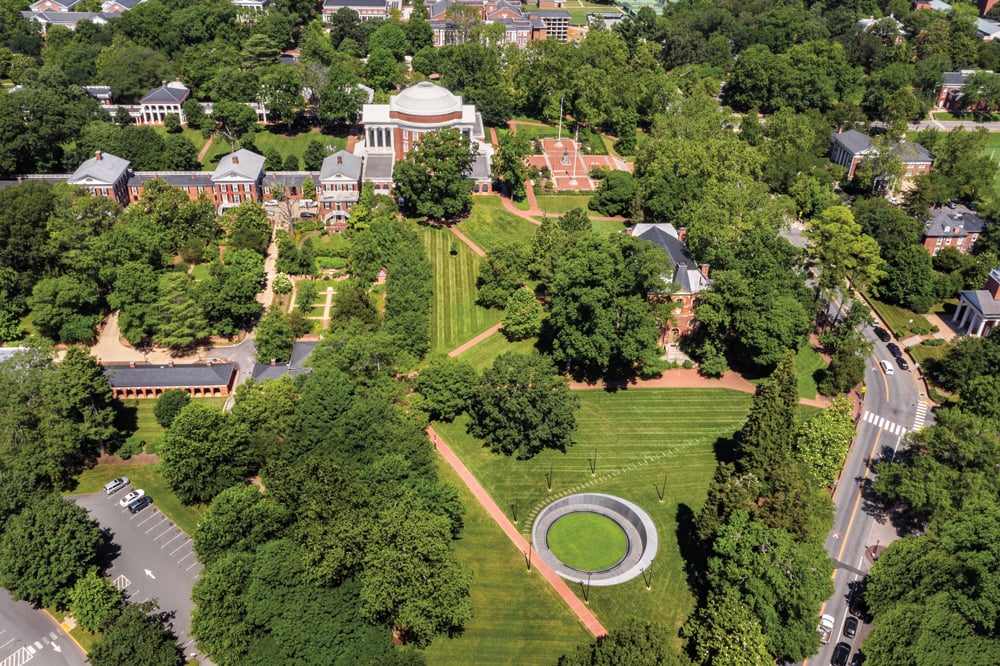 August 13, 2021
Why Aren't Black Firms Working on Memorials to Slavery?
A new memorial in Virginia is the latest cultural project acknowledging a debt to enslaved African Americans. But the most high-profile commissions and contracts are hardly ever awarded to African-American firms.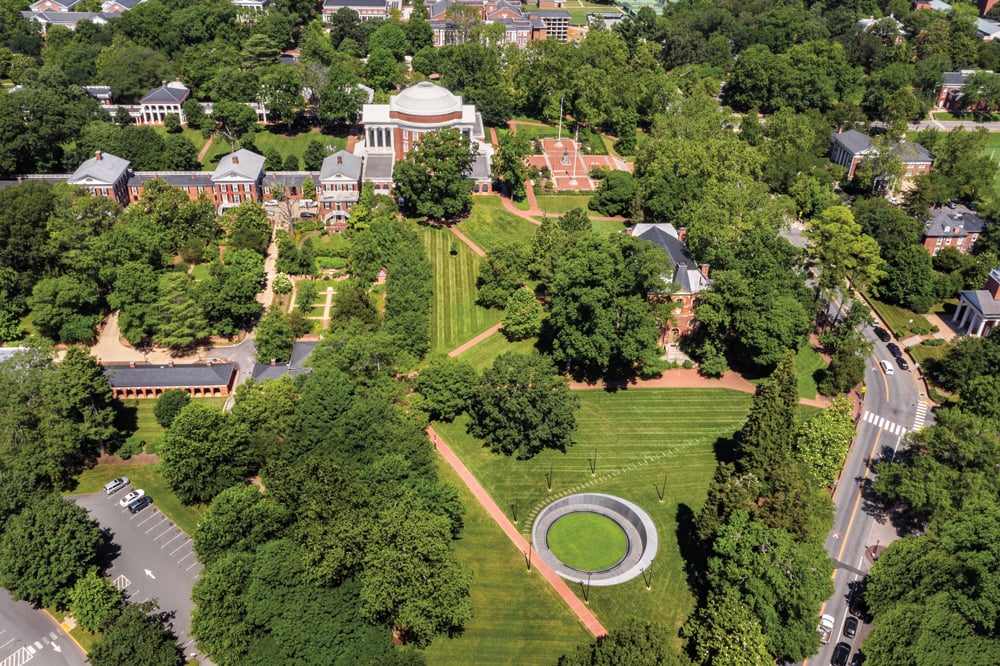 ---
I have a problem with the Memorial to Enslaved Laborers at the University of Virginia (UVA) in Charlottesville, and it has nothing to do with its design.
During a visit to the campus in May, my first impression wasn't too far removed from that expressed by New York Times co–chief art critic Holland Cotter when he wrote that the project appears to follow the lead of "some of the most effective commemorative work of the past several decades."
On the surface, that's a fair assessment. The simple footprint of the memorial, essentially a double ring of hewn granite around a patch of grass, occupies a powerful location east of the Thomas Jefferson–designed Rotunda—the heart of his academic village. The ring's 80-foot diameter echoes that of the Rotunda, and their proximity underscores the paradox of Jefferson: his intellectualism and brutality.
To walk the path between the two concentric rings is to be able to touch names carved on the eight-foot-high enclosure—and, taking a step back, turn to rest on the bench-high interior wall. There, workers have chiseled a timeline of the horrors inflicted on Black bodies by UVA's faculty and students during the university's antebellum years. Boston-based architects Höweler + Yoon and Columbia University professor Mabel O. Wilson have created a sobering, minimalist backdrop for UVA's confession that 4,000 human beings were harmed in the making of this sprawling, beautiful institution.
---
But as the late critic Ada Louise Huxtable taught us, architecture is about more than just the building.
In September 2013 then–UVA president Teresa A. Sullivan created the President's Commission on Slavery and the University, revising the narrative that had previously erased its enslaved, including those historian and UVA assistant dean Kirt von Daacke described as "a significant portion of UVA's construction workforce": upwards of 70 to 80 people a year who were often involved in projects "led by skilled enslaved."
For these wrung-out lives, the commission's report states it is following a restorative justice model that centers "community engagement through workshops, coffees, public presentations, and meetings" and has as its goal "meaningful dialogue."
That directive figured heavily in Höweler + Yoon's planning and design of the Memorial to the Enslaved; they canvassed the city and college community about the project's design, recording reactions. Church groups, descendants of the enslaved, and the college's Black alumni all chimed in on the type of structure they would build, its imagery, and its location.
The economic impact is a different story. No one seems to have asked the UVA stakeholders to mull the meaning behind not awarding the $7 million project to an African-American firm.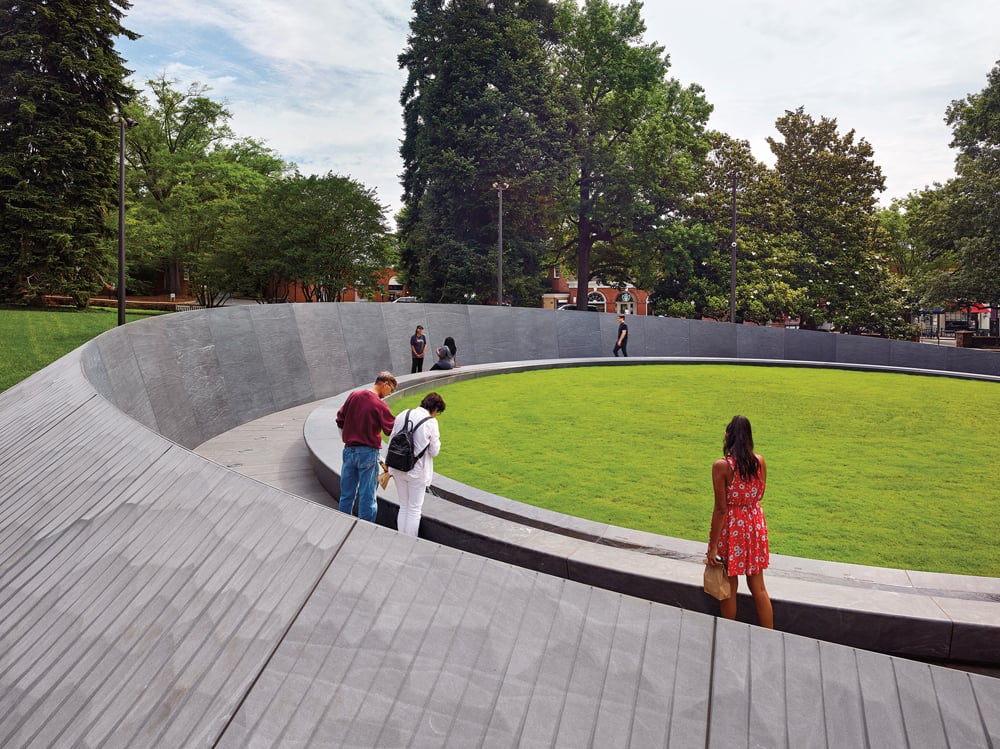 ---
Beyond aesthetics, projects generate jobs and cash flow for subcontractors, consultants, material suppliers, and yes, laborers, so the question of money should be part of a meaningful review—and is a conspicuous omission in a monument commemorating exploited labor. If, as the commission's report says, UVA has been "actively thinking about what [reconciliation and repair] might look like," this would seem an obvious first step.
UVA did publish a national request for qualifications (RFQ), and while that implies a merit-based selection, this is 2021 and the world has witnessed the ways systemic biases can work against an otherwise fair process. To that end, it's more critical than ever to consider where the RFQ ran and which firms—thanks to either networking contacts or their ability to invest staff time tracking RFQs or requests for proposals (RFP)—were aware of it.
But during a 2019 phone conversation that I had with UVA's university architect Alice Raucher, she couldn't recall where the RFQ was published and seemed confused about why that matters.
In fact, at least two African American– led firms were in the running for the project at some point. Alerting the National Organization of Minority Architects might have spread news about the RFQ to a larger number of people. Presumably, increasing the number of Black-led firms bidding would improve the odds of one winning the commission. That idea, too, was lost on Raucher: Giving these firms a sort of first right of refusal, well, wouldn't that be discriminatory? she reasoned.
What about the possibility that UVA's intentions for the memorial—making amends for its part in slavery—might seem disingenuous if the construction mostly enriched non-Blacks, thus perpetuating the cycle of inequity?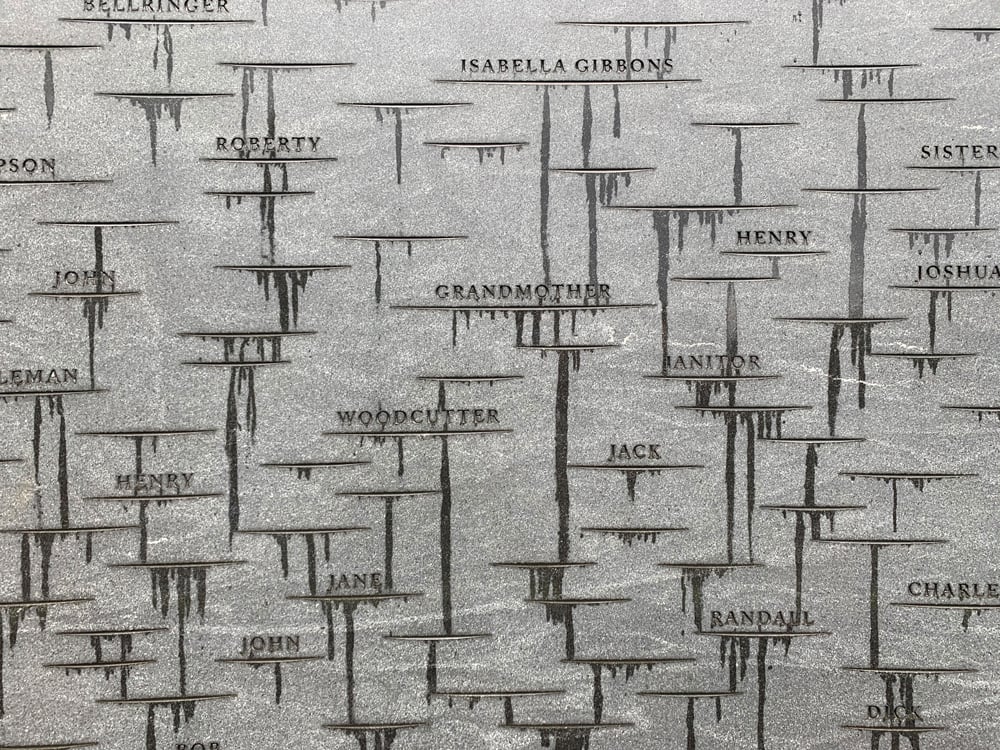 ---
Höweler + Yoon valued representation enough to collaborate with architect Mabel O. Wilson and artist Eto Otitigbe, but there's not much economic agency—to hire subcontractors, fabricators, or vendors—in either of those roles. Of the project's eight major consultants—including landscape architects; civil, structural, and mechanical engineers; lighting; water-feature consultants; and stonework— only the general contractor Team Henry Enterprises is Black-owned.
To those who think conducting a diversity audit of the project is unfair, consider that UVA annually tracks its own faculty by race: In 2020, the architecture school had two African Americans on its research/teaching rolls and 46 "white Americans."
Still, many who were involved with the project applaud the architecture firm's team-building and community-engagement processes as astute and, at the time, more important than following the money. "I lobbied for Höweler + Yoon," says Jefferson School African American Heritage Center executive director Andrea Douglas, who also served on Charlottesville's Blue Ribbon Commission on Race, Memorials, and Public Spaces and was a member of UVA's slavery commission.
During a visit to her office in the Jefferson School, Douglas recalled the many consultative sessions she participated in to provide input for the UVA initiative in its early stages. Back then, she and her colleagues were more concerned with picking the firm that would provide a sensitive and socially intelligent design than with hiring a Black architect. Höweler + Yoon simply made a great presentation. But in later stages, no one asked questions about the economic impact or whether it was important that the project's money make its way to Black professionals. "The architects I spoke to for insights were all academics. It didn't come up. But I do wish someone had asked that question," she says.
---
Is a memorial's ability to extract tears from visitors enough proof that the client's intention to heal is sincere? Says University of Michigan College of Architecture and Urban Planning professor Craig Wilkins: "There should be a healthy dose of reparations." But he also points out that clients who center Black material culture for their own image or monetary gain cannot be required to expand their RFP strategy, engage the community, or buck the system to correct historic injustice. "These are private funds. They don't have to do anything. I don't know that there is any remedy outside of shaming people."
Still, if the A&D industry can nudge private clients on sustainability, why not on economic impact and social justice? The American Institute of Architects (AIA) scrutinizes both as part of its "Framework for Design Excellence" awards criteria. Under "Design for Equitable Communities," for instance, the framework guidelines say: "Within the office, make every effort to assemble teams that are culturally and economically diverse. Use this same strategy of intentional diversity when hiring consultant teams." In the section on "Design for Economy," the guidelines urge practitioners to "always seek equitable economic solutions that improve opportunities for disadvantaged economies."
At the very least, more critics should begin to ask these questions, if only for a more transparent view of the economics influencing cultural work. Wilkins, a winner of the National Design Award for his scholarship on Black architects and spatial justice, has been raising this issue for years. In a blog post addressing his 2007 essay titled "Twisted: African American Architects and Signature Commissions" he referenced two "choice commissions" for projects that were based in what he calls "African American material culture" and nonetheless weren't awarded to African-American firms: the National Slavery Museum to Chien Chung Pei, and the Museum for African Art to Robert A.M. Stern.
Today, despite its undeniable emotional power, perhaps we could add to that list the National Memorial for Peace and Justice (a.k.a. the National Lynching Memorial), awarded to MASS Design Group, and William & Mary's memorial honoring its enslaved, which was awarded to Baskervill, based on a student design, and broke ground this May. Likely more memorials referencing the treatment of African Americans will be greenlit.
To argue that more Black architects, engineers, contractors, and consultants should be involved in such projects isn't to say race should determine commissions; it means there may be a troubling pattern in the fact that African Americans, already marginalized, are also being repeatedly overlooked when the project is about them.
"This is an awareness issue. This is decolonization," Wilkins says. "Not until Black people are in a position to write the RFP will this end."
You may also enjoy "Architects Leading the Way to Spatial Justice"
Would you like to comment on this article? Send your thoughts to: [email protected]
---
Register here for Metropolis's Think Tank Thursdays and hear what leading firms across North America are thinking and working on today.