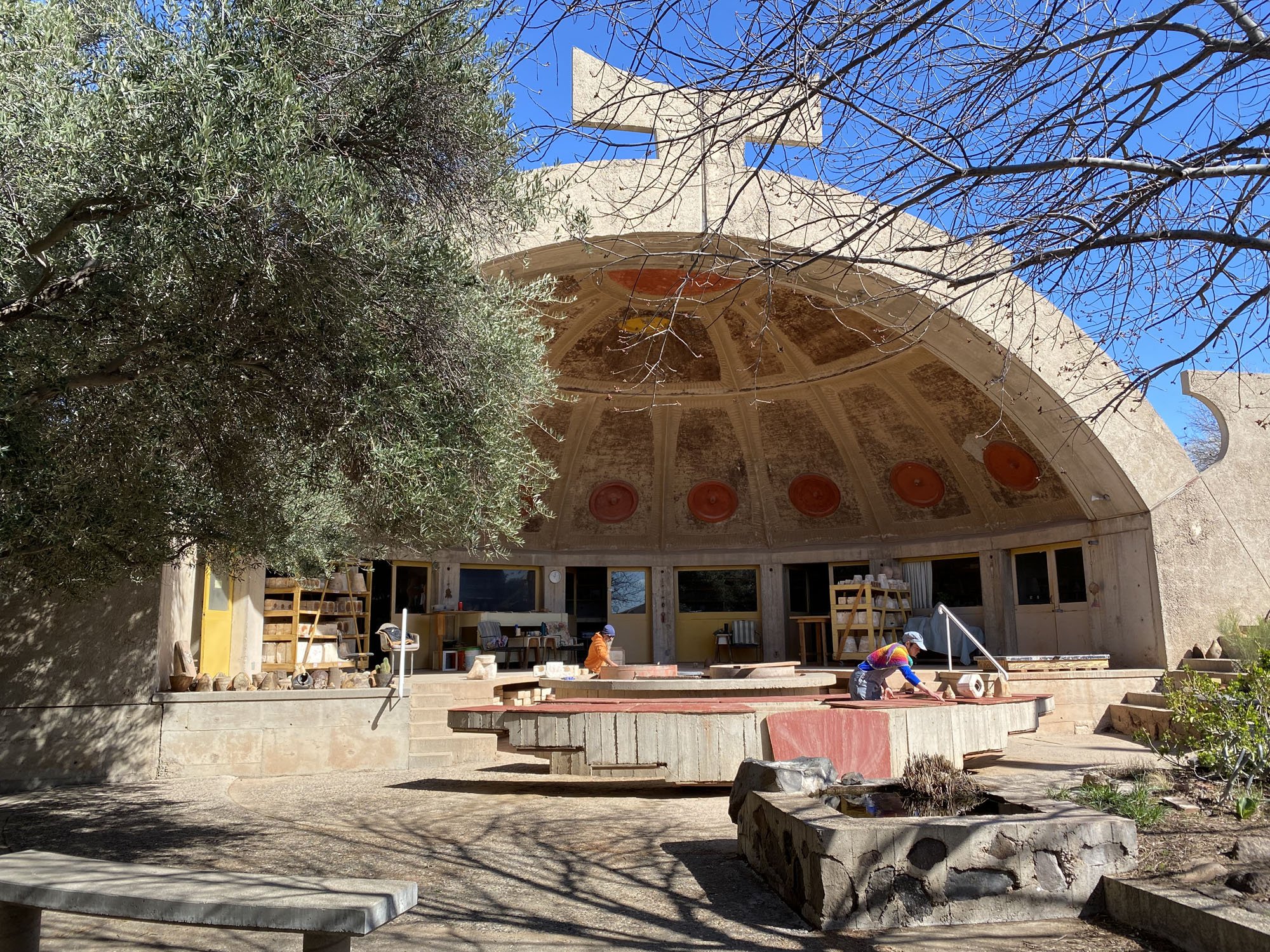 May 19, 2023
The School of Architecture Adapts to an Uncertain Future
In early 2020, the School of Architecture at Taliesin—launched in 1932 by architect Frank Lloyd Wright to promote hands-on learning, apprenticeship, and the concept of organic architecture at his homes and studios in Arizona and Wisconsin—essentially ceased to exist. A messy divorce between the school and the Frank Lloyd Wright Foundation, which had become its de facto landlord while gravitating toward different priorities, left the school without a home, and without even the name Taliesin, putting it in jeopardy of closing for good.
Like many divorces, it was painful, and in many respects ugly; But it appears that it may have been for the best.
The School of Architecture Moves to Arcosanti
A few months after the school's exile from Taliesin, The School of Architecture (TSOA), as it is now called, signed on as a tenant at a new Arizona home: Arcosanti. Established by visionary architect and onetime Wright apprentice Paolo Soleri in the 1970s, Arcosanti is a former cattle ranch that Soleri and his own apprentices transformed into a futuristic, communal, and self-sustaining hill town, learning laboratory, and production center. Like Taliesin and Taliesin West, Arcosanti embeds students in a communal setting amidst stunning landscapes and one-of-a-kind architecture. With six semesters in the books (including a couple made very complicated by the pandemic) TSOA appears to be thriving in its new home.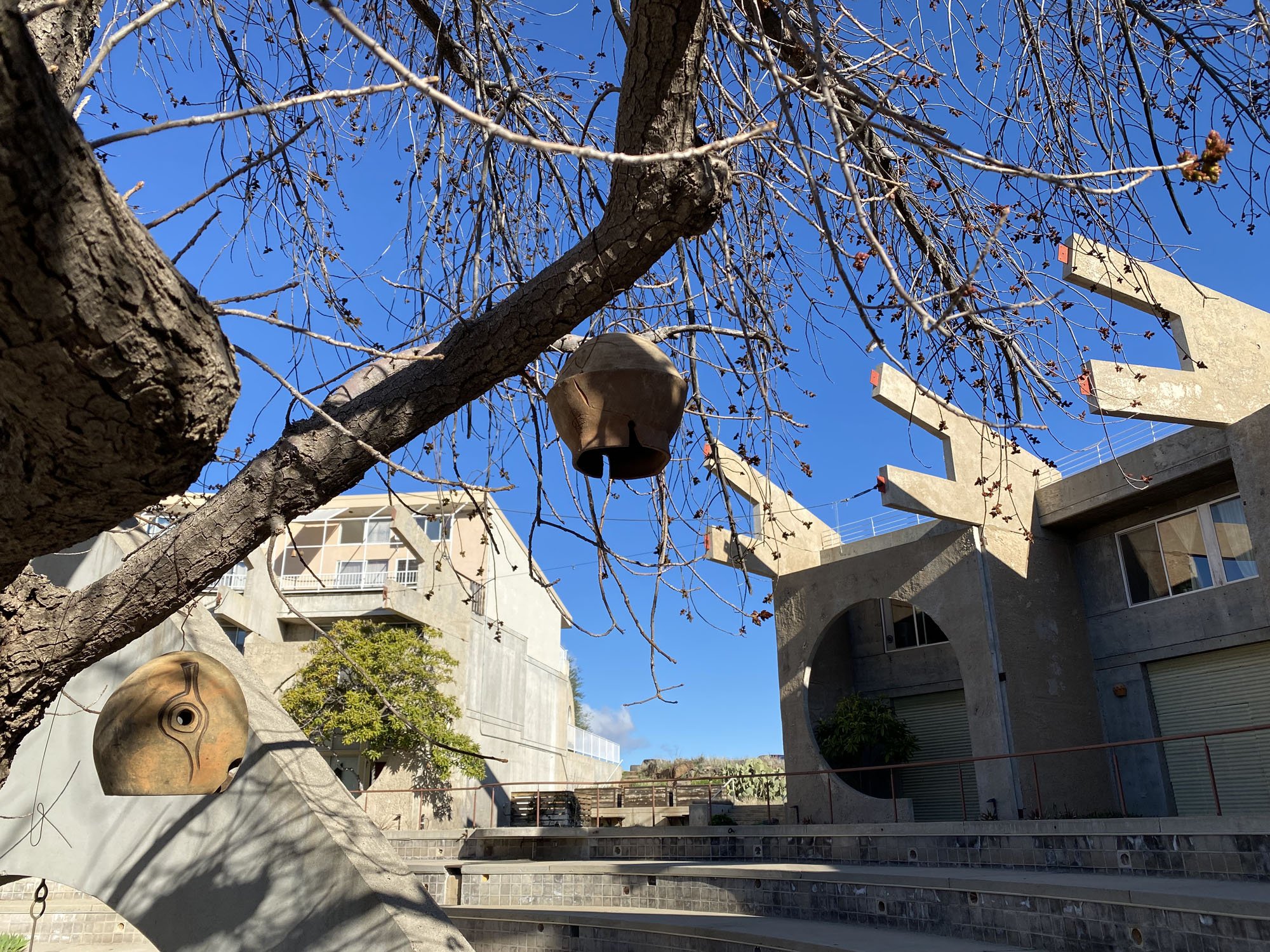 With more freedom, a streamlined group of staff and students, and a pressing need to rethink everything, TSOA—now led by school president Chris Lasch and dean Stephanie Lin—is experimenting with its curriculum and offerings, often with the help of its small student body. This year the school had eight M.Arch students, as well as seven students taking part in its eight-week-long immersion program. Together they are building on Wright's legacy of hands-on learning, material exploration, and apprenticeship while forging a new direction rooted in the pedagogy and demands of today.

"We are fully independent now, that means a lot to us," says Jason Donofrio, TSOA board chair and former development director for the school when it was affiliated with Taliesin. "At the end of the day there's a rebellious nature to our school where we want to be independent free thinkers, able to execute an experimental curriculum."
"We have an opportunity to start fresh," adds Lin, who still maintains her New York firm Present Forms while spending most of her time in Arizona. "I would call it both our biggest challenge and the most exciting part."
Students Lead the Way
Take a walk through the high desert campus of Arcosanti and you get a sense of that rebelliousness as well as the grassroots learning that's flourishing here.
The school's evolution is in large part being spurred by student themselves, who have taken its tradition of scrappy self-motivation to heart. Romina Frohar, a first-year student from Tehran, Iran, has established a thesis-like independent study on Taliesin Architects' lesser-known work in the Middle East in collaboration with the Frank Lloyd Wright Archive at Taliesin West. It's a topic with a personal connection, as she was born across the street from Taliesin Architects' Pearl Palace, a spectacular series of domed structures in Tehran commissioned before the Islamic Revolution by princess Shams Pahlavi. Along with third-year student Christopher Dela Pole, she also helped curate an exhibition focusing on former Wright Apprentice John Lautner's Walstrom Residence and Pearlman Cabin at the Architekton gallery space in Tempe.
Mariah Hoffman, another first-year, has helped improve efficiency and communication among students and faculty by implementing new project management software. She's also been fitting out her studio space by employing her skill with digital fabrication (she started her own prefab tiny house and product business, Micro Modula, prior to enrolling at TSOA), and regularly advises her professors and fellow students on class pacing, lectures, firm tours, and so on. "It's an opportunity in the school's history to take it identity and shape it," says Hoffman. "We're finding our identity together. We're so much more involved than students at an established school."
"Students joining the school now come because they are interested in fresh starts and experimentation, not because it's Frank Lloyd Wright's house," adds Richard Sanchez, a recently graduated student, who has stayed on to work at Arcosanti's bronze foundry. Taliesin's history, he says, still infuses the school, but it's no longer a weight. "We took the best parts," he quips.
Evolving the Taliesin Model for the 21st Century
Student-built shelters have been a core element of the school since Wright founded the Taliesin Fellowship, but at Arcosanti, they're expanding on the original model. Sanchez and other students are building further out into the landscape across the property's dramatic mesas and valleys. They're also addressing new programs and challenges with, for example, community-oriented work and temporary structures. Shelters from the first wave of TSOA students to study at Arcosanti were residential, like Jessica Martin's stunning rammed earth edifice whose brittle and colorful striations are formed from varied types of soil and sand. But newer projects in the works include Dela Pole's shelter, made from angled aluminum and fabric that's meant to be a contemplation space and Tristan Durham's—a shade structure meant as an outdoor cinema. Sanchez's is built of grass rope, timber, and earth plaster—employing little joinery and no concrete foundation—and is used both as a shelter and as a student meeting place, not to mention a shed for Arcosanti's agriculture program. Students of all ages are still helping apply its finishing touches.
While broadening the overall curriculum to better address modern technology and pressing issues like climate change and social justice, school administrators are creating new hands-on opportunities for students, professors, and local community members. Lasch, who is still a partner at Tuscon- and New York–based firm Aranda/Lasch, launched Usonia 21, a service-learning program that builds on Taliesin's tradition of constructing in a real world, professional setting, but meant specifically for underserved communities.
"We're looking to create a more proactive, purposeful, mission-driven approach," notes Lasch. First, second, and third-year students are just starting to collaborate with the city of Scottsdale's Brick by Brick program to create affordable tiny houses for the local population, and potentially transitional spaces for asylum seekers. Lasch says participants are getting immersed in the ins and outs of architecture, creating a prototype, trying to solve insulation issues, and navigating zoning to build a tiny home village on the site of a local church's parking lot. Another Usonia 21 collaboration, notes Lasch, is a with the Pitt Family Farm, a black-owned farm in North Carolina, to design a facility to for the Hopehaven Academy, a personal development program for at-risk youth. The farm is now using those designs to raise funds for the project.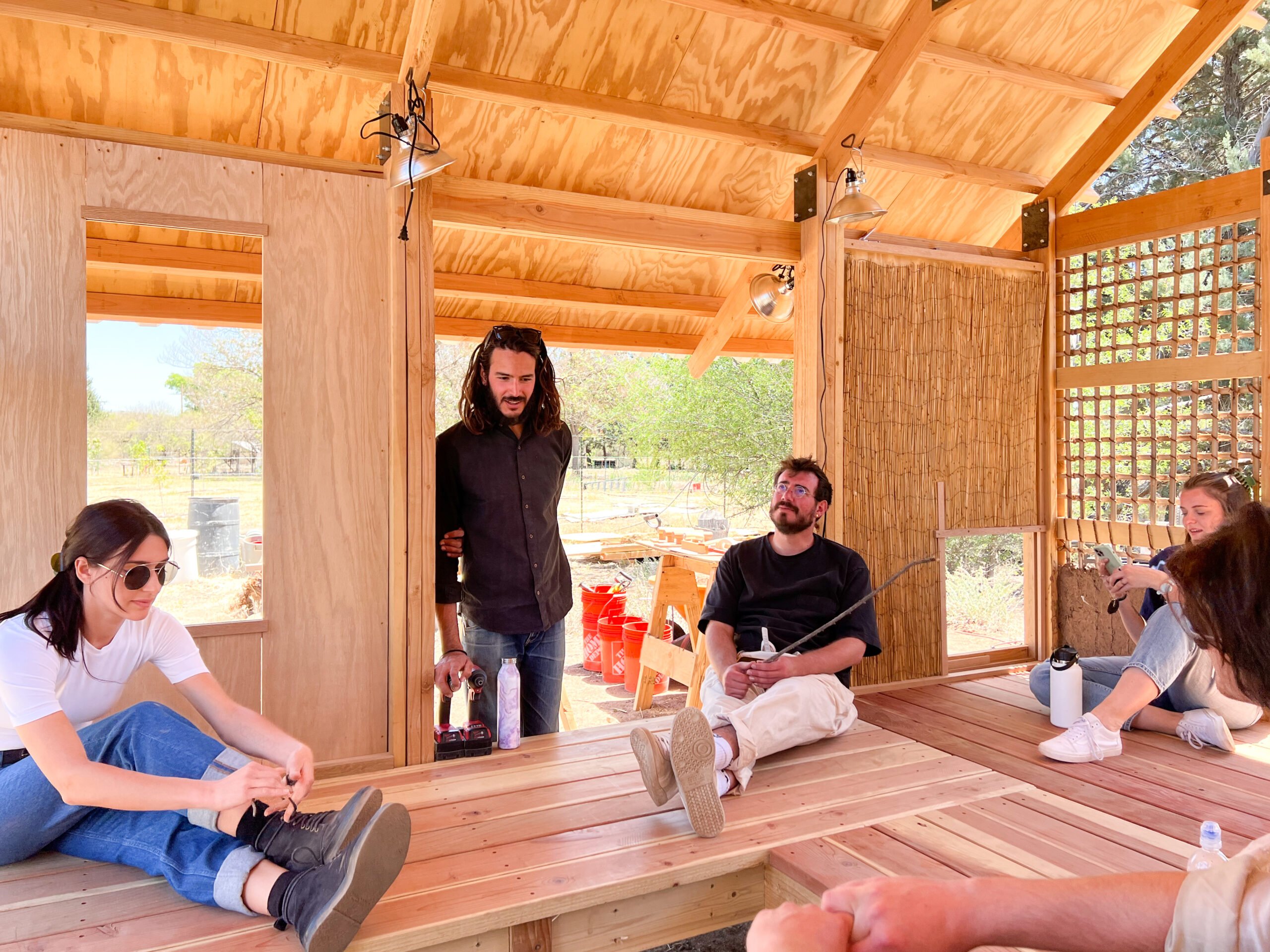 Planning for Expansion and an Uncertain Future
But while students have adapted well to Arcosanti, things are still evolving—quickly. Arcosanti—which has its own community of workers and apprentices—can only offer so much space. So TSOA is beginning to set up shop at Cosanti, Soleri's equally visionary home and studio closer to Phoenix. As of next year, according to Lin and Lasch, first and second-year students will operate mainly out of Cosanti, whose renovation has been led by second-year student Alex Martinec, working with local contractors and fellow students. The property suffers from decades of deferred maintenance, and they've been renovating it piece by piece. They've almost completed work on Soleri's original home, the "Earth House," as well as the "Cat Cast" building, a home for lectures, and the "Barrel Vaults," large span spaces formed by reinforced concrete vaults, which will host studios. The school is still working out where students will live, but Lin and Lasch hope it will be another communal environment, reinforced by common meals and activities. Third-year students will still live and work at Arcosanti.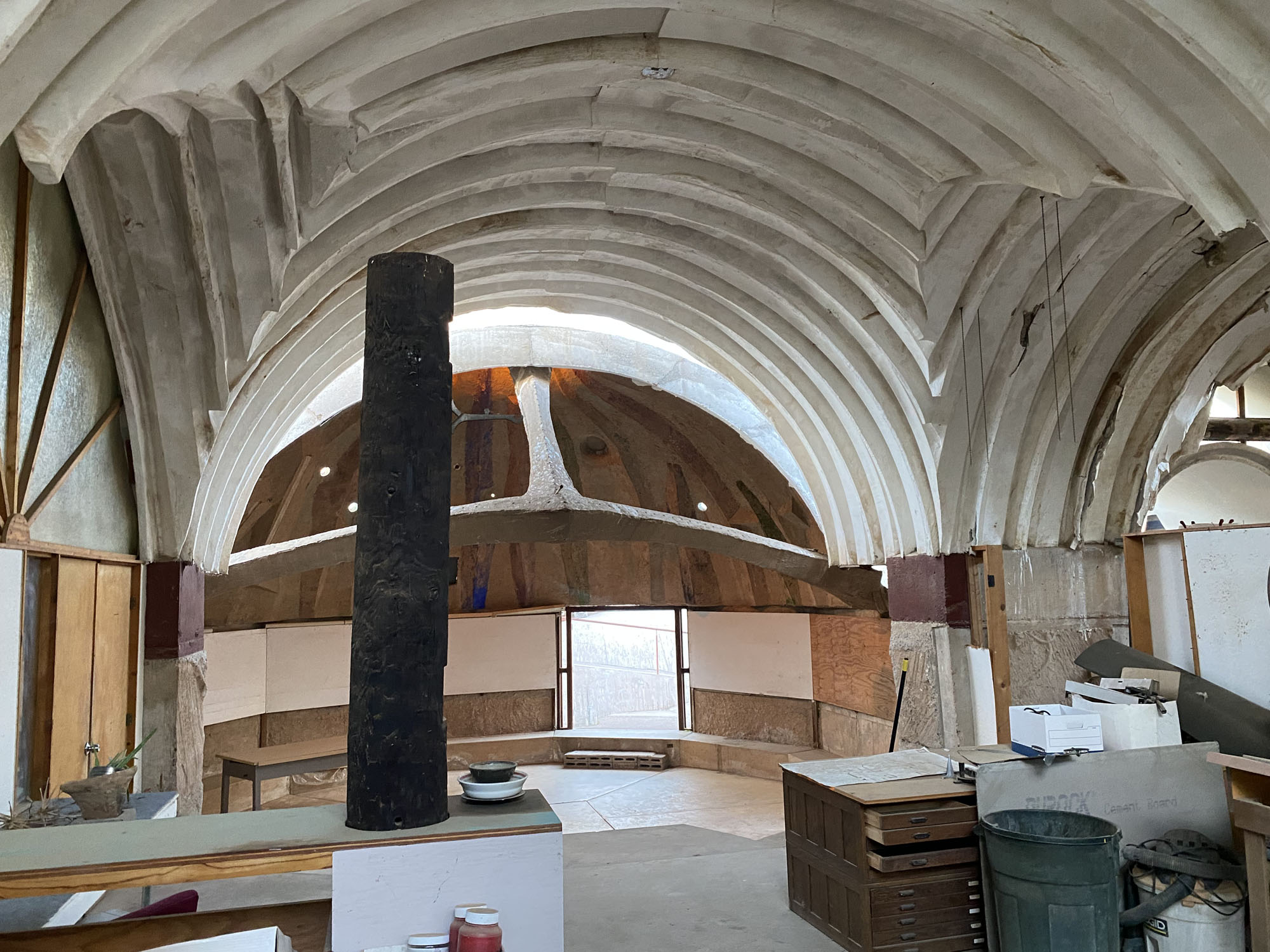 The move to Cosanti is one way for the school to reach financial security, helping it potentially grow its student body to a target of 30 to 40 students. Any larger would detract from the school's intimate, family-like atmosphere, says Lin. Applications are higher than they've been since the school moved, she adds, so they seem to be on their way. Still, the school's lease with Arcosanti lasts only five years, and there's no telling where they could end up after that.
"Arcosanti has been a lifeline and an incredible partner," says Donofrio. "But the school is examining all options. We're trying to be proactive so we don't need another lifeline if our growth can't be accommodated."
"We are adaptable. We survive no matter what the circumstances," says Frohar. "That is a good quality. That's our strength."
Would you like to comment on this article? Send your thoughts to: [email protected]