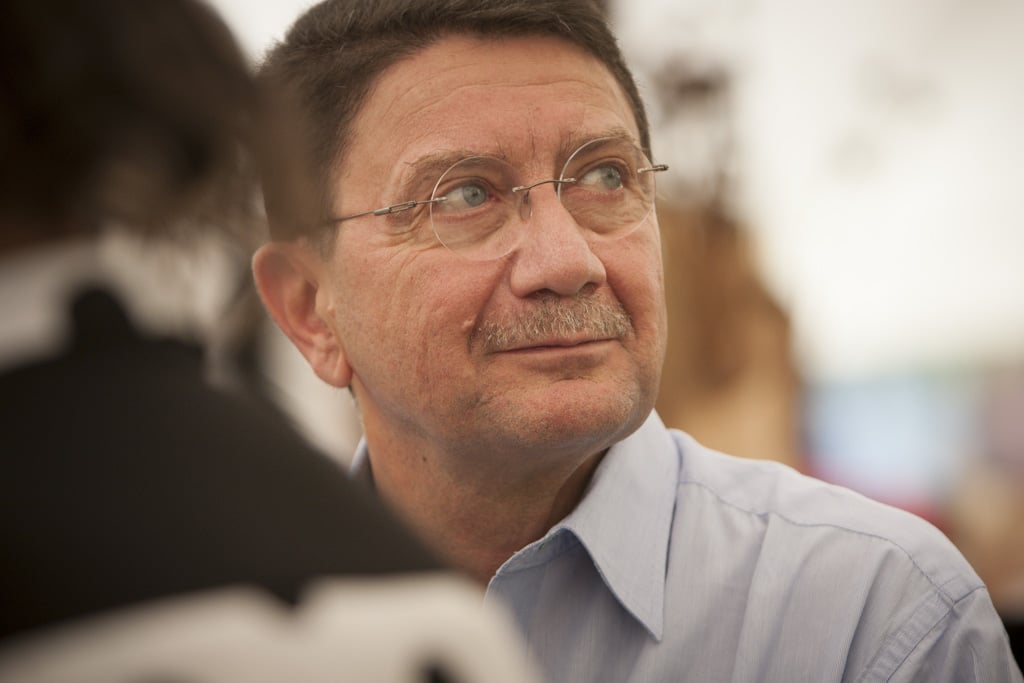 February 24, 2015
Tourism and the City: A Conversation with Taleb Rifai and the UNWTO
The architect and General Secretary of the United Nations' World Tourism Organization on building better cities, the positive effects of mega-events, and why tourism is a human right
---
Tourism is one of the world's biggest and fastest global economic sectors. Responsible for nearly $3.4 billion of daily economic activity and 6-7% of global employment, tourism plays a major role in shaping the physical and economic fabric of cities. A 2010 Buenos Aires study, for example, estimated 10 million annual tourist arrivals and an economic impact of $3.41 billion, accounting for 7.6% of the city's gross product.*
To address the growing relationship between urban space and tourism, the World Tourism Organization (UNWTO) recently held its third annual conference on Tourism in Cities in Barcelona, Spain. The UNWTO is a specialized agency of the United Nations focused on tourism as a driver of economic growth, inclusive development and environmental sustainability. Andrew Caruso sat down with Taleb Rifai, architect and UNWTO Secretary-General to discuss the organization's keen interest in cities.
Andrew Caruso: Why is there such a strong connection between tourism and cities?
Secretary General Rifai: It's only natural to find this connection because tourism finds its best stage amongst rich cultural products. Only the city can produce such a wealth of culture and experiences in one concentrated place. The beauty of cities is that they are a place where people interact, where ideas knock heads with each other. It is the place where change happens.
The essence and climax of human ingenuity is exercised in cities because you must be efficient and intelligent with limited resources. The city is a wonderful invention. In fact, the word "city" comes from the Latin word civitas, or civilization. There is no civilization without cities.
Taleb Rifai, Secretary-General of the United Nations' World Tourism Organization
Courtesy UNWTO
AC: As an architect, you bring a unique leadership point of view to the global tourism economy. What are the connections you see between these two fields?
SGR: Architects have a very good idea about what brings joy and meaning to life. When we talk about city tourism, the architecture and urban design is a major attraction in any city. So, the relationship between the built environment and tourism overlaps in so many layers.
AC: Amidst staggering urbanization in many of the world's cities, what role does tourism play in shaping and improving the urban environment?
SGR: You can never put visitors in a bubble and make them live a life that is different from the people of the city. We hold the principle that only a city that is good for its people can be good for its visitors. A city that is safe and healthy for its people is safe for its visitors. A city that is enjoyed by its people can be enjoyed by its visitors.
If you believe in this principle, then we can see tourism as a force to rejuvenate cities and infrastructure, boost trade and commerce, and enhance economic activities in cities. We see tourism as an igniter of many activities within the city.
AC: If professionals of the built environment simply focus on building better cities, will tourism then follow as a consequence, or is there a specific role for these professionals in fostering tourism?
SGR: It's a little bit of both. Tourism is not a side product; it is part of building good cities for people. You go to visit places where people are happy. You go to places you like, respect, and enjoy. But that doesn't guarantee that tourists arrive. There are other methods, management tools and skills that are directed toward encouraging tourism. Promotion is important, as is development and diversification of the product.
At the same time, you must match the tourism activities to the capacity of the city. Tourism management measures should refine the product and ensure that it's good for the economy and the environment of the city. But this all happens within the basic guideline that it's a good city to start with.
AC: There's an ongoing discussion about large-scale urban events, such as the Olympics, and their impact on urban development. What are the opportunities and challenges that cities face today with these mega-scale tourism events?
SGR: Mega-events cannot be conducted in any city. The city must be big enough and capable enough to carry the size of the event you are designing. But events are very important ingredients of urban life. Regardless of tourists, they are essential for the people of the city.
Again, our principle is very simple—mega events and events in general—are opportunities to do what needs to be done for the good of that city. For example, if a big event requires streamlining the procedure of entering through airports, or improving the way transport carries people into the city, you should do it for the broader need of the city, not just for the event by itself. But, you can leverage the opportunity, the funds, the will, and the energy to make an event successful and to improve the city overall.
AC: Some skeptics think of tourism as a luxury good; a nice-to-have, rather than an essential element. They raise concern about the burden placed on cities by the seasonal and economic fluctuations in the tourism industry. How do you respond to these concerns?
SGR: Tourism has come a long way from being a nice-to-have. It is now a human right. The right for people to relax, to enjoy life, to love, to do business, to have good healthcare; this is what tourism is about. Today, tourism is neither a luxury good, nor is it limited to any particular economic strata of a society. It is everybody's right to participate in tourism activity at whatever level they choose. Households divide their income into baskets for education, food, children, entertainment, and travel. It is not anymore something that only the elite can do.
How we integrate tourism into the wellbeing of people in the city is a matter of how well we design the activities, such that benefits produced by visitors remain in the city. Tourism activity is money brought into cities from the outside; it is net gain for the trade balance of the city.  
AC: There is a shift occurring among destination preferences:  we see rapidly increasing activity in developing markets. How is this fundamentally reordering the tourism industry and its impact on cities?
SGR: The market share that started from the middle of the last century in favor of developed and mature destinations (like Europe and North America) is slowly shifting toward developing destinations. People are looking for something new. The world has opened up. We're forecasting that by the year 2030, 60% of the visitors will go to developing destinations. That does not mean necessarily developing cities, but destinations all together—country sides, natural parks, whatever a developing destination can produce. But cities of course, are part of that.
Developing countries are beginning to realize that tourism provides them with a competitive advantage, and nobody can take it away from them. Nobody is going to take the pyramids out of Egypt, or Petra out of Jordan. Instead, developing destinations are beginning to learn how to use these assets well, and how to manage the income and benefits they produce.
The end result is that the market share will continue to shift in favor of developing destinations. It doesn't mean that there will be less people visiting the mature and developed countries; it simply means that the market share is definitely shifting east and south. But everyone is going to be a winner.
AC: Can tourism be seen as a socio-economic development tool for cities?
SGR: If tourism is seen as a socio-economic development tool, then we should see it as a way of lifting some of the impoverished and less fortunate areas of the city. Because the principle is that never let tourists live in a bubble, you can't build a 5 star hotel in a 2 star community. You have to build both at the same time. You build a 5 star hotel in a 5 star community. Ultimately, it's an opportunity to build the 5 star community.  And it's not just a matter of good talk and good wishes; it's a matter of deliberate, dedicated policies.
The infrastructure of the city, services, standards of living and the jobs that are created as a result of tourism are all connected to the whole vision of making the place better for the people and for its visitors.
---
*Data for this interview is taken from the 2013 UNWTO Annual report and the 2012 UNWTO Global Report on City Tourism.
Andrew Caruso, AIA, NCARB, LEED AP BD+C, CDT, publishes and speaks internationally on issues of talent within the creative industries. His latest column, "Inside the Design Mind," explores the motivations of today's design icons and influencers, surfacing key elements of their identity and examining their agency within the community of practice. Andrew can be reached at: inquiries[at]andrewcaruso[dot]com.
About Inside the Design Mind The National Building Museum in Washington, D.C. tells the stories of architecture, engineering, and design. The Museum's Spotlight on Design lectures feature architects and designers of distinction from around the world. Inside the Design Mind, a series from the National Building Museum, is presented in partnership with Metropolis Magazine. This post is a part of the Inside the Design Mind series.