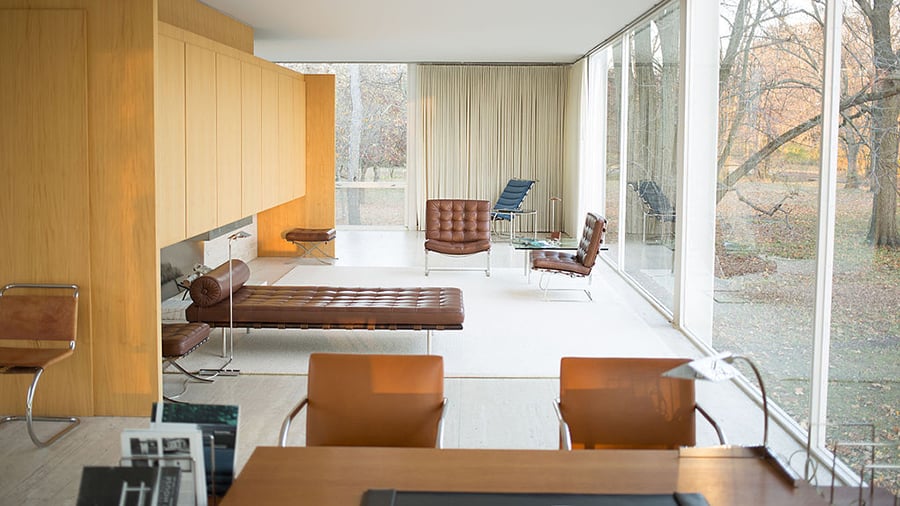 July 14, 2017
Uncovering The Gender Biases Inherent Within Iconic Architectural Homes
Kathryn H. Anthony, author of Defined by Design,explores the gender biases hidden in Frank Lloyd Wright's Robie House and Mies van der Rohe's Farnsworth house.
Some well-known projects of stellar historic architects disadvantaged women through their design. For example, many of Frank Lloyd Wright's housing designs featured spacious living areas, yet the kitchens were so dark and tiny that most women—whether the clients or their household help—would have found it unpleasant to cook in them. The traditional woman's domain was not Wright's top priority. Most of his homes were designed for people about his own height (he claimed to be 5 feet 8), causing tall visitors to feel uncomfortable in them. They encounter many spots where they can accidentally bang their heads against the ceiling.
As an apprentice at the firm Adler and Sullivan, Wright worked on the Charnley-Persky residence in Chicago's Gold Coast, built from 1891 to 1892. He designed space for two female live-in servants who did much of their work in the kitchen pantry. With its long, dark shape, the pantry was a challenging environment for washing and storing dishes. The servants' rooms were connected to the service areas of the house by a twisting, narrow stairway, at its widest point only three feet. This claustrophobic, spiral tube presented daily challenges. Servants carrying trays, linens, or cleaning supplies had to squeeze by each other or stop in one of the connecting rooms to let others pass. A lack of windows hindered navigation and disoriented the maids as they traveled in circles. A window was added in 1927 between the stair and the backyard.
At Wright's famous Robie House, built in 1909 and 1910, maids laundering clothes were forced to use an outdoor, albeit artistically designed, stairway throughout Chicago's frigid winters and steamy summers. At Wright's masterpiece, Fallingwater in Bear Run, Pennsylvania, where construction began in 1936, the kitchen measures just 11.5 feet by 14 feet 9 inches, and the lack of space was likely a problem for cooking and meal preparation. Stone floors and steel cabinets created a cold environment where the cook and maids stood for many hours each day.
In some cases, well-known architects designed homes for wealthy female clients who downplayed or ignored their needs. Ever since it was built in 1950, the famous glass house that Ludwig Mies van der Rohe designed for his client Edith Farnsworth in Plano, Illinois, has been considered one of modernism's greatest masterpieces. Yet when Farnsworth moved into her showcase house, the roof leaked so badly and the heating system produced such an unsightly film on the windows that a local plumber suggested the house be called "My Mies-conception." When Farnsworth refused to accept delivery of the furniture that Mies had designed for her, she refused to pay any more bills and soon began legal proceedings, resulting in a lengthy legal battle. In a 1953 interview for House Beautiful, Farnsworth explained:
The truth is that in this house with its four walls of glass I feel like a prowling animal, always on the alert. I am always restless. Even in the evening, I feel like a sentinel on guard day and night. I can rarely stretch out and relax. . . . What else? I don't keep a garbage can under my sink. Do you know why? Because you can see the whole 'kitchen' from the road on the way in here and the can would spoil the appearance of the whole house. So I hide it in the closet farther down from the sink. Mies talks about "free space" but his space is very fixed. I can't even put a clothes hanger in my house without considering how it affects everything from the outside. Any arrangement of furniture becomes a major problem, because the house is transparent, like an X-ray.
As Alice Friedman argues in her 1998 book, Women and the Making of the Modern House: A Social and Architectural History, in the past century women often served as collaborators in housing design or as catalysts for architectural innovations. Yet architectural publications and history texts generally disadvantaged women by giving full credit to male architects while minimizing the roles of female clients who commissioned the projects, hired the architects, fully engaged in the complex design process, and paid the bills.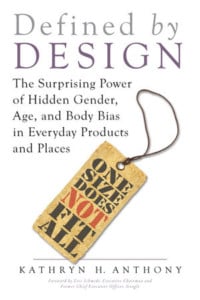 This article was excerpted from Defined by Design: The Surprising Power of Hidden Gender, Age, and Body Bias in Everyday Products and Places (Prometheus Books, 2017), by Kathryn H. Anthony, and was written with the valuable research assistance of Christina Mooney. Anthony is ACSA Distinguished Professor and the longest serving female faculty member at the School of Architecture, University of Illinois at Urbana-Champaign, USA.  She is also the author of Designing for Diversity:  Gender, Race, and Ethnicity in the Architectural Profession (University of Illinois Press, 2001, 2008).
If you liked this article, you may also enjoy "Aaron Betsky: Can We Overcome Design's Gender Problem?"