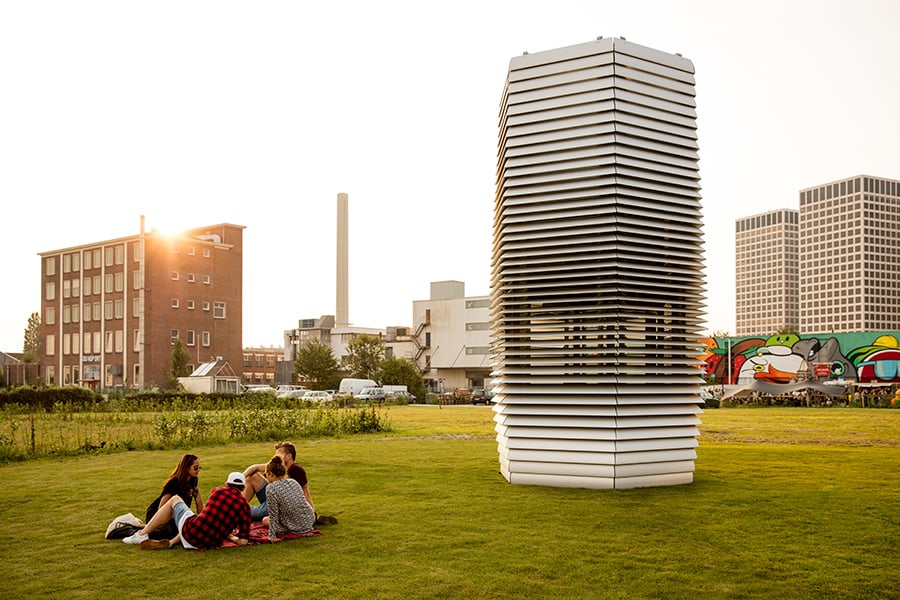 December 7, 2017
2017 Was the Year Cities Became Start-Ups
This year, companies and individual designers began harnessing the power of imagination to solve some of the most practical and complex city problems.
Earlier this year, Sidewalk Labs, the urban-innovation offshoot of Google's parent company, Alphabet, began dropping hints about an ambitious new project. It was no secret that the company had been thinking about building an urban district underpinned by advanced technologies like ubiquitous fiber-optic internet, atmospheric sensors, and machine learning. What was less clear was when and where it would happen.
Rumors swirled that it would take place in Denver. There was also talk of development in Detroit. Then last month, Sidewalk Labs announced a deal with city agency Waterfront Toronto to turn 800 acres of eastern waterfront into an "Internet City" dubbed Sidewalk Toronto. The digital makeover will reportedly cost more than a billion dollars, with the start-up having already committed $50 million.
The fervor about Sidewalk Labs' plans is understandable. Building a digital district from the ground up is a headline-grabbing idea that demands resources only an Alphabet-backed company can handle. But Sidewalk Labs' approach echoes other, more modest efforts that have played out across cities this past year. It turns out that the most significant urban initiatives of 2017 weren't hatched in policymakers' closed-door meetings but came from individuals and companies that view experimentation and entrepreneurialism as the surest path to solving cities' thorniest problems.
Take Urban-X, a city-focused tech accelerator backed by MINI that operates out of the A/D/O workspace in Brooklyn. Every six months, the organization invests up to $100,000 in as many as 10 start-ups looking to tackle urban issues. Some of the portfolio companies, like Sencity, approach problem-solving with a whimsical, artistic bent (the start-up is building interactive trash cans that display animations when people litter). Others, like Lunewave, which is developing a sensor system for fully autonomous vehicles, are more practical. "I think for too long we've looked at the challenges of the built environment in a silo," says Urban-X managing director Micah Kotch. "We're trying to bring a wide-angle lens to problems of the city." The challenge is creating a common language among technologists, designers, and city officials, who often forget that they're grappling with the same problems.
It's a tension that Daan Roosegaarde knows well. For years now, the Dutch designer has worked to clear smog from city skylines through an approach that's equal parts art and science. In 2015, he and his team built the Smog Free Tower, a 23-foot-tall contraption that sucks dirty particles out of the air like a vacuum cleaner. Now the studio is looking to bring that technology to Beijing's bike-share program with bicycles that purify air as they roll down the street. Roosegaarde, whose projects have always straddled the line between practical and poetic, readily admits that smog-sucking bicycles aren't the final solution. But design, he argues, can provide a meaningful bridge between doing nothing and achieving the longer-term goal of policy change. "I don't think there's a lack of money or of technology," Roosegaarde says of urban problem-solving. "I think there's a lack of imagination."
This year, that sense of ingenuity has started to trickle down to even the most practical urban solutions. Start-ups like Remix, whose new software tool helps cities streamline the arduous task of designing and updating public transit plans, are shining examples of how considered design can have a noticeable impact. The Bay Area start-up is now working with more than 200 transit agencies to replace outdated route-building tools with a new platform that automatically transforms data points about a proposed transit project—think cost, vehicle requirements, demographics— into digestible visualizations that help city officials more easily weigh the benefits and drawbacks of the plan.
In contrast to the novelty of smogeating bikes and the glamour of digital cities, Remix's tool is refreshingly utilitarian. But it's far from boring. Companies such as Remix are a reminder that in 2017, technology is no longer a shiny new tool to be waved around for show—it's table stakes for cities that want to create new and lasting solutions.
You may also enjoy "Sidewalk Labs Announces New Smart City District For Toronto."