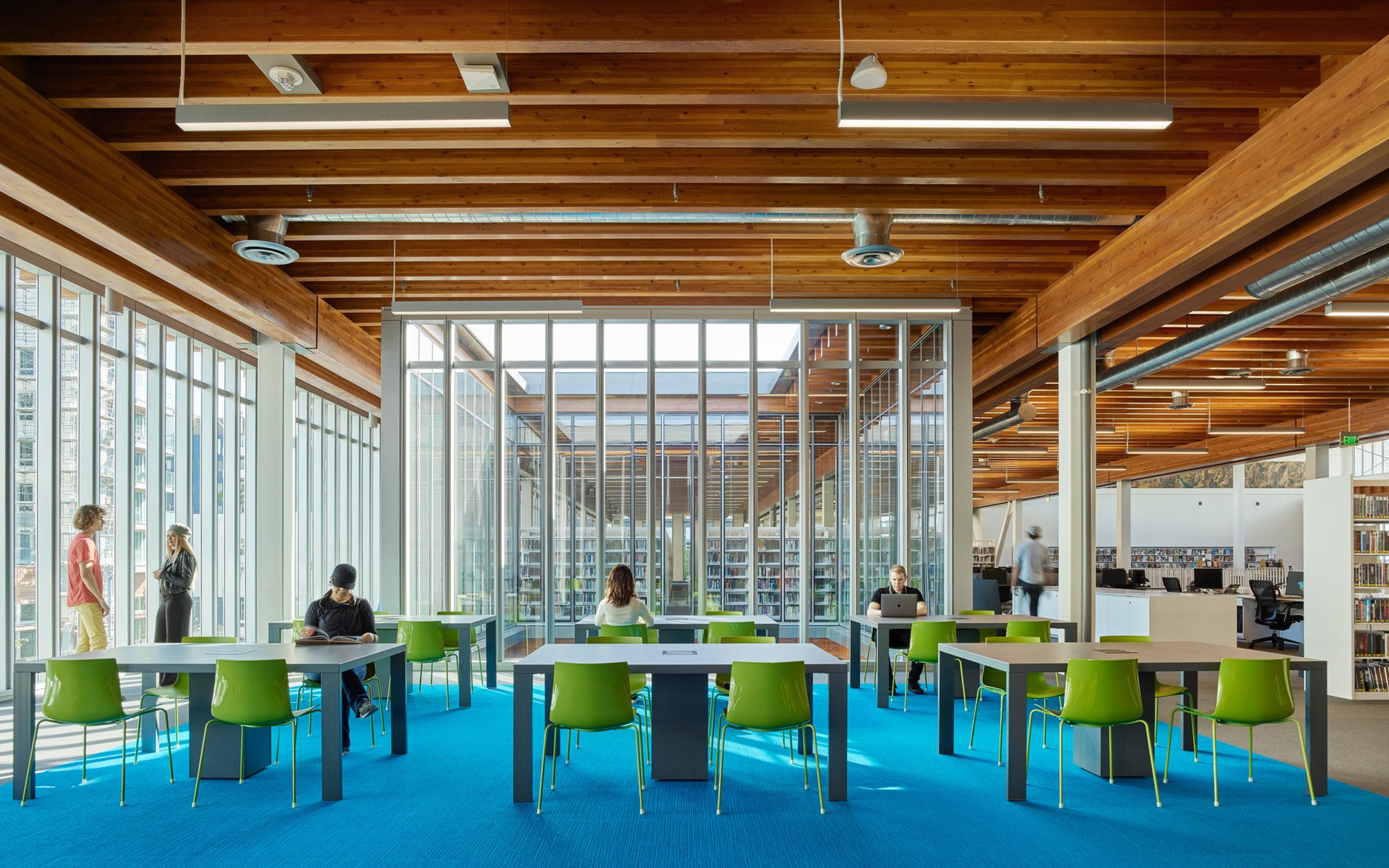 June 15, 2023
These Hospitality and Civic Projects Make a Positive Impact
The Metropolis Planet Positive Awards were established to recognize the incredible breadth of the Green Building movement and celebrate the projects and products that have a positive impact on people and planet.
What does that mean? To be Planet Positive, projects and products must go beyond addressing energy efficiency or a reduction in harmful chemicals. The winning projects make a holistic effort to do good in the world in the related fields of health, equity, and ecological regeneration. Last year's hospitality and civic/cultural winners were selected by Avinash Rajagopal, editor in chief of Metropolis, Bill Braham, director at MSD Environmental Building Design, University of Pennsylvania, and Ben Prosky, executive director, American Institute of Architects New York and Center for Architecture. Hospitality and cultural projects are typically focussed on the needs and behaviors of guests and visitors—which makes them unique opportunities to inform and excite people about the possibilities of planet positive design.
You can submit a project for the 2023 Planet Positive Awards here.
Hospitality Winner
Dutch East Design | Hotel Marcel | New Haven, Connecticut
Giving new life to the long-vacant landmark Marcel Breuer-designed building, former home to the Pirelli Armstrong Rubber Company Headquarters, Hotel Marcel is primed to be the nation's first net-zero hotel, producing 100% of its own electricity and aiming to secure both Passive House and LEED Platinum certification.
The hotel includes many cutting-edge technologies to modernize the building, including a Power over Ethernet (PoE) lighting system, which reduces lighting energy use by more than 30%; renewable on-site energy generation; and extensive upgrades to enhance interior temperature control and air quality. The building's Energy Use Intensity (EUI) rating is projected to be 34 kBtu per square foot—80% less energy than median EUI for hotels in the United States.
Many of the design elements, including rugs, carpets, furniture and lighting, were custom-designed by Dutch East Design with the goal of sustainability in mind. Wherever possible, Dutch East sourced the materials from local suppliers and many final products were manufactured in Connecticut
This adaptive reuse project reflects the iconic brutalist perspective of the building's original designer and hotel's namesake, while also serving as a model of environmental sustainability for modern hospitality.
Civic/Cultural Winner
SOM | Bille Jean King Main Library | Long Beach, California
The new LEED Platinum certified Billie Jean King Main Library is a welcoming and flexible environment that serves more than 1,000 daily visitors in the heart of downtown Long Beach.
The timber building boasts low energy needs, on-site renewables, low embodied carbon, low water needs, responsible on-site water management, and water-wise landscaping. In addition to the building's remarkable performance, the landscaping is designed as an ecological learning tool.
Carbon reduction for this project started with the reuse of an existing concrete parking garage as the base of the structure, and then selective upgrading of only a small portion upon which the new library is constructed. The library is surrounded by the landscape and becomes a pavilion in the park. It is designed to open the site and connect to its surroundings so that visitors are drawn in.
A flexible, open interior plan allows for a variety of uses for the diverse population of Long Beach and patrons. The design also encourages the use of public transportation, bicycles, and walking. The Los Angeles Metro Blue rail line borders the property, offering connectivity and access.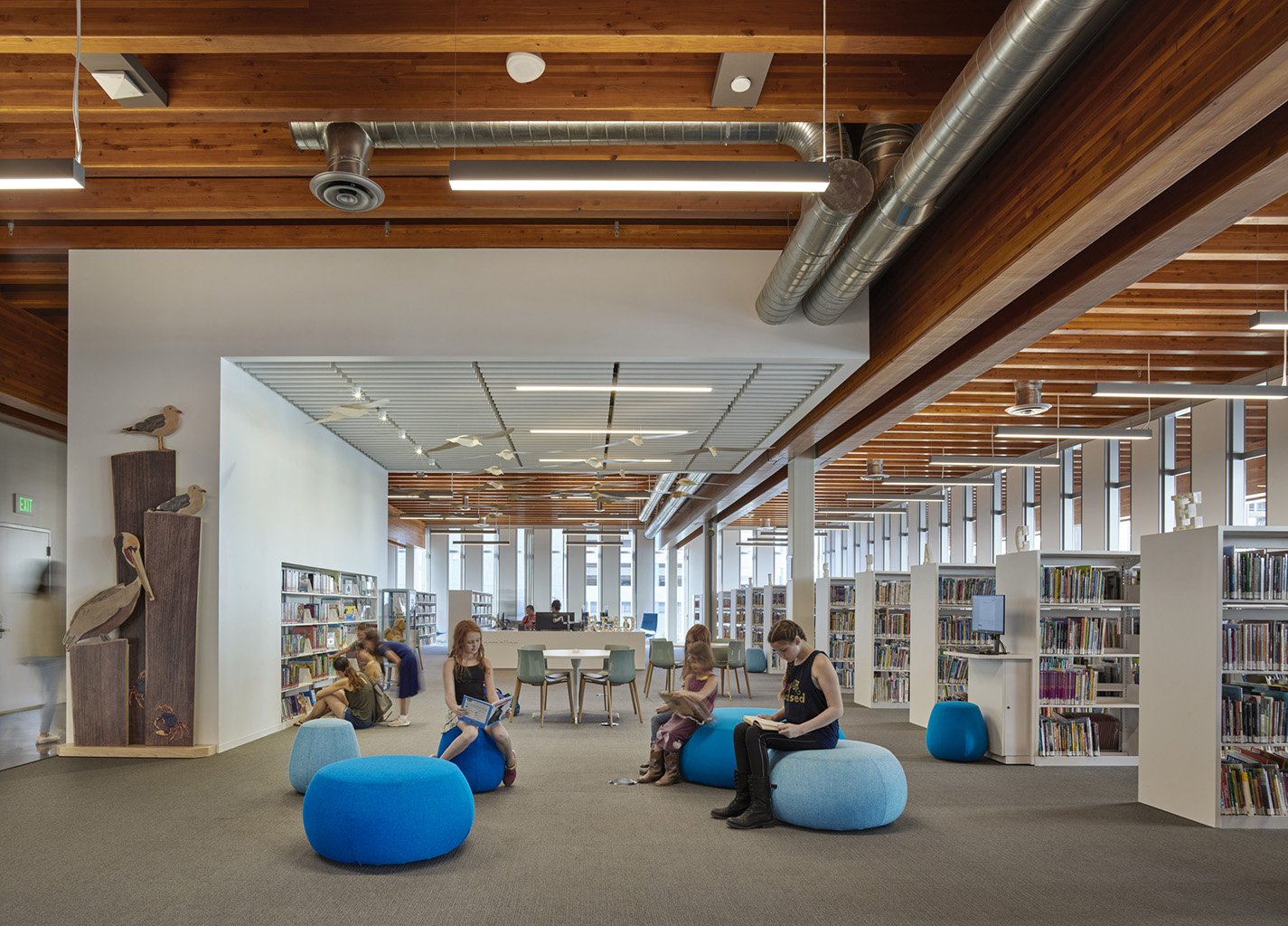 Civic/Cultural Honoree
Lake Flato | Confluence Park | San Antonio, Texas
Confluence Park is a living laboratory that allows visitors to gain a greater understanding of the ecotypes of the South Texas region and the function of the San Antonio River watershed.
Constructed of concrete petals designed thoughtfully to sit lightly upon the land, the main pavilion forms a geometry that collects and funnels rainwater into a sitewide water catchment system. The multi-purpose Estella Avery Education Center, featuring a green roof that provides thermal mass for passive heating and cooling, serves as a classroom space that opens to the pavilion. Rainwater collected through the site-wide water catchment system serves as the primary source of water throughout the park, and the entire site is powered by a photovoltaic array providing 100% of on-site energy on a yearly basis.
Within the first few months of opening, the park saw over 135 educational events attended by 9000+ registrants.
Would you like to comment on this article? Send your thoughts to: [email protected]