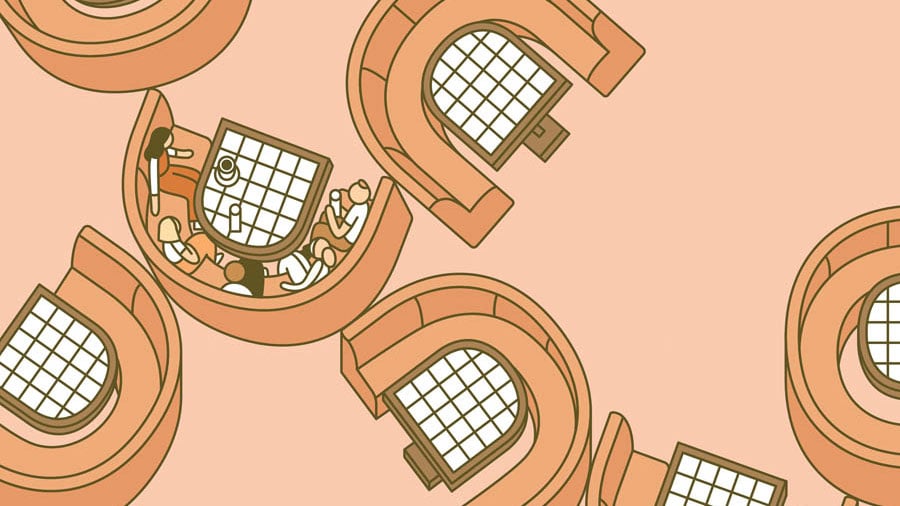 October 2, 2019
Can Psychology Help Combat Anxiety in Crafting Welcoming Hospitality Spaces?
The growing field of environmental psychology examines what makes people feel comfortable. Now it's up to designers to harness its findings.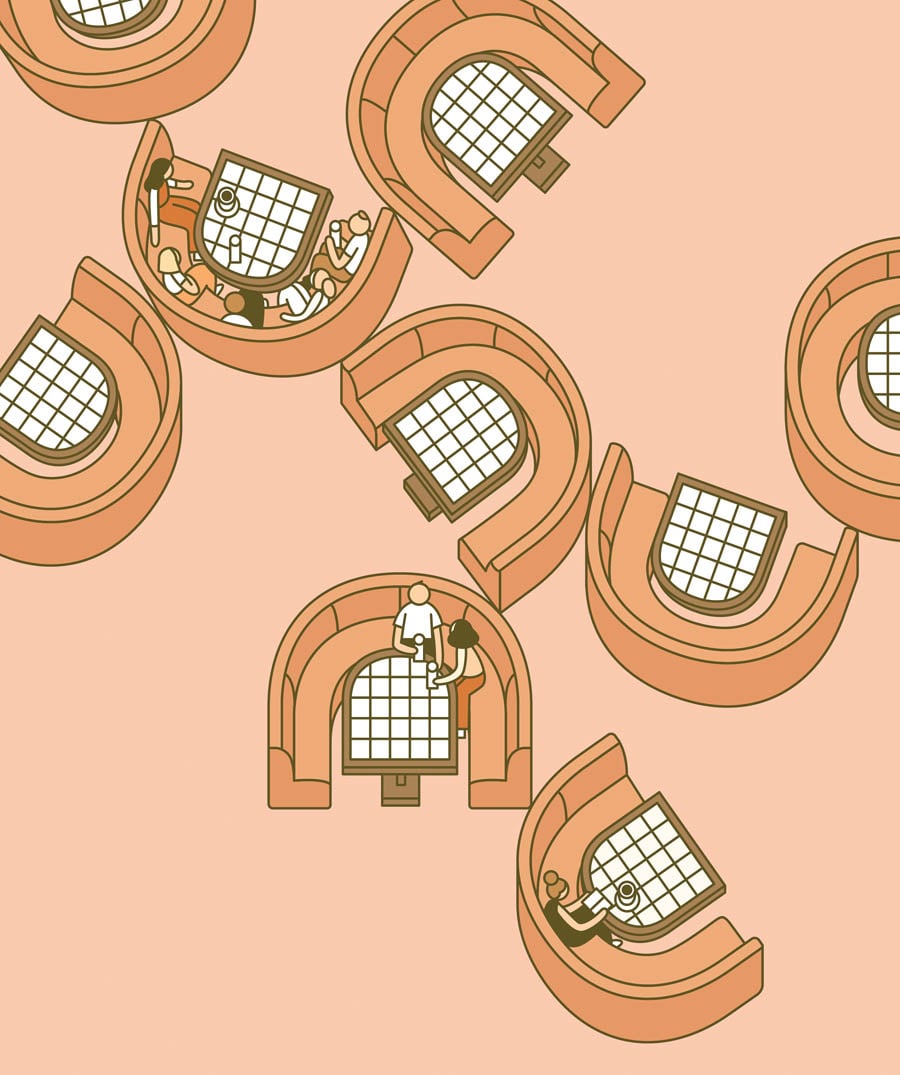 Sometimes there's no better way to gauge what's happening in an industry than to go straight to the source. So in conceiving a special series on hospitality, we turned to AvroKO, a global full-service design bureau founded in 2001. Currently working in 25 cities in 14 countries, the studio has delivered crowd favorites—from hotels like the Hoxton in Chicago and the Eaton in Hong Kong to eateries like The Zodiac Room and Saxon + Parole in New York. Stepping in as guest editors, AvroKO shows the extensive reach of hospitality across design typologies, from health care to retail and living.
---
On a warm afternoon in September, I snuggled into a super-tall barstool at Walnut Street Café in Philadelphia. Leaning into its wraparound back, I was surprised at how peculiarly comfortable this slate-blue leather perch felt. I've had many thoughts on barstools over the years, but never "Wow, so cushy." I wrote this down in a small gray notebook that blended nicely with the marble-topped bar.
I was visiting the mod café that day as a stealth amateur environmental psychologist, hoping to observe the restaurant the same way real-life environmental psychologist Stephani Robson sees places. A professor at Cornell's School of Hotel Administration, Robson is an expert on how the design of hospitality spaces affects our feelings and behavior, especially what makes us uncomfortable. She recognizes trends with a prescience born of countless hours watching people maneuver through spaces, emulating a hero, architect Eero Saarinen, who visited airports with a notebook and a stopwatch to record how the public moved about before he designed Dulles International Airport and the TWA Flight Center. Robson had warned me that you can quickly look suspicious if you don't do this kind of data collection right. "I've been kicked out of so many places for sitting there and sketching maps!" she says. I tried to appear interested in my lobster bisque and iced tea while I took in every detail of the café, from the old-fashioned seltzer bottles bubbling at each table to the businessman reclining with his arms extended around the curve of a soft leather banquette.
---
More from Metropolis
---
One of the design trends Robson has been tracking for over a decade is how hospitality spaces can contribute to or help alleviate anxiety, at least a bit. Her 2008 study "Scenes from a Restaurant: Privacy Regulation in Stressful Situations" found that people who were more anxious, like those in the middle of an interview or a power lunch, chose to sit next to walls, corners, or partitions, "giving the individual a sense of control over the environment." She defined stress as "when an individual has less control over an environment or situation than is desired." Since that study, and especially in the past couple of years, Robson has noticed many more design trends catering to an increasingly anxious public. "There's a sense right now that everything is falling apart. Climate change, the political situation, economics. We know a downturn is coming, but we don't know when," she said this autumn. "So we're craving comfort." Robson has seen a proliferation of more intimate, safer-feeling, partitioned, and hushed spaces in restaurants and hotel lobbies.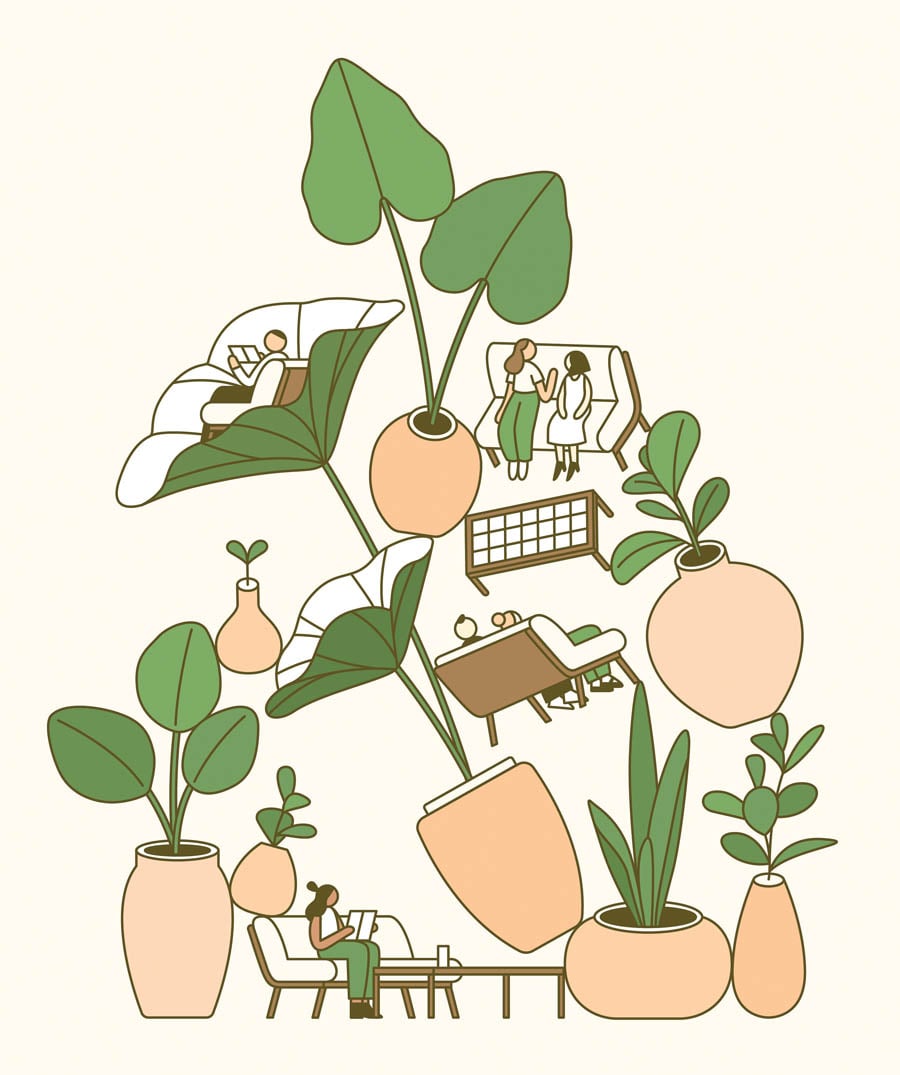 This was exactly why I'd chosen to observe Walnut Street Café, conceived by Parts and Labor Design, a New York firm known for its residential-style restaurants and hotels. Since the all-day eatery opened in 2017, it has gained a reputation for being "cozy." Yelp reviewers overwhelmingly use that word, along with phrases like "nice & quiet" and "good for Instagram." The Robb Report called it "a calming space."
What were the elements that chilled people out? I had a checklist from Robson and I looked around for them. Natural light and floor-to-ceiling windows? Check. Intimate spaces with lots of curves? Yep, the rectangular room was divided by panels, screens, patterns of wood and tile on the floor, and oval banquettes. (Robson says they "embrace diners like loving arms.") Plants?
Tons of them on either side of the front windows, acting as a protective buffer between diners and busy outside traffic along Walnut Street. Gentle color palette? So gentle: blond wood, many shades of soft blues, pinks, golds, and grays. Relatively quiet? The acoustic treatment and ventilation were both so fine-tuned that, sitting at the bar, I couldn't hear or smell the chef deep-frying floured pieces of catfish just four feet away. The only slightly abrasive note of my entire lunch hour arrived with the check—$31 for soup, salad, and tea.
I reported my notebook observations to Parts and Labor Design cofounder Jeremy Levitt. "Walnut Street Café is a great example of a high-design restaurant that's meant to be approachable, bringing the stress level down," he says. "I could say that we design with that motivation in mind, to quench the anxiety of the world, but I don't think we're always doing it consciously. We're doing it because it looks and feels good."
One thing environmental psychologists can offer designers is an ability to quantify what "feels good" so that acoustics, lighting, shapes, and materials— aesthetics—can be employed intentionally. Hospitality spaces, meanwhile, with their high turnover and detailed point-of-sale data, provide researchers with a constantly evolving testing ground for observation, tracking societal trends. Effects on human well-being may be more important than ever now that anxiety disorders afflict 18 percent of Americans and millions more suffer from what clinical psychologist Michael Stein calls "subclinical generalized anxiety." He cites the recent popularity of weighted blankets as a perfect example of how humans seek comfort in smaller spaces. "We're wired for coziness," Stein says.
"There's a sense right now that everything is falling apart. Climate change, the political situation, economics. We know a downturn is coming, but we don't know when," says Robson. "So we're craving comfort."
Architect Nick Dryden, principal of Dryden Architecture and Design in Nashville, has seen a craving for more comfort play out among many of his recent clients, both residential and commercial. They're gravitating now toward what he calls "a softer execution, a finer-grained touch" in hotels in particular. "When you take that into the realm of design, I think it's comfort, mindfulness, peace, and serenity—and a calming space," Dryden says. His own personal theory about public anxiety levels has to do not just with geopolitics or economics but with overuse of technology. "What I see are people continually struggling with the amount of accessibility we have to each other. Email, IMs, texting, phone calls. So much distraction," he explains, noting that as his staff recently retrofitted a classic Art Deco Nashville hotel, the Noelle, they had an internal mantra to keep them centered on the design goals. "We used the word 'quiet' a lot," he recalls. "And we kept saying, 'This is a house, not a hotel.' People are going to feel more drawn to the space whether they know it or not."
The Journal of Environmental Psychology published a recent study addressing that subliminal calming effect. European researchers tested a variety of design elements in an inherently high-stress setting—an inpatient psychiatric ward at a hospital in Sweden. The researchers found that daylight exposure, accessibility to gardens or "nature art," or simply windows with good views, and control over seating arrangements (what's known across industries as "privacy regulation") led to significant differences in both perception and behavior. When calming design elements were in place, patients were less aggressive and anxiety levels decreased among patients and staff alike.
Back in the less fraught world of public hospitality, industry analyst Jan Freitag of STR, a data company benchmarking hotels around the world, notes the proliferation of calming design trends. Freitag says he's seen lobbies, especially, evolving toward residential-style living areas with "niches and pods" instead of the "cavernous marble halls" seen in grand old hotels. He also notes that the hospitality industry is adapting rapidly to fears—some realized already in coastal areas— about the climate crisis. Freitag observes that one-third of U.S. hotels currently sit in a flood plain. "I tell group meeting planners, 'Maybe you should look at the emergency generator, not the pool deck. That's an amenity now! The question to ask is, Will this hotel be ready if things go sideways?'"
You may also enjoy "What's Behind the U.K.'s New Approach to Designing Retirement Communities?"
Would you like to comment on this article? Send your thoughts to: [email protected]