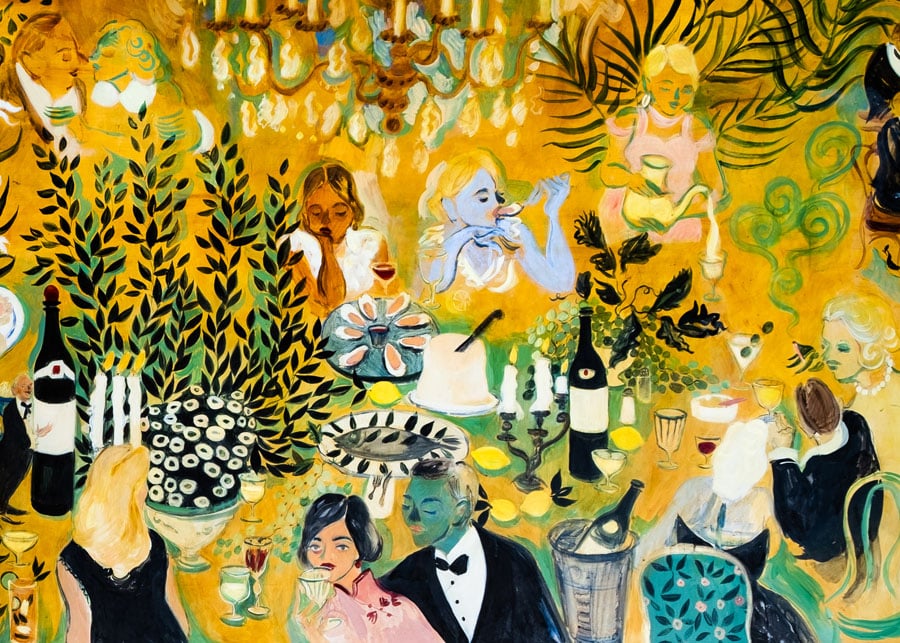 February 26, 2021
Gigi's Brings Intimacy and Comfort to Post-COVID Dining
The Los Angeles restaurant designed by Andrew Cosbie creates a convivial atmosphere with the help of local muralist Andie Dinkin.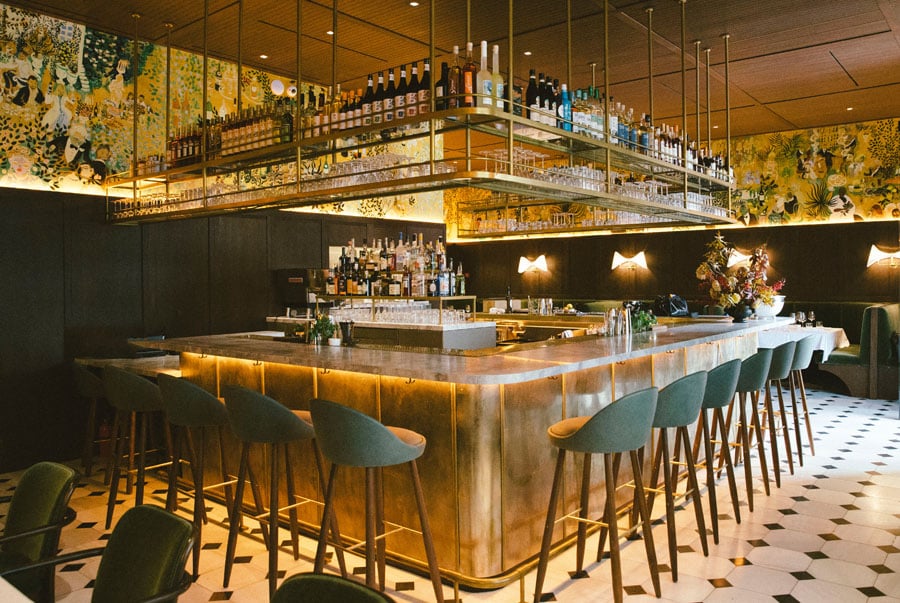 ---
Finishing a restaurant that offers a clubby kind of intimacy during a global health crisis is far from ideal. As the world starts to transition to a post-COVID reality where public dining rituals can resume, Gigi's in Hollywood is positioned to serve as a comforting return to what used to be. Call it an unwittingly fresh take on nostalgia.
Restaurateur Alex Wilmot of Whitman's in New York City and co-owner Sam Ressler tapped interior designer Andrew Cosbie of Wilton Hemet, to create a warm, polished atmosphere at the French bistro and lounge that was slated to open back in spring 2020. The setting is a former auto body shop located on a Hollywood side street that is zoned for commercial use, and where developer CIM is engineering a new upscale micro-district.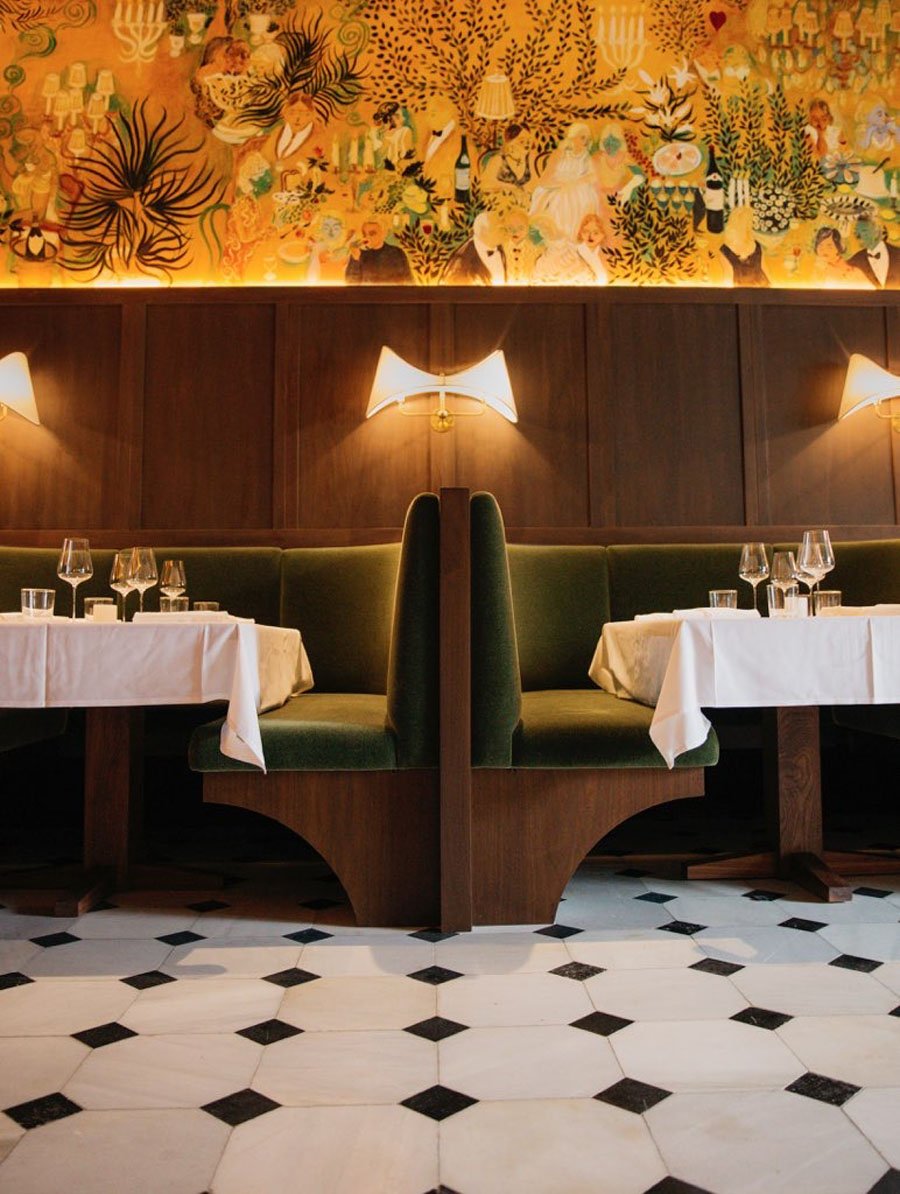 ---
At Gigi's, Cosbie's aim was two-fold. He needed to synthesize multiple influences to establish a sense of place, and hit upon that ever-slippery, subjective concept: "a New York vibe." To achieve the design brief, he considered "what is quintessentially L.A.," looking at places that balance glamour and comfort. Late influential interior designer Paul Fortune's hospitality work, the Chateau Marmont, the El Royale Apartments, and the century-plus-old Musso and Frank Grill on Hollywood Boulevard were all valuable reference points. "There's this amalgamation of European design," he explains about these examples of the city's unorthodox design heritage. The vernaculars that characterize the landmarks, most of which are extant, "are not any one thing."
---
More from Metropolis
---
Given that Cosbie primarily works in home environments, at Gigi's he brought some of "that luxurious feel you can have in a high-end residential project." The design team that also involved interior architect Aejie Rhyu and late hospitality architect Osvaldo Maiozzi added a hard lid below the bow truss ceiling to add a human scale to the approximately 50-seat bar and restaurant. The reclaimed marble flooring from France, banquettes upholstered in green mohair, and vintage Josef Hoffmann bentwood chairs Cosbie bought at auction create the desired layering. That visual depth is enhanced by the hand-applied patina on the bar's brass panels and various woods throughout. Sean O'Connor Lighting is responsible for the moody lighting scheme, which also includes handmade wall sconces by local L.A. designer Jason Koharik.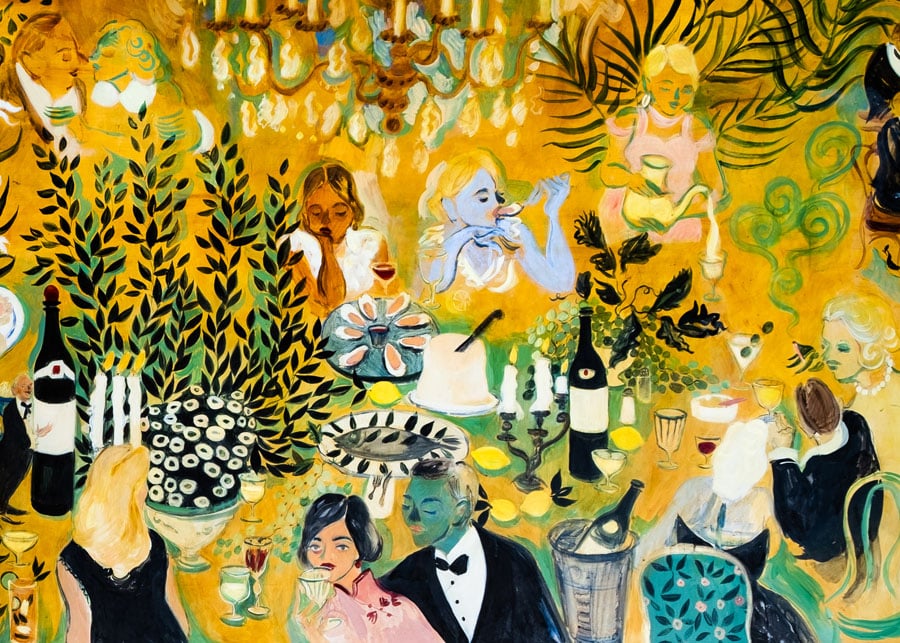 ---
Gigi's delayed opening meant artist Andie Dinkin had ample time to complete what's literally and metaphorically the main conversation piece—a hand-painted mural that wraps around the restaurant. She spent six months working on the detailed mural before and after Gigi's began serving to-go fare and hosting outdoor dining. While Cosbie didn't know what the mural would become exactly, he knew he needed to set the right backdrop for something dramatic. "I wanted there to be some restraint and tranquility to everything, so that sort of cap could really shine," he says about the feature that he dubs "the soul of the restaurant." An evocative throwback to old school spots (think: The Palm, Bemelmans Bar), the immersive painting celebrates conviviality, conversation, and connection. While the dining room has sat vacant, it feels somewhat surreal.
"There's a coziness to the restaurant, and moments within the mural of that intimacy," Cosbie adds. While this perspective wasn't part of the planning process, Gigi's has already become a meta-ode to experiences we will again revel in and are unlikely to take for granted.
You may also enjoy "CitizenM's Newest Location in Seattle Offers a Glimpse of the Post-COVID Hotel"
Would you like to comment on this article? Send your thoughts to: [email protected]
---
Register here for Metropolis Webinars
Connect with experts and design leaders on the most important conversations of the day.