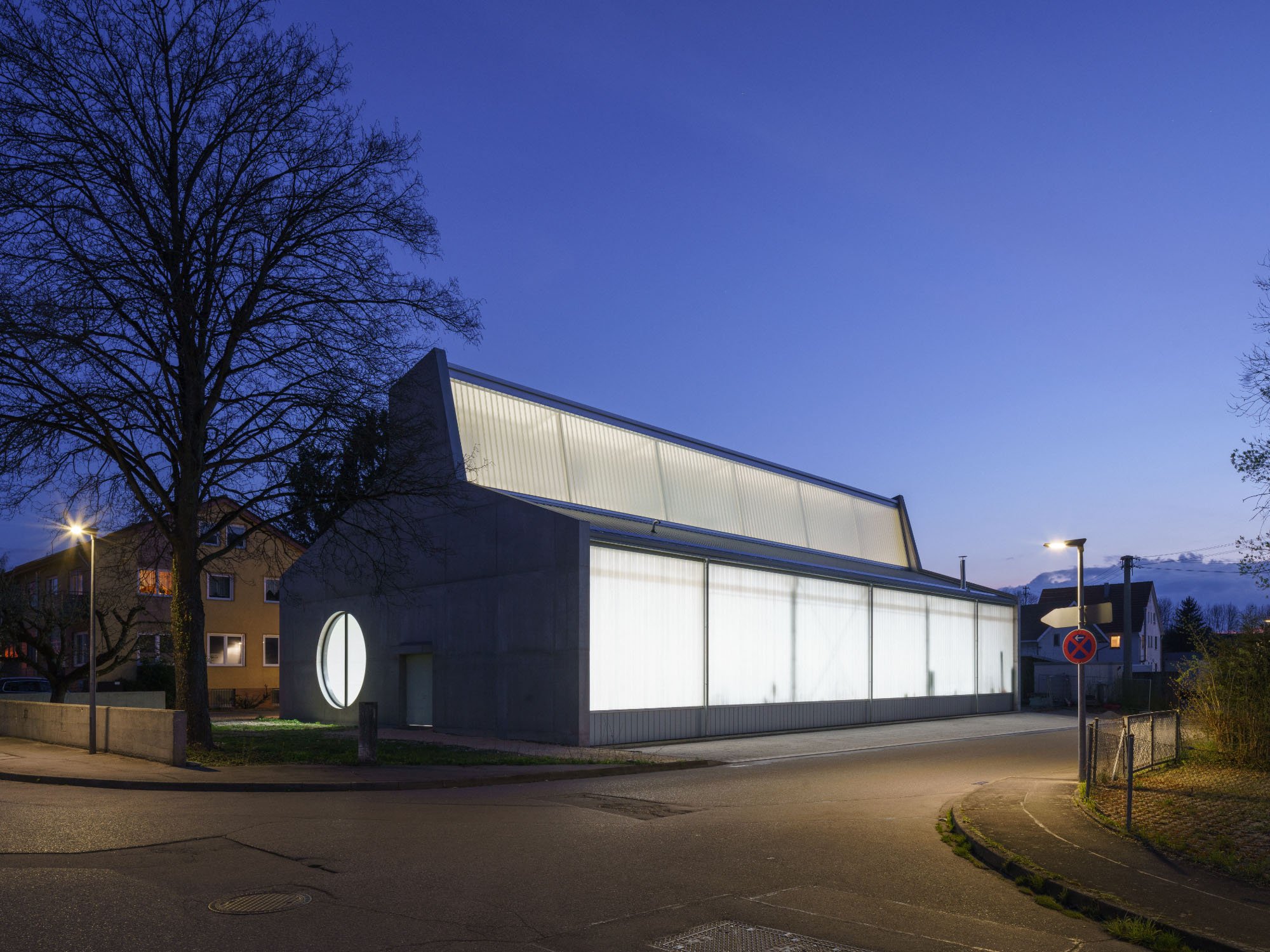 November 14, 2022
In Southern Germany, A Small Brewery Proves Less Is More
It is about the precision of the position. Together with the older buildings nearby, the small new building creates an open courtyard, and towards the street, a low concrete wall makes just enough space for a small beer garden under a large old tree. Here, the building shows what is its strongest facade visually, largely closed and made of exposed concrete, crowned by an asymmetrical, raked skylight. It looks like a scissor-cut silhouette or a graphical icon for an industrial building on a traffic sign, a very clear form that can be understood in a second. To prevent the building from becoming just a touch too austere or hermetic, the architects cut an extra-large round window in the wall and painted the metal door, a very subtle entrance, in a light pastel green that subtly connects to the mild green of the industrial glass that covers almost the entire northern facade. This generous glass surface soaks the inner space in subdued daylight while at night it also turns the building into a glowing object, almost like an oversized lantern for this underprivileged area.
---
More from Metropolis
---
Inside, there is one single space of 8,000 square feet, almost completely unpartitioned. The materials reflect the architects' minimalist sensibility: The roof is of steel painted white, and the industrial floor has a light grey coating. A single-story installation of prefab exposed concrete modules houses sanitary facilities and the cooling system, while the little office above is clad in wood. Otherwise, all machinery necessary for brewing like kettles, pipes and tanks is placed visibly in the space. The entire interior installation can be easily dismantled if the use of the building changes, a possibility since the brewery merely rents its space. In the worst case, if the beer that's brewed here doesn't attract enough guests, the building itself is strong enough to find a new use without losing any of its persuasive powers.
Would you like to comment on this article? Send your thoughts to: [email protected]