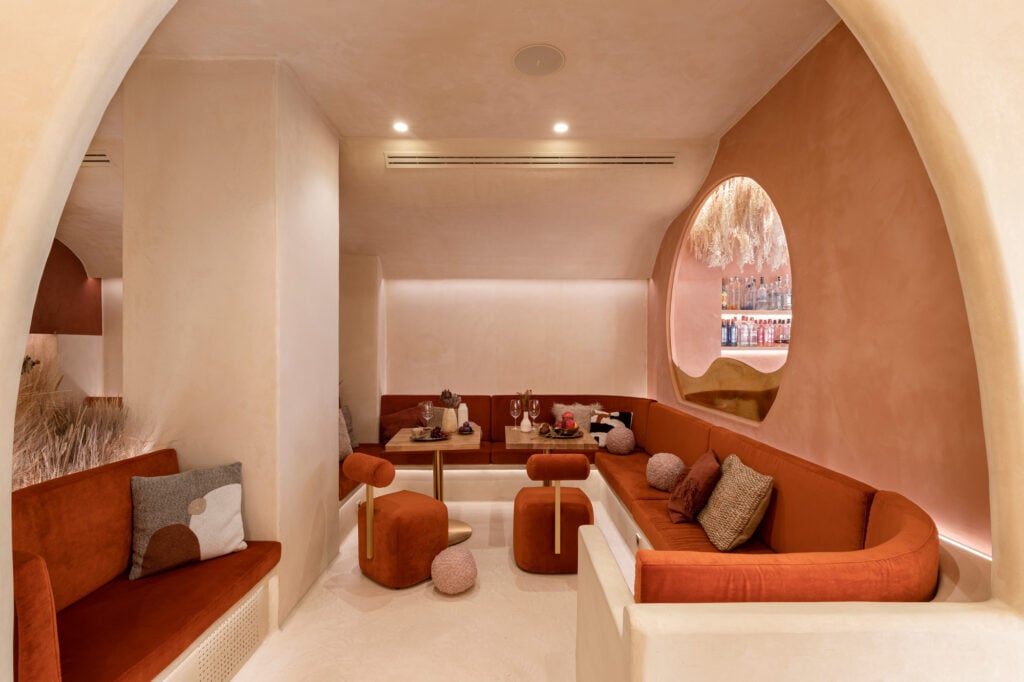 February 10, 2022
Masquespacio Creates an Adobe Daydream in the Heart of Valencia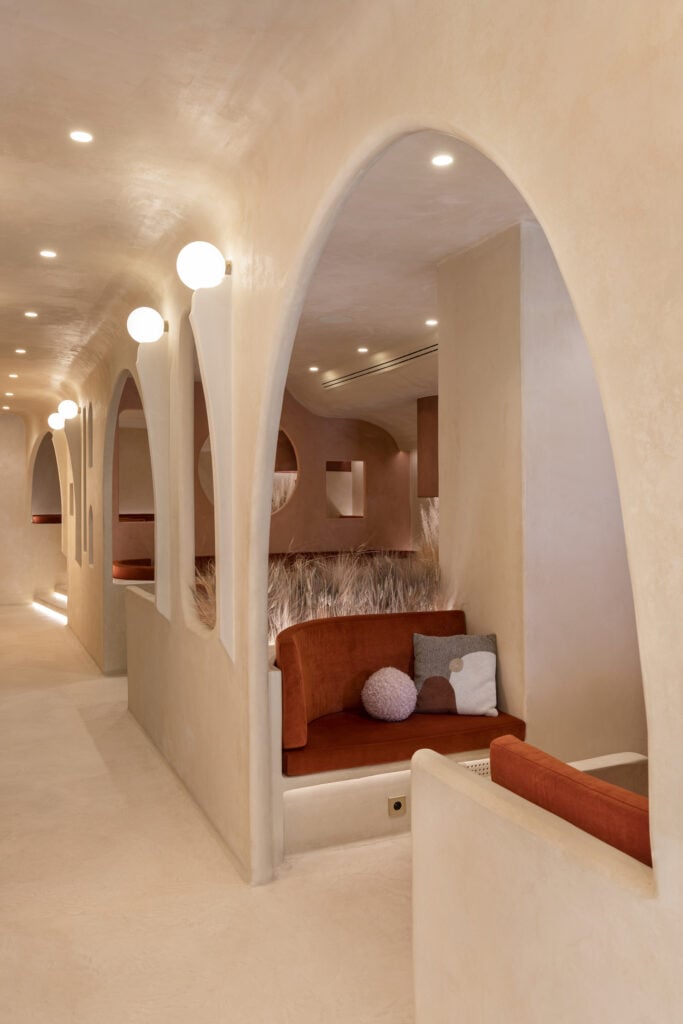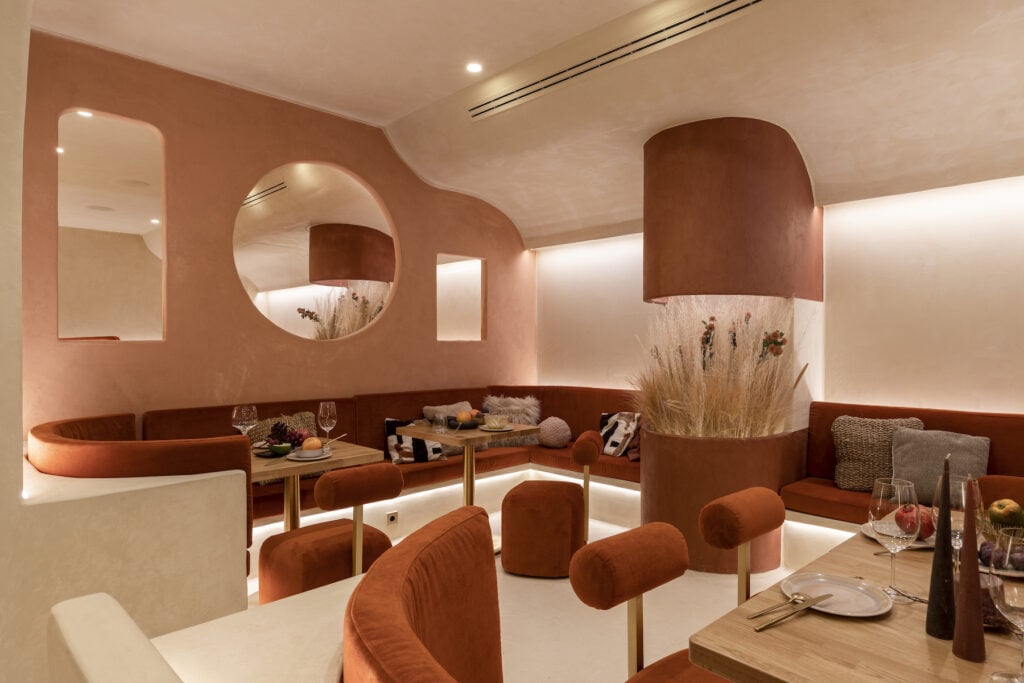 "There's still so much yet to be discovered from the past," says Penasse. "We want diners to be able to disconnect, first of all, and really feel like they're in another world when dining at Living Bakkali… To reconnect with a sense of mystery—the feeling that there's something more just around the corner."
---
More from Metropolis
---
At first glance, Living Bakkali's 1,615-square-foot interior evokes a sort of sandy, retro-futuristic womb, created by the blush-beige shades of the walls and ceilings paired with the soft, organic shapes at play throughout the space. It's broken up into one main dining area split into four different "open" spaces (with seating for up to sixty diners) and one "closed" VIP room (which seats up to ten diners), along with bathrooms and back of house functions. The layout allows for an alternating mix of gathering areas and half-hidden alcoves for two-person booths. As diners pass through the interconnected corridors, new spaces are obscured and revealed, conjuring the serpentine paths and hidden corners of Morocco's ancient casbahs.
Living Bakkali is soothing and sunny without feeling bright or airy. The muted palette and natural sparseness create a surprisingly intimate, gauzy warmth—nothing here feels crowded, only cozy. Dotted with various curved entryways, rounded apertures, and pass-through windows, there's a constant collaboration of organic forms and frames, as if each room could change shape at any moment. What the walls lack in framed art, they make up for in texture: the Masquespacio team applied textural micro-cement by hand to create a unifying adobe effect along the walls, floors, and ceilings. The approach, inspired by ancient Middle Eastern techniques, gives the space a natural, uniform roughness, while also softening the edges and corners of its many nooks and hideaways.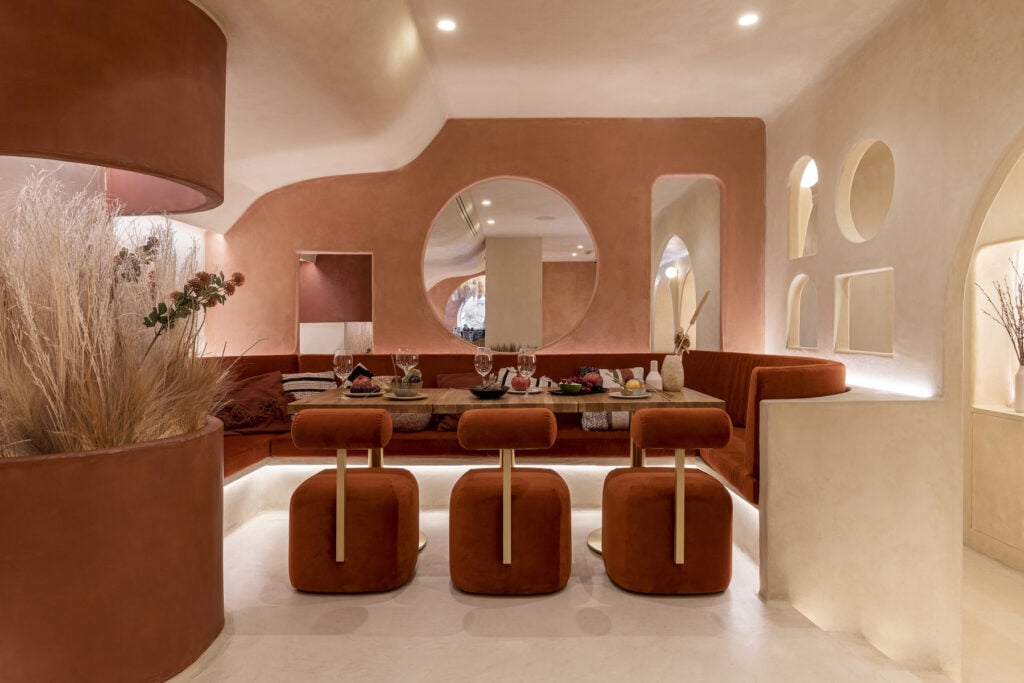 Designed by Masquespacio and crafted locally, the dining chairs and long, communal banquettes form inviting, organic shapes. Upholstered in plush, burnt sienna fabric, the seating adds a warm touch of sunset to the mostly-beige palette. Soft lighting fills the space, designed specifically to create the kind of long shadows that tend to form just before sunset in the desert. In the main dining area, that same lighting is further softened by flowing, bone-white fabric curtains. Dried, wheat-like botanicals, sourced from a local Valencia flower market, peek from behind curtains and booths, adding textural accents and intricate silhouettes to the bare canvas.
Outside, Living Bakkali's simple, olive-grey exterior forms a balanced contrast to the gauzy, textural warmth of its interior. The uncluttered facade and circular windows echo the interior's organic shapes and minimal approach, but with a more hardened, shell-like feel. "We wanted to play again with the idea of discovering—making things look different than expected," says Penasse. "You expect a certain aesthetic when you see the facade, but when you enter, it's a completely different feel."
Would you like to comment on this article? Send your thoughts to: [email protected]