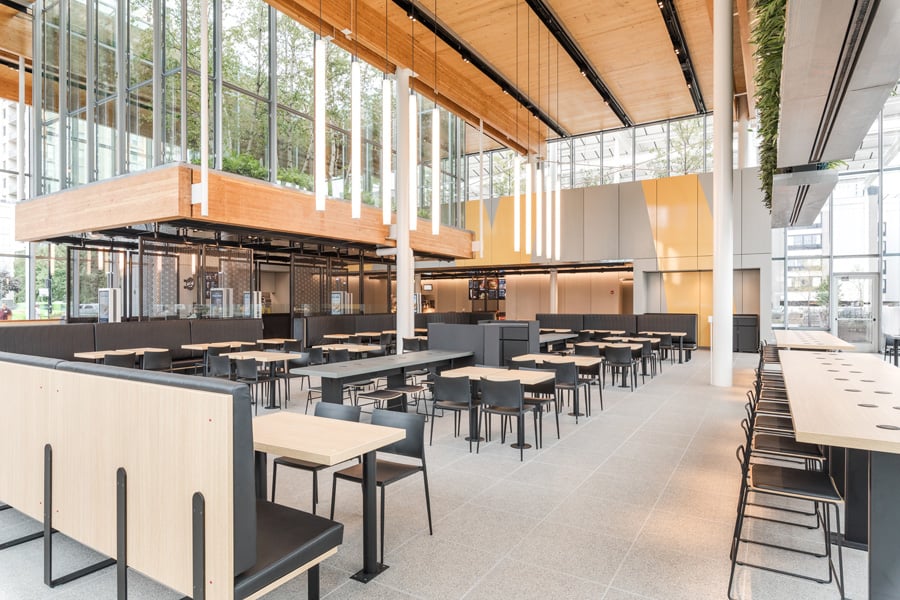 August 15, 2018
Will the Culture of Good Taste Devour McDonald's?
Two new sparkling buildings in Chicago—designed by Carol Ross Barney and Gensler, respectively—demonstrate a new design direction for the ubiquitous fast-food chain.
At a new corporate headquarters in Chicago's West Loop neighborhood, there's a double-height lobby filled with green walls and massive art installations. Travel to its top floor roof deck and you'll find a cozy fire pit next to a fitness center and bar (happy hours are on Thursday). Elsewhere, stair-seating terraces face floor-to-ceiling windows with views of the Chicago skyline. This vertical campus settles in peaceably among its tony Randolph Street neighbors—Michelin stars, tech giants, and boutique hotels. At first glance, it's refined and tasteful enough to be any one of these.
But this gleaming new building, designed by the Chicago offices of Gensler, Interior Architects, and Studio O+A, is home to one of the most recognizable and ubiquitous brands in the world—McDonald's. And you will be hard-pressed to spy its iconic golden arches in the public lobby or anywhere else.
This sense of subtlety is echoed less than two miles away in McDonald's just-opened River North flagship restaurant, designed by Ross Barney Architects. In place of typical Formica and beige swaths of paint are natural, unfinished materials, ample natural light, and open-plan floor plates.
---
More from Metropolis
---
Both Chicago buildings mark the beginning of a new chapter at the corporation, and the company is betting big on design's ability to redefine their customers' experience. In fact, over the coming years, McDonald's plans to renovate 1,000 restaurants across the country each fiscal quarter.
"We don't need to be loud anymore," says David Vilkama, McDonald's global creative director. "We're trying to move away from the old, cheap, plasticky, in-your-face fast food culture."
McDonald's is a brand that's been wildly successful at tracking the preferences of the American consumer, and it has survived the cultural fragmentation brought on by economic, political, and informational trends. The company's done this, largely, using the same design template for much of its history, with the exception of a refresh in the mid-aughts focused on customer experience and regional design accents.
Today, restaurants from fast-casual to fine dining are all offering a laconic set of visual signifiers that indicate quality and authenticity: raw wood, Edison bulbs, wall art, Modern furniture. And now, McDonald's is no different; it is increasing its design sophistication while muting its iconic identity. In the name of prevailing "good taste," McDonald's is becoming more like everywhere else.
For most people, this sea change will be more obvious at the River North restaurant, which replaces the kitschy and memorabilia-laden Rock 'n Roll McDonald's. With Wi-Fi service and expanded café offerings, the new store feels more like a coworking space. (The restaurant installed in the West Loop headquarters even has a conference room that the public can rent.) It's a testing ground for what McDonald's executives call the "experience of the future."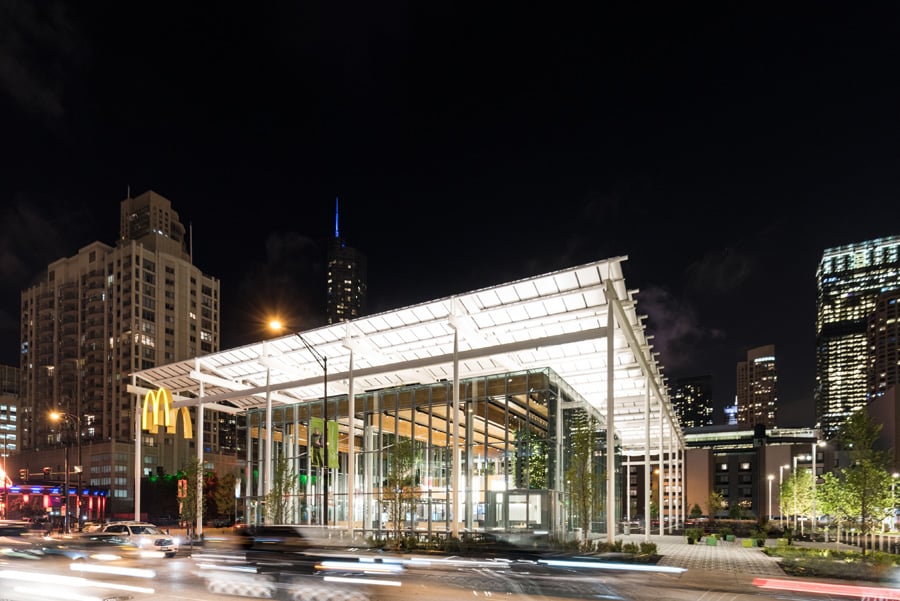 Ross Barney's design is unabashedly cosmopolitan, yet welcoming. Conceived as a series of interlocking Miesian pavilions, it comprises a glass cube containing the dining room and a smaller opaque volume, which holds the kitchen. The glass envelope shows off the restaurant's burly cross-laminated timber beams, the first time this ultra-strong, low-carbon structural system has been used in Chicago. The exterior pergola is clad with solar panels and provides shade across an entire city block while also generating most of the restaurant's energy. With a landscaped plaza and outdoor seating, there's a strong focus on attracting pedestrians to this green-starved section of the city, with a landscaped plaza and outdoor seating.
Inside, a series of self-ordering kiosks are partially separated from the dining room by metal scrims, forming another sort of pavilion. A floating glass volume hems in a garden planted with river birches, while hanging green walls offer pleasing shifts in texture. (Landini Associates designed the restaurant's interiors and Omni Ecosystems handled its interwoven greenery.) Ross Barney says it's "one big shade structure with two boxes in it. We really want people to read this box."
The notion of pavilion architecture has a particular salience to design audiences that may not resonate with the average Chicago resident or tourist. But Ross Barney's approach makes different layers of interlocking materials visible and gives clues as to how their connections come together to create space—as common a definition of architecture as you'll find anywhere. For the Wisconsin day-tripper who has just stepped off a gangland tour bus for a quick and otherwise thoughtless lunch, the shock of this jewel box might unexpectedly bring architecture to the fore of their fast-food experience. The telltale golden arches, however, won't be, as they're given only modest play, hanging from one corner of the pergola, and barely seen at all from inside. For McDonald's CEO Steve Easterbrook, that speaks to the new restaurant's "understated confidence."
The same sentiment predominates back in the West Loop headquarters, where the corporation moved after nearly a half-century in the leafy suburb of Oak Brook. In the lobby is a massive art installation by the artist Jessica Stockholder, who fused kitchen equipment (much of it invented by McDonald's or their suppliers) into a monumental ring. Other nods to the brand's legacy—courtesy of the award-winning design firm Studio O+A—pervade the building: The curve of the McDonald's arch can be divined in the aperture of a coffee nook, and the steel mesh that hugs the concrete columns samples the materiality of fry baskets. Here and there, the outline of the traditional red mansard roof makes an appearance.
But apart from a Happy Meal toy display, nothing signals warm nostalgia. "It's such an iconic brand, but do we want to use that yellow? Probably not," says Primo Orpilla of Studio O+A, who describes the project as being "museum-quality" and "hospitality-driven."
"What they really wanted was it to not look like McDonald's," he adds.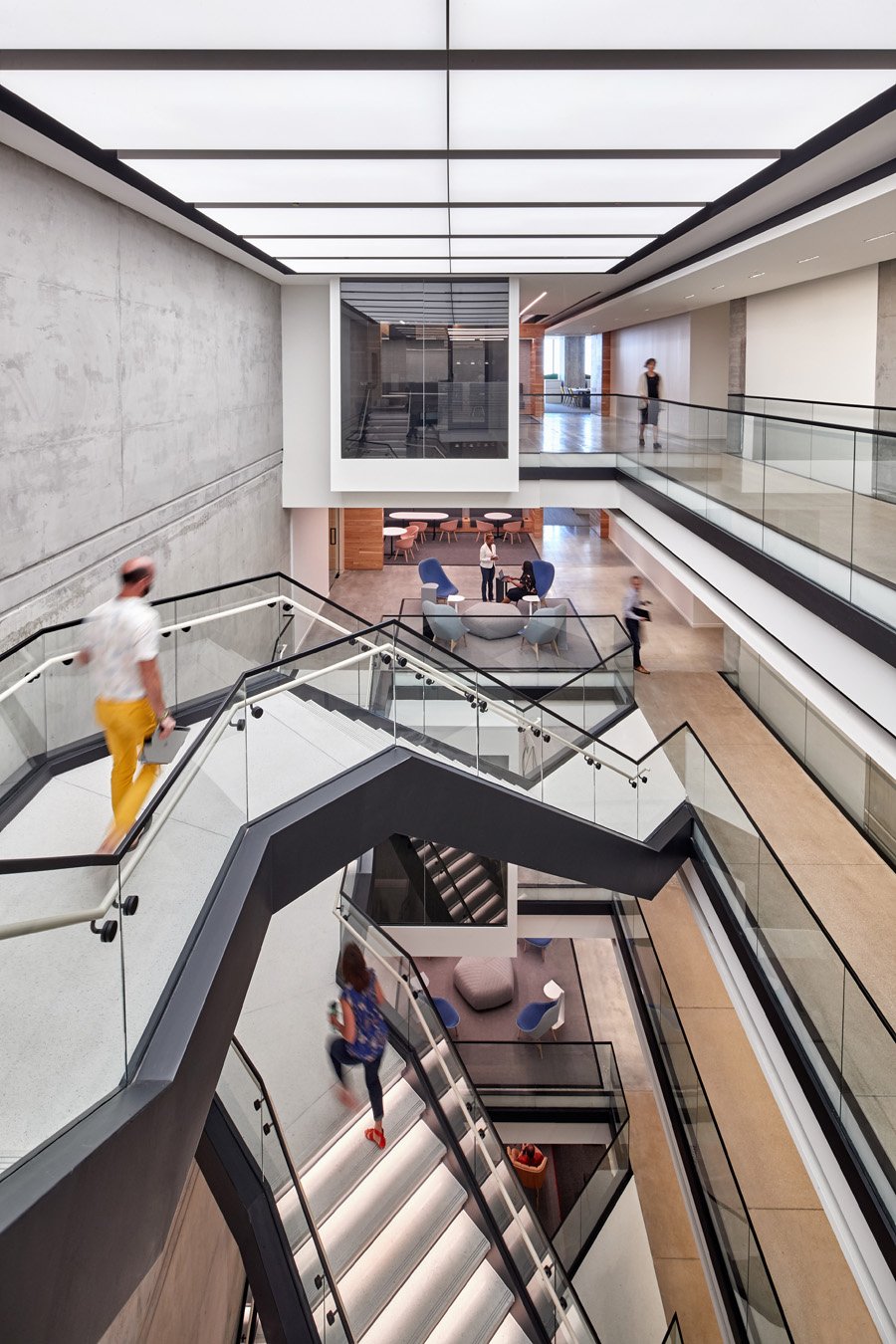 McDonald's core customer base may come from suburbia, but, judging by the design of the new headquarters, that isn't where the company is drawing its corporate labor force from. At first glance, the young-ish, casually dressed staff fits right in with the West Loop. Current workplace trends insist that this demographic desires a more open, collaborative workplace, with a bustling city block's worth of amenities installed in-house. Just as expected is a collegial lack of spatial hierarchy, provided here by the Chicago office of Interior Architects.
Each office floor has an encyclopedic array of public-to-private work spaces, for solitary concentration to raucous brainstorming sessions. The design's most formally daring feature is a multi-story atrium crisscrossed by staircases that visually connects one floor to another; a social concentrator for new enthusiasm the company hopes takes root. It's Deconstructivist-lite—sharp enough to stand out, but still a cohesive element in this slick corporate package. There's a space for every interaction imaginable, and only five executives have their own offices.
Unlike its restaurants, the McDonald's office is vying for a much more targeted demographic. This reality brings into focus a disconnect between McDonald's populist appeal and its trendily revamped corporate image. Is the McDonald's experience now meant for the upwardly mobile corporate staffers in the West Loop? And is the West Loop meant for the suburban and exurban populace who make McDonald's a regular part of their life?
Creative director Vilkama says the headquarters' restaurant does a brisk business here in Chicago's premier foodie destination, but its most consistent customers are builders toiling in the West Loop's many construction sites. "They love us because they can't get a meal anywhere under $20," he says. "They come here all day long."
If the Ross Barney restaurant is any indicator, this disconnect may be closing, though that depends on the scope of renovations for many thousands of franchisee-owned restaurants. What's clear is that McDonald's sees its broad working-class customer base and elite corporate technocracy meeting in the same place. The McDonald's of old looked cheap, kitschy, and disposable, but they did look like a McDonald's, seemingly immune to trends.
There's a tendency in late capitalism to take basic goods and resources and aggressively rebrand them as luxury items, with the appropriate price hike. The "raw water" scam—paying $60.99 for 2.5 gallons of untreated and unfiltered water—is the gold standard here. Straight-razor shaving kits and any bread pegged as "artisanal" are much less predatory examples.
If these trends don't remain cautionary tales and go on to infect a wider segment of the economy, it's likely a sign that corporations don't feel that the middle and lower classes can support their business, and are taking it elsewhere while they still can. The McDonald's refresh is taking the first few steps down this path, yet the company's menu remains a source of cheap calories, accessible to all. And if that ever changes, watch out: It means the average American can't afford to pay for a hamburger—or no longer exists.
You might also like, "Carol Ross Barney is Chicago's New Daniel Burnham."