April 7, 2020
Meyer Davis–Designed Carna Restaurant Puts Meat Front and Center
Meyer Davis translates butcher and chef Dario Cecchini's exuberance into Carna, a restaurant at the SLS Baha Mar Hotel in Nassau.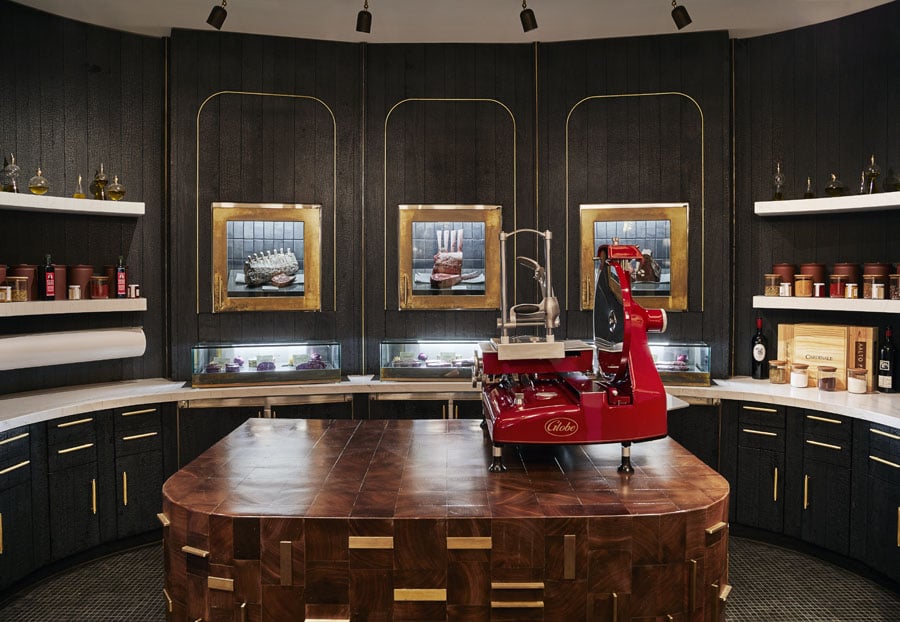 Few contemporary food figures are as quintessentially Italian as Dario Cecchini. Featured in Bill Buford's memoir Heat and in shows such as Chef's Table on Netflix, as well as being an in-demand special guest on the culinary event circuit, the Tuscan-born master butcher is known for his effusive manner and exceptional skill set that inspires both his professional colleagues and passionate amateur home cooks.
And yet when the opportunity arose for his first brick-and-mortar project outside of Italy, the location and context could not be farther from Cecchini's home turf of the town of Panzano in Chianti.
Cecchini and partners turned to New York City-based Meyer Davis to interpret his culinary vision at Carna restaurant located within sbe's SLS Baha Mar hotel in Nassau, Bahamas. "To create a steakhouse in the Bahamas might feel incongruent at first, but there was an interesting connection to make between the ethos of Chef Dario and the equally joyful and generous spirit of the Bahamas," cofounder Gray Davis explains. SB Architects served as the architect of record for Carna, as well as other areas of the property.
---
More from Metropolis
---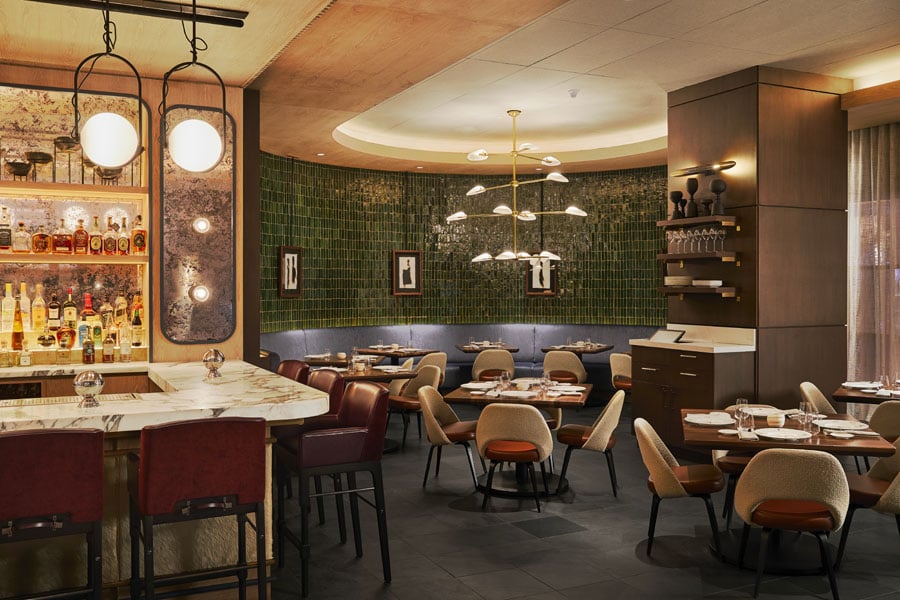 The carnivore-centric concept, which opened in early 2019 and showcases ingredients from Cecchini's native region, provided inspiration on how best to create an atmosphere that reflects the restaurant's own location and its imported elements. "Meat needed to be front and center," Davis says. "Chef Dario is probably the most recognized butcher in the world, and his ethos is to honor the animal by elevating all parts of it." (He operates Officina della Bistecca, Solociccia, and Dario Doc eateries next to Antica Macelleria Cecchini.)
A butcher station is located at the entrance to show what is on offer at any given meal, which Meyer Davis cofounder Will Meyer likens to a display for "beautiful pieces of jewelry or luxury goods. It also adds an element of drama and theatricality that a restaurant of this scale—within such a luxurious property—demands." Design elements throughout the 290-seat, 9,000-square-foot restaurant continue this theme without an overly heavy hand. Sheer drapery and lighter acoustic panels help maintain an aesthetic and ambience in keeping with the light-filled tropical setting, while Davis points out how the designers used "color and eclectic pieces connect the menu to [Cecchini's] character."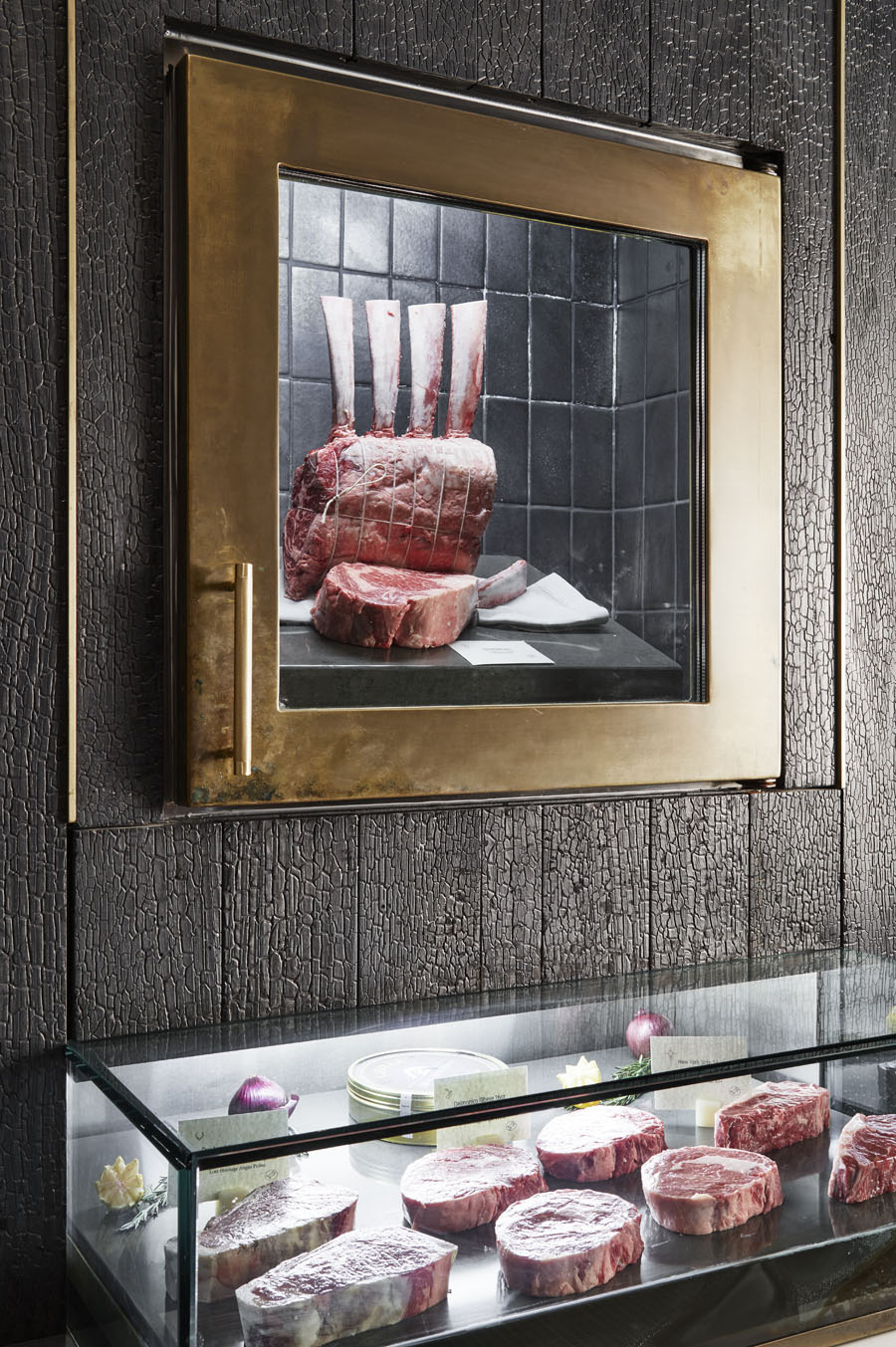 In one of Carna's two dining rooms, an oversized banquette illuminated by a chandelier from the firm's collection with lighting designers Rich Brilliant Willing makes use of a curved wall that was part of the preexisting space. Custom straight banquettes, lush drapery, and a variety of artwork in this room create a sumptuous vibe. The second dining room features a raised ceiling and traditional and floating banquettes. "We again had to work with existing curves in the space here, so we chose to use rotating banquettes that create a sense of intimacy while allowing for proper circulation," Meyer notes. The restaurant's front of house spaces also includes a bar, wine room, outdoor dining area, and three private dining rooms.
Alongside the extensive custom work installed throughout, an icon of modern furniture design stands out. "We like to use at least one 'familiar' piece in each restaurant we design," Meyer says about the decision to use Saarinen Executive Arm Chairs from Knoll, in this case with leather seats and boucle-upholstered backs. "Some pieces are classics for a reason." It's an appropriate choice for a restaurant helmed by such a distinctive personality.
You may also enjoy "A Restaurant by Olson Kundig Recedes into the Background."
Would you like to comment on this article? Send your thoughts to: [email protected]