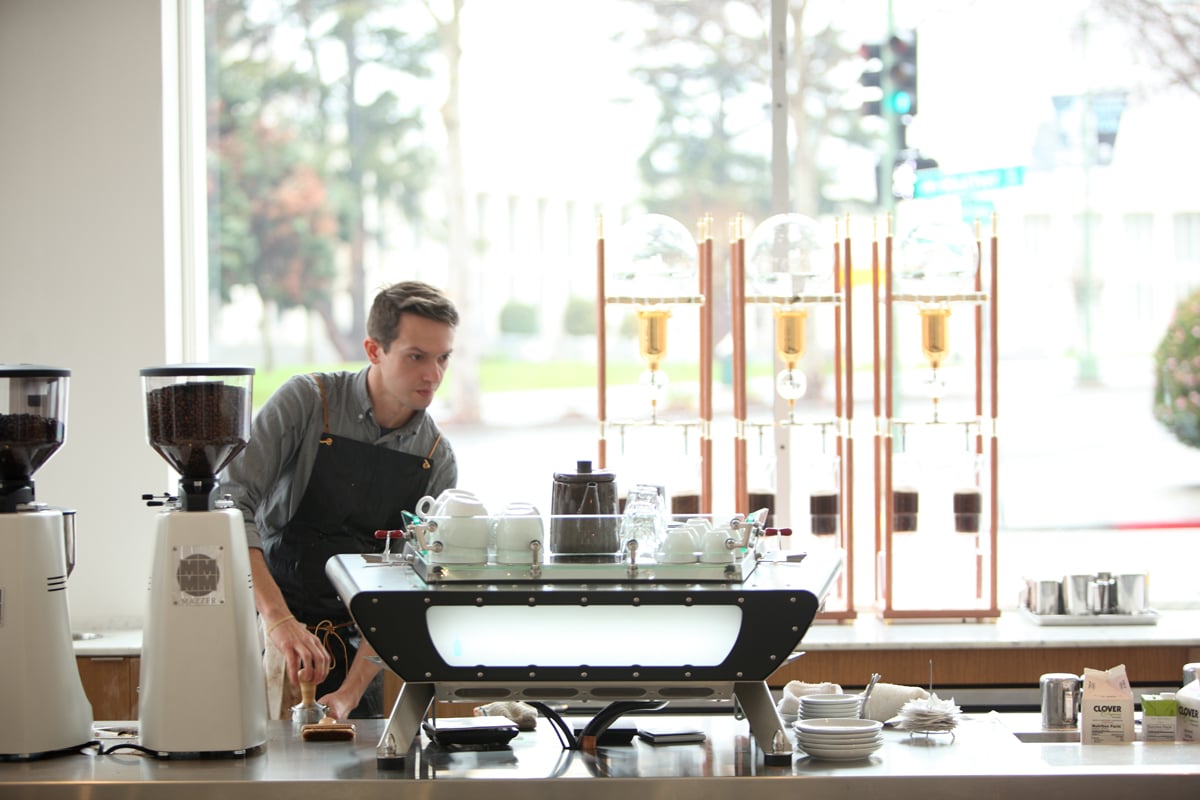 February 27, 2014
Oakland's Blue Bottle Cafe Blurs Work and Leisure
The specialty coffee group's new cafe is a great place to work—for both customers and employees.
The Blue Bottle cafe that opened recently on Oakland's Auto Row is half a workspace for coffee-makers, half a workspace for coffee-drinkers. Situated in the 1920's W.C. Morse Building, the cafe was designed by a team of Blue Bottlers and Jensen Architects of San Francisco. It's a massive, airy space, punctuated with touches that seem whimsical at first glance—a KitchenAid stand mixer whipping up cake frosting under the guidance of Caitlin Freeman, the company's head pastry chef; a cordoned-off section lined with a pegboard covered in tools; a massive circular table—but prove to be part of a larger logic.
"We're trying to have less of a division between customer and staff," says architect Mark Jensen. "And make it feel like they're all in one space working together." Unusually for a cafe, there are only two areas for seating—the huge round table, and a long stool-height counter table. "Both of them are scaled to the size and eight of the space, and have a presence that creates a sense of community," Jensen says. Chairs at the round table are squeezed close together, while the long counter is narrow enough to foment conversation across the table rather than eyes-down focus. The result is surprisingly intimate for the scale of the space.
---
More from Metropolis
---
Blue Bottle found this building thanks to an observant production artist, Michelle Ott, who was biking around Oakland's developing Temescal district. Ott saw what turned out to be a former truck showroom with impossibly high ceilings and spectacular light, and snapped a picture. "She texted the photo to James, our CEO, he went and visited it later that week," says Blue Bottle's Byard Duncan. "Within the next couple of weeks we'd signed a lease." When the design team learned that the space had been a truck showroom, they wanted to introduce a greater sense of utility, and decided to move their tech department—who tinker with the remarkable machines the company uses to make its sought-after coffee—to a more public stage. It was partly a conceptual decision and partly an economic one: the store now sells espresso machines, and the techs are available to service any machine, wherever it was bought. Their department—home to that tool-covered pegboard—is clearly visible and divided from the rest of the space only by a transparent plastic curtain. "The reflections on the plastic give you a slight visual separation, but you can still see in there," Jensen says. "So the workbench, and then the actual workshop becomes an immersive environment." It's at once all work and, because of the stunning aesthetic and the smart spatial arrangement, all play.