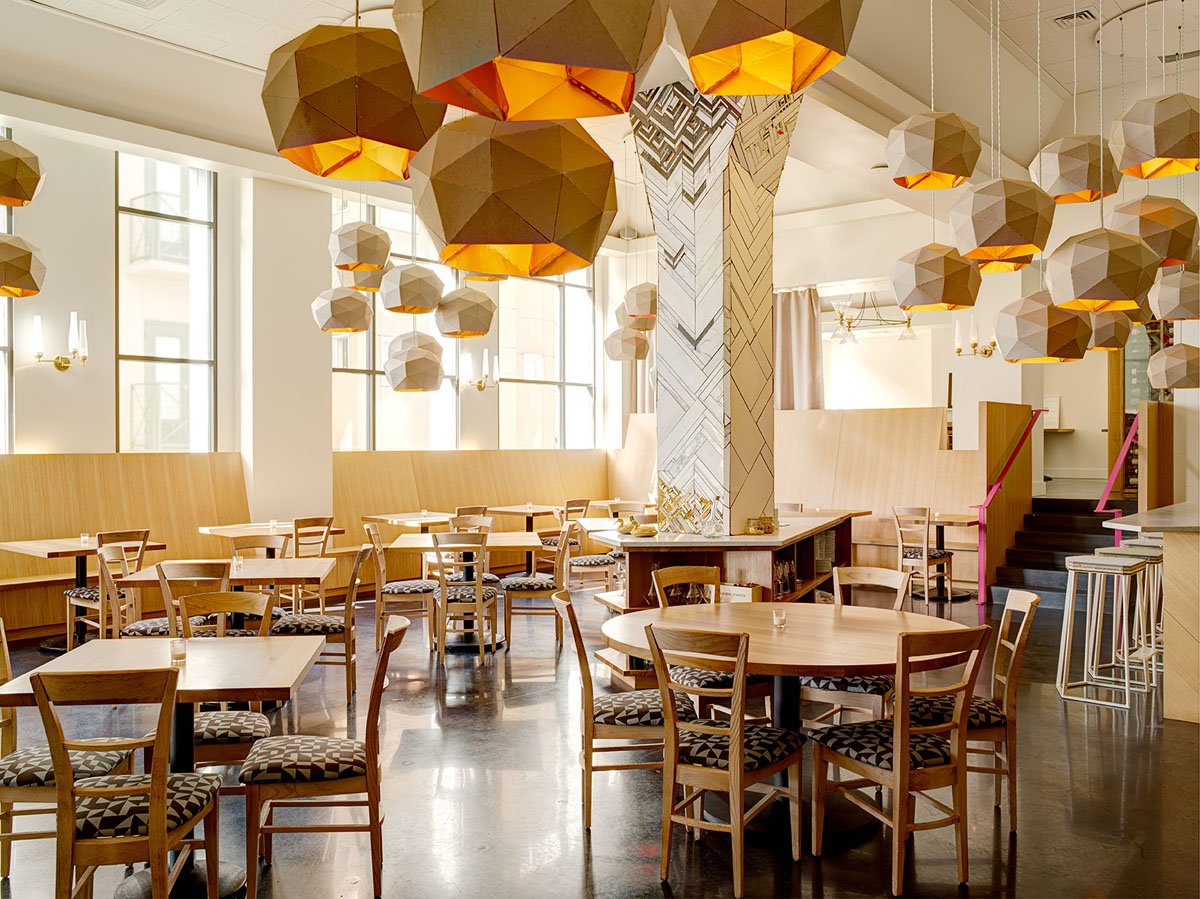 September 23, 2014
Seattle Eatery Blends Modern Spain and the Pacific Northwest
A first-time interior designer skillfully blends two creative cultures at a new restaurant.

The main dining room is lit by 54 of Ginder's die-cut Dot/Dash pendants.
Courtesy Alex Hayden
Seattle's Spanish eatery Aragona had a tricky balance to strike in its soaring downtown space overlooking the water and mountains of the Emerald City's unmistakable panorama: Transport diners to modern Spain while still paying homage to the Pacific Northwest.
Much like the Catalan and Valencian fare Aragona has on offer, the restaurant's space is deceptively simple, and the bold, minimal- ist design reveals layers of nuance.
Veteran Seattle chef Jason Stratton, who named the 5,000-square-foot restaurant after the medieval kingdom of Aragon, enlisted the help of Seattle-based designer Erich Ginder. Aragona was Ginder's first entrée into full-scale interior design, after ten years of creating lighting and furniture that hedge the line between art and function.
---
More from Metropolis
---
"The design was supposed to be this contemporary Spanish theme without being really overt," Ginder says. "So I played with mixing items, trying to balance a mixture of antiques with really contemporary things as a way of referencing Spanish culture," he says.
Ginder's canvas at Aragona was a space with white-oak plank floors and muted cream walls. An exposed kitchen, open cabinetry, and the three distinct dining areas are pulled together with the modern-meets-natural details that are a hallmark of his work.
In the main dining room, 54 metallic foil-lined pendant lamps from Ginder's Dot/Dash collection create an arresting and dramatic tone. Along the bar, more than a dozen stools are crafted from powder-coated steel, topped with layers of foam carpet padding and felt. The stools had long been a design in Ginder's wheelhouse and are finally making their debut at Aragona.
In another dining area, Spanish roses get a geeky northwestern twist—they are rendered with ASCII symbols in Ginder's Warez wallpaper (a paisley version is now available through Wolf-Gordon)
The cabinet pulls are pyrite, while porcelain and glass mosaics pepper the bars and columns. Artwork scattered through the three dining areas includes large pieces of quartz and amethyst and vintage astronomy prints, lending an ethereal quality to the space. In the private dining room, blown-glass lighting fixtures with turned walnut and brass tubing, and a raw linen acoustic curtain, create an intimate, yet still social, setting.
"There's an overall feeling of being really modern but still natural and Northwest-y," Ginder says. "It's setting the tone for the restaurant without being too obvious."
Ginder also enlisted the help of other Seattle artists. In the main dining room, a central column boasting a geometric tile mosaic by Kate Jessup nods to Spain's Moorish influence. Jessup also executed the tile work in Aragona's three bathrooms.
"We would just mostly work together by hanging out in my studio. I would show her what I was trying to work on and she would respond to it. And the chef was super involved, getting us all to work together," he says.
After the challenge of Aragona, Ginder feels ready to take on more interior design projects. He recently agreed to spearhead the design of a new nose-to-tail Seattle steak house that will have its own on-site butchery.