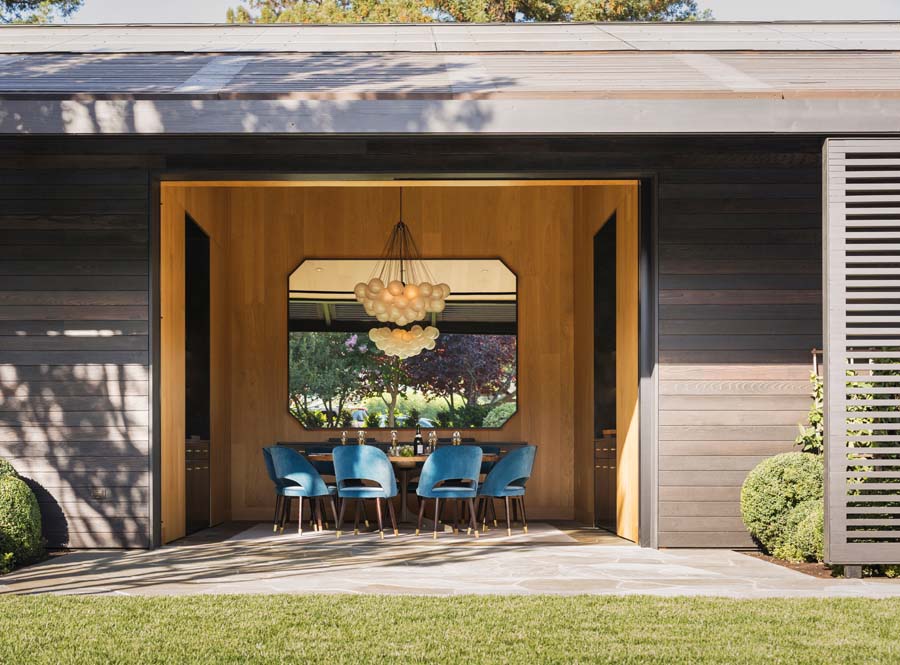 February 26, 2018
Snøhetta's Gleaming New French Laundry Expansion Prioritizes Chefs as Much as Diners
The overhaul, which includes a new kitchen and a revamped courtyard for Chef Thomas Keller's famed California restaurant, was inspired by the "complex choreography of the kitchen."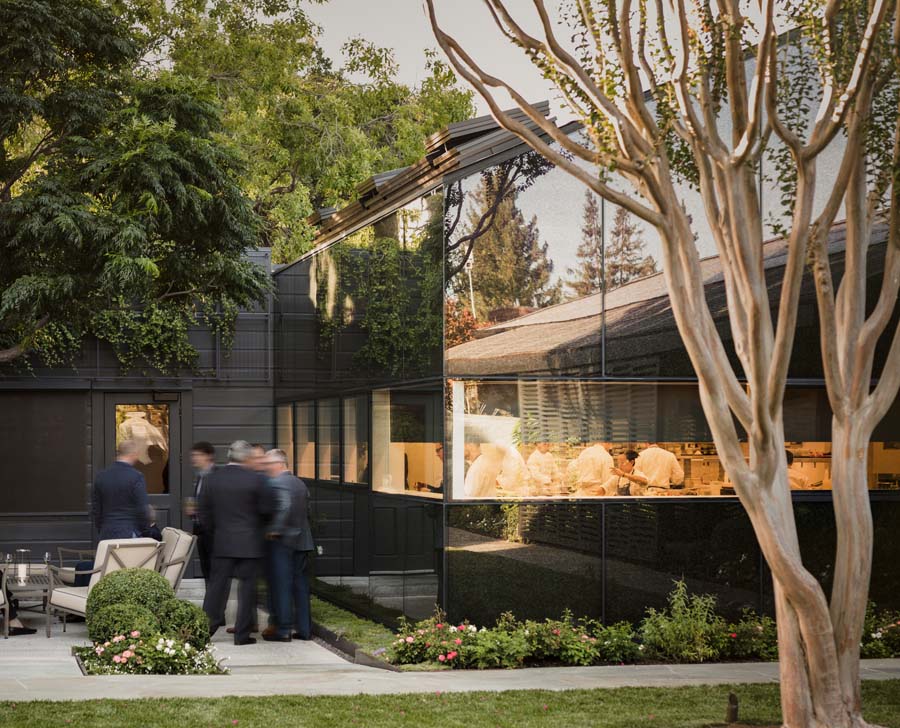 Chef, restaurateur, and perennial Michelin favorite, Thomas Keller, celebrates his customers as much as he lauds quality ingredients. "In the end," he writes on his website, "a great meal is not about the food and wine. A great meal is an emotional experience."
Dining at the French Laundry, perhaps Keller's most celebrated establishment, is certainly an all-embracing journey, from the moment diners step through its signature blue door, to the sumptuous amble through its tasting menu.
Of course, that magic emanates from the kitchen, and after more than 20 years, the French Laundry was overdue for an overhaul. So the Yountville, California–based restaurant tapped the architects at Snøhetta to rethink its cooking and courtyard spaces. The renovation, according to the firm, aimed to set "a stage for cuisine that ignites the senses."
---
More from Metropolis
---
Snøhetta, working with California office Envelope A+D, first looked to the origin of the French Laundry's ingredients—the land. In particular, the architects took cues from pitched agrarian buildings when designing an expanded kitchen and a 2,450-square-foot annex for housing food prep areas, administration offices, and a 15,000-bottle wine cellar. For these volumes, the firm juxtaposed velvety, charred wood cladding with gleaming fritted glass covered in a frenetic green pattern inspired by, according to Snøhotta, "the motions of chefs' hands at work."
If the French Laundry's renewed exterior embraces metaphor, its interior emphasizes efficiency; Snøhetta spent hours carefully observing Keller and his chefs in order to best facilitate the "complex choreography of the kitchen," according to the firm.
Though the 2,000-square-foot kitchen is now 25 percent larger, Snøhetta's biggest move here is an undulating, sculptural ceiling, reminiscent of a billowing tablecloth. This element—complete with puckers and folds—takes the appearance of stretched fabric, but is actually made from gypsum fiber-reinforced panels that conceal mechanicals and temper noise from the bustling  activity below.
The kitchen was designed to maximize productivity, but there are also moments of respite for Keller's team. Beneath skylights, the designers placed a series of custom pass-tables (their edges are concave to clear the aisles), where dishes are handed off to the servers. "Here," the firm writes, "Chef Keller can share a calm conversation with his team amidst the commotion and bustle of the kitchen."
Outside, diners get a sneak peek into this animated scene before they even sit down to for the tasting menu. A ribbon of windows allows visitors to get a view of the action from within the revamped courtyard.
Snøhetta reconceived the outdoor spaces, all framed by a rustic basalt wall, as a series of garden "thresholds" that leads visitors through a grove of Japanese maples. Flexible outdoor areas, such as a manicured lawn, and intimate gathering nooks, are meant to accommodate events and al fresco dining.
All told, says Snøhetta, such spaces are "providing the visitor with a continuing sense of discovery as they move from space to space."
You might also like, "Rockwell Group Designs an 'Urban Resort' in the Heart of Los Angeles."