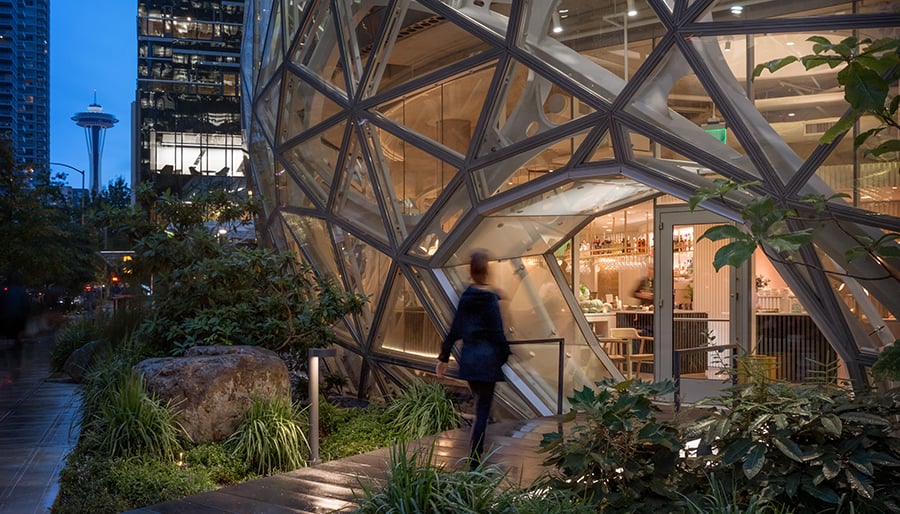 April 1, 2019
The Restaurant That Brings Whimsical Design to the Amazon Spheres
Willmott's Ghost, designed by Price Erickson and Heliotrope Architects, creates a space of lightness and ease that belies the technical challenges of building within The Spheres.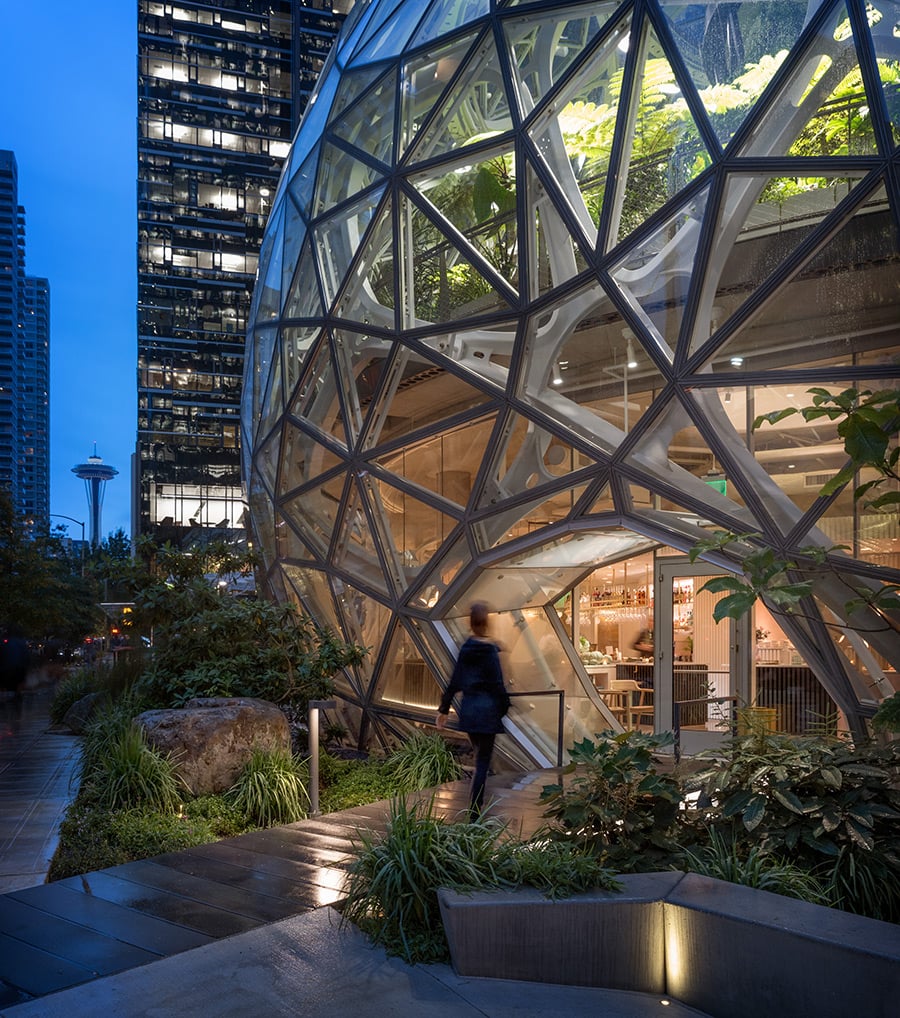 Walking into Seattle's new restaurant Willmott's Ghost feels like uncovering a secret. The sensation is fitting once you know the origins of its namesake: a silver, thistle-like flower named after Victorian horticulturalist Ellen Willmott, who was known for secretly sowing its seeds in fellow gardeners' beds. But the restaurant's unusual location also contributes to its atmosphere: Occupying a crescent-shaped space, it stretches along an edge of The Spheres, Amazon's cluster of four-story, glass-paneled orbs that also house workstations and a massive conservatory of more than 10,000 plants.
The Spheres, a showstopping centerpiece designed by NBBJ for the company's corporate headquarters in downtown Seattle, opened for Amazon employees in January 2018, but this past October, Willmott's Ghost became the complex's second space available to the public. Despite occupying a mere 1,900 square feet, with 49 seats inside and an additional 22 on a seasonal patio, the restaurant is already creating a name for itself. The kitchen serves modern Italian cuisine and is part of a local empire owned by Pacific Northwest chef Renee Erickson and her group Sea Creatures. A collaboration between Erickson's interior design group Price Erickson and Heliotrope Architects, the restaurant received major accolades last week, including being named a finalist for a James Beard Award in Outstanding Restaurant Design.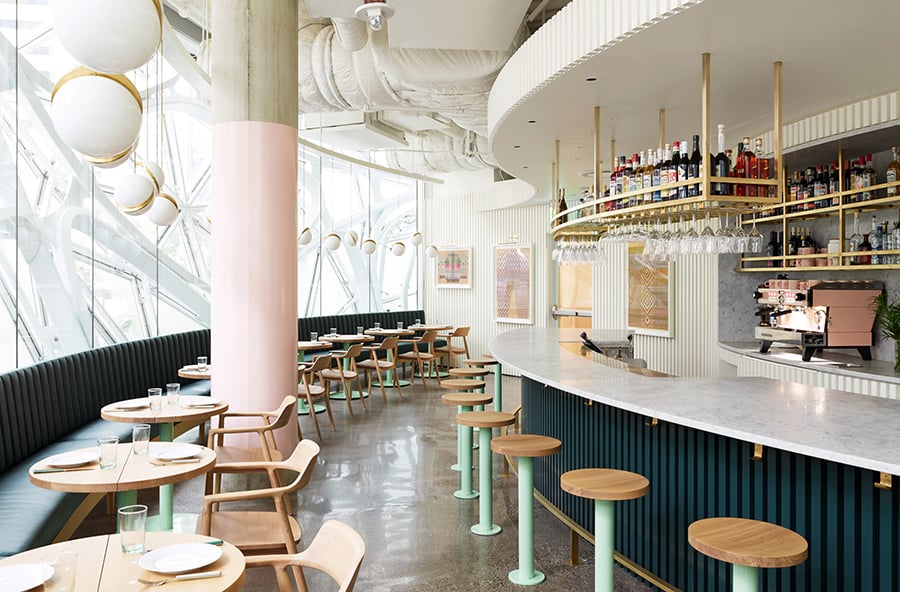 Approached from the street, Willmott's Ghost's glass portal tucks so neatly into The Spheres' webbed armature that it's tempting to pause before opening the door and wonder if you're in the right place. Upon entering, all worries are dispensed by the airy dining space, where curves abound and servers' faces glow from behind a pink podium topped with a domed brass table lamp. A palette of custom rose tile by Ann Sacks, dark turquoise-painted wood pickets, marble tabletops, and mint accents clearly aims to create Instagram-ready design, but the restaurant's whimsical lightness is intoxicating. It's hard to resist perching atop a white oak barstool and watch through the open kitchen as cooks slide the Roman-style pizza al taglio into a Wood Stone oven.
---
More from Metropolis
---
But the greatest achievements of Willmott's Ghost's design may be the parts that go unseen. In stark contrast to the comfort the space instills among its diners, realizing its design was a logistical feat that Mike Mora, principal at Heliotrope Architects, likened to building a ship in a bottle. "The mechanical system that runs The Spheres' atmosphere was directly below our space, the plants were directly above, and we had two small doors to bring everything through. And, everything was curved," Mora explained. "The problem with curves, as opposed to an orthogonal layout, is as you work closer to the center of the sphere, everything becomes tighter." This condition made fitting the large, angular kitchen equipment a task that required an unusually high level of precision. The complex processes the team undertook involved scanning the kitchen to precise measurements, creating a detailed three-dimensional model, and templating and laying out every piece of casework and cabinetry—down to individual MDF sheets and pickets—on the space's floor prior to building the cabinetry and walls.
"One of the best things about this project was the great group of people who came together to collaborate under really stressful circumstances," said Mora. In a clear sign of their success, stress seems to have vanished from Willmott's Ghost these days, where deciding how to cut a square of pizza appears to be the most pressing design question.
You may also enjoy "Bestor Architecture Designs 'Luxurious Informality' at Pizzeria Near Santa Barbara."
Would you like to comment on this article? Send your thoughts to: [email protected]