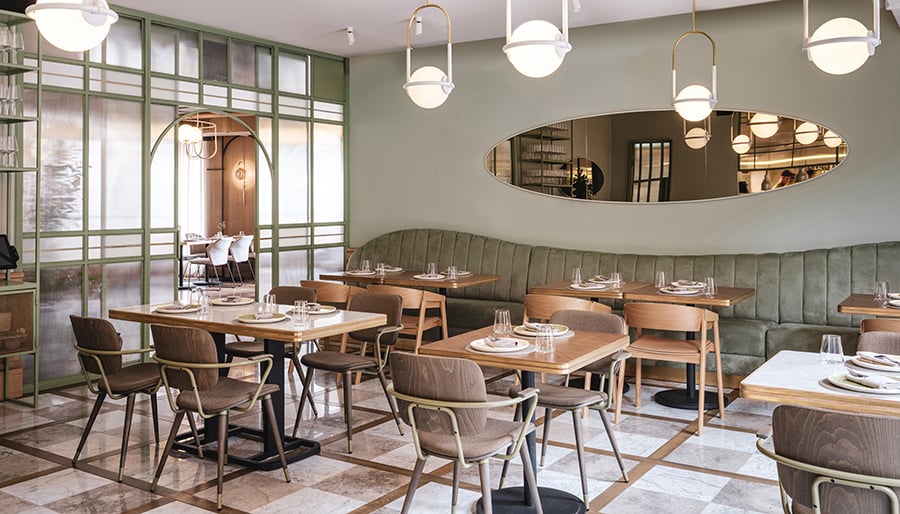 September 3, 2019
The Y Restaurant in Moscow Channels Retro and Contemporary, Global and Local
The venue, designed by Asthetíque Group, combines Art Deco curves and '70s brass elements with a playful spirit.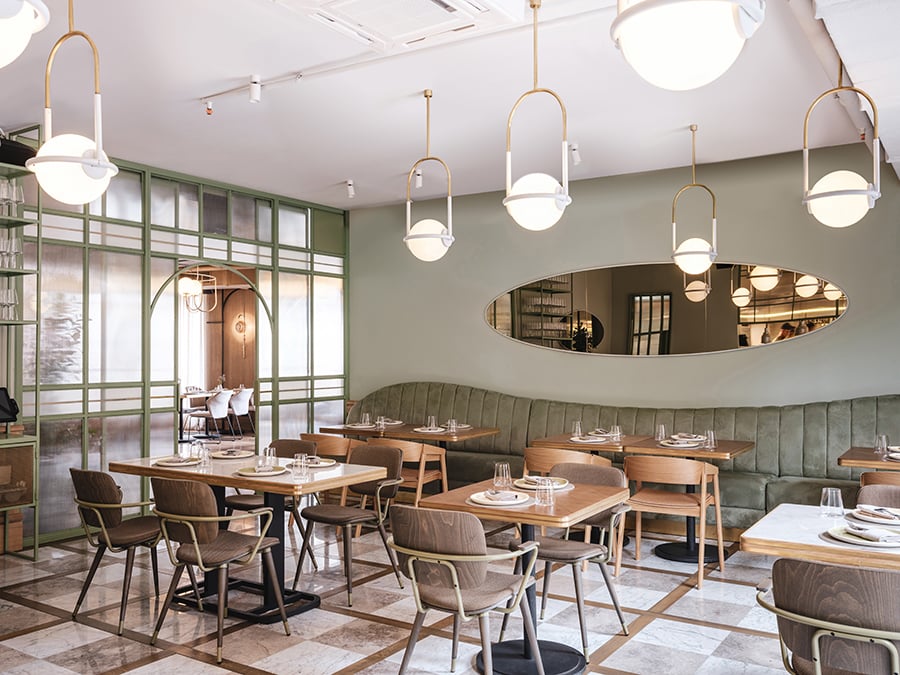 For Kira Baybakova, entrepreneur and owner of The Y restaurant in Moscow, tapping into the creative talents of a New York–based design firm with a local office proved fruitful and productive. The recently opened 10,000-square-foot venue—complete with a café and two restaurant spaces—occupies two floors at Barrin House, a new development in Moscow's central Khamovniki neighborhood. "We understand the demographic in the area, and we wanted to hit all those points," says Julien Albertini, founding partner of Asthetíque Group, which designed the new space. He describes the neighborhood as popular among the Moscovian yuppie crowd: "It's like the Upper West Side and East Side." (The Ralph Lauren Home and Foley & Cox–designed Noble Row townhomes are nearby, too.)
At The Y, Asthetíque's goal was to incorporate touchstones that merged past decades, blending Art Deco curves and '70s brass elements with current trends and a sense of Wes Anderson–inspired playfulness. The designers' backgrounds also figured into the plans: Albertini is from New York, while his business partner, Alina Pimkina, is from Moscow. "There's this yin and yang thing we try to input in all our designs," he says.
Albertini describes the ground floor of The Y as "non-pretentious and cozy," with both a café and casual restaurant and soon-to-be-completed children's playroom. On the second level, the design becomes "more sexy and sophisticated," he notes, with a generous private dining room and interiors awash in "darker, deeper tones."
---
More from Metropolis
---
Though the restaurant serves a globally-inflected cuisine from the Caucasus, Albertini explains that he aimed for a "total experience of the design and the aesthetic.… We wanted to stick to a strong design approach and make sure it's still somewhat universal." A wide range of European manufacturers and brands are represented, including &Tradition, Saba, and Mattiazzi. Albertini and Pimkina also used the commission as an opportunity to showcase Asthetíque Group's locally fabricated lighting.
Plant-themed artwork integrated within the restaurant and café, coupled with glam moments distributed throughout, bolsters the space's international appeal. A custom painting with sage and brush motifs greets diners, while a wall in the café is adorned with a German-made liquid-brass material that Asthetíque modified with unique patina and gradient effects. The stairwell is adorned with more botanical imagery that corresponds to a standalone piece mounted above one of the upstairs banquettes. The Y is also filled with many actual, living plants to "make it feel a little more residential and cozy," Albertini says. "When you have all these hard materials—marble tables, plaster walls, wood floors—you need something that's organic to soften the palette."
With a sumptuous diversity of spaces paired with culinary ambitions, The Y is primed to play host to endless, diverse visits, Albertini says: "Every time you come it's a different experience and it drives the desire to come back."
You may also enjoy "In Chicago, the Luxe Boutique Notre Shakes Up the Retail Typology."
Would you like to comment on this article? Send your thoughts to: [email protected]