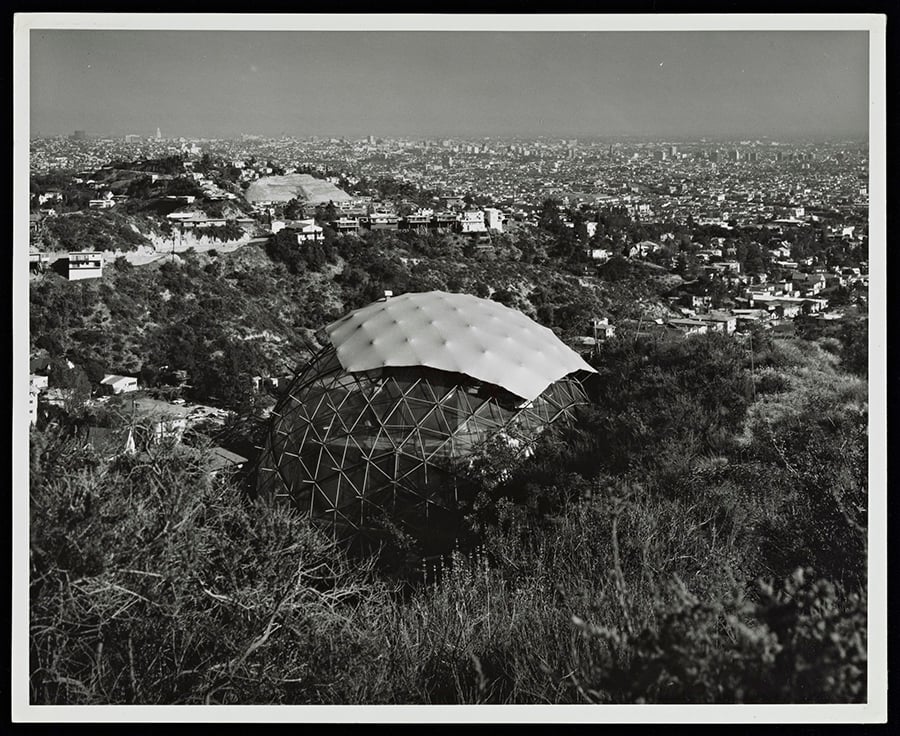 December 22, 2021
Bernard Judge, 1931-2021
Among the many architects and designers our community lost this year—including Richard Rogers, Helmut Jahn, Paulo Mendes da Rocha, and Virgil Abloh—was Bernard Judge, the Los Angeles architect whose Mylar-sheathed geodesic dome house pinned to a ridgetop in the Hollywood Hills became a symbol of jet-age L.A. Judge died in his sleep last month at age 90. His peripatetic upbringing abroad and four-year stint in the U.S. Navy Seabees in North Africa shaped his lifelong commitment to architecture that cross-pollinated Buckminster Fuller-inspired spaceframes with notions of living lightly on the land. He believed that industrial design amalgamated to the vernacular could produce livable, inexpensive housing for all.
Judge's widow, Blaine Mallory, said "his work was not about grandiose spaces. He wanted to have houses that fulfilled basic human needs, about having shelter, about being comfortable."
After leaving the Navy, Judge traveled around Europe and briefly enrolled at the École des Beaux-Arts before arriving in 1956 at the USC architecture school. While tinkering with geodesic dome designs with his teachers Calvin Straub and Conrad Buff, he met Fuller disciple Jeffrey Lindsay, who'd moved to Southern California to preach the geodesic gospel. Judge became convinced that the super-lightweight, structurally invincible dome was an ideal form of shelter.
On a ridiculously steep lot in Beachwood Canyon, with donated materials (including an entire dome from Lindsay and the free labor of his classmates, Judge soon started building his "Triponent House." The three components were: the skin of aluminum struts and Mylar, the mechanical core of bathroom and kitchen, and the remaining open space.
Life Magazine photographer Ralph Crane happened to be winding through the Hollywood Hills, on his way to shoot Aldous Huxley, when he saw the not-quite-completed dome clinging to a far hillside, its filigree frame stuck to the tawny incline like a giant tarantula. Crane's nighttime shot of Judge working atop the see-through metal cage, set against the "far-reaching carpet of Los Angeles lights," was published in a two-page color spread on June 20, 1960. The image, and the Dome House, instantly became, in the words of Herbert Weisskamp, "a point of orientation for our age." Several more images created by famed Los Angeles architectural photographer Julius Shulman helped further burn the home into the city's collective memory.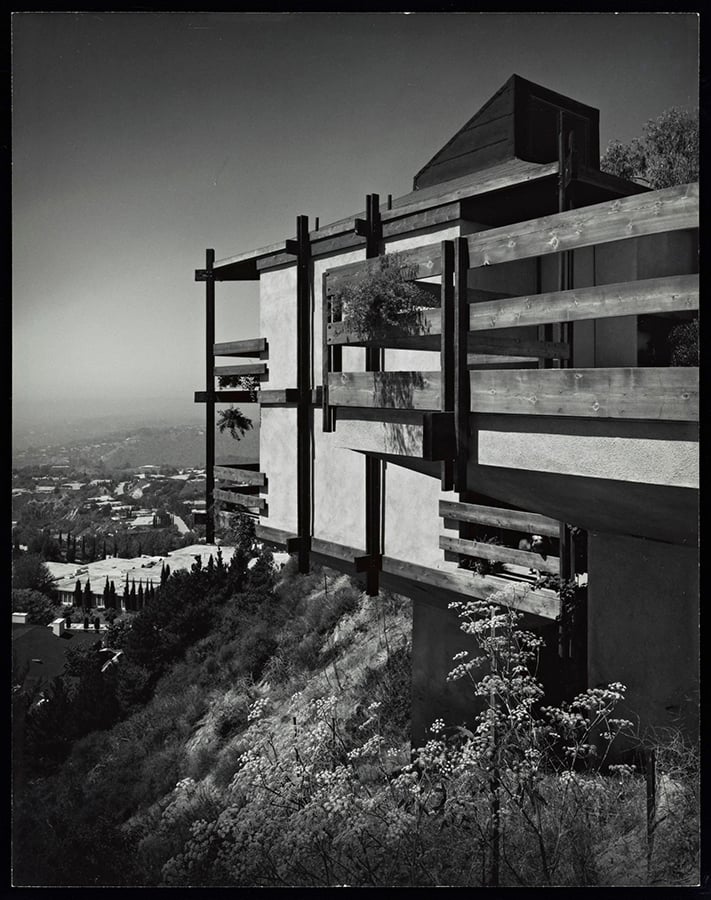 For Judge, the house was both less than and more than that: "Man should not have to spend most of his working life paying for the roof over his head. We have the industrial and technical potential to build low-cost houses that can be enriching and exciting experiences," he said in 1962.
Although he and his then-wife, ceramicist Dora De Larios, only lived in the dome for one year (the home was dismantled in 1977), the desire to build exceptional yet low-cost houses remained Judge's permanent ambition. Perhaps the closest he came was his AIA award-winning 1978 Tree House, where he lived for the past 43 years, until his death. The modest, if improbable, 1,300-square-foot home hovers 30 feet into the air on steel tubes sunk 20 feet into the bedrock of an impossibly steep ridgeline above L.A.'s Sunset Strip. The house took inspiration from a treehouse Judge saw in Kenya, supported on four massive limbs of a single tree. In his patent, awarded in 1979, Judge explained that the steel columns were the mainstays of a system of trusses that allowed the structure to expand, like spreading wings, from its artificial trunks.
The house was meant as a prototype that could be built anywhere, alone or in multiples. The trusses were modules just 12 feet wide that, he said, "can be safely and conveniently transported on a road or highway from fabrication factory or the like to the site of building, thereby minimizing expensive on-site work."
However, Mallory says, the Treehouse has remained "unique, singular. People have inquired about getting the plans to duplicate it. But nothing ever came of that."
Born June 9, 1931, in New York City to Helene Chatelain Judge, a painter and anthropologist, and Joseph Michael Judge, an architect and Dean of Architecture at Penn State, Judge grew up in Fontainbleau, France, Managua, Nicaragua, and Mexico City. After high school, he got a draftsman's job working with New York architects Harrison and Abramovitz on the United Nations building.
After leaving Dome House, Judge travelled for a year, and upon returning published an ad seeking living space which, wondrously, was answered by architect Rudolph Schindler's former wife[G1] Pauline Schindler – still living in Schindler's groundbreaking Kings Road home. "I advertised that I wanted to live in a garden atmosphere in the middle of the city," Judge told the L.A. Times in 1980. Pauline Schindler said, "'I have what you want if I like your work.' She did." Judge lived and then worked in the home for much of the 1960s, and was instrumental in saving the Schindler House from the wrecking ball.
In the 1970s, he began a decades-long project for Marlon Brando to build an ecologically-sustainable resort on the tiny Tahitian atoll of Tetiaroa. But the atoll was far too environmentally fragile to support Brando's dream, and most of Judge's plans were never realized. In 2011, Judge published Waltzing with Brando: Planning a Paradise in Tahiti, his account of the effort.
In addition to Mallory, his wife of 21 years, Judge is survived by his daughter, Sabrina Judge; second wife, Ulrike Zillner; a stepson; and two grandchildren.
Would you like to comment on this article? Send your thoughts to: [email protected]