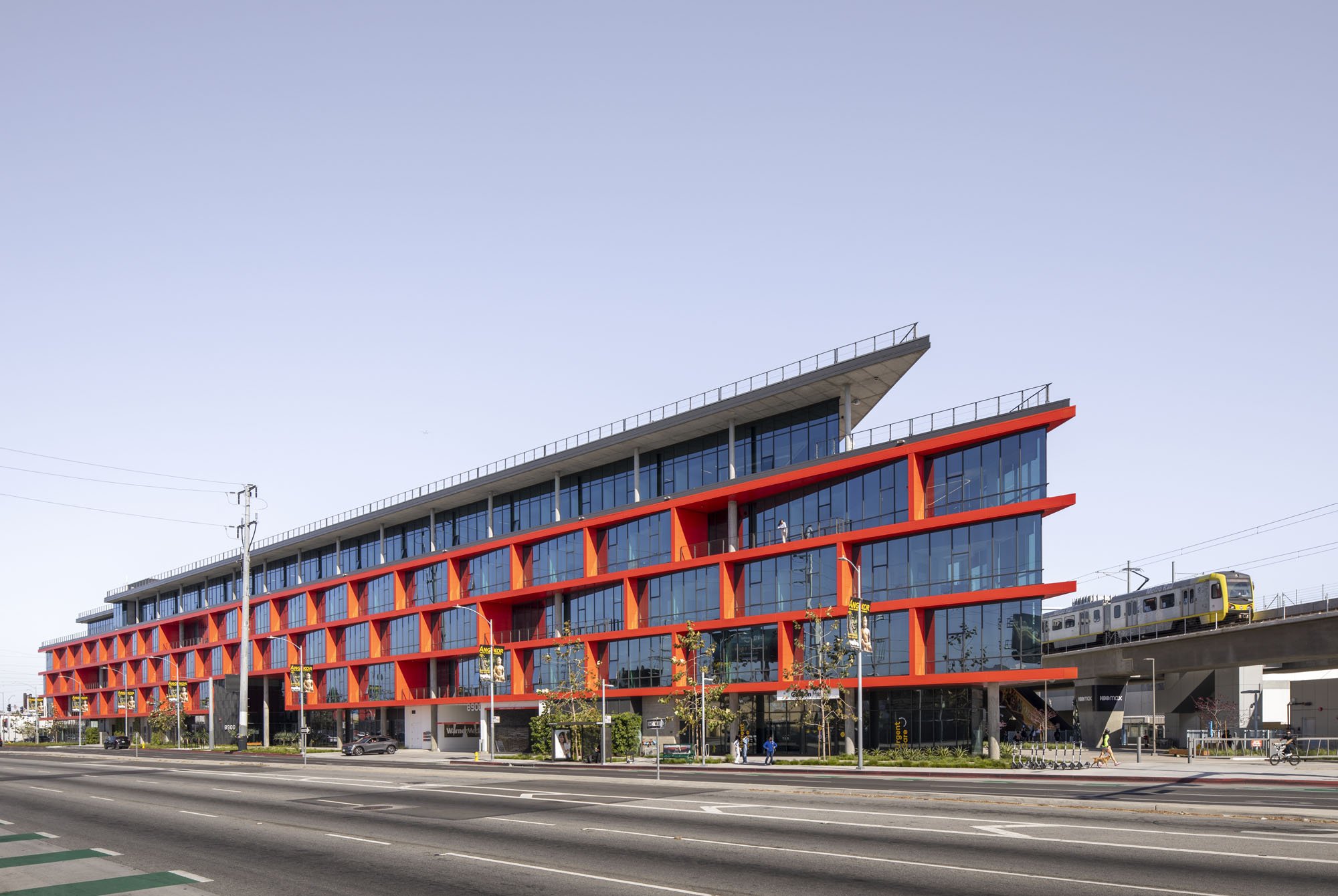 March 20, 2023
Can the Tech Industry Learn to Be a Good Neighbor?
When you climb the steep steps of Culver City, California's new light rail stop, and look across the wide, gritty thoroughfares of Venice, National, Washington, and Robertson Boulevards, it's hard not to notice that the trains are, at most hours, only about a quarter full. Despite its low ridership, the Metro Line station, with its wavy metallic canopies and surprisingly clean trains, has had a transformative impact on this small city just west of Los Angeles since opening in 2012, spawning an emphatic boom of transit-oriented developments, streetscape improvements, and overall energy.
Many nearby building sites have been scooped up by the world's richest and most powerful technology and entertainment companies, like Apple, Amazon, and Warner Bros. Discovery/ HBO, who have completed or are commencing significant new complexes within a few blocks of the Expo depot. Their structures give this once gritty, overlooked city (first called "Heart of Screenland thanks to its legendary movie studios, it later earned the nickname "Wheel Alley" for its tire and car offerings) some of the region's most striking new architecture; indicative of a culture that has matured into one of the world's dominant architectural patrons.
But counteracting negatives, like rising housing costs and a culture that has traditionally disrupted and turned its back on its communities, mean that whether their impact on the city will ultimately be a positive one remains to be seen. The fact is that Culver City is not alone; in urban areas from Seattle to Virginia, tech has become a development steamroller with a tendency to embrace its own interests over those of its new neighbors.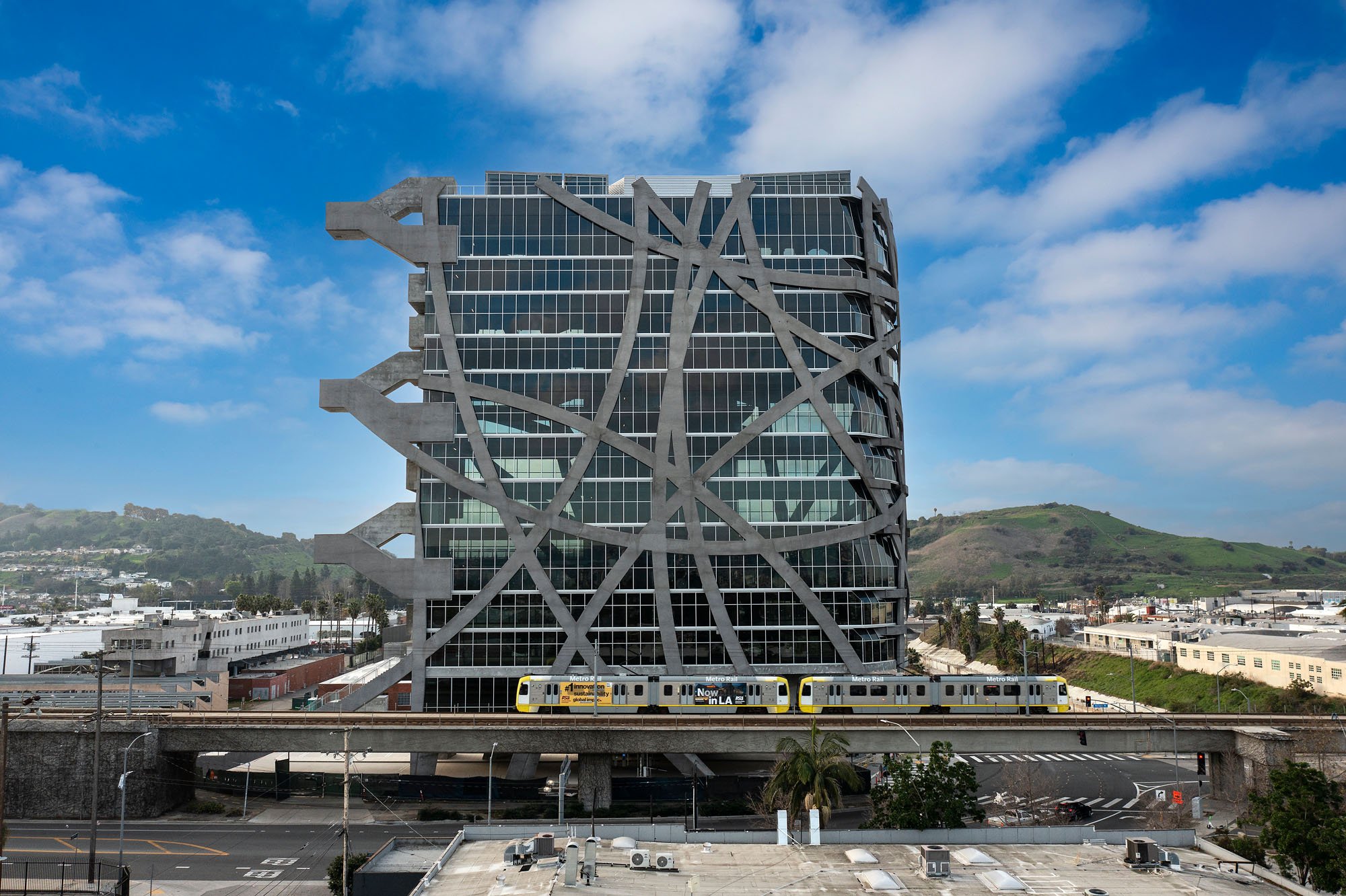 Culver City: from Film Strip to Architectural Funhouse
While Culver City has been a film town for more than a century—classics like King Kong, The Wizard of Oz, Gone With the Wind, Citizen Kane, and E.T. were all filmed here, among thousands more—it only recently became a tech hub; particularly as streaming has soared, and the lines between tech and entertainment have blurred. The same technology firms that are saturating "Silicon Beach" cities like Playa Vista, Venice, and Santa Monica have flocked to Culver City because of its illustrious history of entertainment production, its (relative) centrality, walkability, good schools, historic urban core, large and (until recently) affordable lots, and, yes, new transit offerings. The shift here is reminiscent of Silicon Valley's embrace of San Francisco and Oakland, in which employees yearned for "real" architecture, local amenities, and bustling, walkable streets rather than suburban strip malls and glass-and-concrete tilt ups.
"When you walk out the front door, you're in a pedestrian friendly environment, mingling with other creatives in a way you don't experience in suburbia," notes Michael White, principal and managing director at Gensler, an architecture firm that has designed several spaces for tech companies here.
More than 20 tech firms have taken up residence around the city in recent years. In addition to the newer transit-adjacent sites, many have decamped to Culver's downtown area or to existing developments like Eric Owen Moss and Samitaur Construct's architectural panoply at the Hayden Tract. Players range from interactive gaming company Scopely and on-demand electric vehicle firm Envoy Technologies to social media behemoth TikTok and the richest tech firm of all, Apple, which has taken space both in Hayden Tract and in their own Apple TV+ studios along Washington Boulevard.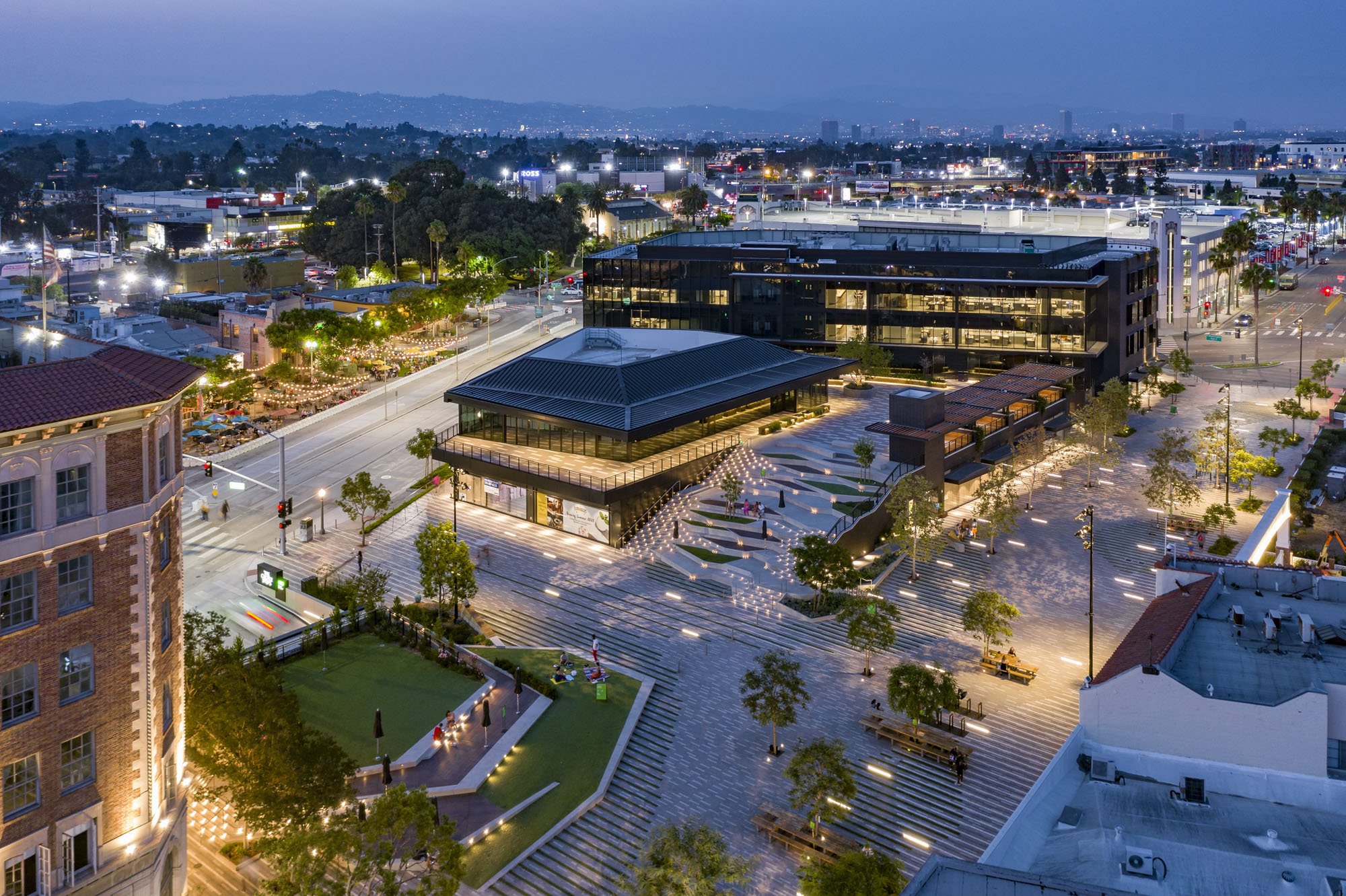 Amazon Studios Pays Homage to Silent Film
One of the first firms to build a major new complex within walking distance of the Expo Line stop was Amazon, which announced its move to—and $600 million update and expansion of— the historic Culver Studios into Amazon Studios in 2017. The next year it announced it was moving into an adjacent mixed-use development called The Culver Steps, which combines steel-edged offices and street-front stores with vibrant street level public spaces and a roof made up of a series of chiseled public steps. The success of the latter, designed by local firm EYRC Architects and developed by Hackman Capital Partners, helped (along with Platform, a vibrant collection of shops, restaurants, and pop-ups centered on a verdant alleyway down the street) kick off the city's transit-adjacent development blitz.
While the front of the historic Culver Studios is right across the street from the Culver Steps, the bulk of Amazon Studios are a block or so east, along Ince Boulevard, named for Culver Studios founder Thomas Ince. Designed by Gensler and developed by Hackman, Amazon's new spaces combine Old Hollywood with New Tech. About 413,000 square feet of space includes the renovation of Culver Studios' huge sound stages partnered with new sound-stage-sized-and-shaped offices clad in corrugated steel and lots and lots of glass. The design—inspired by early silent movie stages, which were clad in glass since they didn't need sound insulation—lets in superb natural light and feels fresh, spacious, and energizing. But unlike The Culver Steps, Amazon Studios—like their 1910s predecessor Culver Studios—are entirely self-contained. There are no street entrances, and you can't walk onto the property without inviting the concerned presence of a security guard.
Ivy Station and Culver City's New Urban Amenities
Just a couple of blocks east, across Washington street from Platform, is Ivy Station, a new 500,000-square-foot, mixed-use complex developed by Lowe, Rockwood capital, and AECOM-Canyon Partners and designed by a team of architects and landscape architects including EYRC, KFA, and Melendrez. Ivy Station contains Warner's offices as well as apartments, shops, cafes, and the beautiful-people-filled Shay Hotel. While it's a little difficult to find behind tall, intimidating street-facing masses, the complex's highlight—besides its active, urbane mix of uses—is its internal courtyard. On a recent Tuesday, families of all types were lounging on its grass, setting up picnics, sitting at tables, playing cornhole, and basking in what has become a great urban tableau, punctuated by the Expo Line, which floats above like a dreamy monorail in a futuristic utopia.
While its hospitality interiors—especially Equator Coffees, Etta, and The Shay—are dazzling, much of Ivy Station's architecture feels formulaic; a kit of manufactured parts and panels employed in most mixed-use developments around the country. The exception is EYRC's offices for Warner. Perched along Venice Boulevard—not normally a pedestrian friendly expanse—the building's lively, Ferrari-red sawtooth facade allows for plenty of light inside, but not harsh afternoon sun, and is fronted by succulent landscaping and storefronts.
"We really wanted to make a statement that this is the metro station in Culver City—you've arrived," noted EYRC partner Patricia Rhee. "It makes an impression on someone driving in a car, someone on metro rail, and you can even see it from the freeway." Along the EYRC component's south edge, roll-up doors and large balconies connect comfortably with Ivy Station's inner park.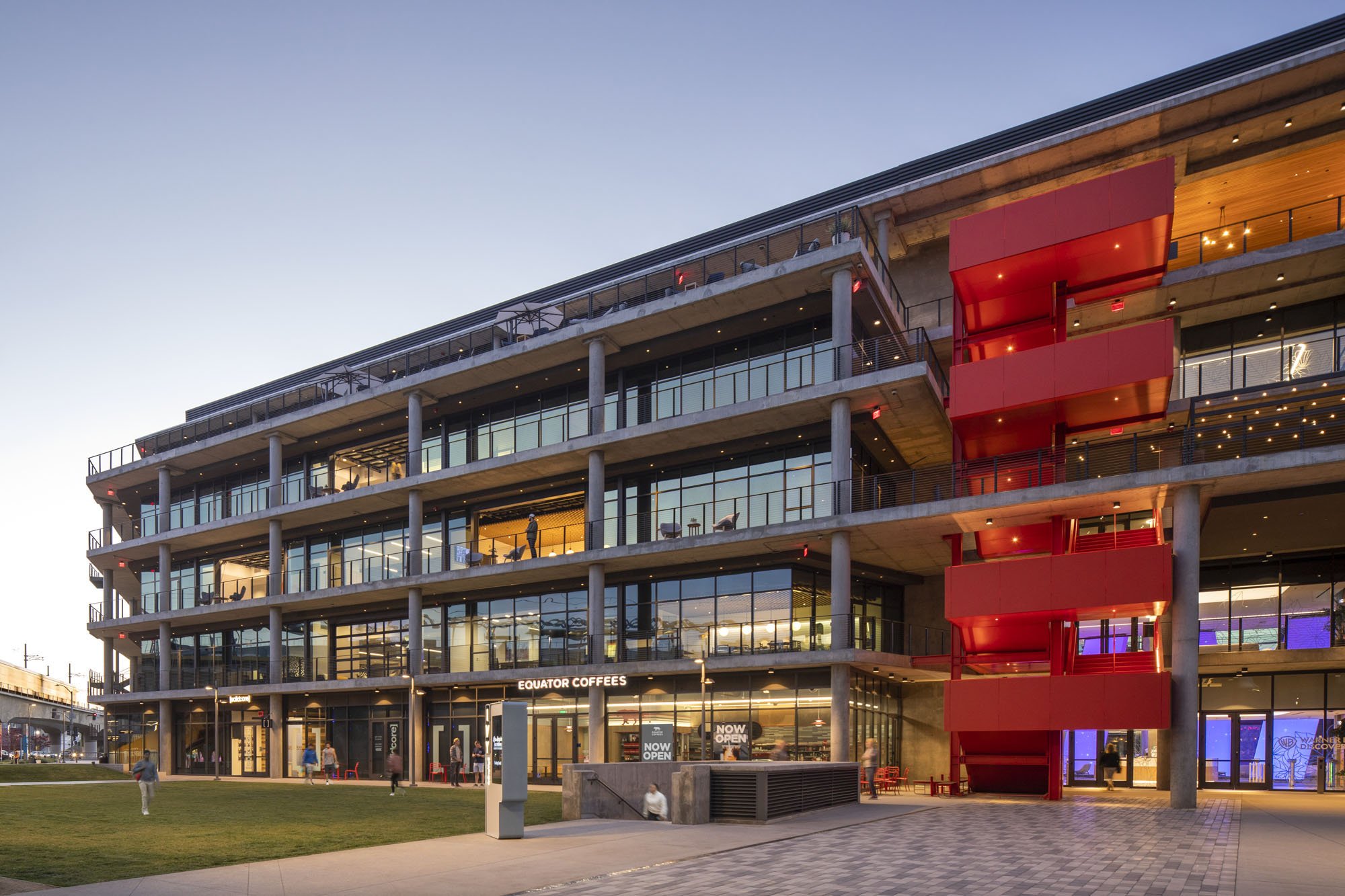 Apple's Culver Crossings and Community Concerns
Just across National from Ivy Station—sandwiched on its far end by Helms Bakery District—is a nondescript former industrial space straddling Culver City and Los Angeles that is set to become the Southern California headquarters of Apple. Late last year the tech giant (along with developer Trammell Crow and—again—Gensler), received the go-ahead to build its 4.5-acre, 536,000-square-foot Culver Crossings campus, featuring 4- and 5-story buildings edging the surrounding streets with deep overhangs (11.5 feet to be exact), warm bronze and wood finishes, a large private courtyard, and large windows. Like Warner, Apple plans to provide green space along its street edges, including hundreds of plants and colonnades of trees.
The building draws loosely on Culver City's modern and Deco traditions and more vigorously on Apple's own high-tech, detail-obsessed template. With its glass facade, deep projections, and lush central courtyard, you could say this is a square version of the company's donut-shaped Apple Park in Cupertino. It's expected to be LEED Gold equivalent and utilize 100 percent renewable energy sources, and in a concession to the public realm, Apple is preparing Washington Parklet, a 7,120-square-foot, landscaped public space set in from Washington Boulevard featuring greenspace, public seating, and "community uses" that haven't yet been defined.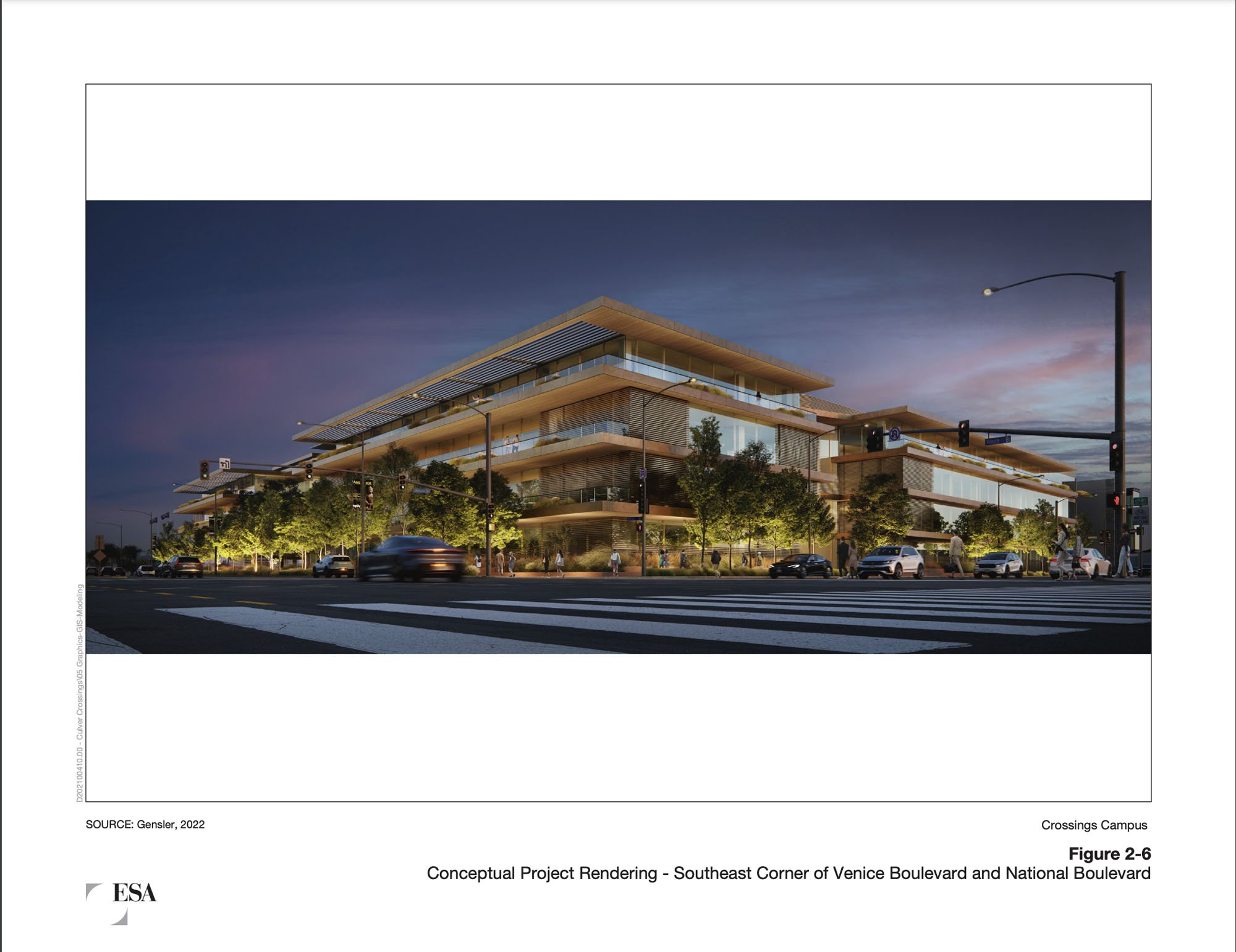 But outside that parklet, Apple's willingness to interact with the community at large is limited. Despite pleas from community members, which were particularly loud at a recent council meeting, its offices contain no street-activating storefront spaces and no housing to help offset the inevitable disruption to Culver City's badly stretched stock, though either would be allowed under current zoning. And here lies the San Andreas-sized fault with most of this new development. Despite its quality, and obvious benefits to local tax rolls, job seekers, construction companies, and Culver City's architectural pedigree, big tech remains ambivalent toward its surroundings. While keeping computer code or box office offerings protected is essential to these businesses, that kind of protective stance does not work in the urban realm.
Several more completed or planned tech offices in the area, like Gensler's sawtooth-roofed 3855 Watseka, or that firm's C3 (an airy complex connected by exterior steel stairs, bridges, and outdoor plazas in an office park setting), Ambramson Architects' intricately patterned Brick and the Machine, and Shubin Donaldson's green-filled and intricately staggered 9925 Jefferson Boulevard are all gorgeous, sun-filled places that will surely be excellent to work in. But similarly, they provide few public amenities such as retail, park space, or housing.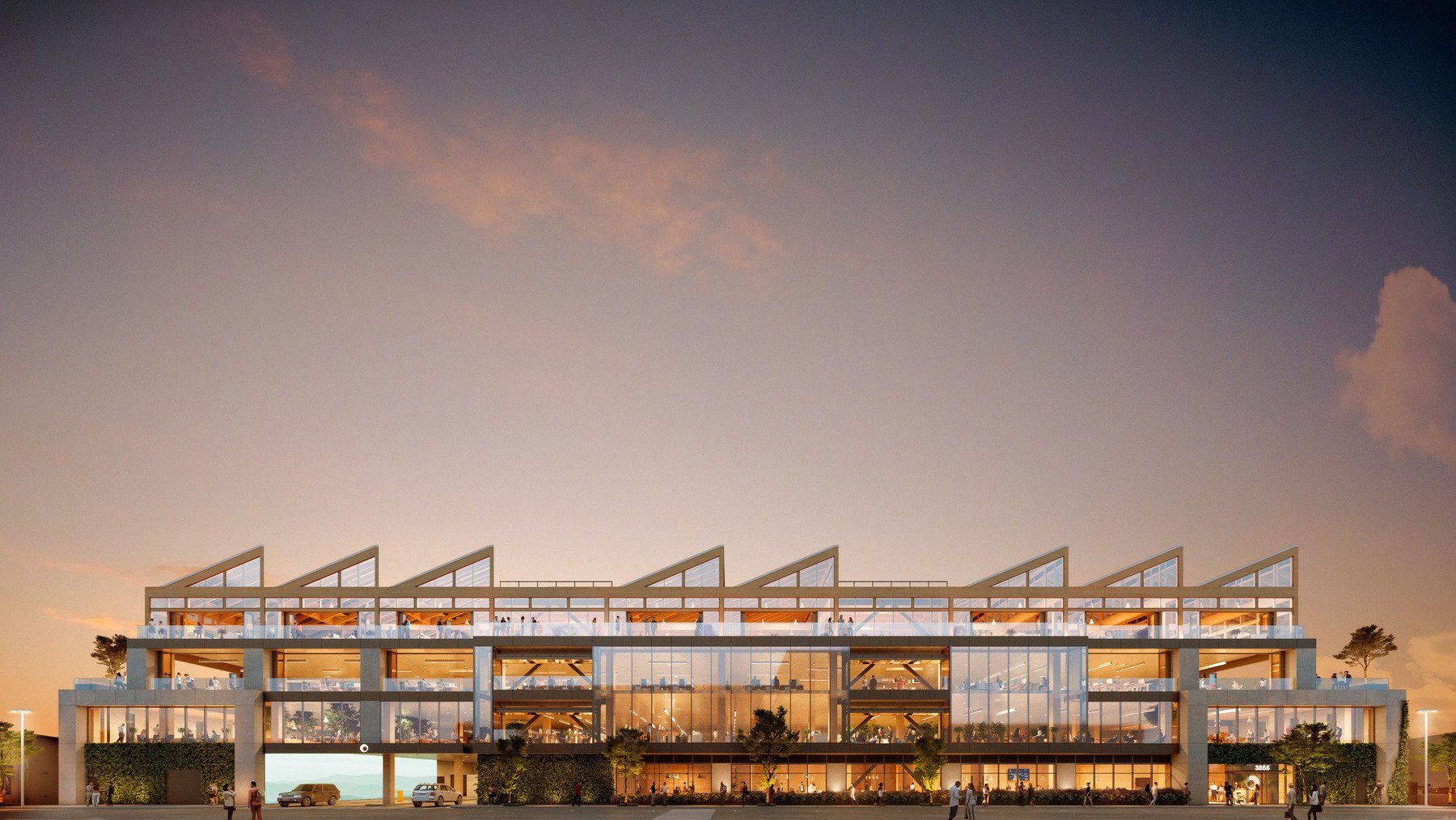 Why Can't Tech Companies Be Good Neighbors?
Gensler's White notes that while security concerns are real, tech companies "don't want to be hermetically sealed entities with no interaction with the community." Most, he notes, now encourage employees to engage with local restaurants and cafés rather than getting all meals internally, for instance. There are important distinctions between the new crop of Culver City offices and the companies' Silicon Valley campuses. Apple provides local shuttles as well as stipends to promote biking and local transit use instead of exacerbating local traffic, and the company's campus is intentionally set to street line rather than being set way back, like a traditional tech campus, while Amazon's public engagement is focused on the Culver Steps.
But it's clear that they're not going far enough. And Culver City, so far, has not stood up to these deep-pocketed companies to make sure that changes. "Apple has really strong privacy policies, which make a lot of sense and could affect their bottom line," said just-departed mayor Daniel Lee, reiterating why housing and retail weren't feasible at Culver Crossings. "This is fairly consistent with what they do around the country. Usually, their campuses are a bit more detached from normal commercial areas. They're more like college campuses that are self-contained." He added: "Most of our hands were tied. We could have rejected it outright, but we would have had to have had really strong reasons to do so."
Tech's Impact on the Housing Crisis
Lee added that Apple has a strong record of supporting affordable housing, investing more than $1 billion in California alone toward programs and projects, including one affordable housing project in Culver City that can't be announced until it becomes official. Lee said he had not heard of similar local investments from Amazon, but the company does operate a Housing Equity Fund, which provides more than $2 billion in loans and grants countrywide to preserve or create affordable homes in the communities where it works.
And while Ivy Station is in fact contributing to local housing stock and street life, its apartments are by no means affordable. Out of 200 units, only 15 percent (the minimum required for mixed use developments by Culver City) are affordable. Outside that, studios start at over $3,000 per month, with two-bedroom apartments topping out at over $7,000 per month. Lee, for one, thinks this falls woefully short.
"I believe that if we are building housing near accessible transit, near metro stations, the majority of that housing should be affordable" he said.
While it could go much further, the city, added Lee, is working aggressively to counteract the sharp rise in housing costs, taking measures like eliminating single family zoning, capping rent increases in its rent control program, awarding density bonuses for housing, encouraging ADUs and lot splits, and complying with state mandates to add new housing units. But given tech's record in San Francisco, Seattle, and even Silicon Beach, this may not enough. Already housing costs are ticking upward, while several businesses have either recently closed or left, including art galleries, restaurants, and architecture firms, not to mention big names like Sweetgreen and the NFL.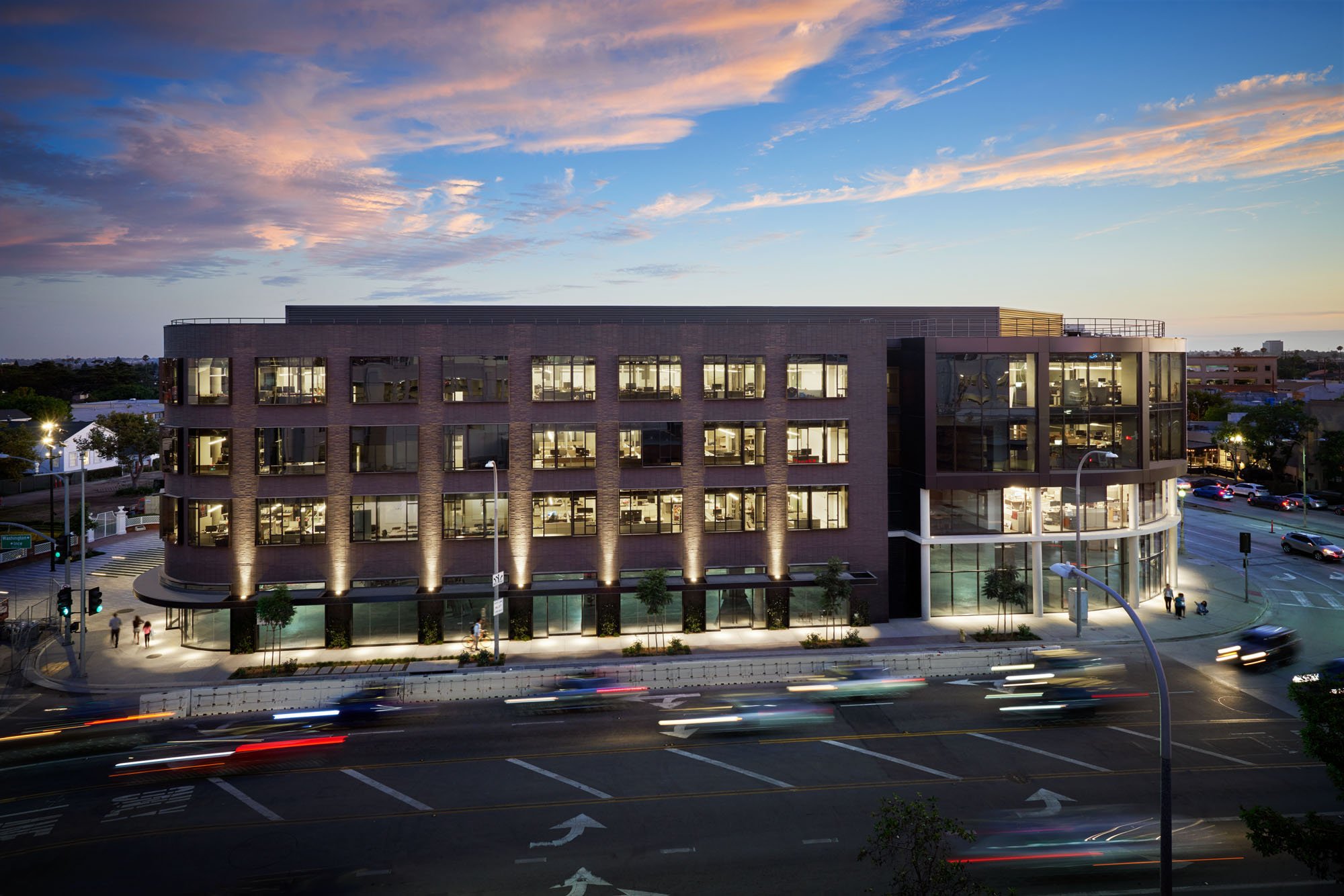 Asking Tech for More
Incoming City Council member Dan O'Brien hopes to push large companies like Apple and Amazon even harder to extract community benefits. "That's an area where I want to lean in and create partnerships in making the city a more livable place for all," he says. I'll take a cue from my daughter who's not afraid to ask for anything. If you don't ask, you don't know."
Apple is the most highly valued company in the world: Its market capitalization is currently $2.7 trillion (with a T), while Amazon's is $921.72 billion. Asking for more—be it more active street presence, community amenities, housing, surrounding infrastructure, etc.—shouldn't be a question. Every major new development is an opportunity to make an active urban space and to create a more equitable, dynamic city. So, Culver City, Los Angeles at large, and most major cities in America needs to make a choice: Do we want to let tech dictate what they will build? Or do we want work with tech to create real urbanity?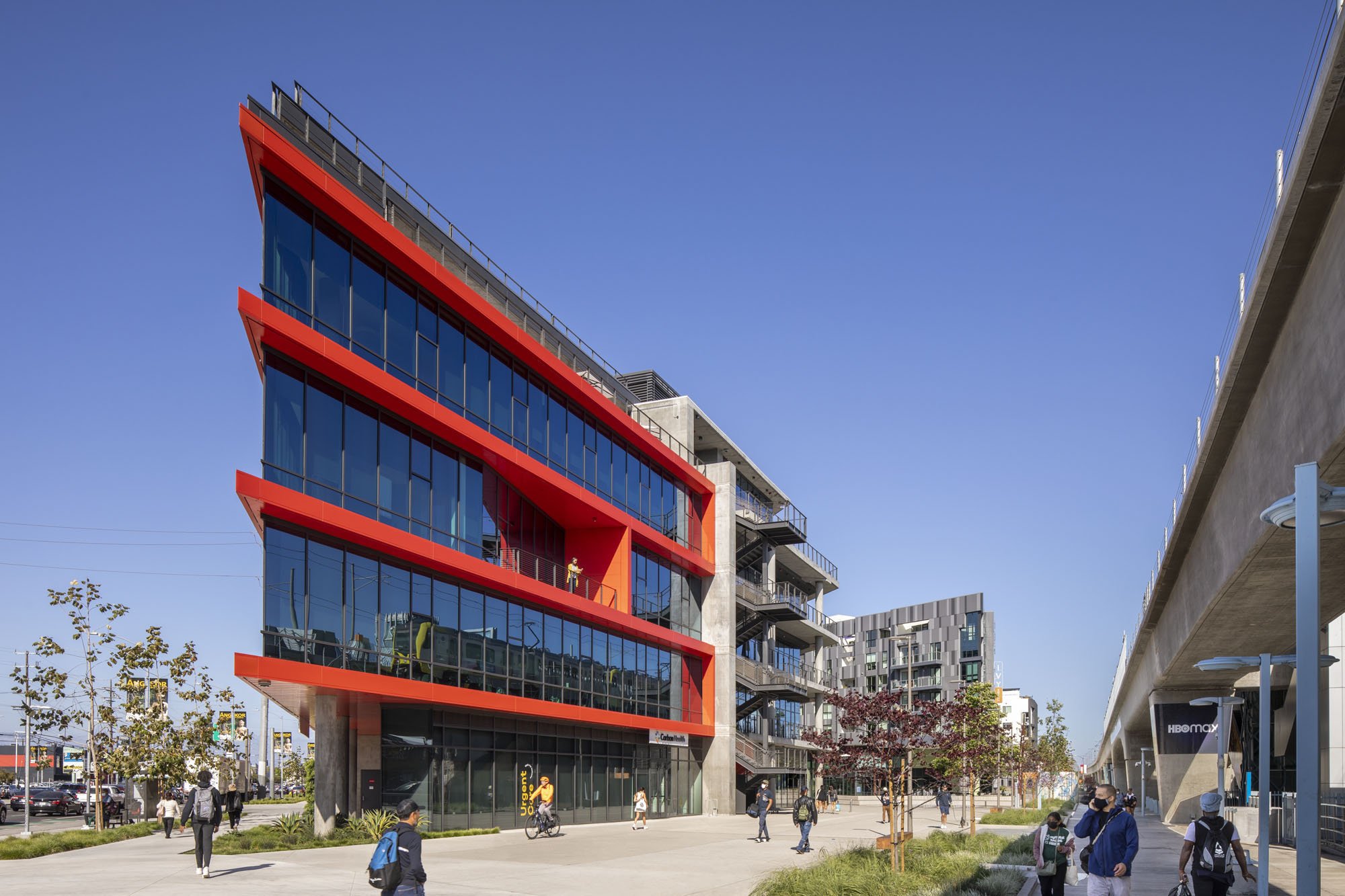 Would you like to comment on this article? Send your thoughts to: [email protected]