The Best Tools for Creating Equity in Design Firms
A crucial first step in achieving equitable design is having a project team whose professionals have the lived experience key to recognizing and addressing instances of inequity. That means diversifying staff, project partners, vendors, and consultants in ways third-party experts would validate. "The elephant in the room is underrepresentation of marginalized people in our industry," says SmithGroup vice president and national design director Dayton Schroeter, who insists even firms that consider themselves progressive have room for improvement. For example, "we see progress on gender equity, but still have a long way to go on black professionals," he says. For firms starting from scratch —those either too small to afford staffing up or nursing a gap in their professional networks due to a legacy of exclusion— directories, best practice tips, and handbooks developed by organizations they already know can serve as something of a team-building starter kit.
Scroll down for a list of resources or consult the full Metropolis Design for Equity Primer.
---
Equitable Communities Resource
Organization: American Institute of Architects
Type: Handbook
Embedded in this collection of reports about how and why architects are responsible for equitable design outcomes is a unit titled Application: Within Practice, which explains that the first step to equitable projects is learning to cultivate equity and intentionality in-house among staff and teams. The full resource, complete with strategies, is downloadable for free from the AIA website.
"Many firms seek to create equitable outcomes through pro bono activities. It is also important to recognize the potential for these types of activities to do harm. Pro bono efforts can displace BIPOC-owned firms or community-aligned firms that are already working in a neighborhood.
"Another historic shortfall is the damaging effect of firms offering help to communities without the cultural competency to connect well, to understand perspectives being shared, or to address the complex challenges of inequity.
"In those cases where there is no potential displacement of BIPOC-owned or community-aligned firms and there is strong intercultural competence and demographic diversity within the team, volunteer efforts can have positive social impact. . ."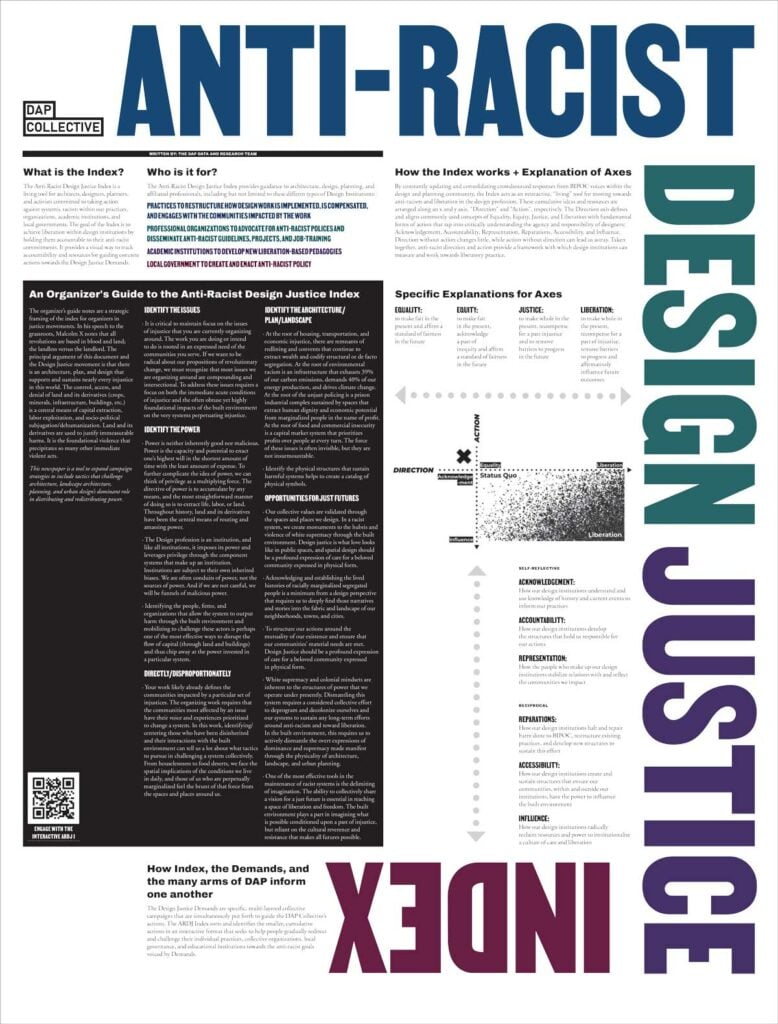 Anti-Racist Design Justice Index
Organization: Design As Protest Collective
Type: Measurement tool
To clarify for teams what is and isn't an equitable practice, Design as Protest, a collective of BIPOC pros maintains an index of preferred inhouse moves they support, grouped by the nature of the action (such as accountability or reparations) and quantified by its potential impact for people ranging from "equality" to "liberation." The same information is visualized in a grid created by the two intersecting axes of direction and action for guidance at a glance.
"If we want to be radical about our propositions of revolutionary change, we must recognize that most issues we are organizing around are compounding and intersectional. To address these issues requires a focus on both the immediate acute conditions of injustice and the often obtuse yet highly foundational impacts of the built environment on the very systems perpetuating injustice."
AIA Guides for Equitable Practice
Organization: American Institute of Architects
Type: Guide
As part of the American Institute of Architects' overall commitment to diversifying the profession, the organization developed a dozen guides to help firms achieve meaningful changes in such areas as Workplace Culture, Compensation, Recruitment and Retention, and Equity in Architectural Education. Each guide acts as a whitepaper full of evidence-backed research on the components of equitable practice provided by the Universities of Washington and Minnesota in partnership with AIA's Equity and the Future of Architecture Committee. All are downloadable for free from the AIA website.
"Each chapter includes real-world-derived best practices, relevant research, and other tools to help you address a variety of employment and personnel issues about equity, diversity, and inclusion. Each guide begins with a baseline explanation of its topic, conveying the knowledge and language required to have meaningful conversations with individuals at any level of your firm. The user-friendly layout and short, consumable sections are designed so you can find the content you need easily and quickly.
"These guides will help you make the business and professional case for ensuring that your organization meets the career development, professional environment, and cultural awareness expectations of current and future employees and clients."
Directory of African American Architects
Organization: Bradford C. Grant, Dennis A. Mann, National Organization of Minority Architects
Type: Directory
Large and medium-sized firms can easily partner with Black-owned firms by searching this free, state-by-state listing of licensed architects. It was published originally in print by Bradford C. Grant, professor of architecture at Howard University, and Dennis A. Mann, professor emeritus at the University of Cincinnati, which maintained an online version as a public service until the National Organization of Minority Architects began hosting it in 2021. The list, which continues to expand, is searchable by architects' surnames in every state, the U.S. Virgin Islands, and the District of Columbia. An expanded digital database is being developed to add demographic information on BIPOC architects and restore information on Black architects working in landscaping and academia who were included in the original printed version.
"The Directory of African American Architects is maintained as a public service to promote an awareness of who African American Architects are and where they are located. The sole qualification for listing is licensure in one of the fifty U.S. jurisdictions and their territories."

The Metropolis Design for Equity Primer was produced in partnership with Humanscale, Mohawk, and Wolf-Gordon, with the participation of Cannon Design, Gensler, Highgate, HKS, HOK, JLL, Perkins&Will, Salesforce, SmithGroup, and ZGF.
---