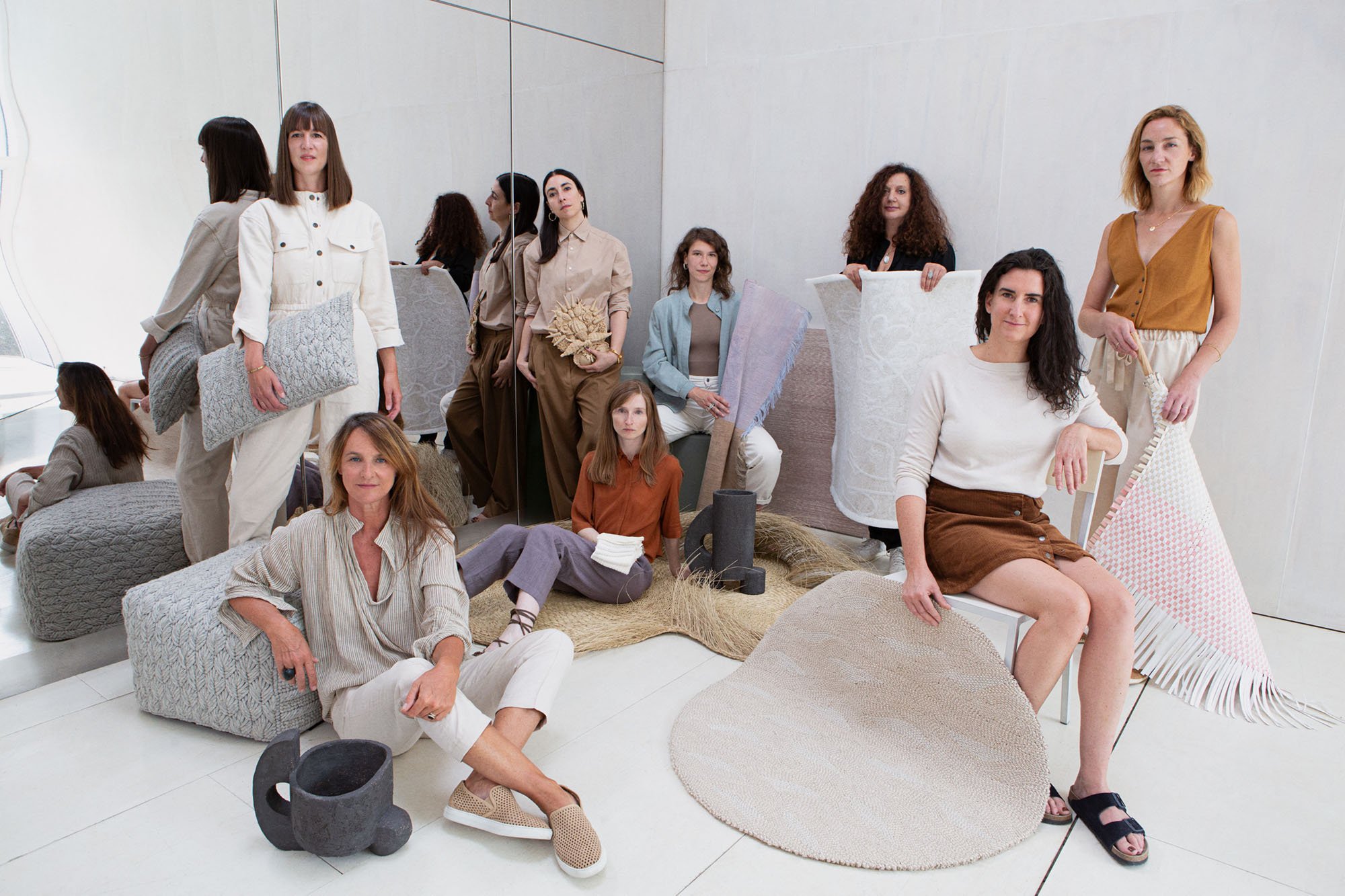 September 29, 2022
Nine Female Textile Artists Bring Belgium's Sober Aesthetic to New York
"In chaotic and fearful times, humanity will naturally look for answers and find solace in simplicity," says Lidewij (Li) Edelkoort. "People are trying to make the ordinary extraordinary." A new exhibition mounted by the renowned Dutch trend forecaster—with help from long-time collaborator Philip Fimmano—surveys a group of nine Belgian designers putting this sentiment to task. In their respective textile practices, these talents approach the medium with a focus on the honesty of natural materials, simple and sturdy assembly, revived or adapted craft techniques, and a straightforward style that extracts delight from the mundanity of everyday life.
On view at 138 Wooster Street in Soho through October 10th and a component of New York Textile Month, The Gift to be Simple show draws parallels between the European country's entrenched connection to the age-old trade of fabric production and contemporary calls for a return to rural life; the idea of sourcing matter in a more sustainable, controlled, contained, and "glocal" manner. Developed for the Belgium is Design platform with the aim of giving fresh talent international exposure, the exhibit will incorporate tapestries, rugs, linens, upholstered items, and several unconventional household applications by Geneviève Levivier, Charlotte Lancelot, Alexia de Ville, among others. The age-old art of still life that, according to the curator, is making a comeback is evident in Natalia Brilli's fantastical carpets. Her hand-crocheted Paradise tapestry appears to depict a mythical, slightly abstract undersea setting.
"Belgium's association with textiles is an evolving story," Edelkoort writes in the exhibition's catalog. "Acknowledging the know-how of the past, a new generation of textile designers are creating works that very much embrace the future with their material research and experimental approaches." Though much of the heavy manufacturing that defined the area around Flemish cities like Kortrijk until the late 20th century has since moved out, the discipline has reemerged in the revived pre-industrial farming of raw materials, fiber processing, and weaving. Research institutions like Centexbel and Liege's TexLab are driving this movement with an eye toward circularity and upcycling.
While Charlotte Lancelot's Chaddar poufs and cushions support one's wellbeing, Laure Kasiers' Shades collection implements an eco-friendly yarn to achieve striking visual effects. With her bath products, Vanessa Colignon examines different ablution rituals. Emma Cogné's Clareira rug—developed for the Museum of Popular Art in Lisbon with Portuguese craftspeople Mariana Campos and Ana Paula Abrunhosa—appears to mimic a sand dune encircled with beach grass. Conceived out of different artisanal traditions, each piece in the show takes on sensorial dimensions. There's no question that textile can simultaneously be a practical and expressive medium, replete with metaphysical qualities alongside a readiness for daily use. The Gift to be Simple exhibition shows the medium's nearly endless potential both for functional innovation and the production of new artistic statements.
Would you like to comment on this article? Send your thoughts to: [email protected]