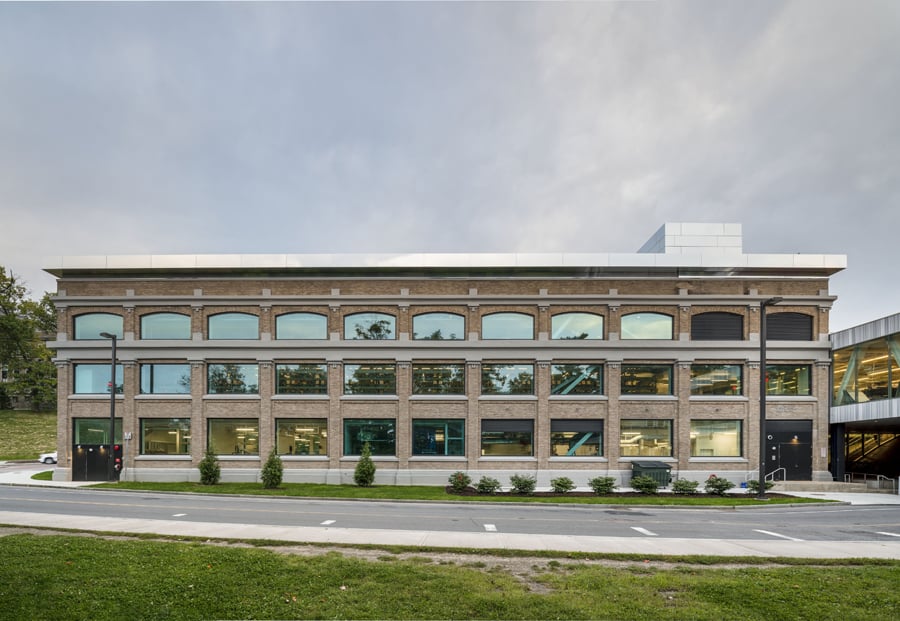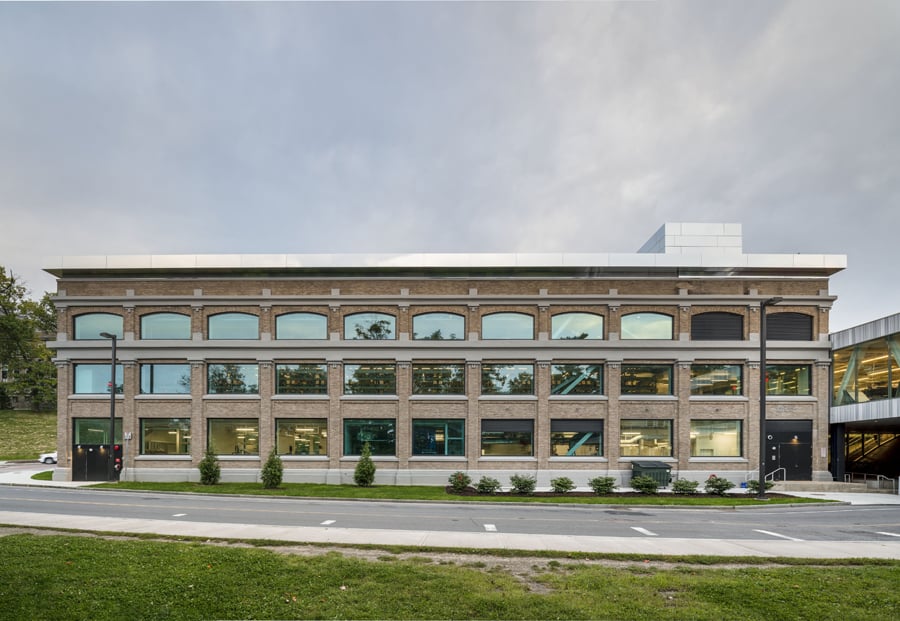 November 1, 2019
At Cornell's New Fine Arts Library, the Book Sets the Standard
Inside the library, 100,000 volumes appear to float midair across staggered honeycomb steel mezzanines.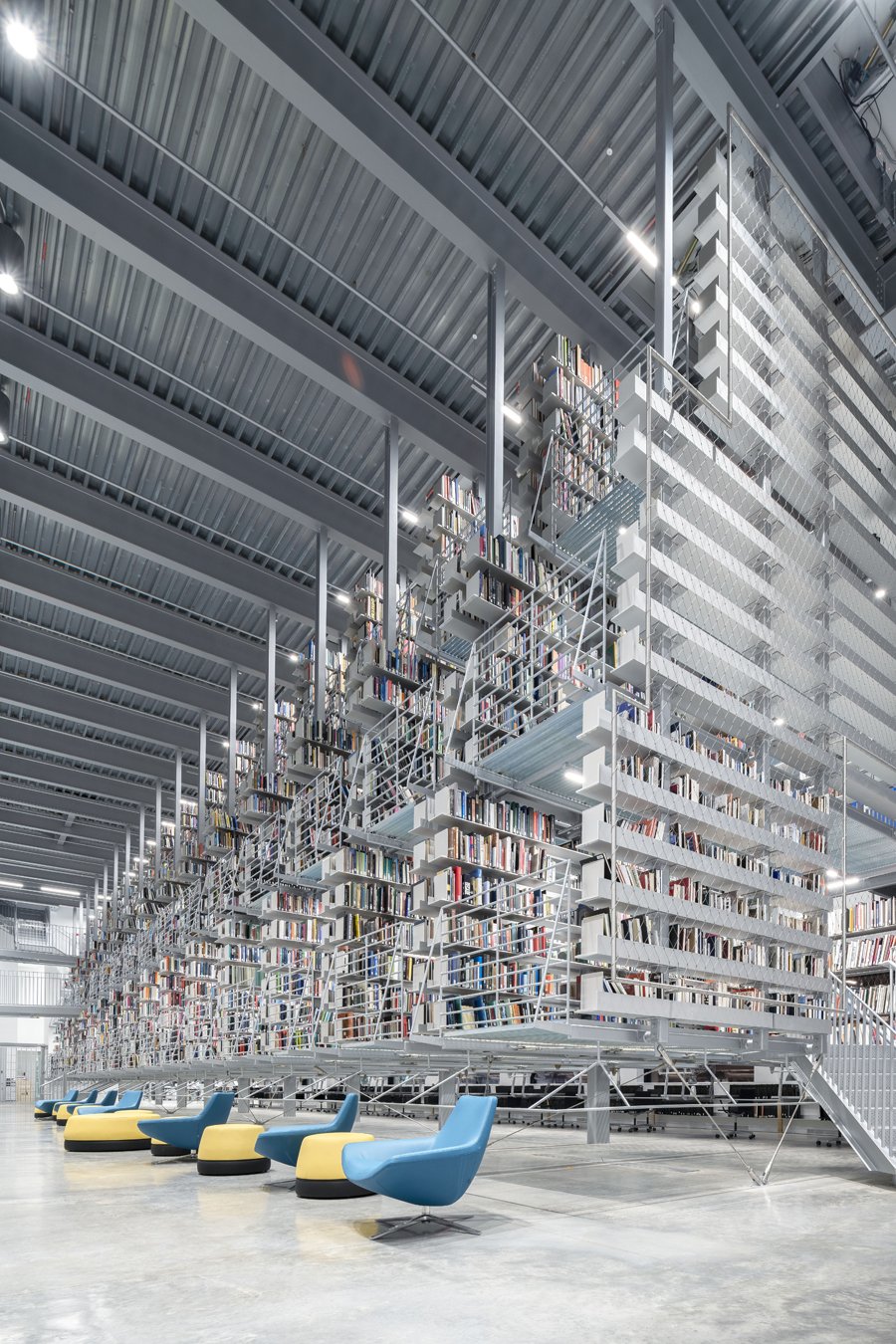 ---
Unlike recent university libraries which are premised on the absence of physical books, Cornell University's new art and architecture library is an old-school print palace.
Here, printed matter sets the standard. "Everything is scaled to the book," architect Wolfgang Tschapeller explained. "As a human, you are not the main character, you are a guest between the books."
The new fit-out, officially the Mui Ho Fine Arts Library, gestated for five years at Tschapeller's eponymous Vienna firm before its soft opening in early August. Inside, the expressive 27,000-square-foot structure hints at the intensive work that lifted a much-modified 1911 steel-and-masonry neoclassical building into the 21st century. While the exterior is a spiffier version of its old self, the interior is dramatically reconfigured. Its most prominent feature are the shelves on the main floor, where over 100,000 volumes appear to float midair across staggered honeycomb steel mezzanines.
---
More from Metropolis
---
To accommodate all those books (which number less than half of the total collection), Tschapeller, as well as New York City–based architect-of-record STV, fortified the original cross-beam skeleton to hold the three floors of stacks. The configuration invites clear views across the main floor which are interrupted only by delicate steel cabling and columns. From most angles, the stacks bob slightly away from the building envelope, a graceful massing accentuated on all sides by rows of plate glass arched windows. Natural light is maximized, even on grey days.
Tschapeller, a Cornell alumnus, knows as well as anyone how crucial sunlight is during gloomy upstate winters. Here, though, the interior transparency comes with a major tradeoff. The generous sightlines across the building make it easy to see through the levels—a feature that presents a modesty challenge for dress-wearing patrons (and double trouble for those in high heels).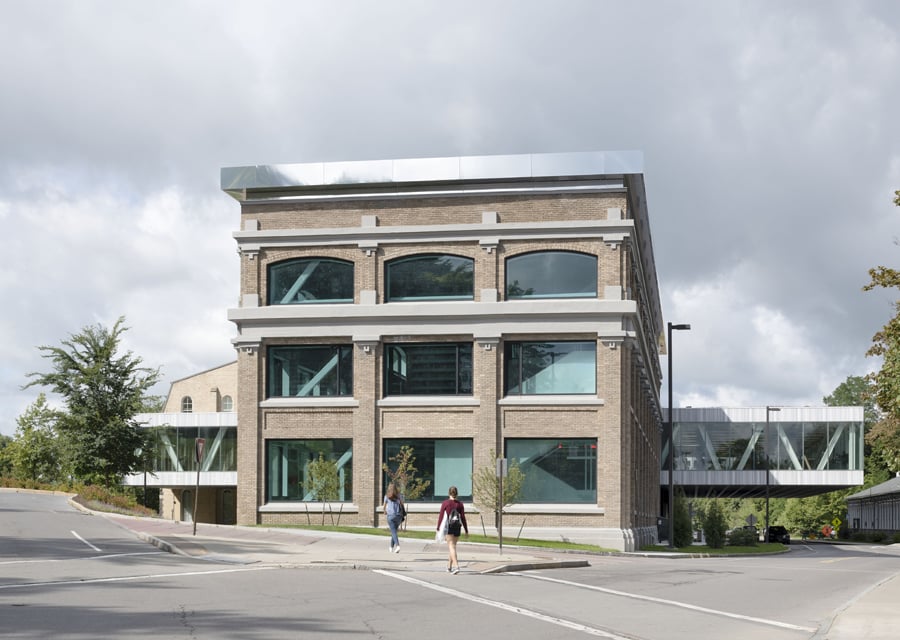 ---
The architect, who currently chairs the Institute for Art and Architecture at the Academy of Fine Arts Vienna, noted there was robust discussion around the mezzanine materials, especially the flooring. Ultimately, the team chose specially-manufactured steel grates from Poland's Progress Architektura with gaps big enough to allow air to circulate in the main enclosure (more solid flooring with similar attributes proved too pricey). The super see-through material, Tschapeller said, challenges the idea of the floor as most stable elements in architecture. When I told him that I could see clear up into the stacks at other students, he urged visitors to respect each other—no creeping permitted.
This, however, is impossible, even for the most conscientious visitor. At the individual desks perpendicular to the stacks, for example, a quick glance up affords a panoramic view through the levels and up to the ceiling. On the multistory mezzanine stairs, which don't curve silkily as they did in the building's concept renderings, there's some privacy thanks to more solid flooring. Otherwise, patrons are on full view as they browse.
Multiple women I spoke with for this article have noticed the space's upskirt potential and are adjusting their library use accordingly. "Knowing that I have to think about what I'm wearing as I enter the library is off-putting to me. What was Cornell thinking?" said Nicole Nomura, a second-year graduate student in landscape architecture and city planning. Nomura was wearing a dress the first day she visited, and did not feel comfortable stepping up into the stacks.
Tschapeller confirmed there's no way to add opacity to the grates—it would interfere mightily with the ventilation. "Coverings on top of the grating would literally destroy the project," he elaborated in an email. Alluding to the library's openness, the architect underscored that "[both] the flow of space and flow of air are essential for the project."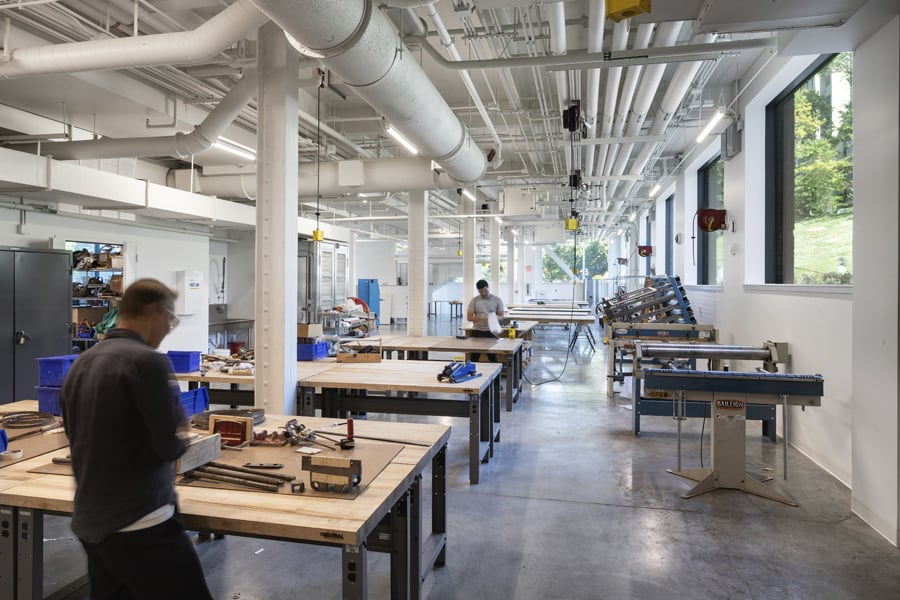 ---
Winter could turn this porosity into a dirty hazard. Slushy boots will have to be thoroughly de-crudded before entering to avoid spreading debris on other patrons (or worse, the expensive monographs). Here too, Tschapeller emphasized taking care of the space—it should be common sense to make your filthy shoes less gross before entering a $21.6 million building. It's likely though that students, at least those in architecture, won't be coming straight from the outside, since the studio level of OMA's Milstein Hall (the Department of Architecture building) punches into the library. Everyone else enters the building from a side door just inside the original ground-floor entrance, which is now hemmed in by elevators and bathrooms. This mini-lobby offers a direct path into the 8,300-square-foot fabrication lab, where future designers 3D print models and weld steel.
Although architecture students have plenty of workspace, budget constraints and zoning issues killed programming which would have provided additional benefit to those who do art and planning Cornell. Original plans called for carrels and book lockers, which would have allowed at least some of the College of Art, Architecture, and Planning's 700-plus students to store printed material on-site. The remains of that scheme are concentrated into a seminar room whose western windows frame Sibley Hall, the 1870s Second Empire building which houses the college's classrooms and administrative offices and which connects to the new library via Milstein. A cheeky metallic attic for Mui Ho that would have sent additional floors of books soaring heavenwards was nixed, as well. Perhaps this was not a bad thing: In exchange for fewer books, students got an almost 1,400-square-foot roof deck that's rigged for big installations and occupiable structures (that area is joined by a smaller outdoor terrace on the third floor).
To Tschapeller, the library reading room, fabrication lab, and Milstein studios together embody three essential components of architecture education: designing, doing, and reading. The new library unifies these practices beautifully, if unevenly.
---
Audrey Wachs is a journalist and current graduate student in city and regional planning at Cornell.
You may also enjoy "BIG's Kistefos Museum Puts a "Twist" on Conventional Art Galleries."
Would you like to comment on this article? Send your thoughts to: [email protected]