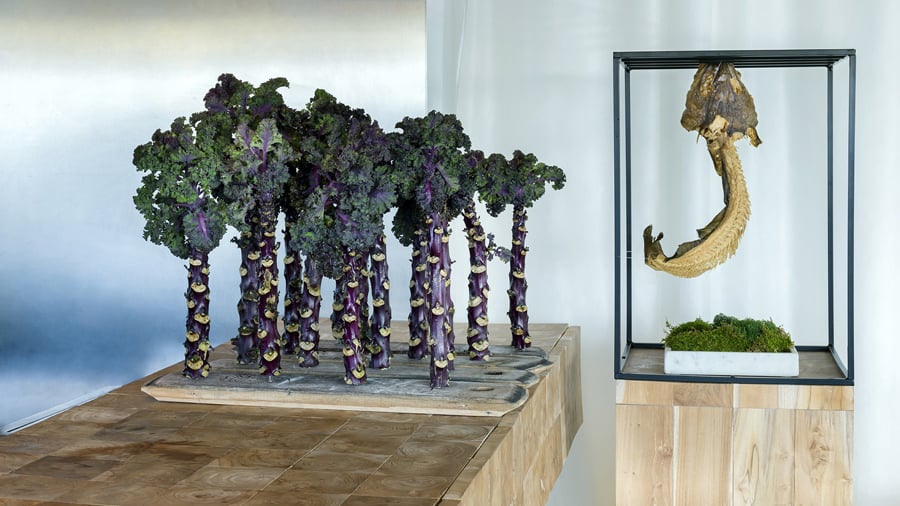 May 16, 2017
Delightfully Weird London Pop-Up Offers Lessons in Extreme Re-Use
Waste in both food and design was the theme of chef Dan Barber's pop-up restaurant WastED, designed by Brooklyn architecture office formlessfinder.
Failed popcorn, pockmarked potato cream, veal from "rescued" male calves. All were key ingredients in the latest project from Dan Barber and his Blue Hill restaurant group, WastED London, and all suggestive of a dumpster dive, minus the freeganism. The menu, a kind of visual glossary of edible rejectamenta, paid tribute to more wonky culinary specimens—forgotten crab apples, ugly tortillas, fish collar of the day, aquafaba. Diners with no foreknowledge of the project, which endeavored, in Barber's words, "to bring to light an expanded definition of what it means 'to waste,'" might have anxiously wondered what they'd signed up for.
There were, of course, no such patrons, only eager eaters. Seats for the London iteration of the pop-up restaurant were completely booked in advance of its late-February opening. (It closed early last month after six weeks of service.) Momentum had gathered in the two years since Barber launched the concept inside his Manhattan flagship—around the same time, it so happened, that he appeared in an episode of Netflix's operatic bingeable feast A Chef's Table. In the program, he cut the figure of the ruminative chef who had fallen into the role of a "disruptor." In one scene he fastidiously assembled a dish, while in another he pondered ways to eliminate waste from the global food system or to revive endangered grain species.
These seemingly mutually exclusive drives inform the WastED project as a whole. It is part manifesto, part educational experiment, and part restaurant, but as with cooking (or, perhaps more accurately, baking), it is the proportions that matter. "We knew we still had to make it fun because no one wanted to make it heavy-handed or didactic or boring," says Barber's sister-in-law and Blue Hill design director, Laureen, of the London version. It offered the team the opportunity to flex its creative muscles more. The menu was expanded, as was the space—on the fifth-floor rooftop of the Selfridges department store. With room for 80 covers (and a dozen-plus more in the private dining shed), it was airy and, on an uncharacteristically clear London March day, even effulgent. Among the diners stood tall columns surmounted by trophy cases, each containing a different ingredient tucked into the menu.
---
More from Metropolis
---
The design of these vitrines and of the space itself, by the Brooklyn architecture office formlessfinder, was self-effacing yet clever. "It was less gimmicky this time around," says formlessfinder cofounder Julian Rose, drawing a comparison with the architects' first collaboration with the Barbers for WastED New York. There, in Blue Hill's dark, partly subterranean Greenwich Village space, he and partner Garrett Ricciardi had made conspicuous use of agricultural reemay (a crop cover that protects against pests) and mushroom-based tables and chairs.
These design elements reappeared at Selfridges, albeit in more subtle ways. The reemay, partially dyed with scrap turmeric, hugged the moody entry corridor and the back wall of the dining area. As for the earnest, utilitarian furniture, it evolved out of necessity, Ricciardi says. A couple of years ago the biomaterials company Ecovative had happily furnished formlessfinder with their patented mycelium stuffs, but when approached a second time, the New York supplier politely declined. "They said they had moved on from working with artist and architects," Ricciardi recalls. "Now you have to order a thousand sheets minimum. In a way it's a good thing because it means we're seeing a popularization of these materials."
Forced to seek out new collaborators, the duo gravitated toward Danish industrial designer Jonas Edvard, whose earthy lamp fixtures are the alchemical products of mushroom, seaweed, and matrices of mycelium. The furnishings, developed by Athens- and London-based Kizis Studio, married artichoke pulp to a resin made from old cooking oil. The blocks of wood that lined the bar and open kitchen were sourced from old teak, recovered in Bali by salvage specialist Wonderwall Studios, fluent in the language of the hospitality feature wall.
Ricciardi admits that his and Rose's efforts took on something of a curatorial bent after an earlier, more daring scheme was scuttled. Drawing on London's ballooning craze at the turn of the past century and the gentlemanly antics of the Royal Aero Club, the architects had planned to hitch five hot-air balloons to supports along the long, narrow roof deck. These would be inflated by the heat emitted by large grilling stations, and at full or even semi-buoyancy, they would have been visible up and down Oxford Street. (The design hinged on a summer timetable, when the weather would permit outdoor cooking.) "It would have played off this idea of 'wasted' heat,'" says Rose—that is, if logistics, cold feet on the part of the Selfridges team, and that great scourge, bad timing, had not intervened.
The leitmotif of waste, evident right down to the recyclable napkins developed by Laureen Barber, also coincided with motifs of Britishness. A handful of English staples—bubble and squeak (fried leftover cabbage and potatoes) and everything-but-the-filet fish and chips (all heads and spines), among others—were subjected to dutiful reinterpretation. Cradling their prized ingredients, the dozen or so vitrines that punctuated areas of seating were subtler expressions of regionality. They served as focal points in a field of diners as follies did in traditional English gardens, says Rose.

The idea couldn't quite be confirmed empirically in the space, but it resonates with formlessfinder's mission to disavow architecture's formal obsessions (it's in the name, after all). To do so would mean to diminish the potency of symbolism or metaphor, while gaining a foothold in the more contemporary realms of supply-chains and materials science. It's the sidecar to Barber's heady, decidedly fishy, but delicious main course.